ChangeNOW Telegram Bot Streamlines Crypto Swaps
Disclosure: Crypto is a high-risk asset class. This article is provided for informational purposes and does not constitute investment advice. By using this website, you agree to our terms and conditions. We may utilise affiliate links within our content, and receive commission.
Last Updated: October 17, 2023.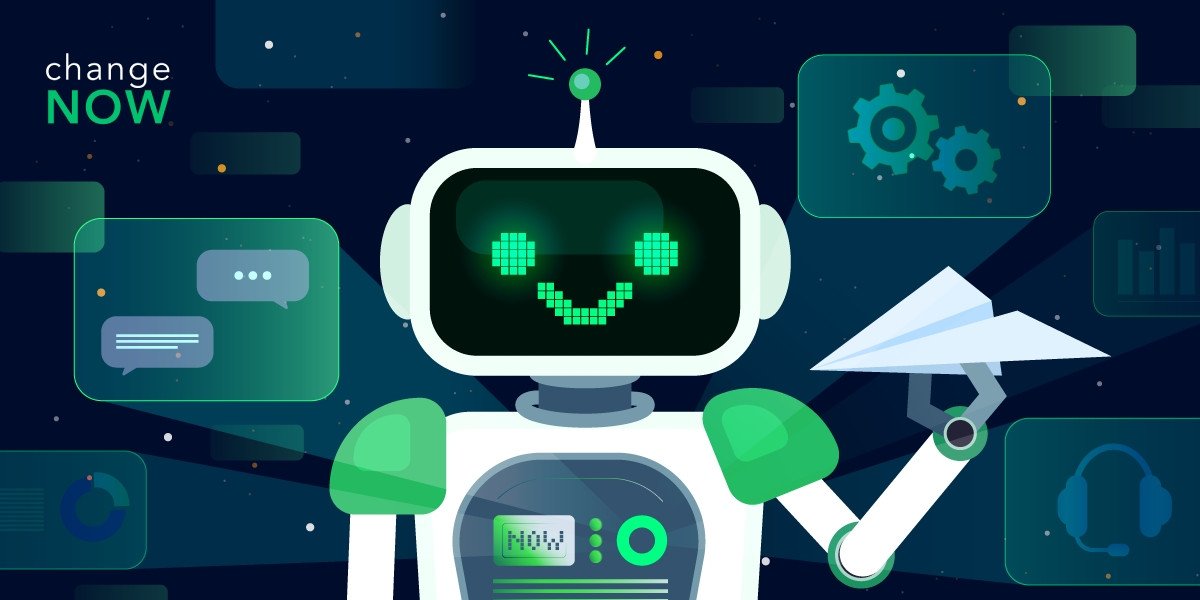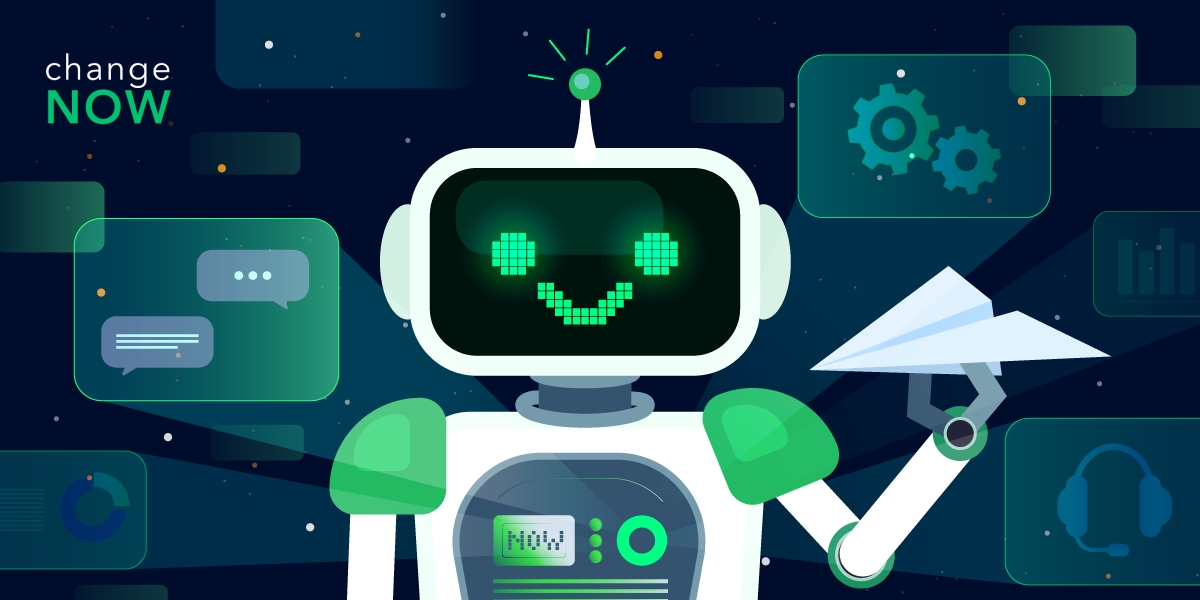 Telegram bots have become another milestone in the development of crypto services. Many platforms provide bots to add convenience and flexibility to their offers. How do bots work to exchange cryptocurrencies? Read further to find it out.
What Is a Telegram Bot?
Generally speaking, a Telegram bot is an application that is embedded in chats of this messenger and performs particular functions. Specifically, bots enable their users to get notifications, integrate with other services, receive payments, create custom tools, and do many other things. Some businesses have noted the convenience of this tool and use it to interact with customers.
How Do Telegram Bots Work in the Crypto Industry?
The crypto community is a melting pot of speculators and hodlers, ardent enthusiasts and bashful newbies – each of them having different purposes and intentions. A great variety of Telegram bots out there serves to satisfy various needs, enabling users to:
Get trading signals and alerts
Send trading commands
Hold digital assets
Learn news and latest updates about the crypto industry
Exchange cryptocurrencies
This is not a full list of things bots can do, but we will focus on the exchange function. Using the ChangeNOW bot as an example, we will show you how to swap cryptocurrencies in a few taps on any device.
What Can ChangeNOW Bot Do?
The bot under review has been developed by ChangeNOW, a non-custodial cryptocurrency exchange platform that facilitates limitless crypto-to-crypto and fiat-to-crypto swaps. Enjoying the choice of almost 400 assets, users can exchange coins free of registration with no hidden fees.
ChangeNOW_officialbot helps users exchange cryptocurrencies. Once you start, the bot provides you with a list of available coins via a link to the website. You can select one of the offered popular cryptocurrencies: BTC, ETH, BCH, LTC, XMR, and ZEC. If you need another crypto not on this list, type the name or symbol of the cryptocurrency you are looking for.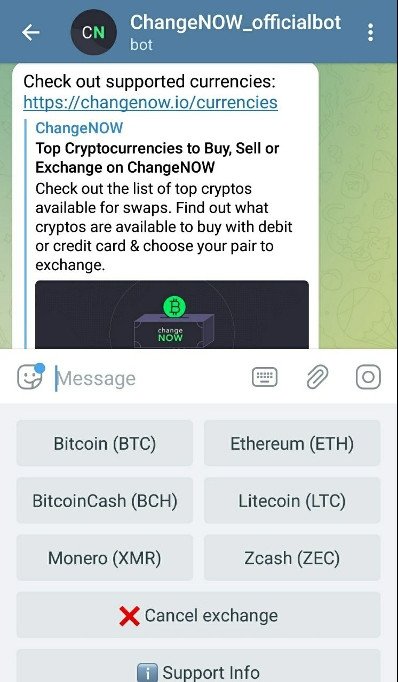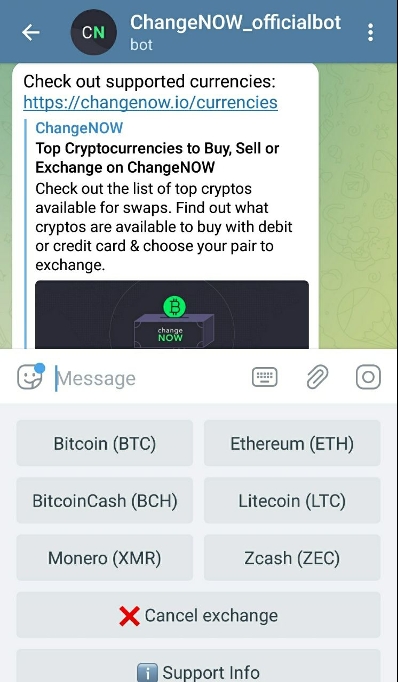 This bot is friendly and helpful, and if you misspell the coin, it offers the correct variant.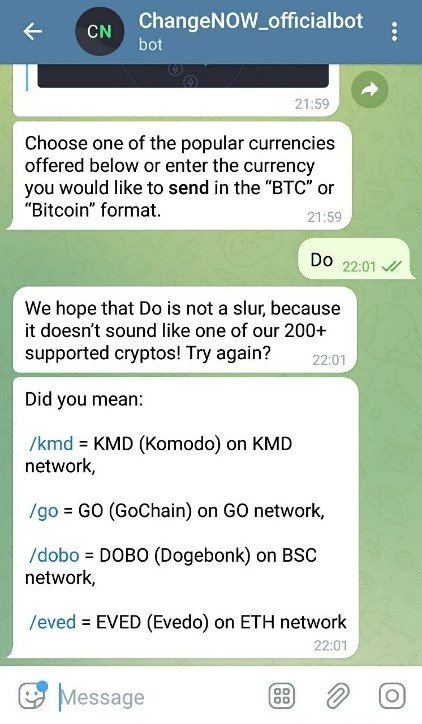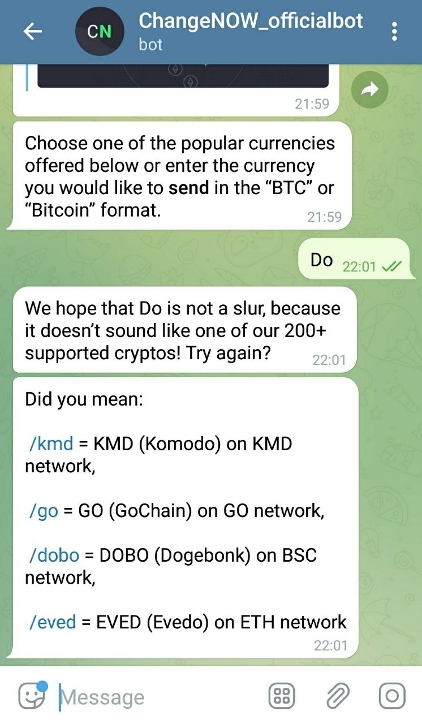 The bot makes sure that you pick the correct cryptocurrency. That's a useful feature because one can get lost in a great variety of crypto tickers.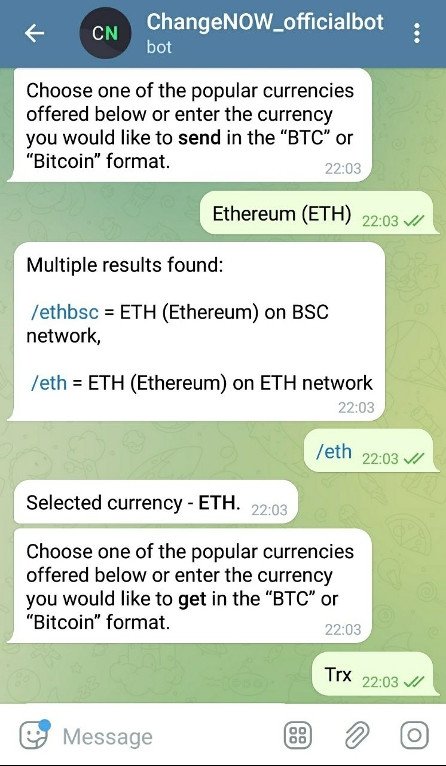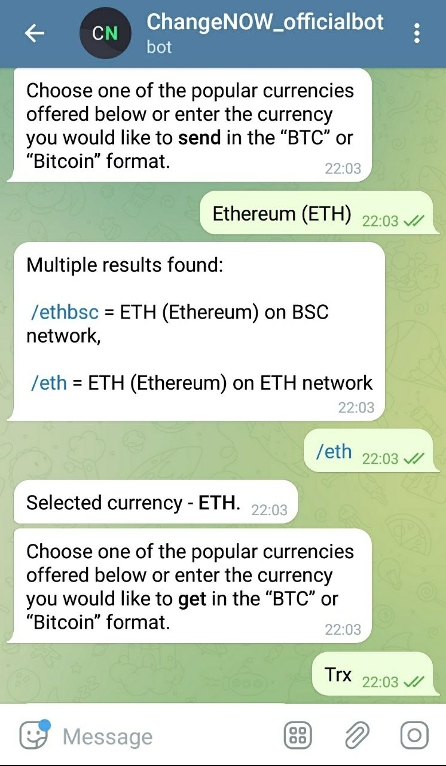 After you enter the amount to be exchanged, the bot asks you to provide a recipient's address. This is the address where you will receive the coins. For example, you want to exchange ETH for TRX, in which case you need to enter your TRX wallet address.
The next step is to confirm the transaction details (a cryptocurrency pair, an amount, and a wallet address). If the entered address turns out to be invalid, the bot will let you know about it. So, you won't have to worry about your money going to outer space.
If all details are correct, the bot will send you a deposit address for exchange, a transaction ID, and a link to track the transaction status. As in the example of ETH for TRX exchange, you need to send ETH from your ETH wallet to the specified deposit address, and after that you will receive the equivalent amount of TRX to your TRX wallet. As soon as the transaction status changes, the bot notifies you about it. Besides, you can track the process manually via the provided link.
The number of exchange operations is unlimited. You can start a new exchange even if your current transaction is being processed. If you need support, you can ask the bot for it by clicking the relevant button.
Final Thoughts
Every company strives to ensure its services are easy, fast, and convenient. Telegram bots are considered to be an efficient tool to reach this goal. Configured to anticipate users' needs, bots enhance customer interaction. This effect is conveyed in the crypto industry, with bots being widely-used assistants for various purposes. It has been proven through the review of the ChangeNOW Telegram bot that crypto swaps can be completed with just a few taps. It navigates users throughout the whole process: from choosing coins to updating on the transaction status. This results in happy users who get their crypto assets exchanged in a matter of minutes. Easy, fast, with no limits.
---