CFOs and Financial Advisors Have Different Concerns About Bitcoin
Disclosure: Crypto is a high-risk asset class. This article is provided for informational purposes and does not constitute investment advice. By using this website, you agree to our terms and conditions. We may utilise affiliate links within our content, and receive commission.
Recently surveyed finance executives are more worried about bitcoin (BTC)'s volatility, while US financial advisors are becoming less concerned about the wild swings in the market and now seem to be more preoccupied with regulations, when it comes to investing in this booming asset class.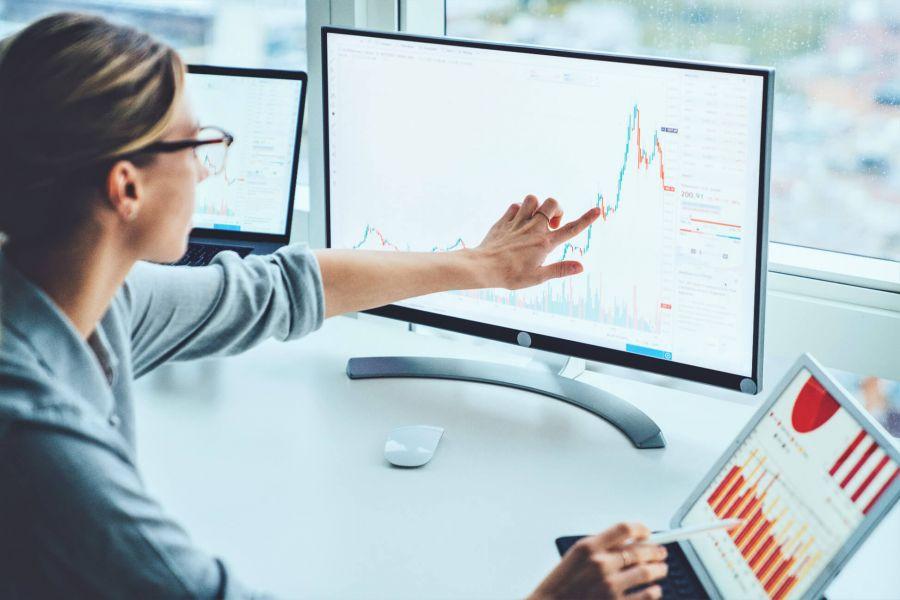 It was demonstrated this week when major research and advisory company Gartner released results of their recent survey of 77 finance executives (including 50 chief financial officers).
The survey showed volatility was the top concern by a large margin, at 84%. Other major issues pointed out by respondents included board risk aversion, with 39%, slow adoption as an accepted form of payment, at 38%, regulatory concerns, with 32%, and a lack of skills to invest in cryptocurrencies, at 30%. Other concerns were related to cyber risks, with 25%, and issues related to accounting, at 18%.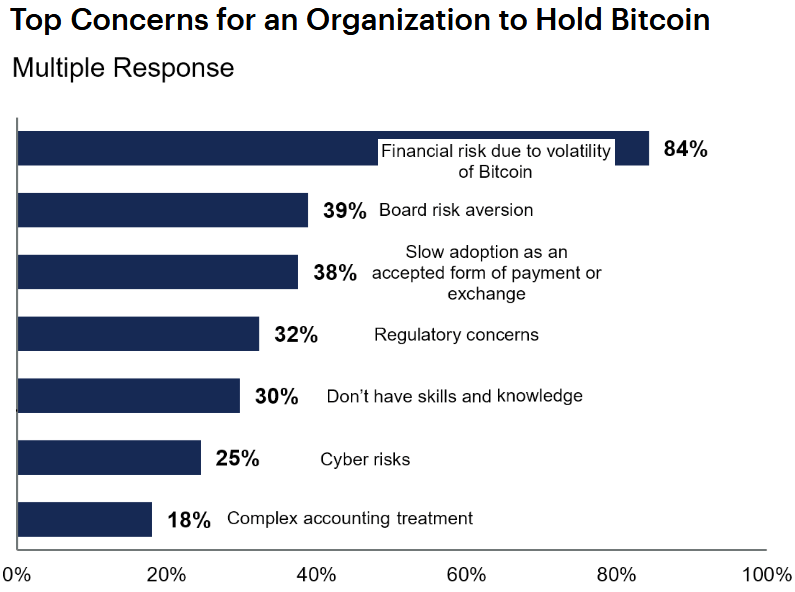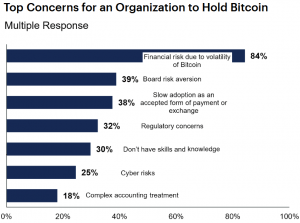 However, Gartner's findings show a different hierarchy from the one presented in the latest report on US financial advisors and their crypto-related options released by the San Francisco-based digital asset management firm Bitwise.
"Regulatory concerns" topped the list of advisor worries for the second year in a row, with 54% of respondents highlighting regulation as a key barrier to allocating or increasing the existing allocation to cryptoassets. However, this was slightly down from 56% in Bitwise's 2020 survey.
Price volatility is the second major concern for advisors, with 39%, down from 43% in 2020. Advisors also worry about their capacity to value cryptocurrencies, at 36%, down from 41% a year earlier. They are also concerned about the lack of "easily accessible investment vehicles like ETFs or mutual funds," with 37%, down from 39%.
What is preventing you from either increasing your investment in cryptoassets or making your first allocation?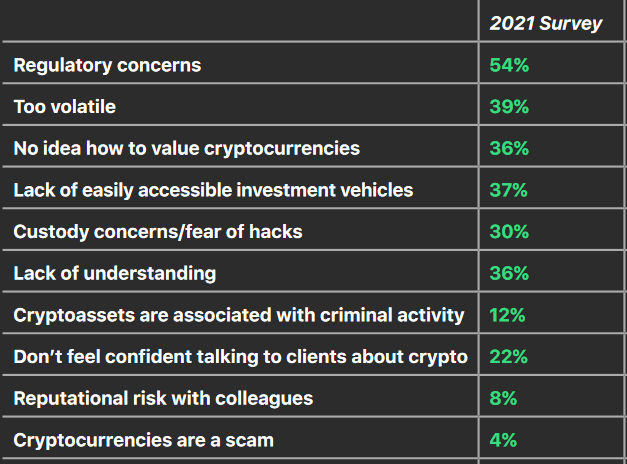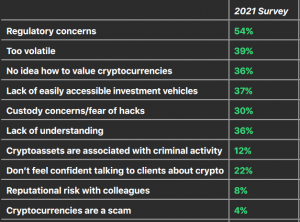 Also, as reported, Bitwise said that out of 1,000 financial advisors surveyed last December, 78% (up from 42% in the previous survey) answered that they intended to "increase their clients' allocation" of crypto in the next 12 months, with 22% "intending to hold steady."
Gartner surveyed only 77 respondents and they seem to be less keen to invest in BTC. 5% said they would begin to invest in the cryptocurrency in 2021, 1 respondent declared they would hold bitcoin at some point in the years 2022 to 2023. 9% said they would launch investments in 2024 or later. Due to bitcoin's price volatility, 84% of respondents said they do not plan to ever invest their corporate funds in BTC.
Also, per the researchers, there was no difference in intent to hold bitcoin between small organizations (<USD 1bn revenue) and large organizations (>USD 1bn revenue). Fifty percent of respondents from the technology sector anticipate holding the cryptocurrency in the future. Private company finance executives were less favorable towards bitcoin with just 7% saying they would ever hold it.
"There are a lot of unresolved issues when it comes to the use of bitcoin as a corporate asset. It's unlikely that adoption will increase rapidly until we get more clarity on these challenges," Alexander Bant, Chief of Research at the Gartner Finance practice, told Bloomberg.
Meanwhile, as reported today, one of the most bullish non-crypto companies, US-based software developer MicroStrategy just increased its initial plan and now aims to borrow over USD 1bn "for free" and spend it on BTC.
____
Learn more:
– 1,400+ Firms Flock To Learn About Bitcoin, But 'There Is No Playbook'
– Microsoft CEO Claims No Plan To Follow In Tesla's Bitcoin-buying Footsteps
– A Wave of Giants Rushing to Invest in Bitcoin Could Derail the Stock Market
– Bitcoin Snowball Is Expected To Hit More Institutions in 2021
– Tesla's Bitcoin Buy Comes As Earlier Large Investors Retreat
– Listed German Cannabis Firm to Buy Bitcoin, Slates Euro and USD
– Corporate Treasuries Caught Between an Inflation Rock and Bitcoin
---