Cardano Price Forecast as ADA Overtakes Dogecoin in Market Capitalization – Are Whales Buying?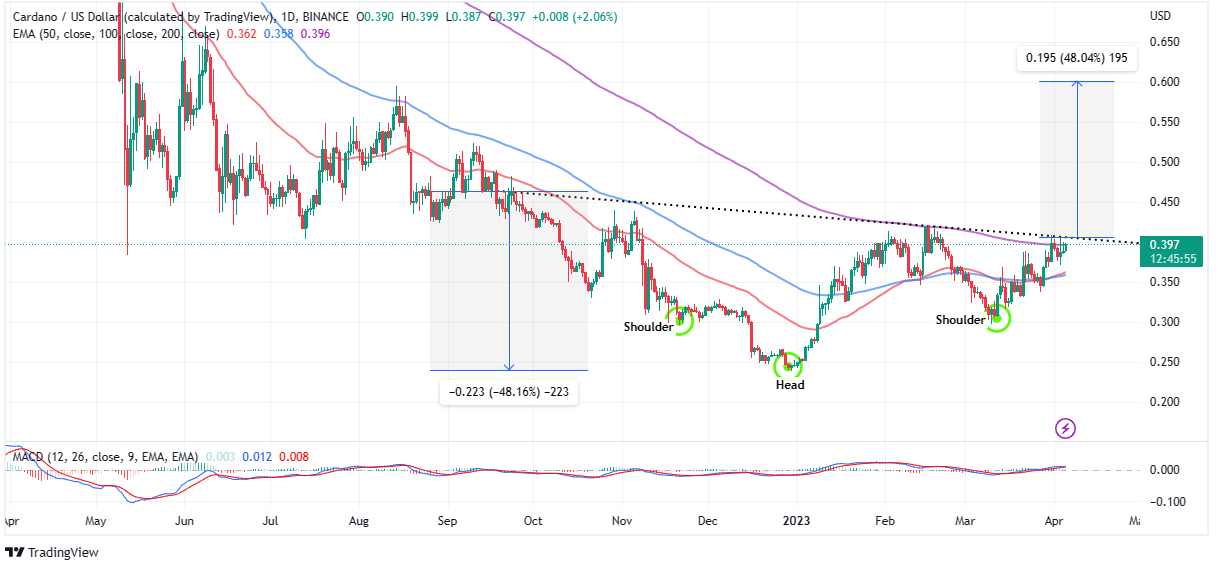 ADA, the primary token of the Cardano ecosystem, maintains a positive trajectory, surpassing Dogecoin (DOGE) to become the world's seventh-largest cryptocurrency.

This positive development comes despite Dogecoin's 30% surge on Tuesday when Twitter users discovered their home button icon had changed from the blue bird to a dog meme.
With a market capitalization of $14 billion, ADA edges out the meme coin's $13.6 billion with investors now wondering where ADA is headed next.
Cardano Price Flaunts 48% Move
In the past 24 hours, Cardano's price has remained relatively stable, though a bullish trend seems to be gaining momentum on the daily timeframe chart.
After maintaining support at $0.30 in early March, the smart contracts token initiated a robust assault, blasting past the selling pressure at $0.35.
The bullish momentum continued through late March and early April, with ADA now hovering around $0.398.
The 200-day Exponential Moving Average (EMA) (depicted in purple) currently acts as a barrier between Cardano's price and an expected breakout towards $0.60.
The positive outlook for ADA is firmly established on the daily chart, supported by an inverse head and shoulders (H&S) pattern. This pattern mirrors the standard H&S, a trend reversal formation, but appears inverted on the chart.
The first valley (shoulder) is followed by a deeper valley (head) and then another higher valley (shoulder), as depicted on the chart.
The inverse head and shoulders often emerges after a prolonged downtrend in an asset's price.
Traders utilizing this pattern must exercise patience, entering long positions slightly above the dotted neckline, targeting a level equal to the distance between the head and neckline projected from the breakout point.
Therefore, breaking and sustaining above the 200-day EMA and subsequently the inverse H&S pattern could propel Cardano's price 48% higher to $0.60, a level last seen in June.
The path of least resistance is likely to remain upward as more buyers enter the market with ADA consolidating above $0.40.
Additionally, the Moving Average Convergence Divergence (MACD) indicator presents a buy signal on the same daily chart.
As long as the blue MACD line remains above the red signal line, buyers will likely maintain their long positions in ADA.
Observe the momentum indicator above the mean line, with its upward-facing direction expected to continue rising steadily.
Cardano Unlocks Gaming Support with Paima Studios
Cardano blockchain users can now fulfill their gaming desires without searching elsewhere, thanks to a partnership with Paima Studios to introduce blockchain-based games.
As announced by Paima Studios, a layer 2 onchain gaming platform, users will no longer need to transfer their tokens to different networks.
Cardano has designed a bridge to reduce the risks associated with moving tokens between blockchains.
Cardano's collaboration with Paima Studios is non-custodial, meaning users retain custody of their tokens in their own wallets without needing to transfer them to game wallets.
This partnership paves the way for games from other networks to effortlessly launch or transition to the Cardano blockchain.
The outlook on Cardano remains generally bullish as development continues on the platform.
Related Articles:
---