Cardano Price Forecast as 7,000,000 Native Tokens Launch on the Blockchain – ADA to $1 Soon?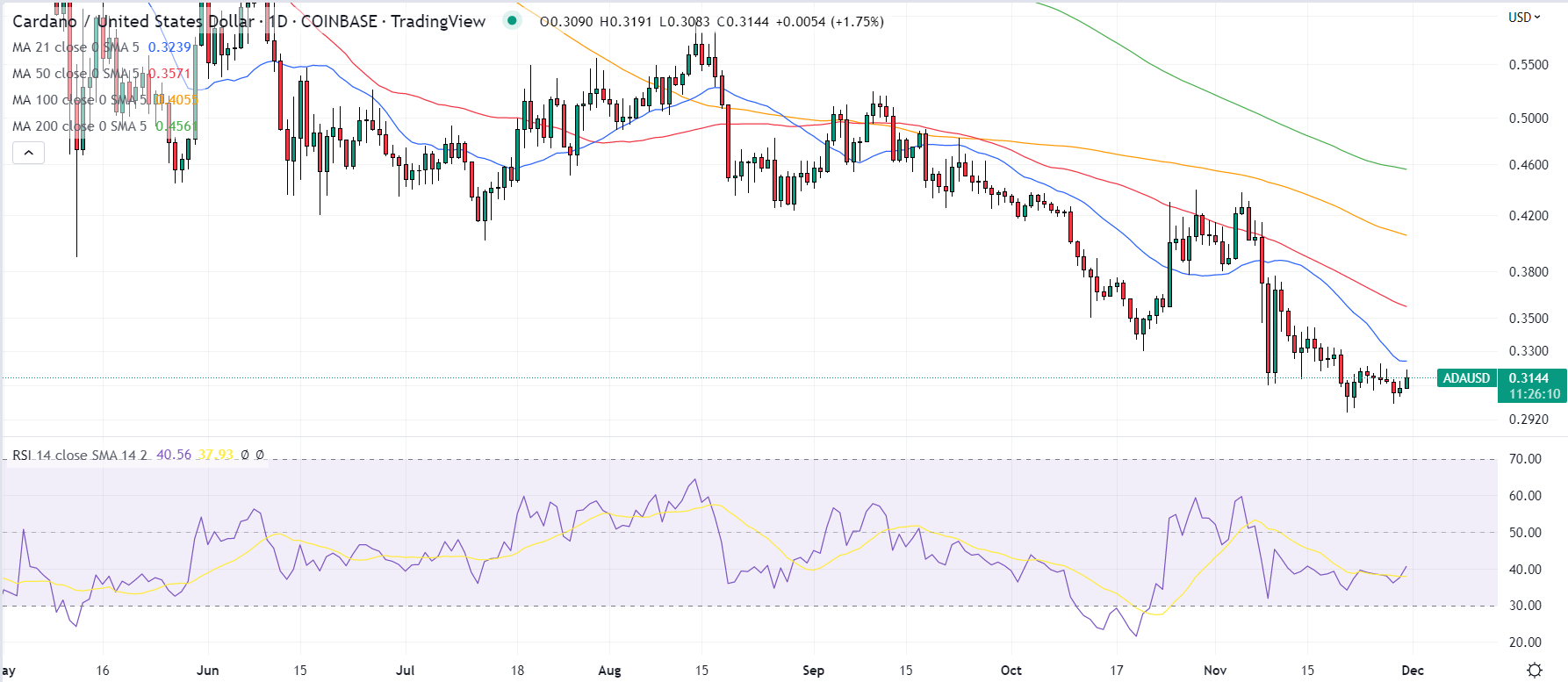 ADA, the native token of the Cardano blockchain, was last trading around 1.5% higher on Wednesday, according to TradingView. Cardano's native token is higher in tandem with a broad rally across crypto markets, which comes despite a more tentative feel to broader macro trade ahead of upcoming risk events. The cryptocurrency was last changing hands in the mid-$0.31s, meaning it now trades back in the green on the week and is up a little over 6% versus the fresh annual lows it hit under $0.30 last week.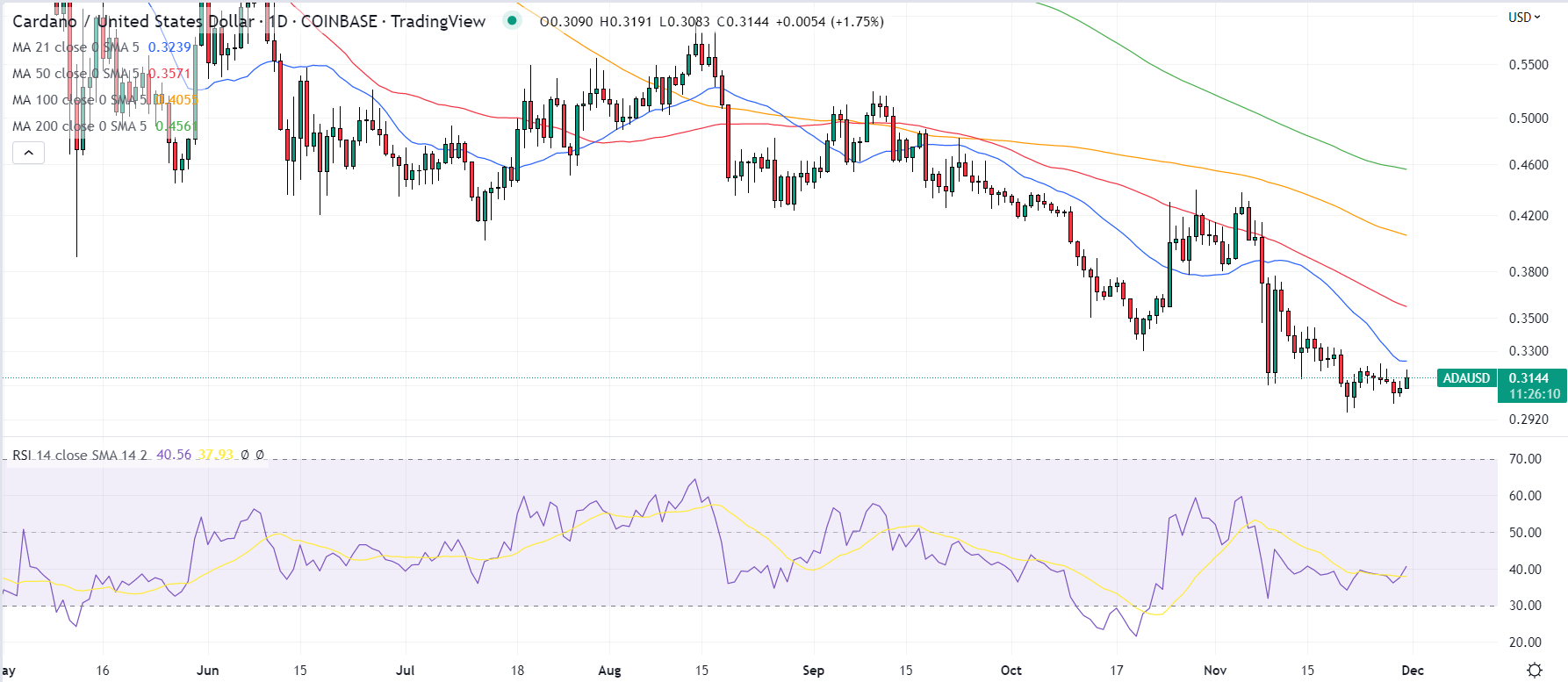 Cardano Native Tokens Hit 7 Million Mark
The trends remain strong in terms of the Cardano blockchain's underlying fundamentals. A few days ago, the number of native tokens deployed to the world's sixth-largest blockchain by market capitalization surpassed the 7 million mark for the first time.
The rate at which new tokens are being issued on the Cardano blockchain is impressive. The blockchain only hit 6 million native tokens in September. At the current pace, Cardano should have over 10 million native tokens changing hands on its blockchain by mid-2023.
Elsewhere, according to the latest update from Cardano Blockchain Insights earlier this week, the number of smart contracts deployed on Cardano's Plutus platform was last up 300% in 2022. 3,791 smart contracts are now deployed on Plutus versus 947 at the start of the year.
According to crypto GitHub development tracker @ProofofGitHub, Cardano ranked as the number one blockchain by daily development activity on 30 November, beating out the likes of Ethereum and Cosmos. Cardano consistently ranks as one of the top cryptocurrencies when it comes to development and its investors are optimistic that this will translate into the emergence of a strong Cardano DeFi and use-case ecosystem in the years ahead.
Cardano Price Forecast – Where next for ADA?
Despite Cardano's underlying fundamentals when it comes to the development of the blockchain looking strong, Cardano's native ADA token remains locked in a bearish trend, despite a modest upside in the last two days. As a result, ADA price forecasts for the near term remain downbeat. At current levels in the mid-$0.31s per token, ADA continues to trade with a roughly 25% discount versus its pre-FTX collapse levels in the low $0.40s earlier this month.
ADA/USD technical outlook looks bearish on multiple fronts. Firstly, the cryptocurrency trades beneath all of its major moving averages, all of which are pointed and heading lower. Meanwhile, ADA has been locked within a downward trend channel now since mid-August.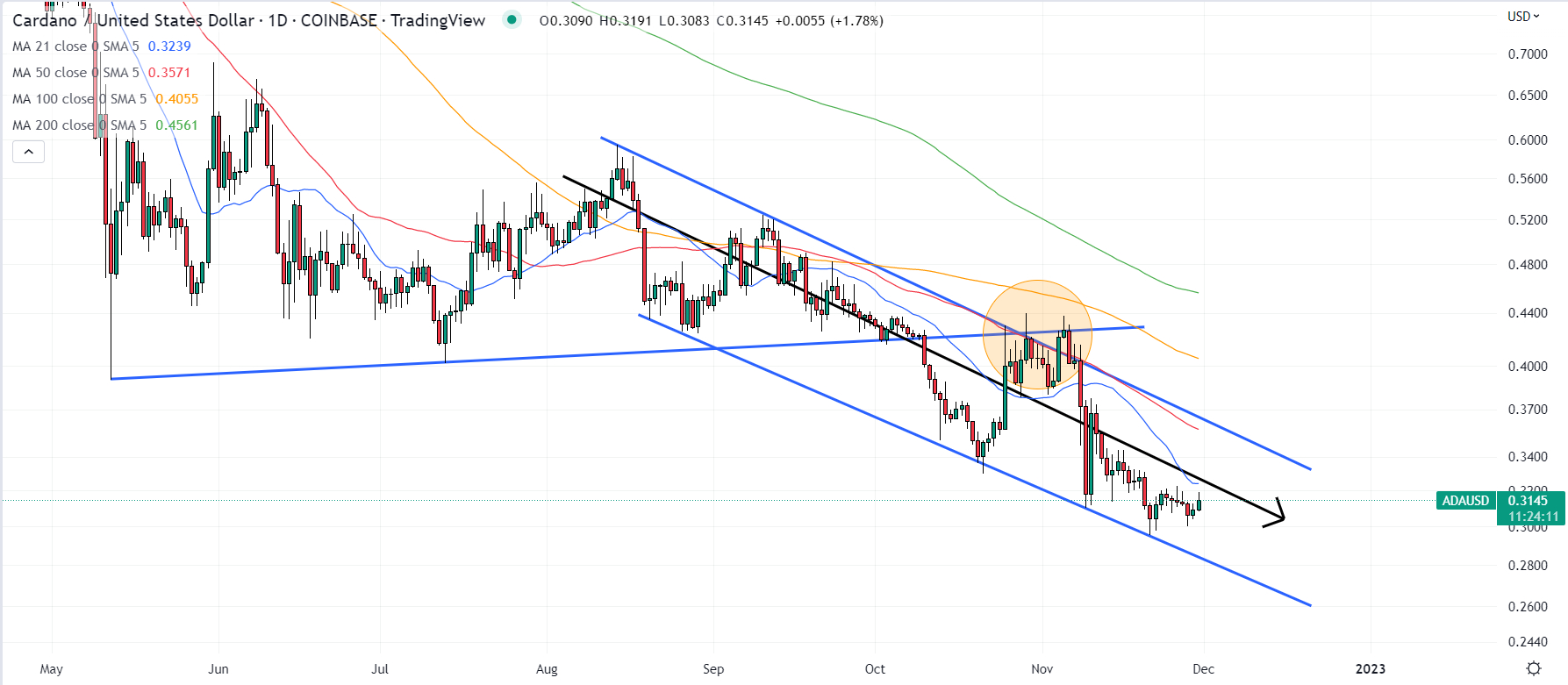 The cryptocurrency tried to break above this downtrend earlier this month, but was rejected when it retested a key uptrend that had previously been offering support in mid-2022. Technically speaking, there is very little by way of support until the summer 2020 highs in the $0.17 area, which would mark a further 45% drop from current levels. In the near term, unless there is a significant upturn in broader crypto sentiment, ADA looks to be headed back into the $0.20s. A rally to $1.0 in the near-term looks unlikely right now.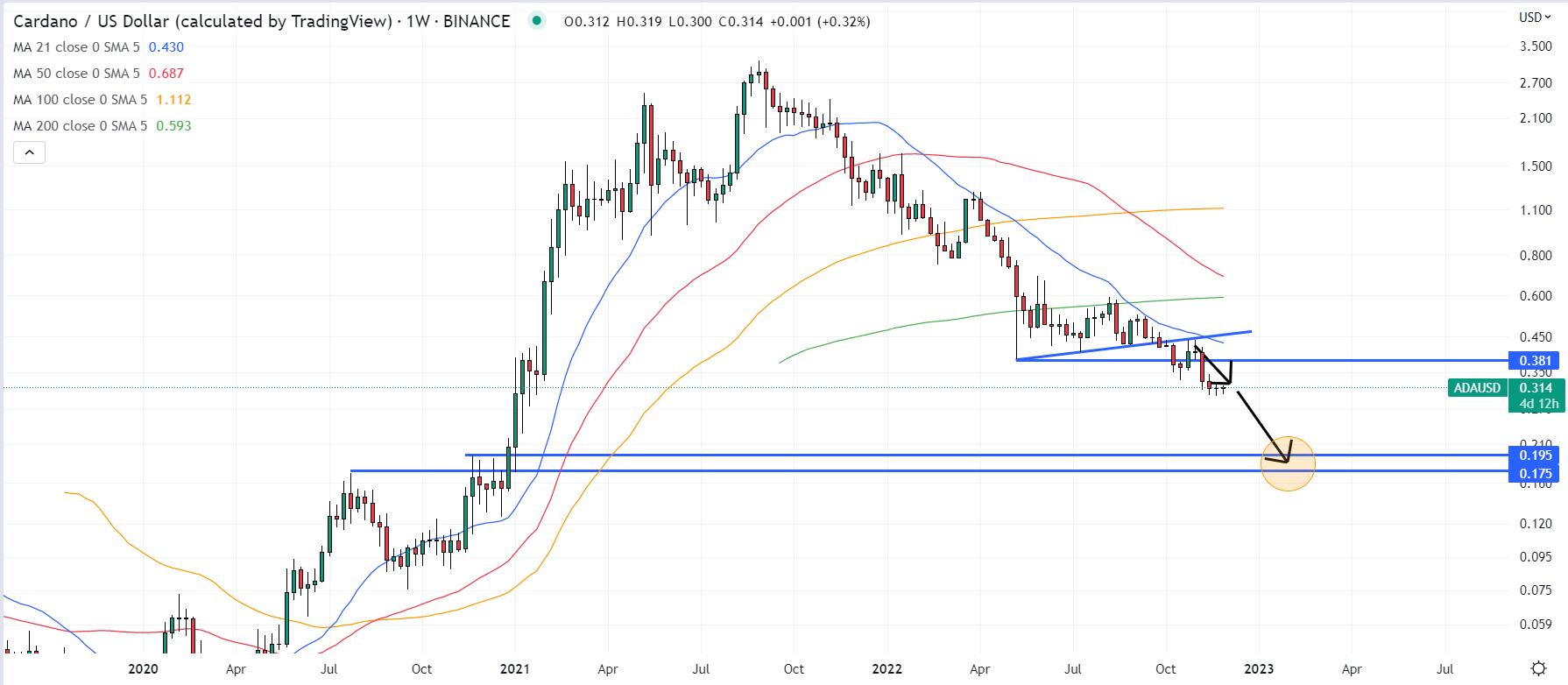 Will Cardano Benefit from Elon Musk's Twitter Takeover?
Cardano founder Charles Hoskinson said at an event earlier this month that he thinks Elon Musk has "every intention" of integrating crypto into Twitter following the billionaire's recent takeover of the social media site. This could bring 200 million new users to crypto, Hoskinson said.
The Cardano founder speculated, as many others have, that Musk might choose to integrate Dogecoin in some way but warned that Dogecoin lacked the technology to scale to support that many users of its blockchain. He suggested that Dogecoin could be integrated as a sidechain of Cardano in order to help it scale, but admitted that there would be lots of competition for this role.
Hoskinson noted that Binance's $500 million investment in Musk's purchase of Twitter means that Binance's own blockchain, the Binance Smart Chain, is likely to end up taking a greater role in any future Twitter crypto-based payments system.
That suggests the immediate benefits of the Musk Twitter takeover for Cardano might not be that great. But if it boosts crypto adoption, then all major projects in the crypto space are winners in the long-run.
Altcoins Offering Quicker Gains
Despite the market's bearish mood, these coins are doing particularly well, catching the attention of crypto whales.
Dash 2 Trade (D2T)
For those interested in investing in a promising early-stage crypto project, look no further than Dash 2 Trade. Dash 2 Trade is a world-class cryptocurrency analytics and trading platform that, thanks to its host of unique and industry-leading features, could take the crypto trading space by storm.
Users can receive crypto signals and on-chain analytics that can benefit traders of all experience levels.
The platform is currently raising money via a pre-sale of the D2T tokens that users will need to get access to its features. In just seven weeks, the platform has already reached $7.5 million raised.

The pre-sale is set to enter its fourth stage imminently, which will see the token price lifted to $0.0533 from $0.0513.
RobotEra (TARO)
RobotEra (TARO) is a Sandbox-style Metaverse due to launch its alpha version in Q1 2023. It will enable gamers to play as robots and participate in creating its virtual world, including NFT-based land, buildings, and other in-game items.
1 TARO is currently selling for 0.020 USDT (it can be bought using either USDT or ETH), although this price will rise to $0.025 in the second stage of its presale, which will begin soon.

Visit RobotEra Now
Calvaria (RIA)
Calvaria (RIA) is a blockchain-based card game, in which players can collect, trade, and battle with their NFT-based cards. Aside from incorporating play-to-earn features, it will also enable gamers to play it without holding any cryptocurrency, which could help make it more accessible to a wider audience.
RIA will be used within its ecosystem for purchasing in-game items and for staking, giving it a strong use case. The presale for the token has raised $2.1 million and is currently in its fourth stage, during which 40 RIA can be bought with 1 USDT.

Visit Calvaria Now
---