Multi-Chain Future Brings Multiple Competitors to Bitcoin & Ethereum – Analysts
Disclosure: Crypto is a high-risk asset class. This article is provided for informational purposes and does not constitute investment advice. By using this website, you agree to our terms and conditions. We may utilise affiliate links within our content, and receive commission.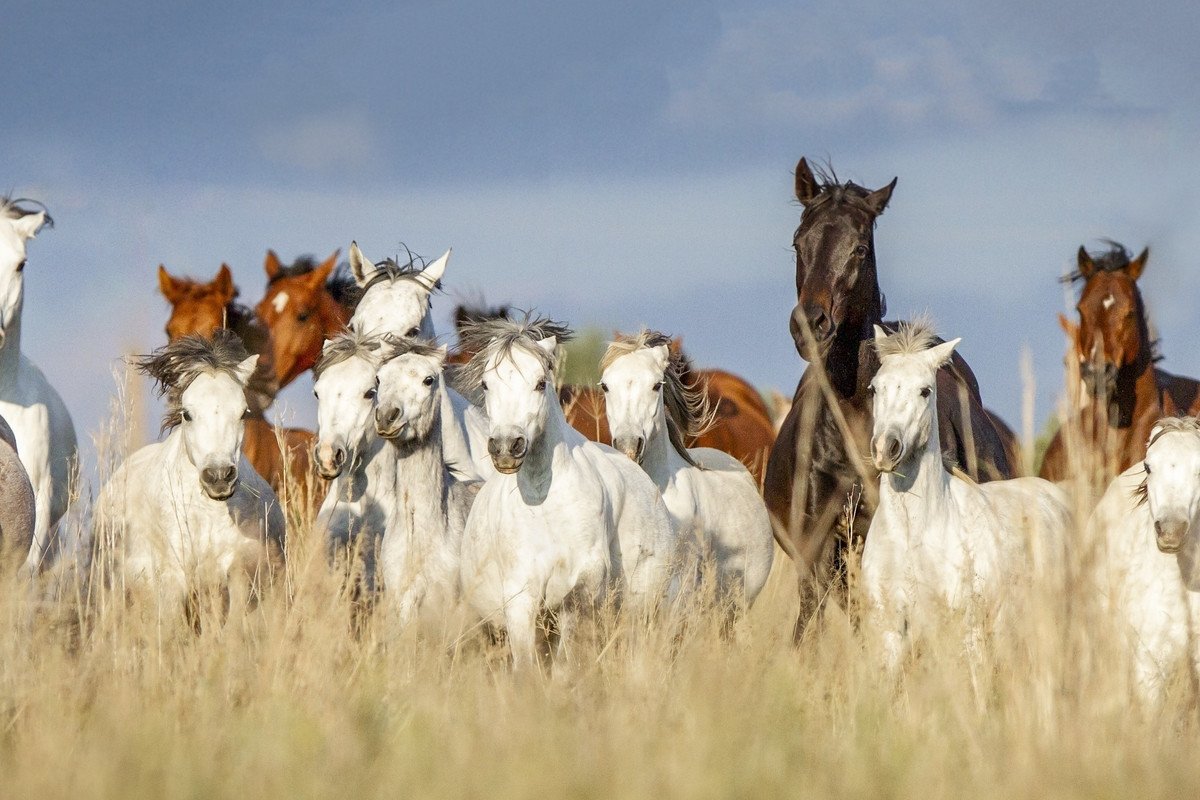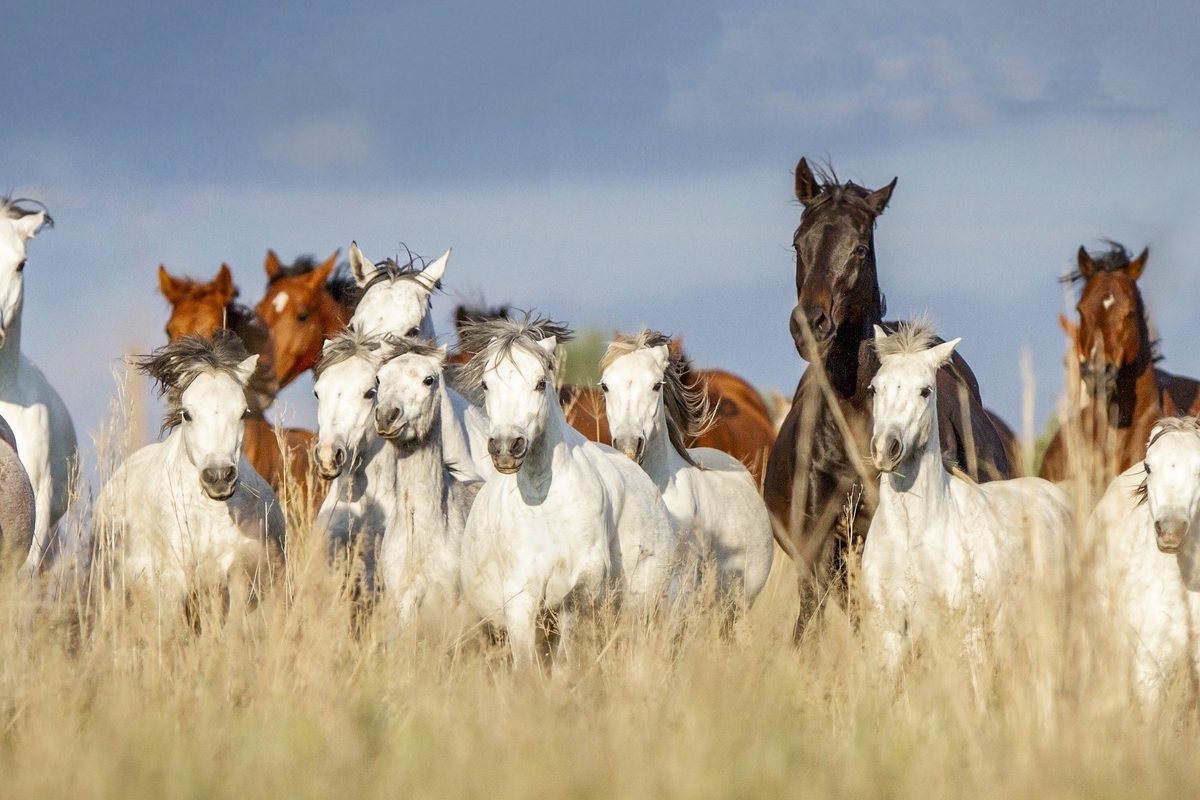 The multi-chain future will force both current crypto market leaders – Bitcoin (BTC) and Ethereum (ETH) – to give up some of their positions to new networks and blockchains, according to Messari analysts.
Speaking during a discussion at Messari's Mainnet 2021 event on Monday with fellow analyst Wilson Withiam and Messari CEO Ryan Selkis, Ryan Watkins said that the current multi-chain environment provides "so many ways to be productive with your capital" that the question really becomes how bitcoin can continue to stay relevant in the future.
And while both the CEO and analysts at the firm appear confident that the future is multi-chain, Watkins did not completely dismiss bitcoin.
"People in bitcoin are more macro focused, while ethereum (ETH) and other asset investors are more growth oriented," Watkins argued.
However, he also added that both assets will continue to exist and to be relevant, while also making the case that bitcoin is not the only store-of-value cryptoasset in existence, and that it could very well be overtaken by another cryptoasset in the future.
To this point, a fellow analyst at Messari, Wilson Withiam, agreed, saying that "Store of value plus utility will be more than just store of value." He further added that it's hard for him to see another asset not overtaking bitcoin's market capitalization if it has more utility.
Commenting further on the multi-chain future, Withiam said that "there's a whole economy being built" on the various blockchain platforms in use right now, which includes much more than just Ethereum.
"There's a lot of speculation still," Withiam admitted, adding that "real value" will come out of many of these projects in the end, and particularly those that are in decentralized finance (DeFi).
Meanwhile, in another panel discussion at the same event, Do Kwon, founder of the smart contract protocol Terra (LUNA), shared the sentiment towards the idea of a multi-chain future, saying that it's a "bad idea to stake all the applications into one global computer," just like it's a bad idea to have everybody in the world live in the same city.
Up-and-coming layer-1 protocols like Avalanche (AVAX) and Solana (SOL) have "a vibrant ecosystem" that makes it possible to "build great products" on them, the Terra founder said, suggesting that:
"Fundamentally, irrespective of what types of use cases gets built on top of a blockchain, maybe it just makes sense to have a multi-chain future."
Bitcoin and ethereum by the percentage of total market capitalization: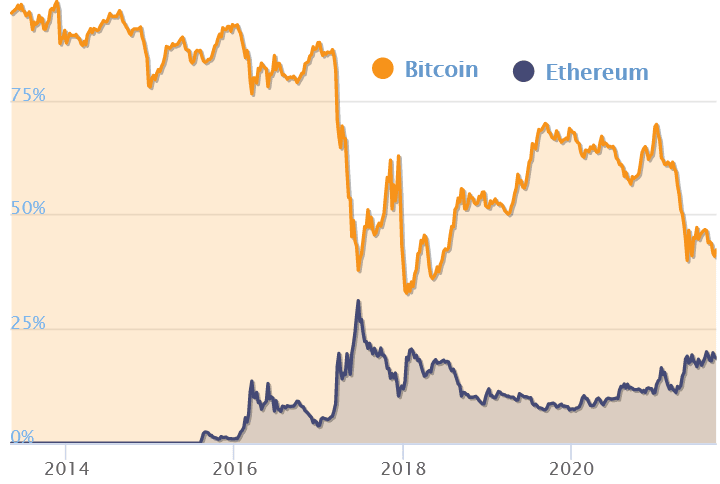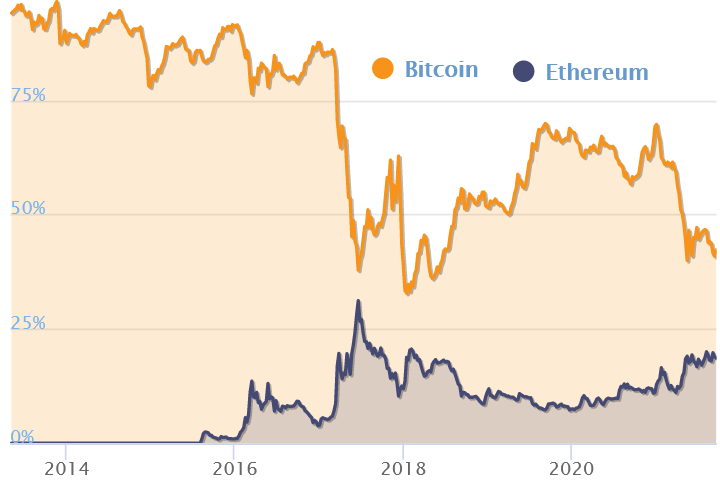 ____
Learn more:
– Ethereum Needs to Try Harder To Keep Its Dominance in a Multichain Future
– ETH Decouples from BTC with Use Cases & Competition in Focus

– Ethereum, Solana, Polygon & Co Form A New Hot Market Of Blockchains
– 'Fiat-Like' Proof-of-Stake Chains Favor Centralization & Rich Players

– Ethereum Developers On Why They Don't See Cardano & Binance Chain As Rivals
– Bitcoin and Ethereum Can Coexist With DeFi Bridging the Two
– The Ethereum Economy is a House of Cards
– Why Ethereum is Far From 'Ultrasound Money'
---