Bitcoin Trading Volumes Keep Trending in the Right Direction – Can BTC Sustain Its Bull-run?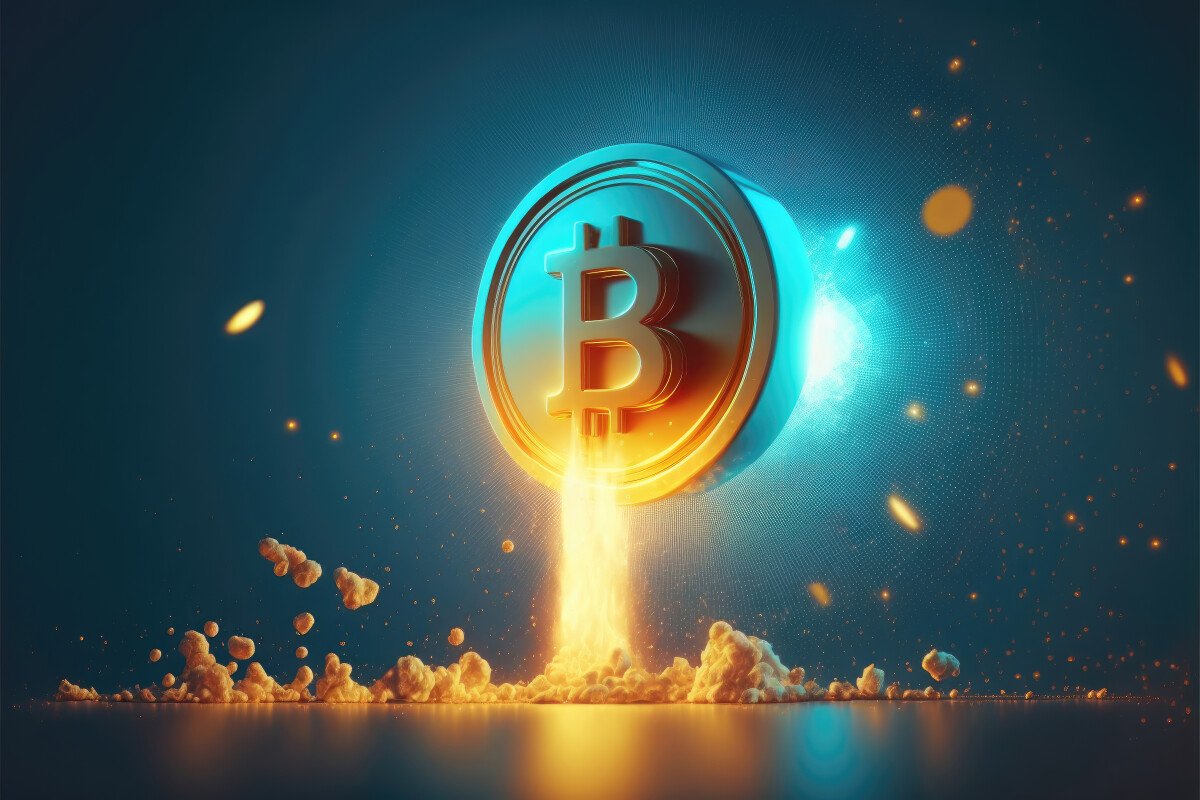 Bitcoin's bull run since the start of 2023 which has seen its price jump by close to 70% has been accompanied by a rise in Bitcoin trading volumes.
Daily trading volumes recently hit their highest level since the aftermath of the FTX collapse at more than $70 billion.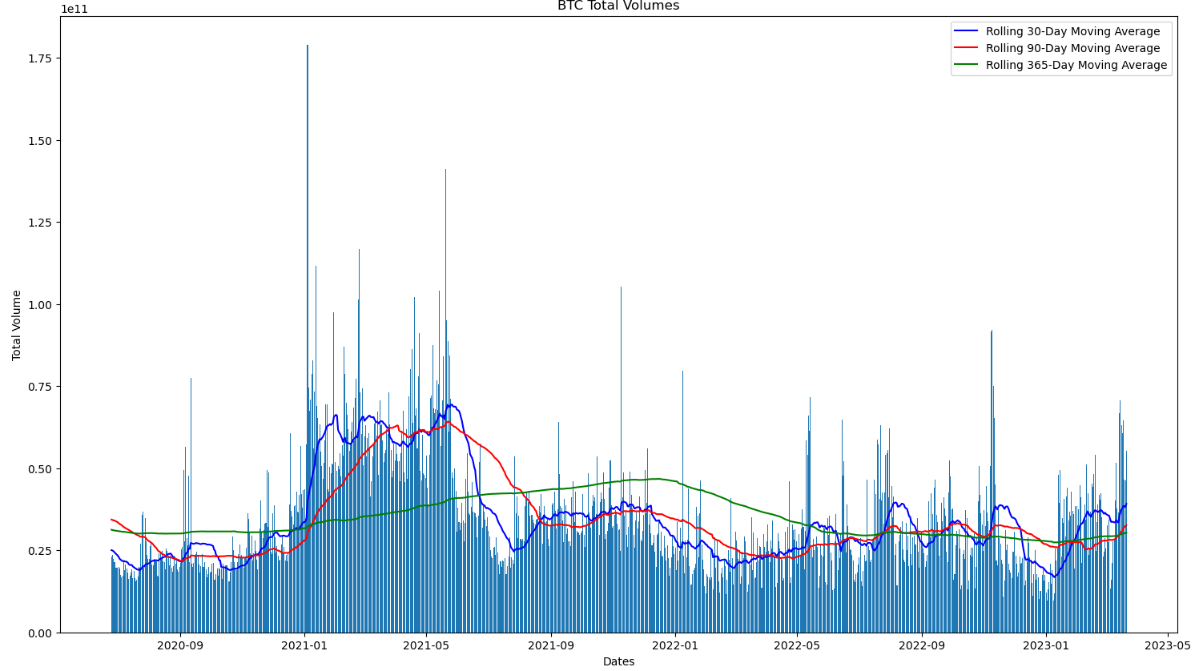 Bitcoin was last changing hands just above $28,000, up over 40% versus earlier monthly lows under $20,000.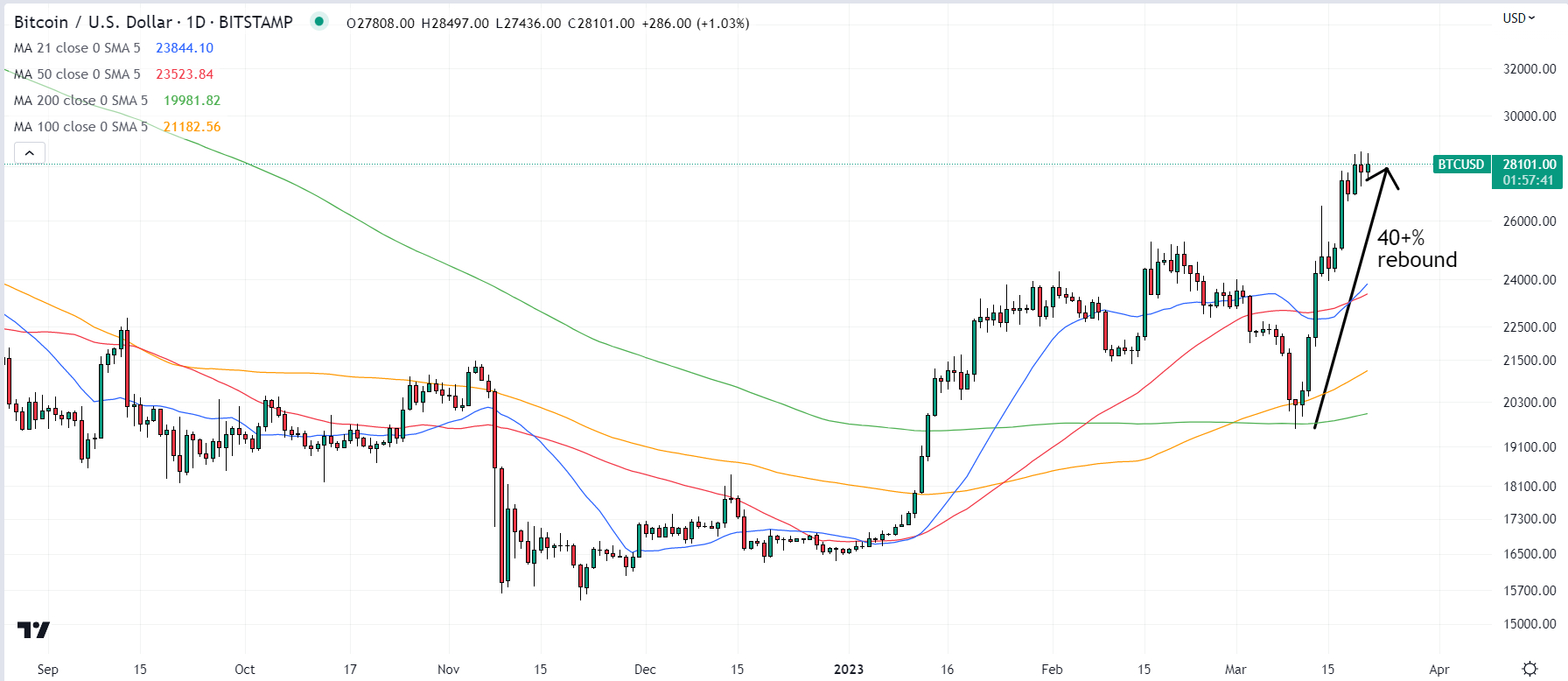 Indeed, Bitcoin trading volumes appear to be in a definitive uptrend, with the 21 and 50-day Moving Average of volumes recently rising above the 200DMA of volumes, and the former closing in on its highest level since mid-2021.
Rising trading volumes come during time periods of aggressive market movement, i.e. during acute bull and bear market phases.
The Bitcoin bulls will be hoping that the market remains within the former of these phases.
On-chain Metrics Also in a Positive Trend
Improvements relating to Bitcoin trading activity on exchanges comes at a time when on-chain data shows that activity on the Bitcoin blockchain itself is also picking up.
As can be seen in the below graphs presented by The Block, the number of transactions taking place on a daily basis on the Bitcoin blockchain recently hit its highest level since early 2021.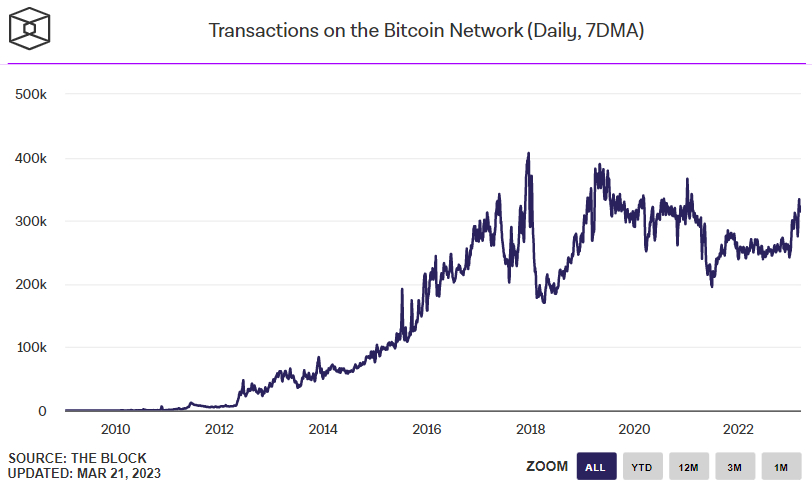 Meanwhile, the rise in the number of active addresses on the Bitcoin network in recent weeks hasn't been quite as impressive, but the metric is still close to multi-month highs.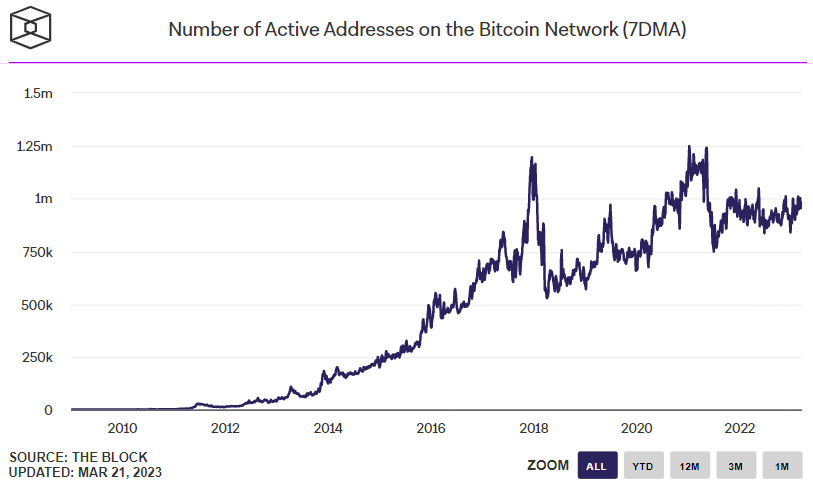 Elsewhere, the rate at which new addresses are interacting with the Bitcoin network for the first time has also been trending higher.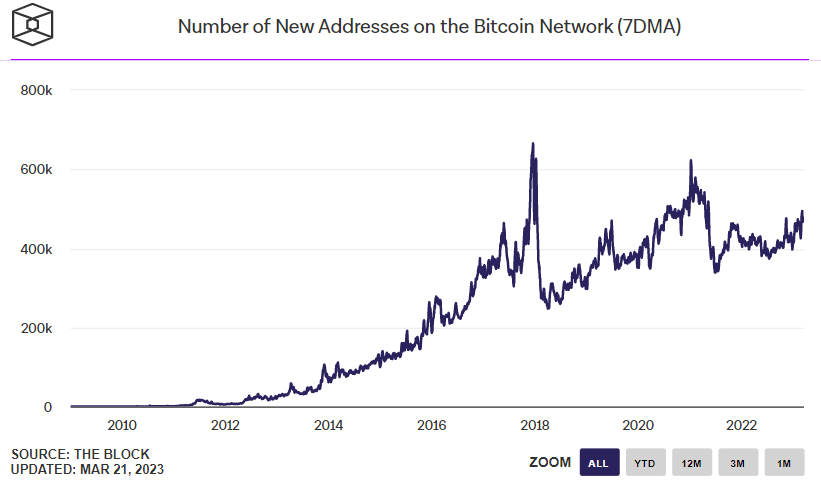 Addresses with a non-zero balance also continue storming higher. According to data presented by Glassnode, this metric recently surpassed 45 million for the first time.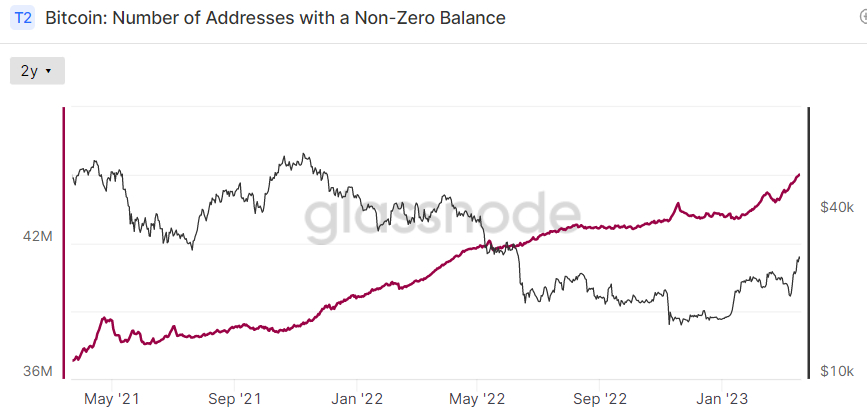 Financial Crisis Worries Could Send Bitcoin Yet Higher
Despite growing technical signs that the Bitcoin market is getting hot in the short term, analysts think that rumblings of a financial crisis could yet send the world's largest cryptocurrency by market capitalization higher.
Bitcoin has been acting as a safe haven in recent weeks, rallying in tandem with gold as investors turn to currency alternatives that aren't vulnerable to a collapse of the traditional financial system.
If US Federal Reserve Chairman Jerome Powell fumbles his communications on the outlook for policy tightening in the aftermath of Wednesday's policy announcement, then that could exacerbate crisis concerns.
According to Bloomberg's Senior Macro Strategist Mike McGlone, Bitcoin's recent strong price outperformance versus gold might be indicative that a new "supercycle" is setting in.
McGlone also posited that recent relative strength versus most assets may be a sign that Bitcoin is transitioning to trade more like gold and US treasuries (i.e. a safe haven), rather than a risk asset.
---