Bitcoin Price Prediction: BTC's Downtrend Threatens Break Below $26,800, Targeting $26,000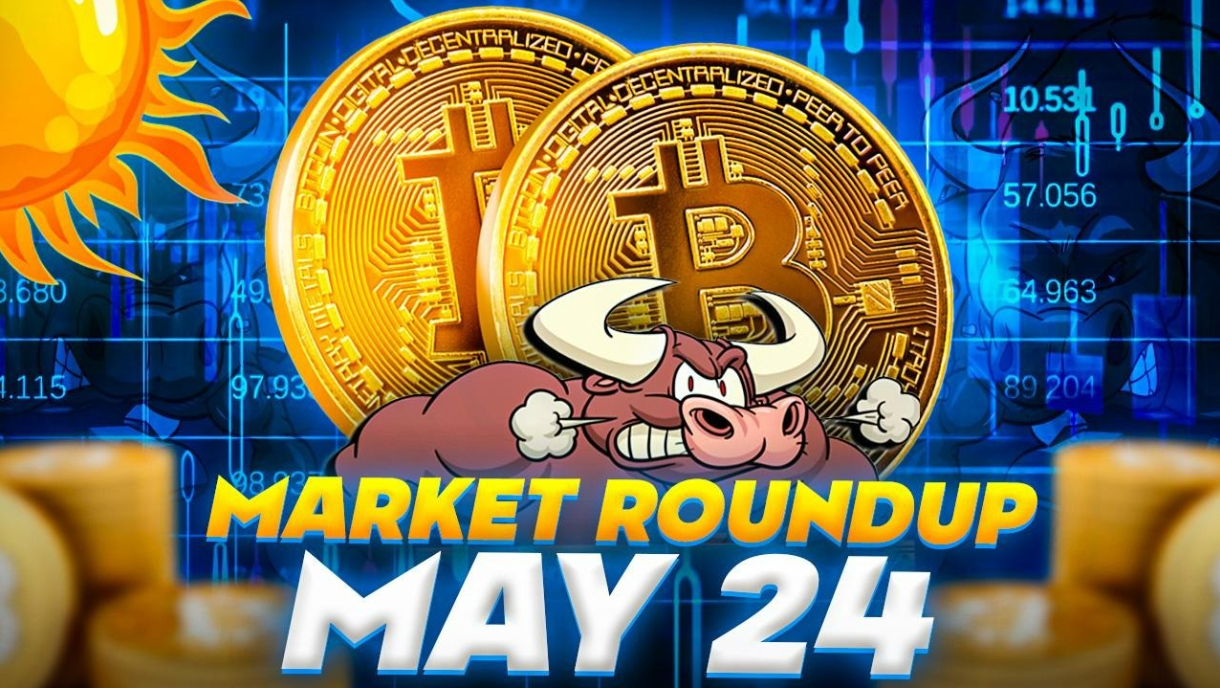 Bitcoin's price is currently facing a significant challenge as its downtrend threatens to breach the key support level at $26,800, with a potential target of $26,000.
The recent price action suggests a bearish momentum in the market, raising concerns among investors and traders.
The critical support level at $26,800 holds the key to Bitcoin's short-term direction, and a decisive breakout below this level could pave the way for further downward pressure towards the $26,000 level.
As Bitcoin navigates this critical juncture, market participants are closely monitoring the price movements and indicators for potential signals of a trend reversal or continuation.
United States Is 'Losing' the Bitcoin Movement Cathie Wood
Cathie Wood, the founder of ARK Investment, recently expressed her concerns that the United States is losing its grip on the Bitcoin movement due to its regulatory system.
She pointed out that the Securities and Exchange Commission (SEC) plays a significant role in shaping the regulatory landscape for cryptocurrencies in the country.
Wood criticized the SEC's approach of treating digital assets as securities, arguing that it is not suitable for checking the potential of these assets.
As evidence, she cited the ongoing disputes involving Ripple and Coinbase.
Wood also attributed the recent collapses of Signature, Silicon Valley Bank, Silvergate, and the FTX crypto exchange last year to their centralized nature.
She emphasized that the decentralized concept of Bitcoin, which emerged after the 2008 financial crisis, addresses the lack of transparency, audibility, and decentralization in traditional financial services, a critical factor in its popularity.
Cathie Wood's remarks positively impacted Bitcoin prices on Wednesday, contributing to its upward movement.
Bitcoin Hodling Surges: Long-Term Investors Opt for Stability and Growth
Statistics from Glassnode indicate a growing trend among Bitcoin owners to hold onto their coins for the long term instead of selling them for quick profits.
This behavior, commonly known as "hodling," reflects a maturing and stable perception of Bitcoin as an asset class, attracting investors with a positive outlook on its future prospects.
The data reveals that the proportion of Bitcoin supply that has remained unchanged for at least a year has reached a record high of 68%.
This suggests that most Bitcoin users are long-term investors who are not swayed by short-term price fluctuations.
Furthermore, on-chain data indicates that 40% of Bitcoin owners have held their coins for at least three years.
This trend of increased hodling and reduced selling pressure on Bitcoin encourages its growth and acceptance. It also indicates that owners maintain optimism in Bitcoin's long-term value appreciation, despite potential challenges or uncertainties that may arise.
Bitcoin Ordinals Gain Traction as Ethereum Dominates NFT Market
Following Ethereum's impressive $393 million NFT volume in the 30 days starting from April 23, surpassing Bitcoin's trading volume, Bitcoin ordinals have now taken the second spot.
According to a Dune dashboard created by Domo, the majority of ordinals activity on Bitcoin is attributed to BRC-20 token transactions.
Domo is the creator of the BRC-20 token standard. The surge in BRC-20 volumes can be primarily attributed to traders seeking to capitalize on the recent excitement.
However, if the gains start to slow down, it is likely that trading activity for BRC-20 tokens will also decrease.
While the NFT market for Bitcoin is expanding, there has also been a renewed focus on trading meme coins on the blockchain.
Cryptocurrency Market Gains Momentum as Hong Kong Allows Retail Trading
Tuesday saw a rise in cryptocurrency values following the announcement by Hong Kong's securities regulator that some crypto assets would be available for retail trade beginning on June 1.
According to Hong Kong's Securities and Futures Commission, retail investors can now start trading certain digital assets from next month.
It would be allowed only on registered trading platforms.
The potential increase in the volume of retail investors from June 1, sparked optimism in the market and caped bitcoin's losses on Wednesday.
Bitcoin Price Prediction
Bitcoin is trading at 26,800, decreasing by 2.21 percent on Wednesday. Despite having supported fundamentals, Bitcoin lost all of its previous daily gains today.
Bitcoin is currently bearish, with engulfing candles and a potential reversal signal. Support is holding at $26,600, backed by a trendline.
A close above $26,600 may trigger a bullish move, but caution and confirmation through multiple candle closes are advised to avoid a sharp sell-off towards $26,500 and further downside to $26,200.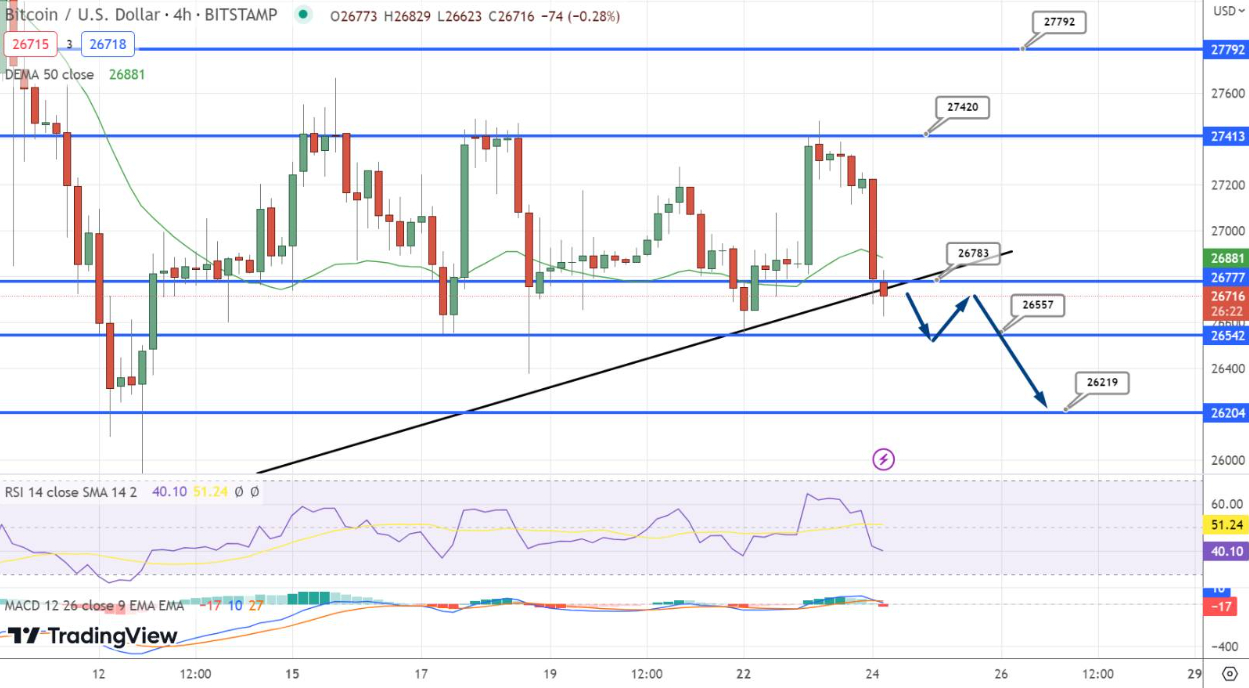 The 50-day exponential moving average reinforces the bearish bias, especially if Bitcoin falls below the $27,000 resistance level.
Monitoring the $26,600 level is crucial, as a close below it could lead to more downside.
Conversely, a close above $26,600 opens opportunities for long positions, targeting $27,000 or higher at $27,400.
Keep an eye on the $27,200 level, as breaking above it may encounter resistance at $27,800.
Top 15 Cryptocurrencies to Watch in 2023
Cryptonews Industry Talk presents an exciting lineup of cryptocurrencies that are poised for a bright future in 2023.
These digital assets have been carefully selected for their promising outlooks, indicating substantial potential for growth both in the short and long term.
With their unique features and innovative technologies, these cryptocurrencies are positioned to thrive and make significant advancements in the years to come.
Get ready to explore the exciting possibilities that lie ahead for these digital currencies.
Disclaimer: The Industry Talk section features insights by crypto industry players and is not a part of the editorial content of Cryptonews.com.
Find The Best Price to Buy/Sell Cryptocurrency

---