Bitcoin Price and Ethereum Prediction: Can BTC Continue to Soar Above $24,000 and What's Next for ETH?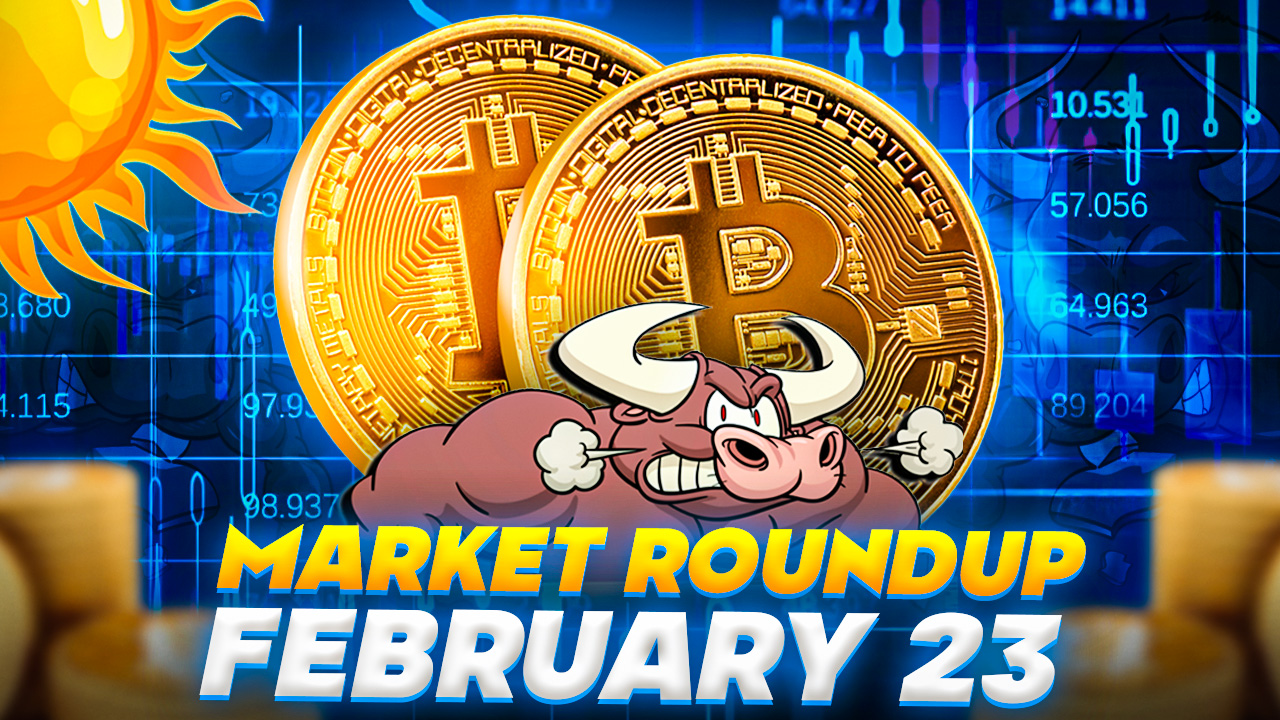 Bitcoin, the world's largest cryptocurrency, experienced a sharp reversal in market momentum in the last 24 hours, falling below $24,000 from its recent high of $25,100. Ethereum has also followed the downward trend of Bitcoin and has experienced a gradual decline during the same period.
However, the decline in the cryptocurrency market can primarily be attributed to the release of upcoming US preliminary GDP data and PCE figures, which are expected to increase market volatility.
Additionally, the upcoming release of the Federal Reserve's February meeting minutes is another factor causing investors to hesitate and contributing to the recent losses in Bitcoin. However, the central bank is expected to take a hawkish stance in the minutes, which may limit the cryptocurrency's gains.
Notably, the previously released higher-than-expected US PMI has given the Fed more economic headroom to raise interest rates.
Risk-Off Wave Hits Crypto Market: Focus on Key US Data
Despite recent positive regulatory developments for the cryptocurrency market, it has failed to maintain its upward momentum and turned negative. This is likely due to cautious sentiment in anticipation of the release of the Federal Reserve's February meeting minutes, which will provide further insight into US interest rates and monetary policy. Additionally, the upcoming release of the Personal Consumption Expenditures Index is expected to increase market volatility.
It is important to note that the minutes of the Federal Reserve's February meeting, scheduled to be released later today, is widely expected to reiterate the central bank's hawkish stance. The potential for rising interest rates could limit liquidity, which is unfavorable for cryptocurrencies since higher yields may prompt investors to withdraw their funds from riskier investments.
Investors will be paying close attention to the release of the Personal Consumption Expenditures Price Index on Thursday, as it is expected to reveal that inflation remained high in January. This could provide further justification for the Fed to continue hiking interest rates, which may have an impact on various financial markets including cryptocurrency.
On Tuesday, better-than-expected US Purchasing Managers' Index (PMI) figures for February were released, providing further indications of economic resilience. This has fueled expectations that the Federal Reserve will raise interest rates in the near future, as the central bank has expressed its desire to do so. Strong economic data gives the Fed more room to implement its hawkish stance.
NYDFS Boosts its Virtual Currency Monitoring Capabilities
The New York State Department of Financial Services (NYDFS) has announced enhancements to its ability to detect illicit activity related to virtual currency within the firms it regulates. These upgrades are part of the agency's efforts to remain competitive in the market and take a proactive approach to virtual currencies.
As a result, these efforts were regarded as a positive indicator for the cryptocurrency market, which is likely to aid in its expansion. The New York Department of Financial Services (NYDFS) issued a brief statement on February 21 about its new capabilities to spot unlawful activity involving virtual currency. However, the statement did not provide any details regarding the "new insider trading and market manipulation risk monitoring tools."
Nonetheless, the statement promised that the new enhancements would give the department additional abilities to detect potential insider trading, market manipulation, and front-running activity linked with department-regulated entities' and applicants' exposure or potential exposure to listed virtual currency wallet addresses.
Bitcoin Price
Bitcoin's current live price is $24,207, with a 24-hour trading volume of $28.9 billion. In the last 24 hours, Bitcoin has seen a 0.47% increase in value. CoinMarketCap reports that Bitcoin holds the top spot in the market with a live market capitalization of $467 billion, a circulating supply of 19,299,243 BTC coins, and a maximum supply of 21,000,000 BTC coins.
On the 2-hour timeframe, Bitcoin is displaying an ascending triangle pattern, with an upward trendline acting as support around the $24,000 mark. If Bitcoin's price falls below this level, the next support level is expected to be around $23,400. The RSI and MACD indicators are currently in the selling zone, creating additional selling pressure on Bitcoin.
In the near future, Bitcoin's first resistance point can be found at $24,500. If the buying pressure gains momentum, it could result in a price breakout above this level, paving the way for Bitcoin to test the subsequent resistance level at $25,200.
Ethereum Price
The current live price of Ethereum stands at $1,665, with a 24-hour trading volume of $9 billion. In the last 24 hours, Ethereum has increased by over 1.25%. According to CoinMarketCap, Ethereum is ranked #2, with a live market capitalization of $203 billion.
On the technical front, the ETH/USD pair is currently encountering an immediate resistance level at $1,780, which is reinforced by the 50-day EMA. A close below this level may trigger a selling trend in ETH.
If the current downward momentum of the ETH/USD pair continues, and there is a bearish breakout below the 38.2% Fibonacci retracement level, the downtrend could potentially extend toward the $1,600 or $1,565 support levels.
Bitcoin and Ethereum Alternatives to Watch in the Cryptocurrency Market
In addition to Bitcoin (BTC) and Ethereum (ETH), there are numerous other altcoins in the cryptocurrency market that investors should keep an eye on. To help them stay up-to-date, the CryptoNews Industry Talk team has conducted an analysis and put together a list of the top 15 cryptocurrencies to watch in 2023.
The list is updated regularly with new altcoins and ICO projects, so it is advisable to check back frequently for the latest additions.
Disclaimer: The Industry Talk section features insights by crypto industry players and is not a part of the editorial content of Cryptonews.com.
Find The Best Price to Buy/Sell Cryptocurrency
---