Bitcoin Makes US Dollar Less Relevant - BlackRock CEO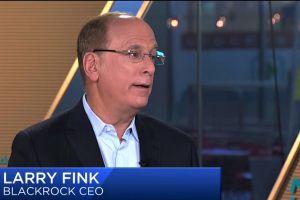 While the most popular cryptocurrency, bitcoin (BTC) is still an untested territory, it possibly can evolve into a global market, and already makes the US Dollar less relevant, according to Laurence D. Fink, CEO of the world's largest asset manager, BlackRock.
He was answering a question on digital currencies during The 2020 Stephen C. Freidheim Symposium on Global Economics on December 1.
"Having a digital currency has a real impact on the US Dollar," Fink said, while former Bank of England Governor Mark Carney, who was also participating in this discussion, seemingly agreed with this statement.
According to the CEO, digital currency makes the need for the US Dollar less relevant.
"I'm not talking about Americans, I'm talking about international holders of dollar-based assets. The question I would raise - does it change the need for the dollar as a reserve currency if they were a true digital currency that was separated from dollar-based assets?" he asked.
According to Fink, BTC is still an untested, thin and relatively small market that could possibly evolve into a global market one day.
For him, the fact that so many people are excited about it and want to learn about it - is "a very telling sign."
The CEO argued that digital currencies help bring down costs, but it needs to be organized and be "a component of a governmental policy worldwide."
"Many questions need to be answered before I could say it's real and alive. It certainly has the potential to evolve into something real," Fink said.
As reported, in November, Rick Rieder, BlackRock's Chief Investment Officer of Global Fixed Income, said he thinks that BTC "could replace gold to a large extent" because BTC is "much more functional."
At the end of last year, BlackRock had USD 7.4 trillion in assets under management.
At pixel time (07:08 UTC), BTC trades at USD 18,954 and is down by 2% in a day and is almost unchanged in a week. The price rallied by 37% in a month and 154% in a year.
Meanwhile, during the discussion with Fink, Carney joked about the importance of mentioning "the B word" as this "gives us the headline" while other things they were discussing on the implications of the coronavirus pandemic on global economic policy "will be far more determinative to our future."
Watch the whole discussion below (the "B" part starts at 52:30):
__
Learn more:
Undetected Inflation: Your Fiat Money Devalues Faster Than You Think
Bitcoin Starts Its Series of Hitting All-Time Highs
Who Invests In Bitcoin More? Competition Among Multibillion Funds Is Now On
Crypto in 2021: Institutions Prefer Bitcoin, Retail Open to Altcoins
---