Bitcoin Exploded, Crypto Market Followed (UPDATED 3)
Disclosure: Crypto is a high-risk asset class. This article is provided for informational purposes and does not constitute investment advice. By using this website, you agree to our terms and conditions. We may utilise affiliate links within our content, and receive commission.
On Tuesday morning, bitcoin price suddenly jumped by 16% in an hour (05:29 UTC), reaching USD 4,882 per coin, or the level last seen in November 2018, before trimming its gains to USD 4,755 (15:27 UTC.) (Updated on 15:51 UTC: updates throughout the entire text. A new section "Volatility and long-term investing" has been added, while the "Looking for catalysts" section has been updated with its new first paragraph.)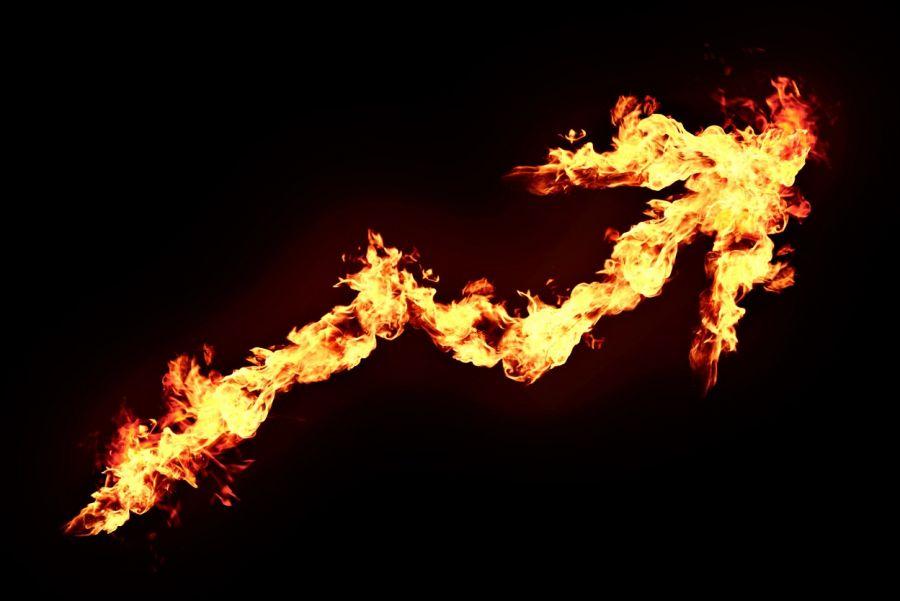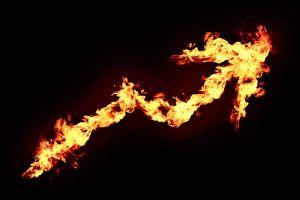 Source: iStock
Other top coins also registered strong hourly gains of 3.2% – 11.45% and have retracted later.
Moreover, bitcoin surpassed its 200 daily moving average, which is considered to be a very important metric in technical analysis.
At the time of writing (15:27 UTC), bitcoin is up by almost 15% in the past 24 hours, increasing its weekly gains to more than 20%.
BTC price chart:
(15:30 UTC)


Source: coinpaprika.com
Moreover, bitcoin just posted two-consecutive months of gains, having increased by more than 10% in the first quarter of this year.
Also, as reported, the bitcoin bottom has already occurred, as there aren't additional sellers coming, according to New York-based research and consulting boutique specializing in the digital asset market Delphi Digital.
Meanwhile, more signs have recently emerged showing that the altcoin season is also here.
____
Top 10 coins by market capitalization:
(15:30 UTC)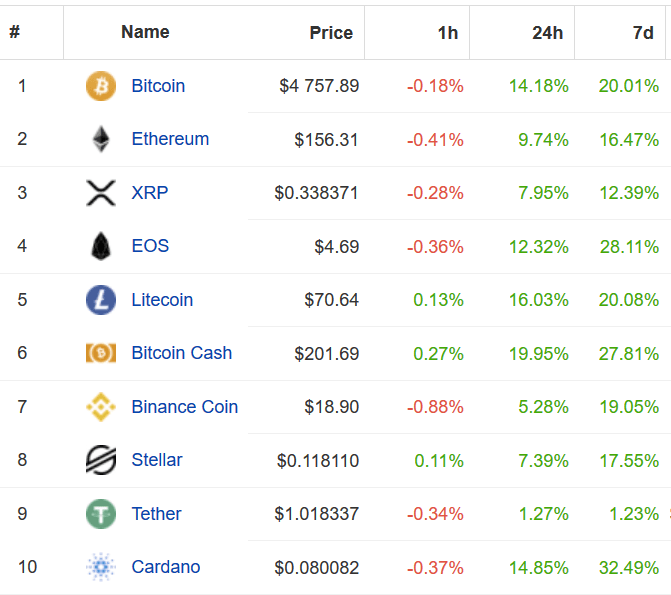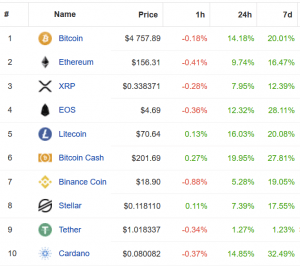 Source: coinpaprika.com
____
Volatility and long-term investing
Jehan Chu, managing partner at blockchain investment and advisory firm Kenetic Capital, told Bloomberg that the crypto market is still very much subject to waves of enthusiasm.
"I don't think today is anything special other than a temporary enthusiasm," he added.
However, Anthony Pompliano, co-founder and partner at Morgan Creek Digital, a digital asset management firm, stressed that "short-term volatility doesn't matter to the long-term investor."
"As I have said many times, Bitcoin is a game of accumulation. If an investor has done their own research, understands the risks, believes in the system design, watches the fundamentals, and has a low time preference, they stand a chance to be rewarded handsomely. This doesn't have to be accomplished over night either," he wrote in a newsletter, adding that bitcoin's recent move has brought back a level of excitement that the market hasn't seen in over a year.
George McDonaugh, CEO of KR1, a listed cryptocurrency and blockchain investment company, reiterated that moving away from a specific catalyst or event, lately there's definitely been positive sentiment in the market these last few weeks.
"There's a sense that perhaps we've reached the lows for this cycle and it's onwards and upwards from here on in. I think it's still too early to call it, but it seems that that hasn't stopped a few eager buyers jumping the starting gun," he said in an emailed statement.
Meanwhile, advisory firm Fundstrat Global Advisors claims that the worst is behind for crypto and "sceptics are on the wrong side of history."
"We see fewer reasons to question the recent recovery Bitcoin prices—the best quarter since 2017. While the key technical price hurdle is BTC closing above its 200D (currently USD 4,600 and falling by USD 15 per day), we see 2019 as positive risk/reward," they wrote in a summary of a crypto panel at the Texas CFA Summit held in San Antonio last Friday.
CRYPTO SURVEY: One takeaways from the #crypto panel at the #CFA Texas Summit were comments made both by @TuurDemeester and @lopp that they now believe Crypto cycles are lengthening. Meaning bear market longer.

Curious CT take on crypto cycles (thus bear market)

— Thomas (Tom) Lee (not drummer) FSInsight.com (@fundstrat) March 30, 2019
Looking for catalysts
"There's always a myriad of possible reasons why bitcoin has had a surge in price. The fact that there was USD 415 million worth in short positions on the Bitmex exchange may have been too succulent a target for the market not to move against. There have also been rumours about buying bots going awol after some fake news about an ETF [exchange-traded fund] green light from the SEC [the U.S. Securities and Exchange Commission] was released as part of an April fools joke. You literally can't make this stuff up. I'd veer towards the first explanation than the second, going by the fact the ETF rumour came out a full 24hrs after the rally began," McDonaugh said.
Mati Greenspan, senior analyst at social trading platform eToro, suggested in a tweet that "judging by the timing, it looks like the pump originated in Japan or South Korea." While his followers are also pointing at China, the Middle East and India.
"The economy is slowing down fast in South Korea and Japan, and the stock market is stagnant, so people are prepared to give crypto a second chance," according to our correspondent in South Korea Tim Alper. Also, the fact that South Korean and Japanese giants such as Samsung, Hyundai, Kakao, Rakuten, SBI and many Japanese banks are starting to invest a lot of money into their crypto operations, is creating optimism among buyers and investors, he added.
Greenspan also stressed that "it doesn't seem like too many people are selling the pop."
Bitcoin shorts @bitfinex (blue line) near their lowest levels since February. So no, it doesn't seem like too many people are selling the pop. pic.twitter.com/5SzJpIKFfb

— Mati (@MatiGreenspan) April 2, 2019
_____
Mati Greenspan discusses the spike:
____
In either case, while the cryptoverse is struggling to explain the unexpected strong rally, some crypto users were complaining that major crypto exchange Binance "is unusable".
Binance CEO Changpeng Zhao tweeted, later adding that he's also "honestly clueless" what caused the rally:
https://www.twitter.com/cz_binance/status/1112955376750587904?ref_src=twsrc%5Etfw
However, Binance was not alone facing technical problems this Tuesday:
We are slowly rebuilding one hour of minute data from 06:02 GMT to 06:52 GMT. Our aggregation server struggled to process a spike of 3000 trades per second, we are deploying a second aggregation server today. One will calculate top 20 coins the other will calculate all the rest.

— CCData (@CCData_io) April 2, 2019
____
Reactions:
https://www.twitter.com/TheCryptoDog/status/1112952718744842240?ref_src=twsrc%5Etfw
___
https://www.twitter.com/teddycleps/status/1112952236454408198?ref_src=twsrc%5Etfw
___
https://www.twitter.com/FatihSK87/status/1112949566393978880?ref_src=twsrc%5Etfw
___
LTCUSD is the first to break this bearish pattern. Similar patterns in other majors but LTC is the first to invalidate my count, leading to new lows. Lets hope it can close above and continues to show the others where to go. Been eyening this for weeks, key level in all my charts pic.twitter.com/JzEbHsb7Jc

— Ed_NL (@Crypto_Ed_NL) April 2, 2019
___
Volatility is back … PARTY TIME! pic.twitter.com/M6w3ovKyUT

— Arthur Hayes (@CryptoHayes) April 2, 2019
____
10.5 hours. My $BTC transfer has now taken 10.5 hours. In the last few minutes, I've watched the mempool go from 43k unconfirmed transactions to 46k. If you don't remember what a bull market $BTC explorer looked like, IT WAS A BIT LIKE THIS.

— 👯‍♀️.eth (@CryptoBunnyGirl) April 1, 2019
___
The question now is : is this the beggining of something bigger ? Reverse in the macro trend ?

Or are we seeing the first attempt of breaking 5k-6k, in the many potentially necessary to break it ?

Things are getting exciting.

— Pierre (@pierre_crypt0) April 2, 2019
___
"Today's spike in Bitcoin's price was caused by more people buying and holding."

– Samson Mow

(Media, feel free to quote me in the articles.)

— Samson Mow (@Excellion) April 2, 2019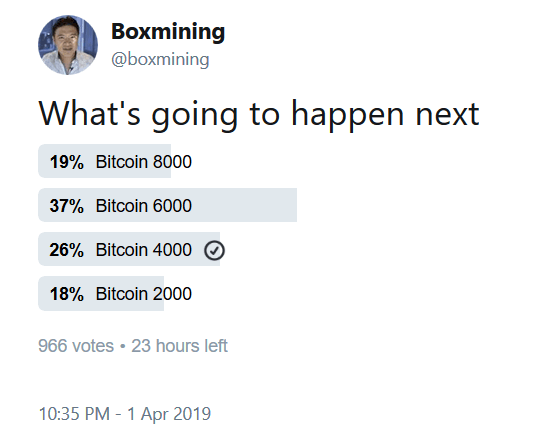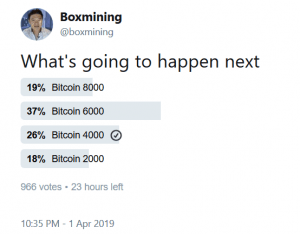 ---