Bitcoin and Ethereum Prices On Cusp of Igniting Sustainable Crypto Bull Run
Disclosure: Crypto is a high-risk asset class. This article is provided for informational purposes and does not constitute investment advice. By using this website, you agree to our terms and conditions. We may utilise affiliate links within our content, and receive commission.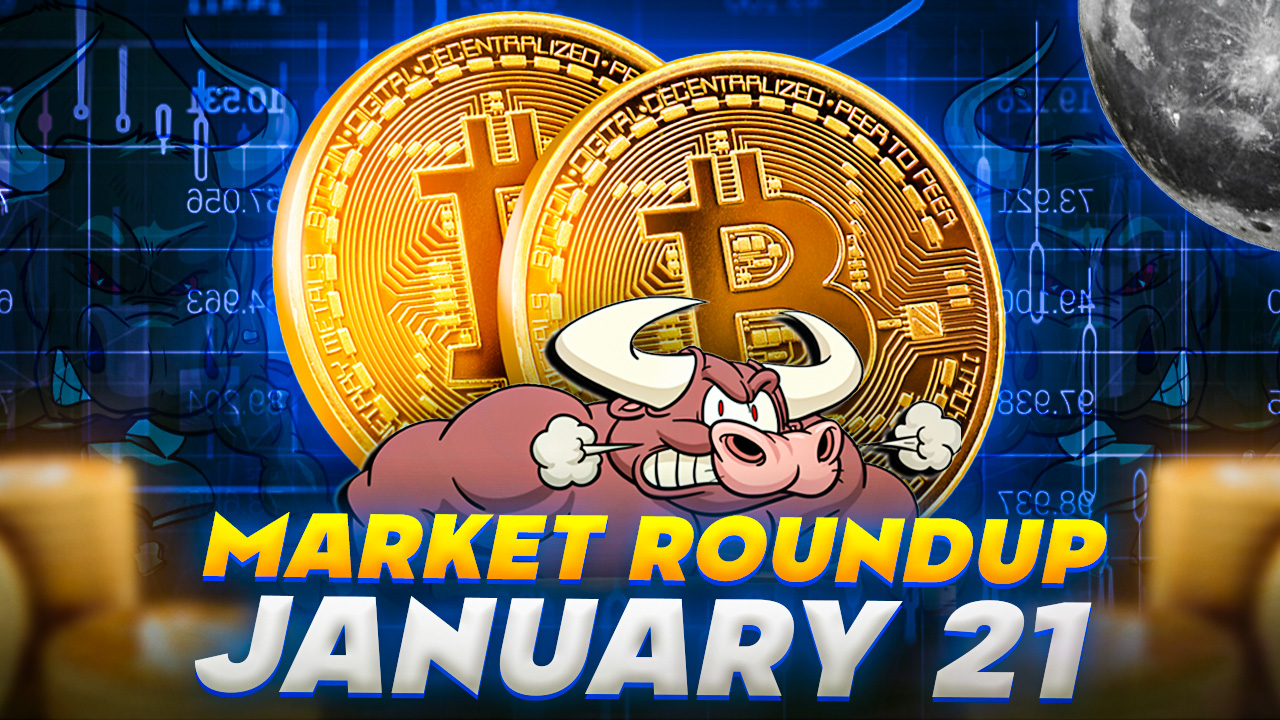 The crypto market is on the verge of igniting a sustainable bull run. Bitcoin and Ethereum are on the verge of breaking through to new yearly highs, which could spark a more widespread crypto market rally in the coming weeks.
Bitcoin has continued its strong winning streak and spiked over 8.5% to $23,162. The second largest cryptocurrency, Ethereum (ETH), is also experiencing a significant rise as it has increased by roughly 5% to $1,655.
Despite the ongoing negative news from two major exchanges, Coinbase and Gemini, bitcoin appears to be ignoring all of the market turmoil this week.
Coinbase Under Fire: How Weak Security Practices Led To A Mass Lawsuit
In an effort to keep their class-action lawsuit against the cryptocurrency exchange Coinbase out of arbitration, a group of investors is keeping their account details secret.
They hope that their case will eventually be heard in an American court. Customers are alleging that Coinbase's security measures weren't very good and led to the loss of funds. They also allege that Coinbase is trying to avoid any compensations for their victims.
A plaintiff in the lawsuit had $6,000 of crypto funds illegally taken from his wallet and moved to an address that wasn't his. He also alleges that Coinbase did nothing to stop the hackers, who stole $1,000 from his bank account. Hence, the mass lawsuit can weight on the cryptocurrency market.
Investors Take Legal Action Against Gemini Exchange Over Fraud Allegations
In addition to Coinbase, Gemini is also under the spotlight, causing a slowdown in the rise of the cryptocurrency market. A class action lawsuit claims the corporation breaches the Exchange Act. The Earn Program, through which Gemini pays its traders up to 7.4% interest, is at the crux of a lawsuit brought against the company and its founders in the US Southern District of New York.
When the program stopped accepting investment in December 2022, those who had already invested couldn't get their money out. The FTX market crashed in late November which led to a halt in the Earn program, and that's when Founder Sam Bankman-Fried created Alameda Research.
This company is said to have received $10 billion in digital client cash from FTX.
Genesis Global, which works with Gemini and is an institutional crypto business, felt the effects of one of FTX's decline. Max J. Hastings and Brendan Picha are the people who filed the complaint. This answer questions whether Gemini registered assets as securities in the US law.
Furthermore, it is claimed that Genesis owes Gemini close to $1 billion. On November 16, 2022, Genesis announced that due to "issues with FTX," all loan redemptions will be delayed. In other words, the company is not available for any future lending. Hence, the mass lawsuit can weight on the cryptocurrency market.
Bitcoin Price
Bitcoin's current price is $23,240.65 and the daily trading volume is $35 billion. Bitcoin has increased by 7% in the last 24 hours, with a market cap of $447 billion. CoinMarketCap currently ranks first.
Bitcoin is now holding just below the $23,150 mark. On the daily timeframe, Bitcoin has formed a bullish engulfing candle which suggests that there is a chance for an uptrend continuation. If Bitcoin breaks above the $22,750 level, it could target the $24,000 or $24,550 levels.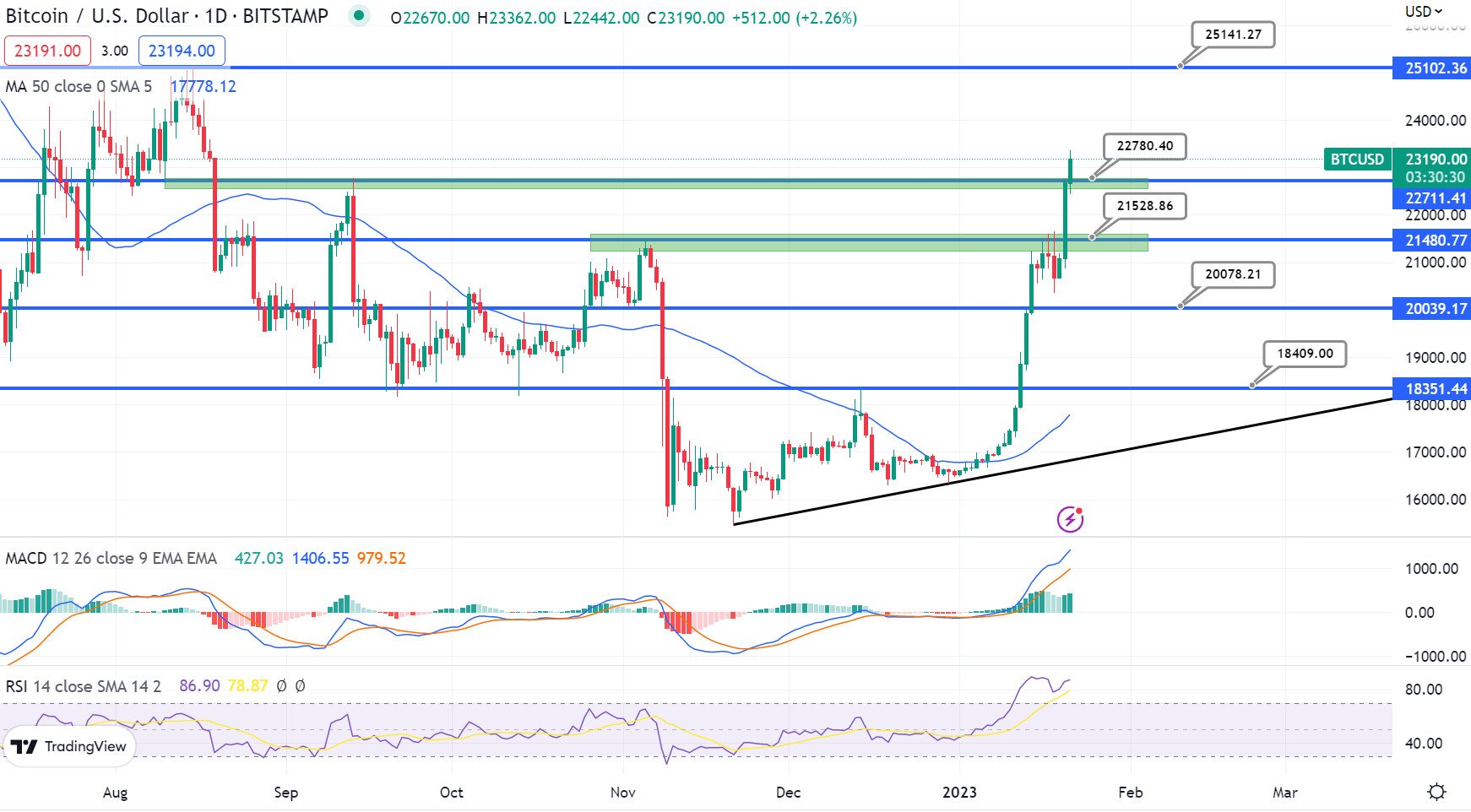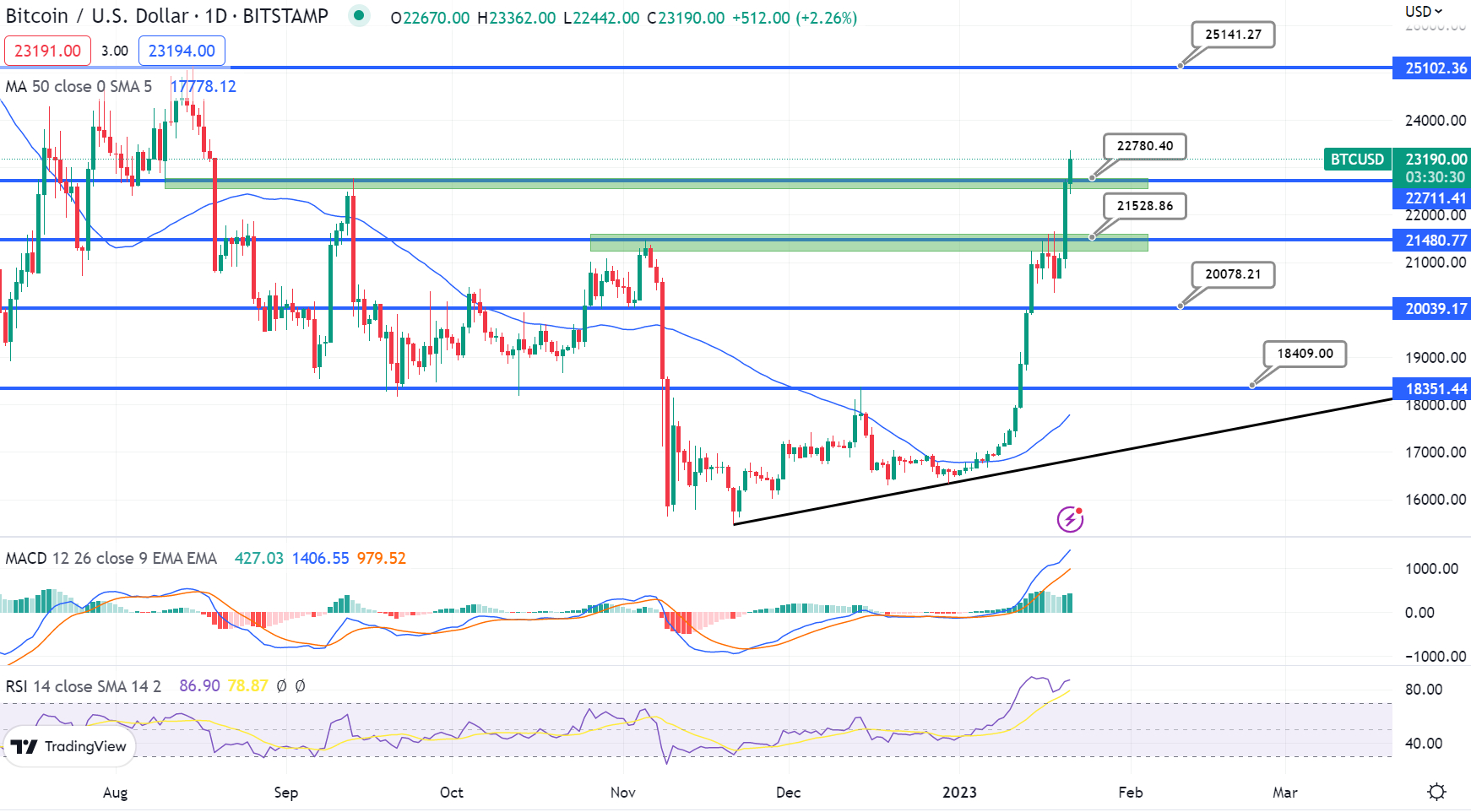 On the lower side, Bitcoin's immediate support prevails at $22,500 and an additional drop below this level can expose it towards $21,550.
Ethereum Price
Ethereum's price over the last 24 hours is $1,654.74 with a trading volume of $10 billion. They are valued at 4% over the course of the past day.
CoinMarketCap, which provides live cryptocurrency and token market alerts, currently ranks second in terms of average daily trading volumes
On January 21, the ETH/USD pair is facing strong resistance near $1,680. The price of ETH closed under $1,680 resistance on December 22, with a bearish gap-down doji around the minor bullish candle at $1,690.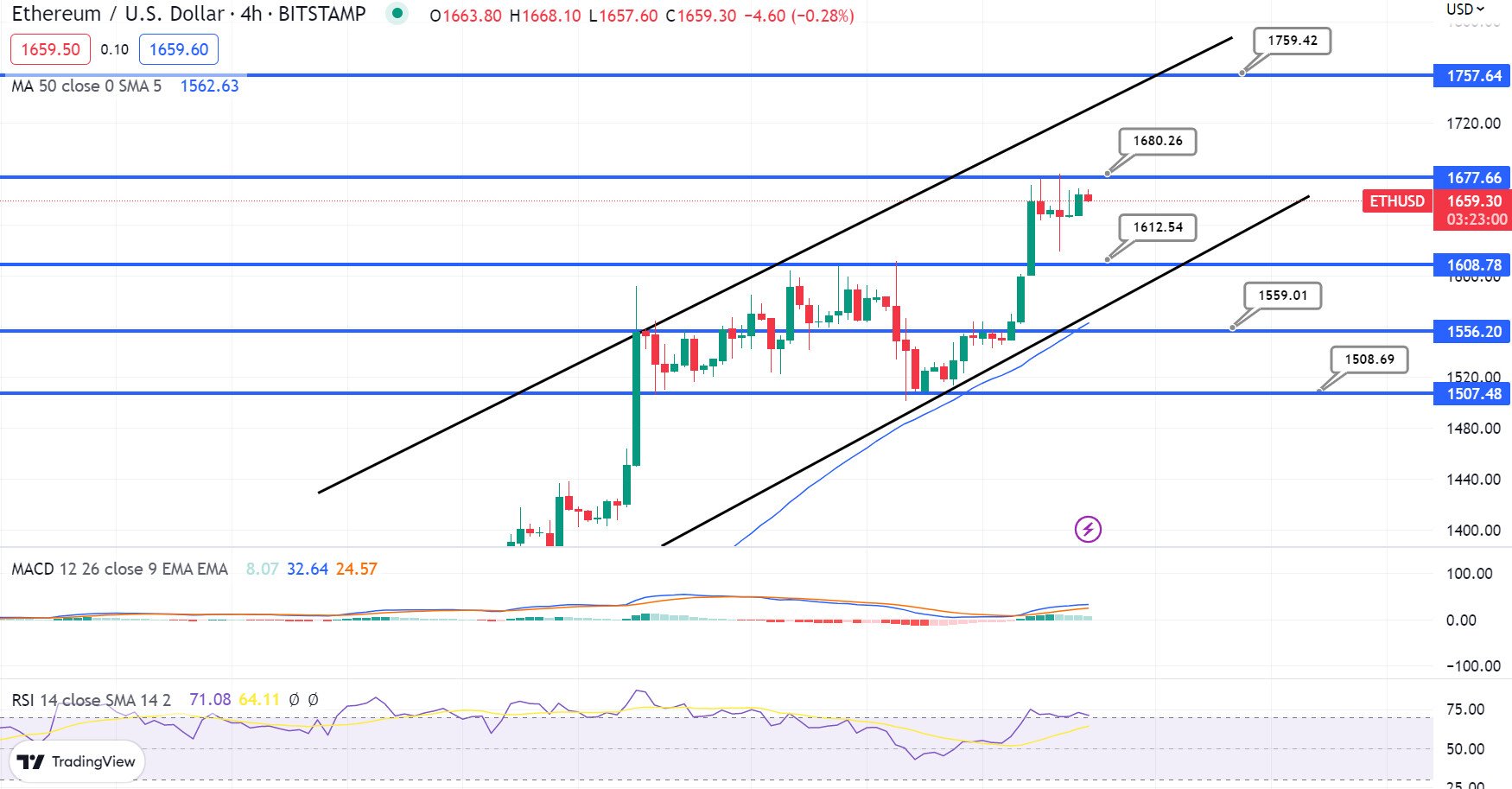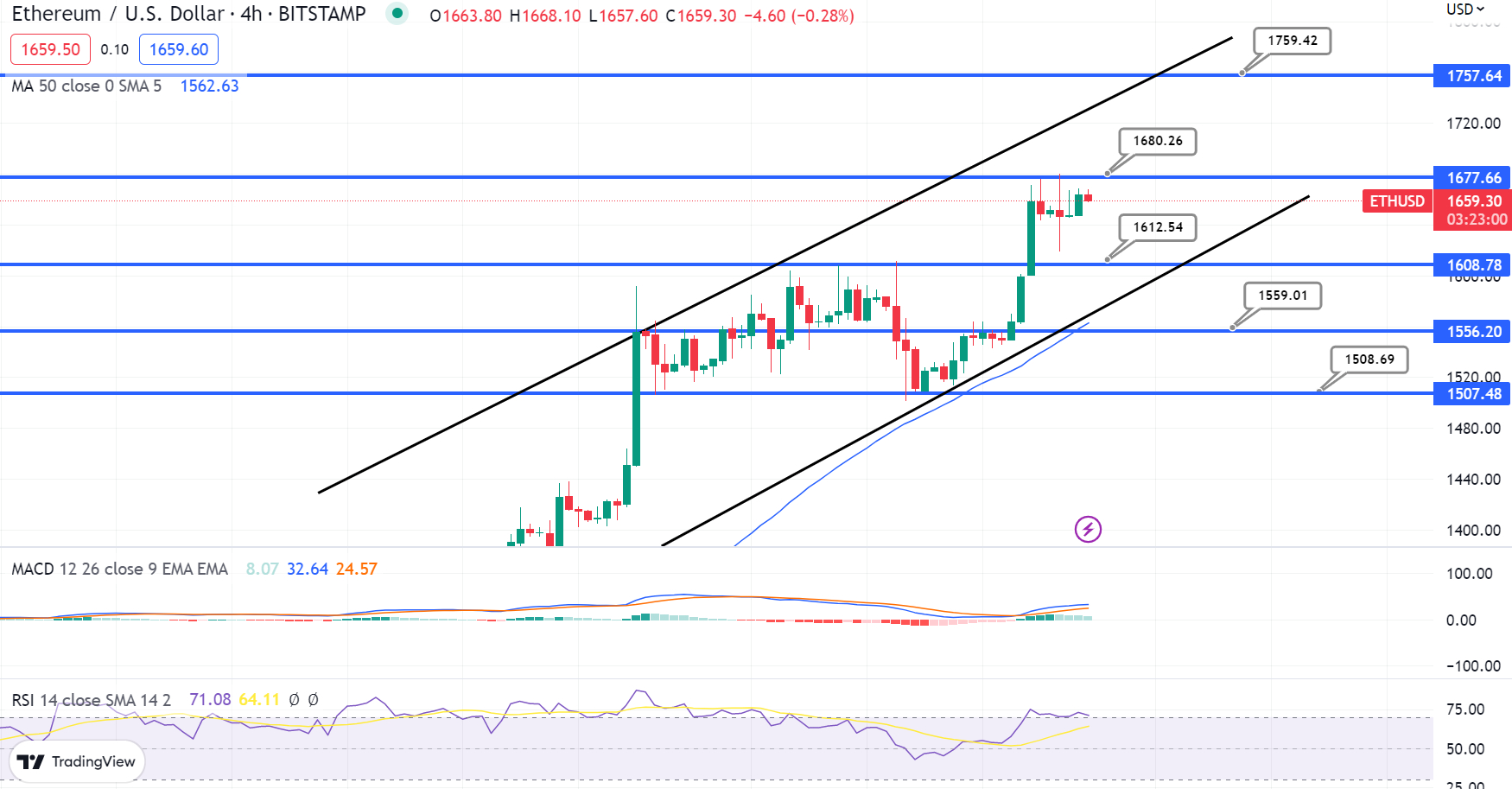 There is a chance (albeit not very high) that the price of ETH might reach $1,610 in the short-term if it manages to close candles above this level.
Let's keep an eye on $1,610 to watch for any closing above this level. If it does close above this level, we could see a potential buying trade.
3 Coins To Look Out For During Presale: Make Returns Before Everyone Else Does!
Investing in altcoins at the presale stage is beneficial to investors who prepare and follow through with proper research and recommendations. They'll be able to take advantage of the potential for these coins.
Fight Out (FGHT)
Fight Out is a convenient and cost-effective way to stay fit. By purchasing their FightOut tokens, you can gain access to expert personal training services at a low cost, allowing even those on a tight budget to reap the benefits of exercise.
Despite the new fitness app from Move2Earn's strong lineup of features, it is their unique capacity for tracking physical and mental fitness, along with their NFT Avatar and social competition feature, that sets them apart from other M2E programs. Fight Out's real-time tracking of a user's performance allows people to monitor and track their progress on strength, cardiovascular endurance, and more.
As a user, you can even compete against friends of similar skill levels. Once you reach a goal in reality, your avatar levels up like mine did – preparing it for possible fights against other users' avatars to earn rewards.
Investors are opting for Fight Out's $FGHT cryptocurrency with its promising concept and impressive presale bonuses that can vary from 50% to even more based on how much you invest.
With partners like LBank Labs, Cryptonews.com, Transak, and BlockMedia Labs offering operational and financial assistance, this project is poised for success and has already raised more than $3 million so far.
The FGHT will be on sale for a limited period. If you are considering investing, then act quickly and take advantage of this opportunity.

Visit FightOut Now
C+Charge (CCHG)
C+Charge is launching a groundbreaking online payment system for people who are electric vehicle (EV) owners. It will allow users to convert their initial charge into credits that can be exchanged for carbon credit. The ultimate goal is to significantly reduce greenhouse gas emissions by car trips.
Since the potential for this technology is completely game-changing, it has the power to completely transform the carbon credit market. This allows a wide range of companies to participate and adds greater value to them as well.
VCMs are forecast to reach $100 billion by 2030, making them a booming investment opportunity for businesses. C+Charge has raised over $344,000 in its pre-sale, indicating that there is a lot of demand for VCMs.
Meta Masters Guild (MEMAG)
The Meta Masters Guild has skyrocketed from $200,000 to a stunning $550,000 in just a few days. This remarkable rise indicates that the public has a high level of confidence in the company's future growth and profit-generating ability. In the third quarter of 2023, Meta Masters Guild will release its first mobile game.
The MEMAG network has been around for a while, allowing users to create and manage with staking their own cryptocurrencies in addition to trading on the public exchange. They are also developing games that allow users to earn rewards for playing as well as ones that are powered by Web3, an Ethereum-compatible system.
As it is right now, the process of investing in MEMAG starts with you purchasing $10 worth of MEMAG tokens. If you participate in the presale, what's offered is 1 token for just $0.01; early investors have a limited window of opportunity to participate.
Find The Best Price to Buy/Sell Cryptocurrency


---