Bitcoin and Ethereum Poised to Resume Rally in Bid to End Bear Market
Disclosure: Crypto is a high-risk asset class. This article is provided for informational purposes and does not constitute investment advice. By using this website, you agree to our terms and conditions. We may utilise affiliate links within our content, and receive commission.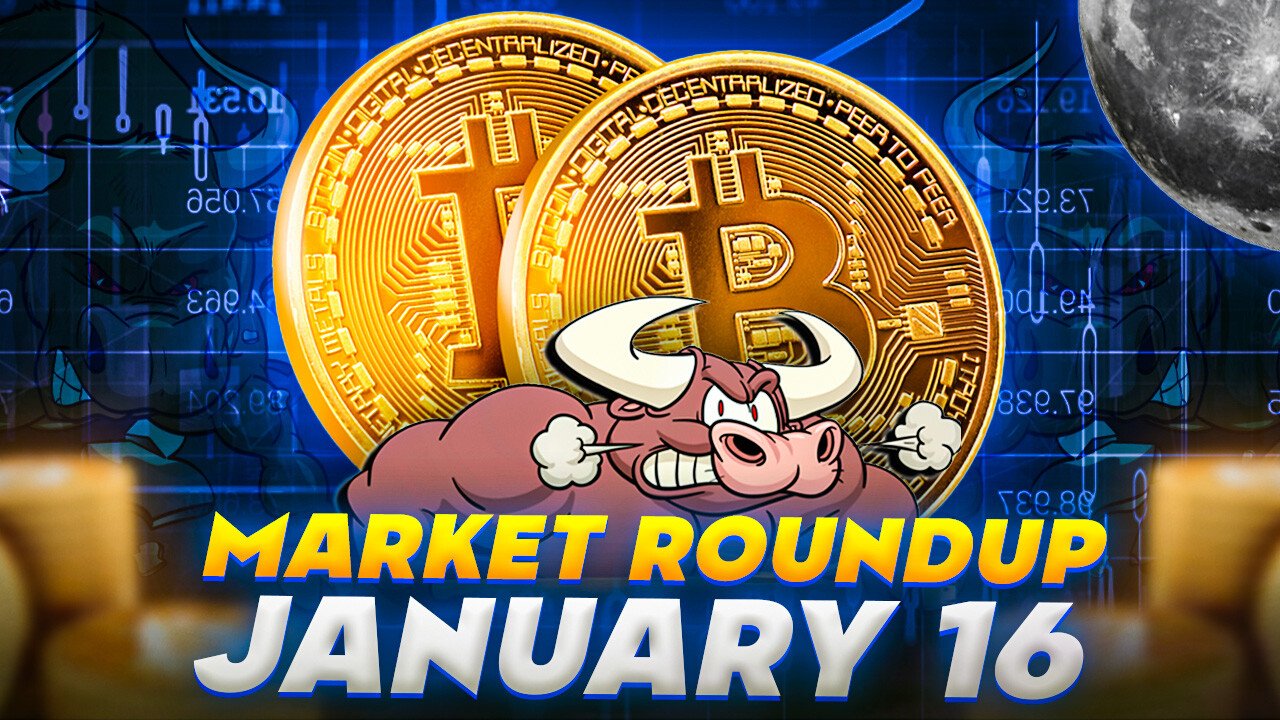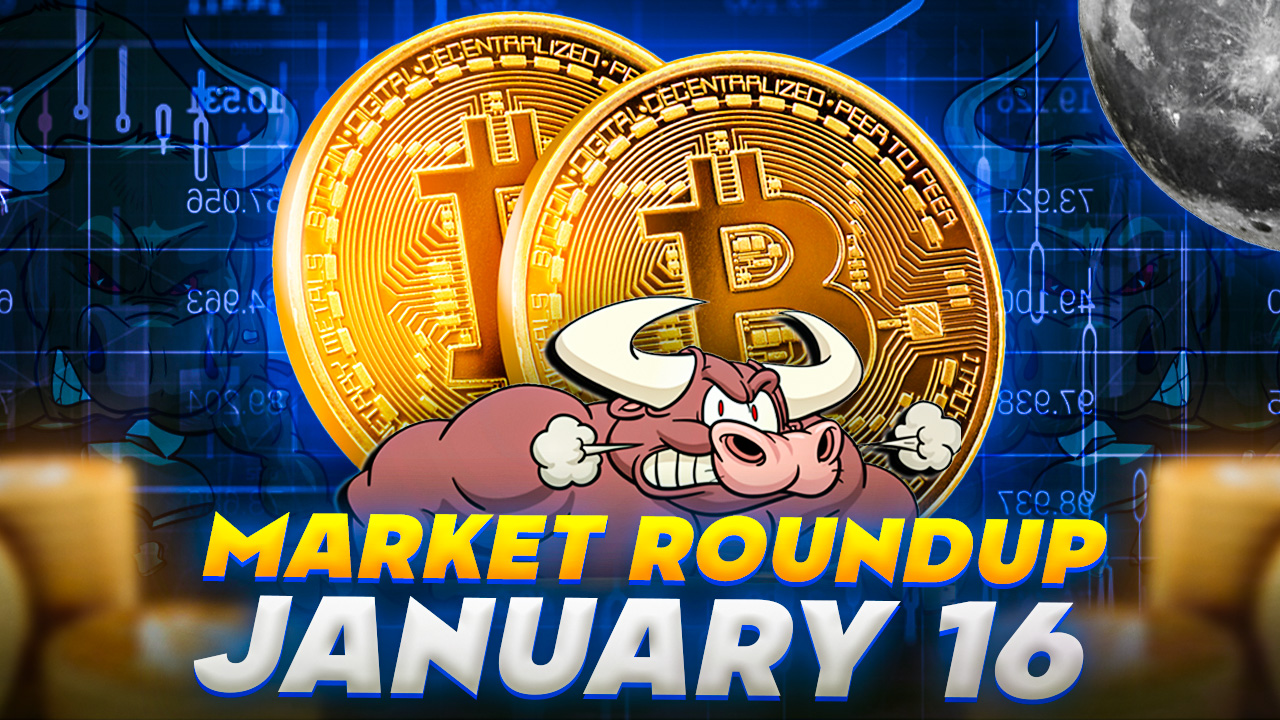 Despite the continuing struggles of FTX, Bitcoin and Ethereum prices have managed to remain resilient. Both Bitcoin (BTC) and Ethereum (ETH) have seen an upswing, indicating a positive sentiment for cryptocurrency investors.
This is especially prominent, with both seeing an increase of over 20% in just one week. Digital assets are back in the news as the global market cap has recently broken the $1 trillion mark.
Bitcoin Mining Difficulty Reaches All-Time High: What Does This Mean For Miners?
Furthermore, the recent price movement has also been accompanied by an increase in Bitcoin mining difficulty. This measure reflects how difficult it is to solve the cryptographic puzzle required to generate a block on the network.
On January 15, the mining difficulty increased by more than 10%, reaching an all-time high of 37.73 T. This indicates that, on average, it takes 37.73 trillion hashes (or tries) to find and add a legitimate Bitcoin block reward to the blockchain.
A bullish reversal in the cryptocurrency asset's price movement aligns with the number used to calculate how challenging it is to mine a Bitcoin block.
Exploring The Factors Behind Ethereum's Price Surge: What Is Driving Its Growth?
The second-largest cryptocurrency by market capitalization, Ethereum, saw an increase of 21% over the past seven days. According to experts, bulls are almost exhausted, and traders who hold short positions may benefit before the Shanghai upgrade.
Ethereum Shanghai Upgrade
Ethereum development is on schedule for the Shanghai hard fork, which will be preceded by a token unlock event. ETH staked in the deposit contract will be unlocked for the first time since the contract's debut in November 2020.
The circulating quantity of the cryptocurrency will increase by at least 35,000 ETH after it has been unlocked and unstaked. According to experts, this could potentially increase the selling pressure on the commodity and reduce the value of the Bitcoin rival.
Crypto Narratives Alpha Series 💎 01

Liquid Staking Derivatives (LSD) is blowing up with the upcoming Ethereum's Shanghai Upgrade.

I spent 1,439 minutes exploring the LSD narrative, so you don't have to.

↓🧵 pic.twitter.com/vkw78nm7Vs

— Viktor DeFi 🛡🦇🔊 (@ViktorDefi) January 9, 2023
Ethereum core developers have been making steady progress toward meeting their March deadline for the launch of Shanghai. This update will also bring with it the ability to withdraw staked ETH from the network.
Ethereum's Shanghai upgrade is due in March 2023, enabling withdrawals from the beacon chain.

This allows ETH currently staked in ETH2.0 validators to be unstaked and withdrawn.

Here's Arkham's primer on Liquid Staking Derivatives, and what we can see happening on-chain 👇 pic.twitter.com/moQG9Jjtbb

— Arkham (@ArkhamIntel) January 10, 2023
Several Ethereum Improvement Proposals have been incorporated into this upgrade. The update, along with other releases, marks the "Surge" phase of the ETH cycle, which aims to improve the network's scalability and infrastructure.
Bitcoin Price
On January 16, BTC/USD opened trading at $20,882.00 and has since seen slight growth of 0.60% in the last 24 hours bringing it up to $20,826.00. From its highest of $21,433.00 to its lowest of $20,697.00 there has been a steady increase in value by over 21% in the week prior.
On Monday, Bitcoin's price faced strong resistance at the $21,400 level. The closing of daily candles below this level, particularly a doji candle, suggests the possibility of a bearish correction as both the RSI and MACD are coming out of the overbought zone.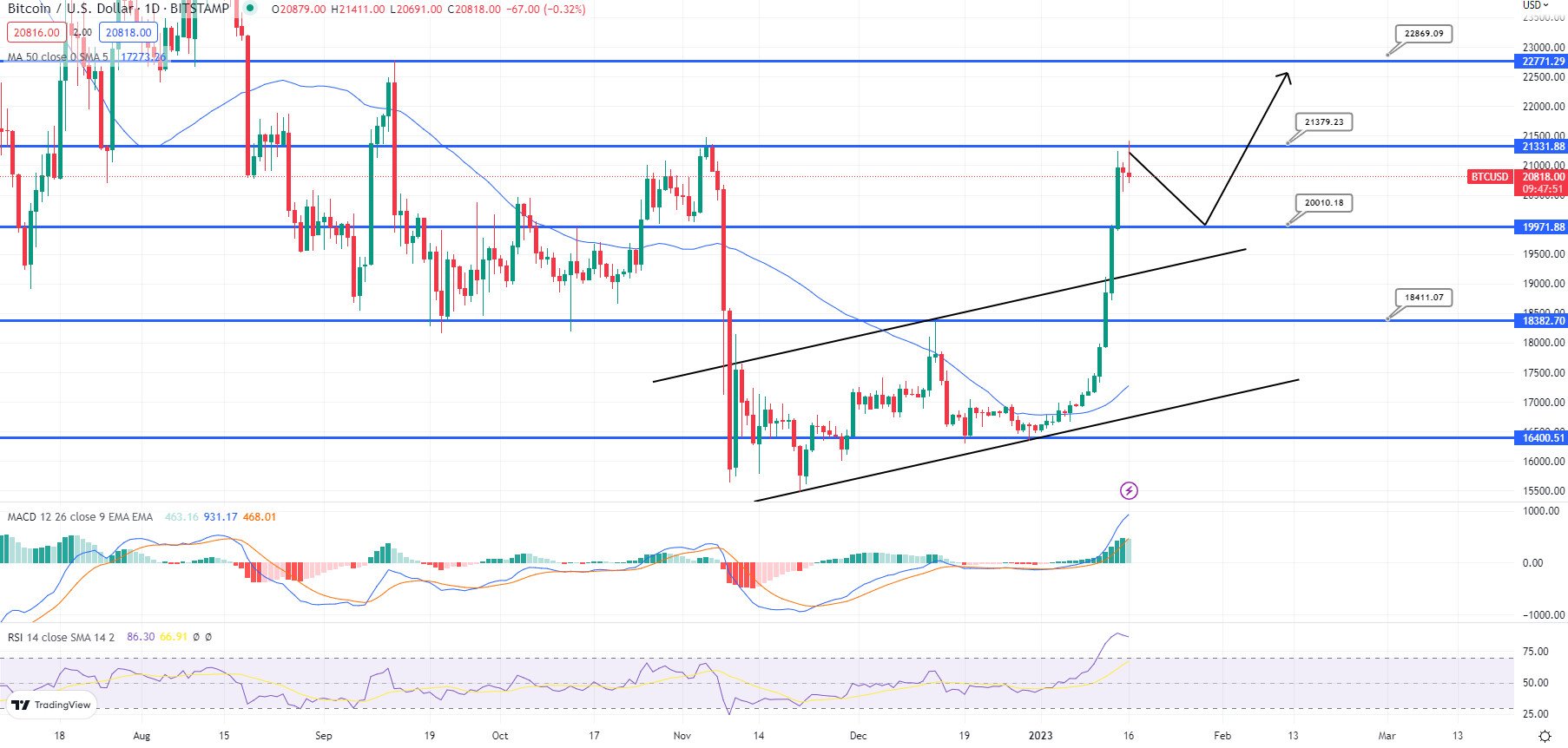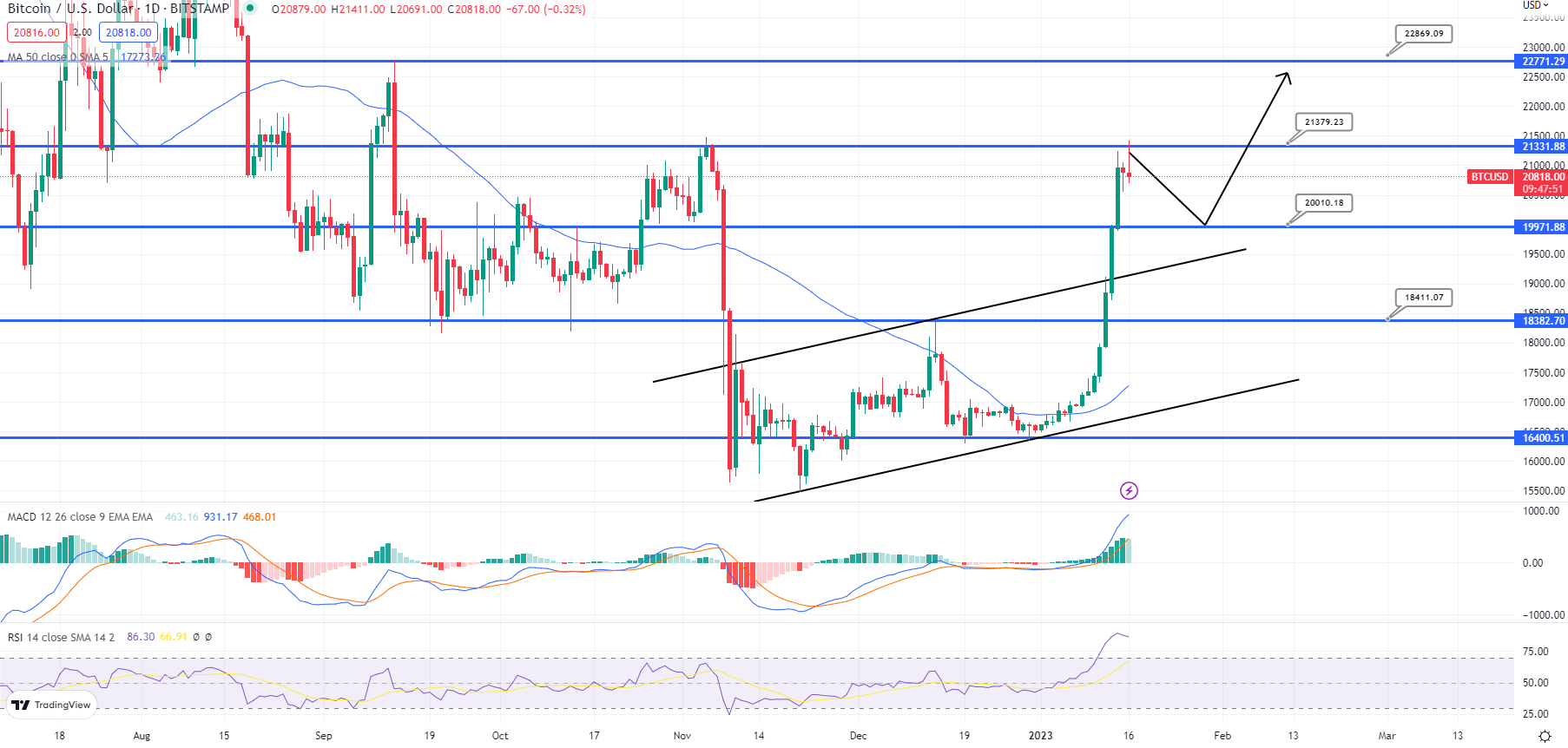 On the daily timeframe, the double top resistance level is likely to drive a downtrend or bearish correction until the $20,800 or $20,000 levels. Furthermore, a breakout beneath this could create more room for selling until the $19,250 level.
Alternatively, an increased demand for BTC could break through the $21,400 level and target $22,850.
Ethereum Price
At the start of the day, ETH/USD was at $1,551.79. It had a high of $1,584.30 and a low of $1,534.9 in that same period. Currently, it is trading at around $1,542.85 with a gain of 0.75% in 24 hours and a 19% cumulative increase over the past week.
Ethereum has seen a surge in the value of late, with its key support point at $1,500. If it can close daily candles above this level, its price could be heading toward the next resistance area at $1,660.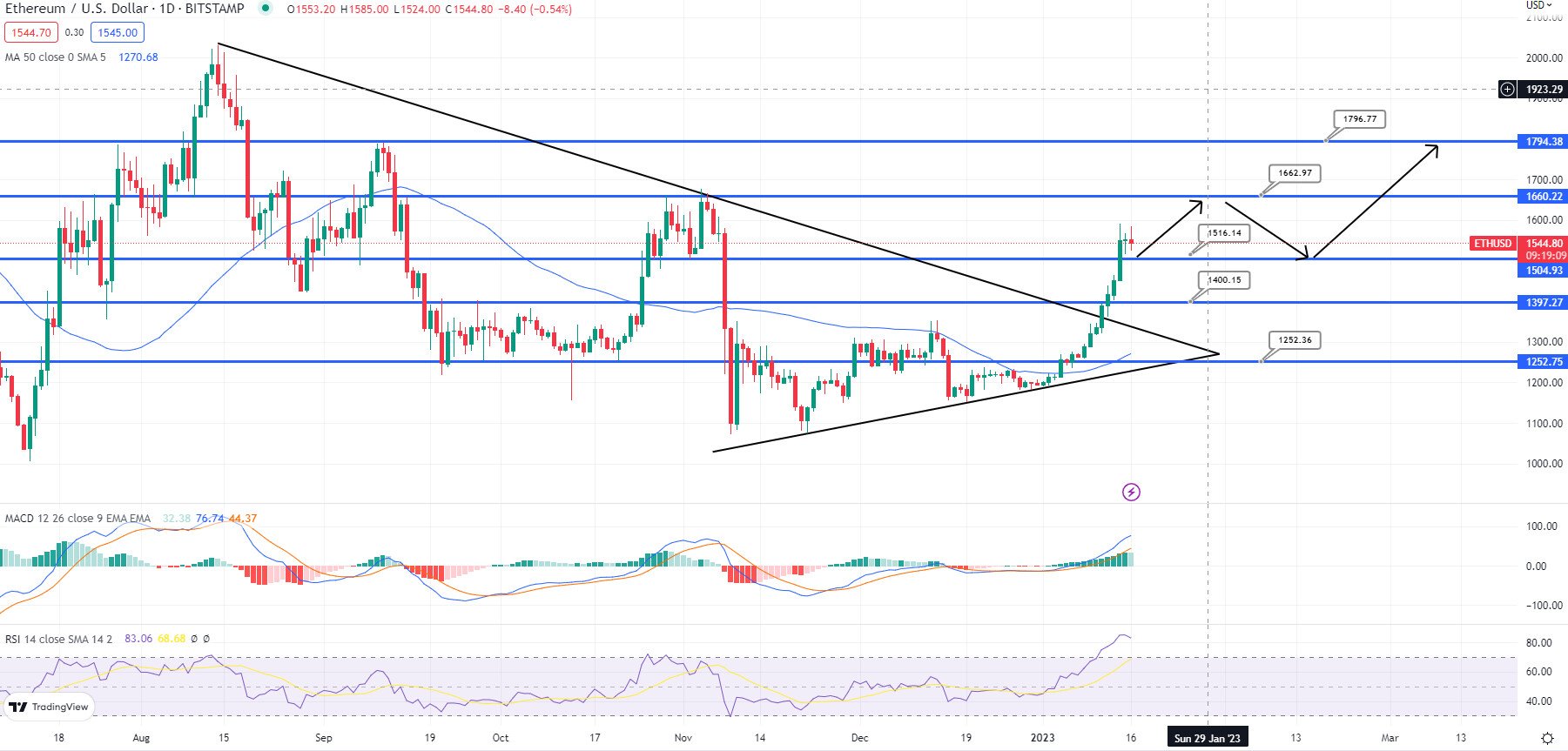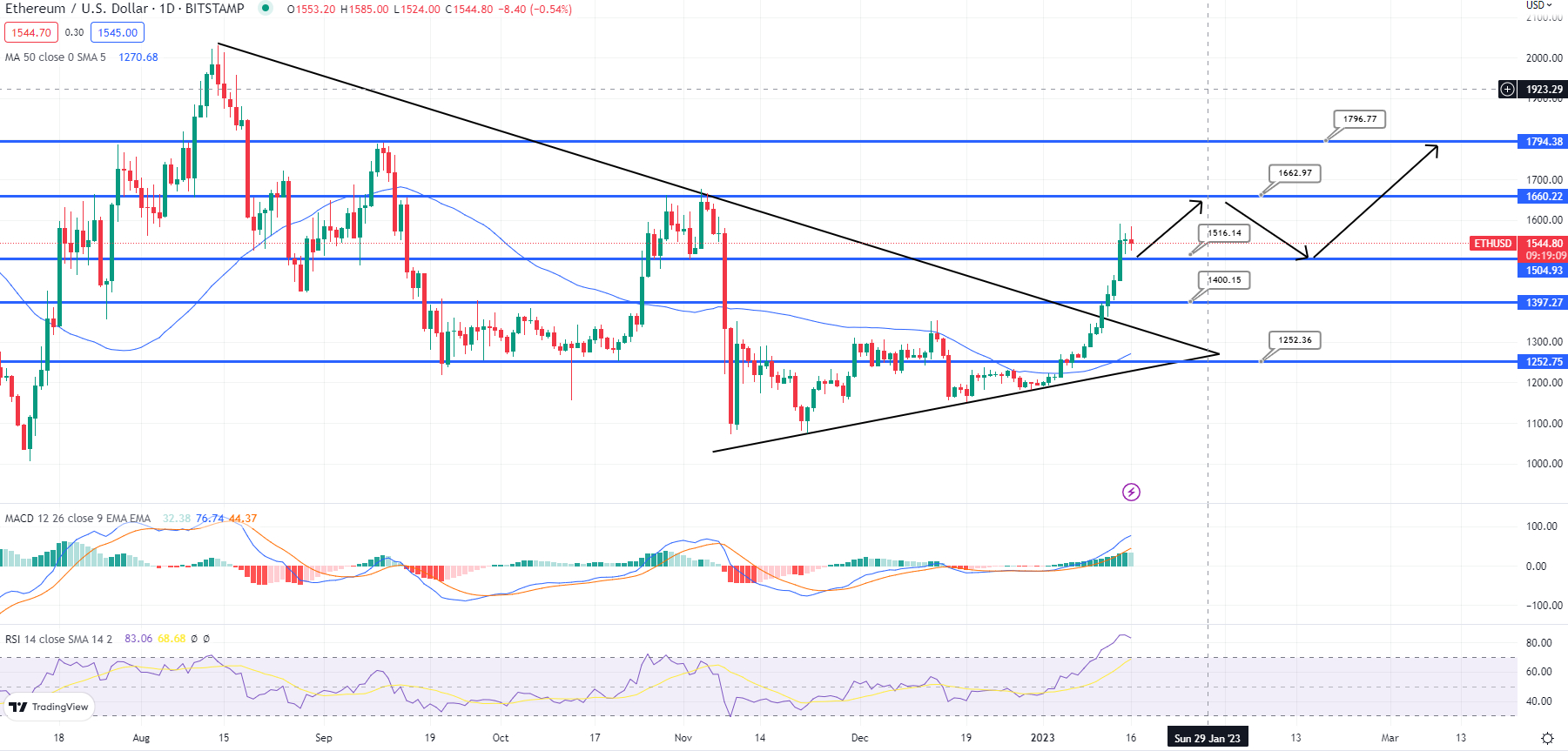 Ethereum has recently broken out of a symmetrical triangle pattern, which is often a bullish indicator. This was followed by the formation of three white soldiers and a bullish engulfing candle – further confirming an increased buying sentiment from investors.
All these technical signals point to a bullish bias in the market. Thus, investing in trades with prices above $1,525 should be considered with an aim to reach $1,650.
Could These Altcoins Be The Next Cryptocurrency Revolution?
Cryptocurrencies have become well-known for their impressive growth in recent times. This has made them even more attractive to investors who are looking to make a profit by investing in them early on.
With the potential of large returns, it's no wonder that many people are flocking to capitalize on these alternative forms of currency.
FightOut (FGHT)
FightOut provides an easy and affordable way to stay fit and healthy. You can access personal training at just a fraction of the cost, all you need to do is use FGHT tokens! It's the perfect solution for anyone looking for an enjoyable exercise experience without spending lots of money.
The FGHT presale was a huge success, raising an incredible $2.95 million in investments. All the avatar-related activities have been recorded and can be used to improve the performance evaluation results.
Don't miss this incredible opportunity! With 60.06 FGHT for each $1 (available in ETH or USDT) and the discount lasting only 7 days, and 13 hours, it is best to take advantage of this offer as soon as possible. The value of FGHT is predicted to rise during the sale period, so act now!

Visit FightOut Now
C+Charge (CCHG)
C+Charge is launching a groundbreaking blockchain-powered EV payment system. This platform will incentivize EV drivers by granting them carbon credits as a reward for their first-time charging.
This could create an even playing field in the carbon credit market as it has long been held by a select few companies. It could potentially level out the competitive atmosphere and open up opportunities for more businesses to enter the market.
The potential to earn carbon credits from C+Charge has been a great motivating factor in their mission to further the adoption of electric vehicles and move towards a more eco-friendly future. They have been driven by this extra incentive to improve their efforts.
Predictions from analysts believe that the voluntary credit market (VCM) will be worth $100 billion by the year 2030. C+Charge is already driving this growth, having successfully raised $291,281 in its presale.
Meta Masters Guild (MEMAG)
Mobile gamers should take advantage of the presale for the Meta Masters Guild, it's an opportunity you don't want to miss! This gaming guild is based on Ethereum and will provide a unique mix of Web3 and play-to-earn games with tokenized NFTs. You can use MEMAG, their native token, as an incentive for staking and selling.
The launch of MEMAG is divided into seven phases and the initial phase pricing stands at $0.007. On its release, it is projected to sky-rocket to $0.023 per MEMAG thus giving early adopters a phenomenal 228.5% return on their investment!
The launch of Meta Kart Racers in Q2 this year is likely to create a surge in growth for Meta Masters Guild. If economic and market conditions improve, the native coin of the platform could see significant gains.
Time is running out, so don't miss your chance to take advantage of this wonderful investment opportunity!
Don't miss out on this opportunity – only 4 days and 8 hours left before the cost increases! Currently, $289,085 USDT has been raised out of a target of $490,000. Hurry, the clock is ticking!
Find The Best Price to Buy/Sell Cryptocurrency


---