Bitcoin, Ethereum Correct Gains; Amazon Denies Rumor, Tesla Still Holds BTC
Bitcoin price faced a strong selling interest near USD 40,000. Ethereum corrected sharply from USD 2,450, XRP is now approaching the USD 0.600 support. THETA, TEL, and AMP are down over 13%.
Bitcoin price gained pace above the USD 38,000 resistance level. BTC even spiked above USD 40,000, but it faced a strong rejection. A high was formed near USD 40,500 and the price is currently (03:40 UTC) correcting gains.
Similarly, most major altcoins are correcting gains also. ETH topped near USD 2,450 and it dropped below USD 2,200. XRP also faced rejection near USD 0.680 and it corrected below USD 0.650.
Total market capitalization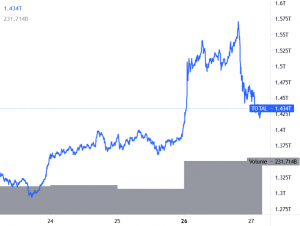 Amazon denied a report by UK financial publication City A.M. that the company was planning to accept BTC payments by the end of the year and introduce its own token in 2022.
"Notwithstanding our interest in the space, the speculation that has ensued around our specific plans for cryptocurrencies is not true," an Amazon spokesperson told Bloomberg, adding that they "remain focused on exploring what this could look like for customers shopping on Amazon."
Meanwhile, Tesla said that a USD 23m BTC-related impairment negatively affected its quarterly operating income. However, the company did not report any new BTC sales in the past quarter.
Bitcoin price
After a strong increase, bitcoin price even climbed above the USD 40,000 resistance. However, BTC failed to settle above the USD 40,000 level. There was a sharp bearish reaction below the USD 39,000 and USD 38,000 levels. The price even traded below USD 37,000 and it is approaching the USD 36,000 support. The next key support is near USD 35,500.
An initial resistance on the upside is near the USD 37,500 level. The first key resistance now sits near the USD 38,000 level.
Ethereum price
Ethereum price also followed a similar pattern, as it faced a strong rejection near the USD 2,450 level. ETH trimmed more than half of its gains and it broke the USD 2,200 support level. It is now approaching the USD 2,120 support. The next key support is near the USD 2,050 level.
On the upside, the USD 2,225 level is a short-term resistance. The main breakout resistance is now forming near the USD 2,300 level.
ADA, LTC, DOGE, and XRP price
Cardano (ADA) rallied towards the USD 1.40 level, where the bears took a stand. ADA started a sharp downside correction below USD 1.30. It is also struggling to stay above USD 1.20. If the bulls continue to struggle, the price might revisit the USD 1.12 level. The next major support is near the USD 1.05 level.
Litecoin (LTC) topped near the USD 140 resistance level. It declined below the USD 135 support level. It is now trading below the USD 130 level, with an initial support at USD 125. The next key support is near USD 120, below which there is a risk of a stronger decline in the near term.
Dogecoin (DOGE) trimmed most of its gains, dropping from well above the USD 0.220 level. It even traded below the USD 0.200 support. DOGE is now showing bearish signs and it could continue to move down towards the USD 0.180 level. On the upside, the price might face resistance near USD 0.212.
XRP price topped above USD 0.670 before dropping below USD 0.620. It is now trying to recover above this level again.
Other altcoins market today
Many altcoins declined over 10%, including THETA, TEL, ICP, SUSHI, AXS, TFUEL, LUNA, BTT, HNT, DGB, QNT, and ENJ. Out of these, THETA is down almost 14% and it broke the USD 5.50 support.
Overall, bitcoin price is correcting gains from the USD 40,000 resistance zone. BTC is now approaching the USD 36,000 support zone, where the bulls might take a strong stand.
_____
Find the best price to buy/sell cryptocurrency: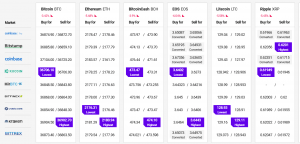 ---