Bitcoin ETFs Remain Popular Among Investors Despite Price Slump
Disclosure: Crypto is a high-risk asset class. This article is provided for informational purposes and does not constitute investment advice. By using this website, you agree to our terms and conditions. We may utilise affiliate links within our content, and receive commission.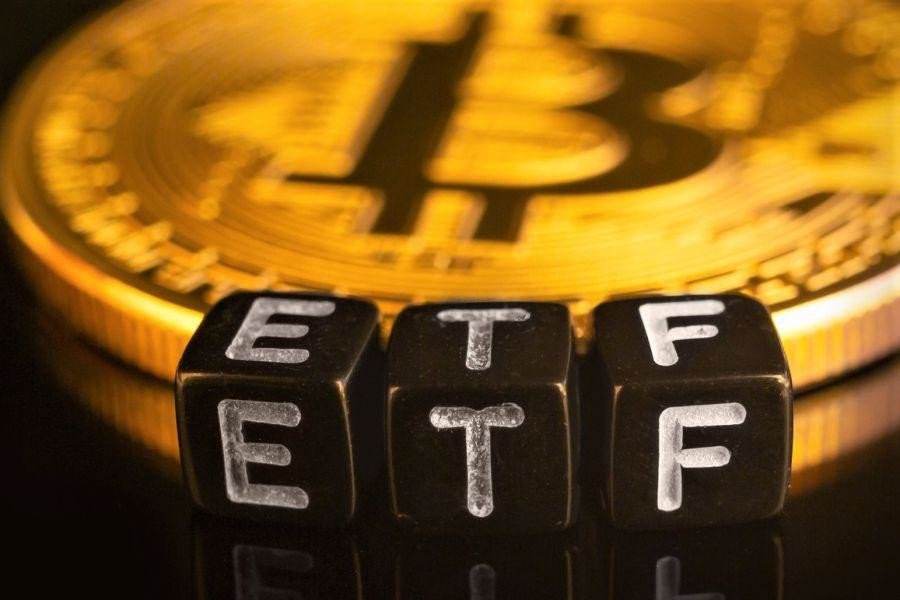 Exchange-traded funds (ETFs) backed by bitcoin (BTC) futures contracts traded in the US largely retained their trading volumes last week, despite a slump in the bitcoin price over the course of January.
According to exchange data, the ProShares Bitcoin Strategy ETF (BITO) – the first bitcoin ETF to go live in the US in October last year – saw trading volumes of 40.83m shares during the week from February 7 to 11.
The trading volume marks an increase from the week before when 31.53m shares were traded, and it's roughly in line with the average weekly trading volume of 38.98m shares since the ETF launched.
BITO price and trading volume (bottom) since launch: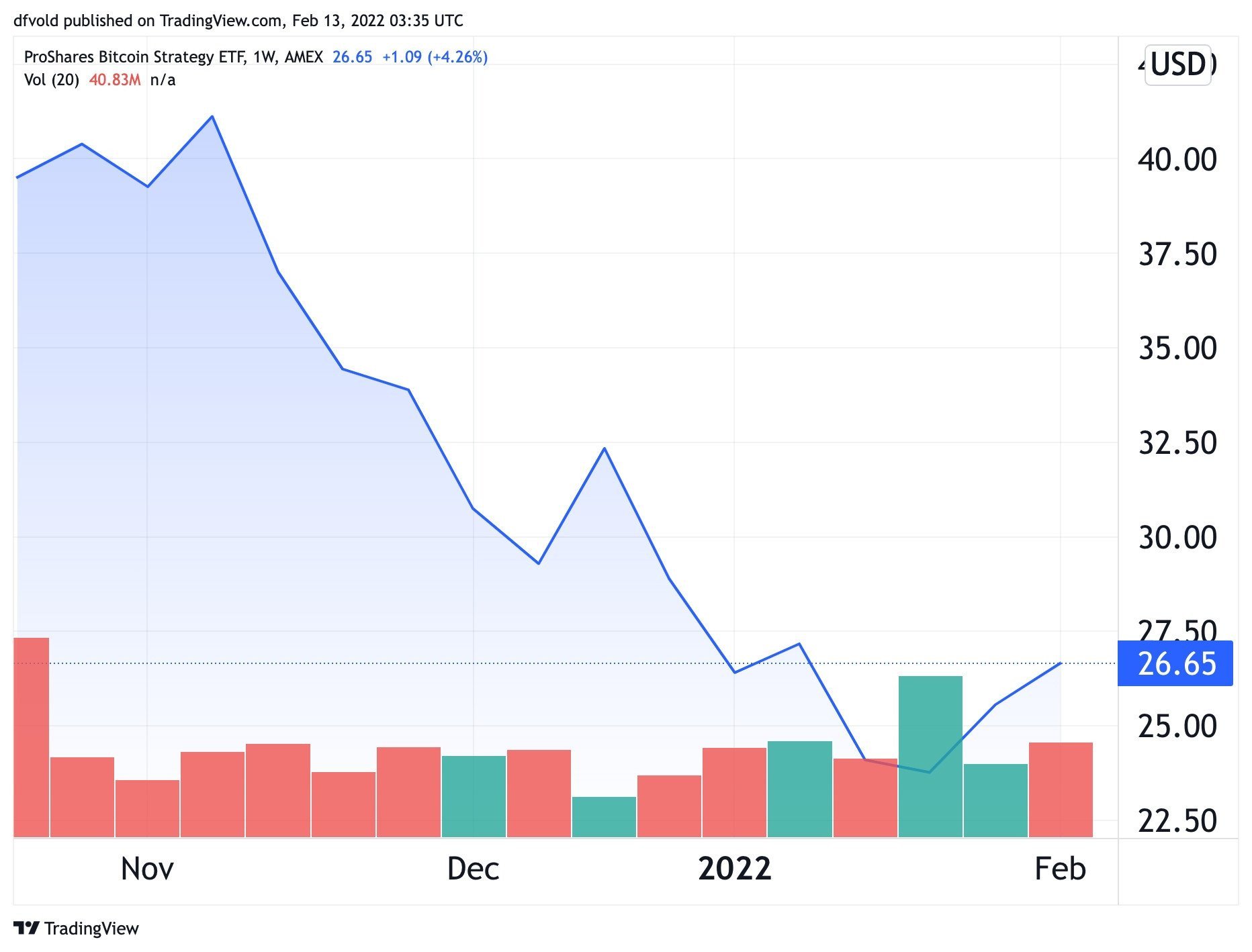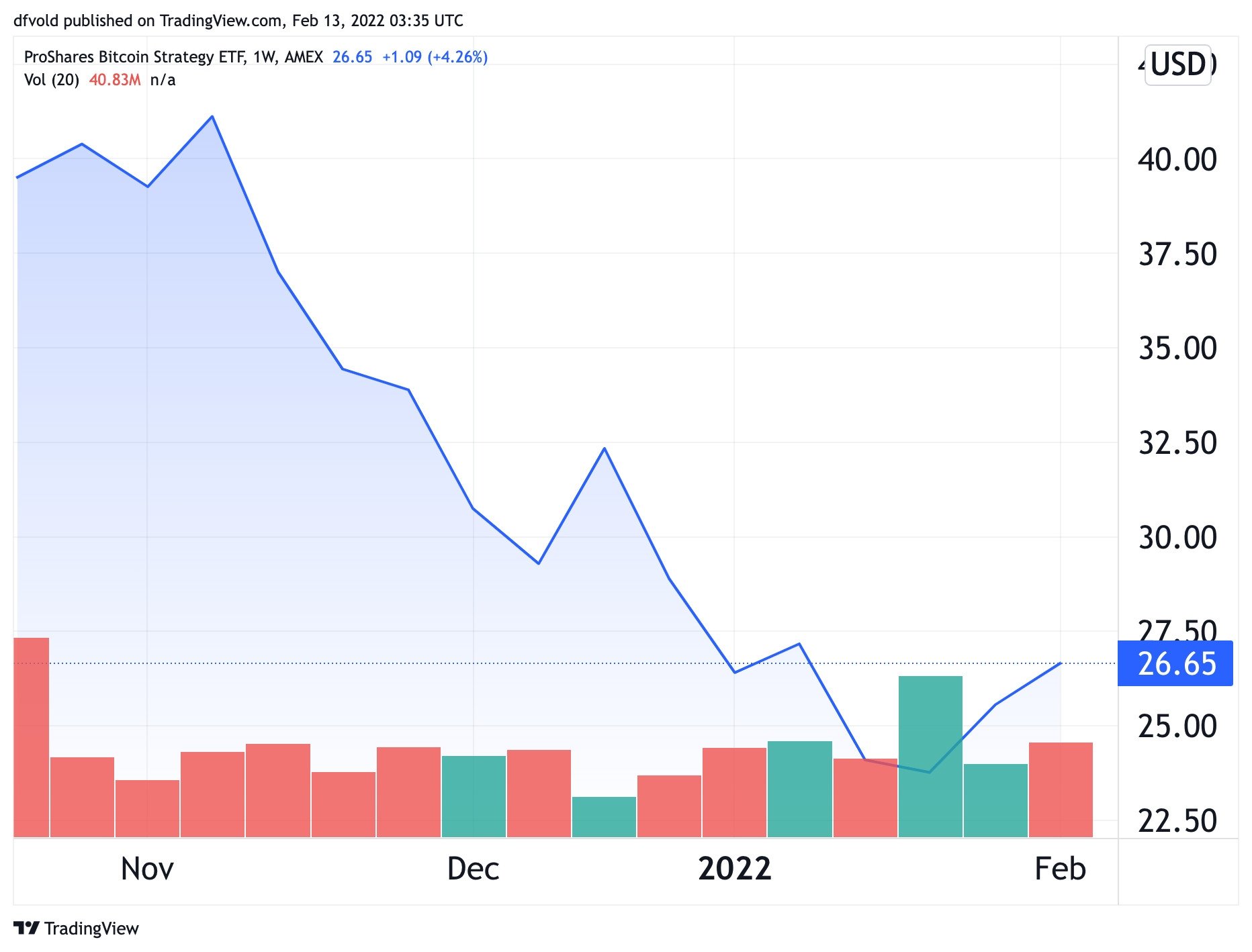 Even more surprising, perhaps, is that trading volumes in the second bitcoin ETF to launch, the Valkyrie Bitcoin Strategy ETF (BTF), have increased significantly since last year, despite bitcoin's price slump.
During the week from February 7 to 11, 7.54m shares of BTF were traded, its highest level ever, exchange data shows. Notably, the ETF saw a major uptick in trading volume around the end of last year, with the higher average volume still remaining to this date.
Compared with last year's average weekly trading volume of 2.52m shares, the volume in BTF has more than doubled this year to an average weekly volume of 5.3m shares.
The launch of BTF was largely overshadowed by the successful first launch of BITO, with the second bitcoin ETF to this day remaining a far cry behind BITO in terms of volume.
BTF price and trading volume (bottom) since launch: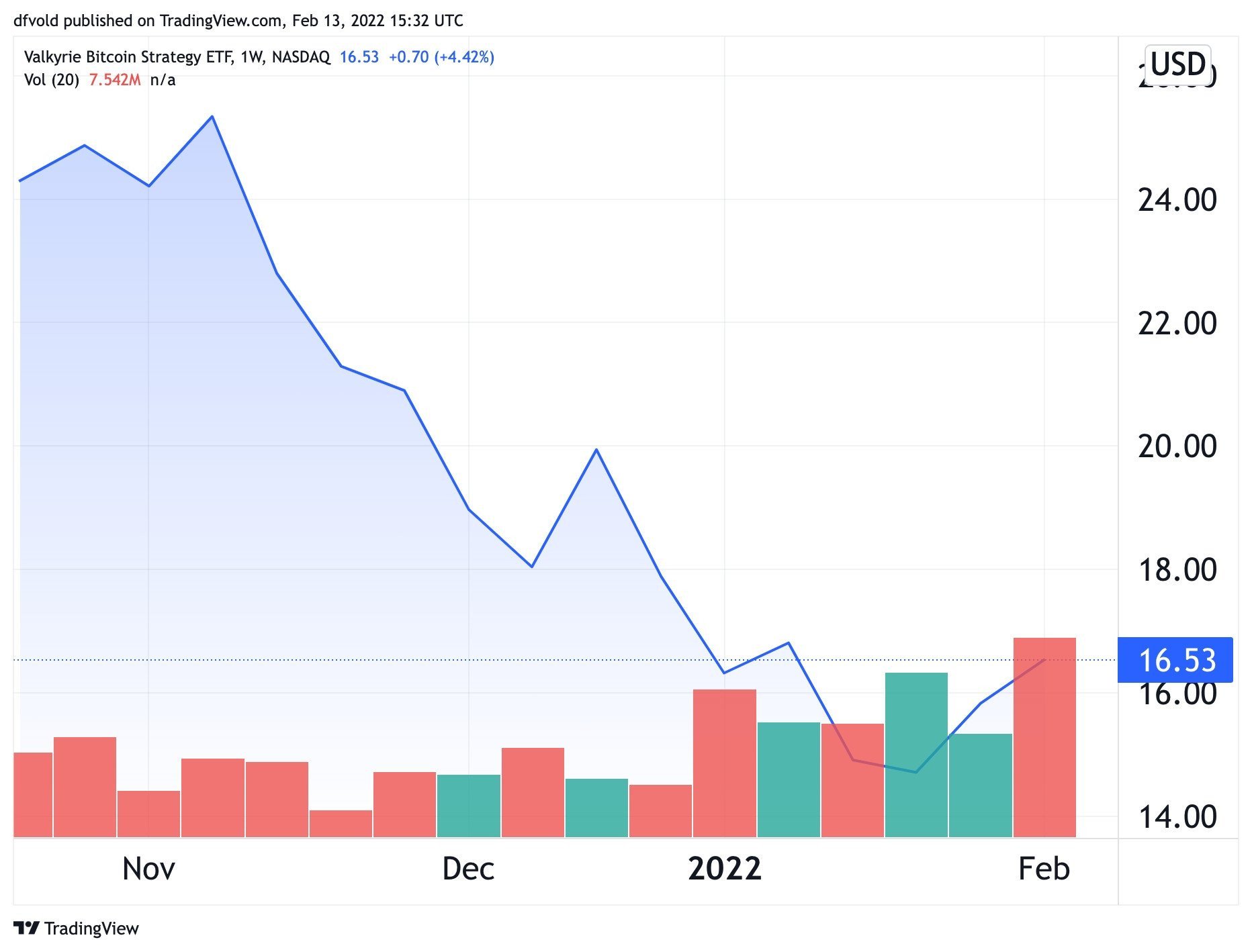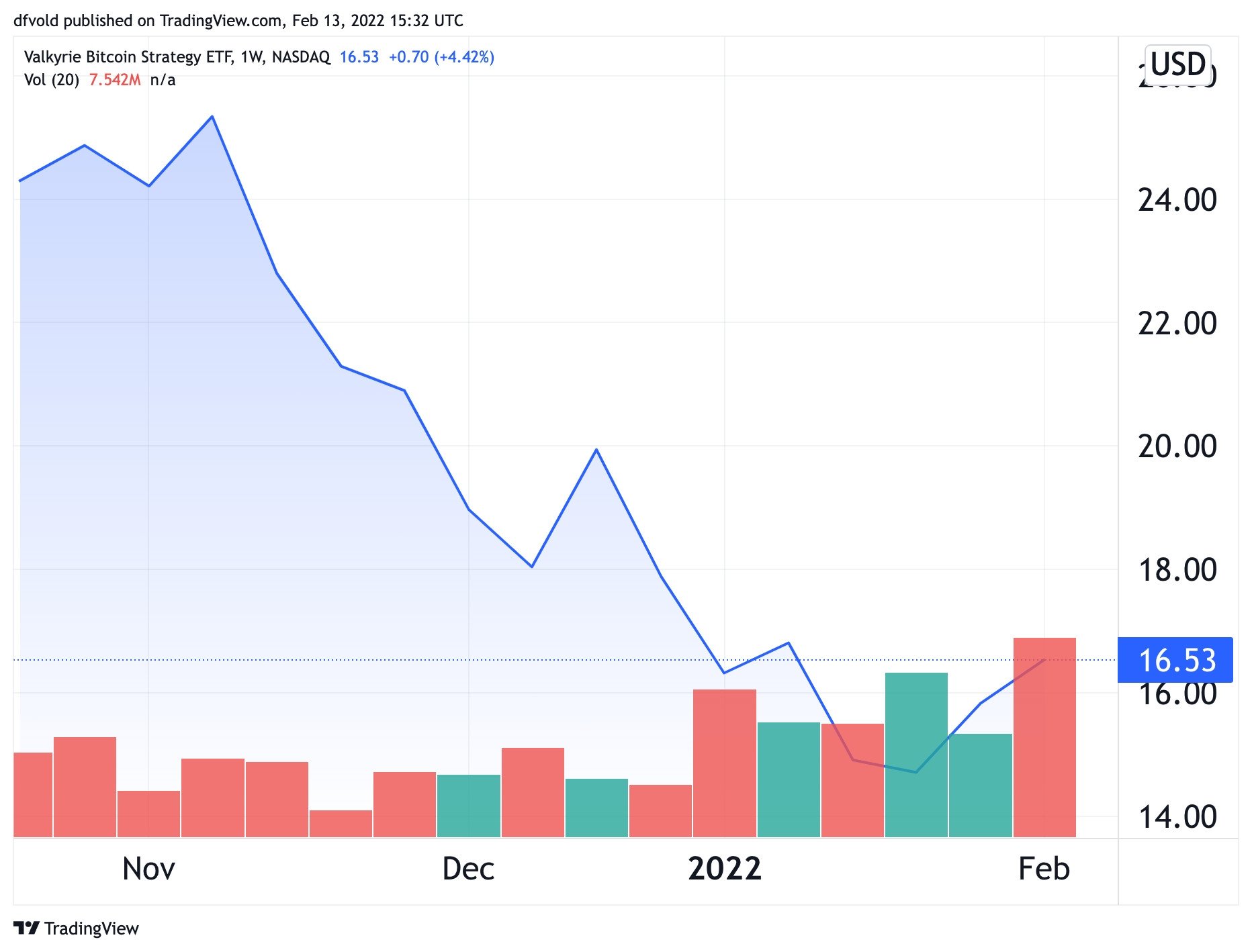 Lastly, the third US-listed bitcoin ETF, the VanEck Bitcoin Strategy ETF (XBTF), has also seen a remarkable strength in terms of volume since the bitcoin price peaked in November last year.
Although the all-time high in the weekly volume of 0.34m shares for this ETF followed shortly after the price peaked, trading volume was back at close to the same level as recently as in January, with 0.25m shares traded in the week from January 17 to 31, exchange data shows.
XBTF price and trading volume (bottom) since launch: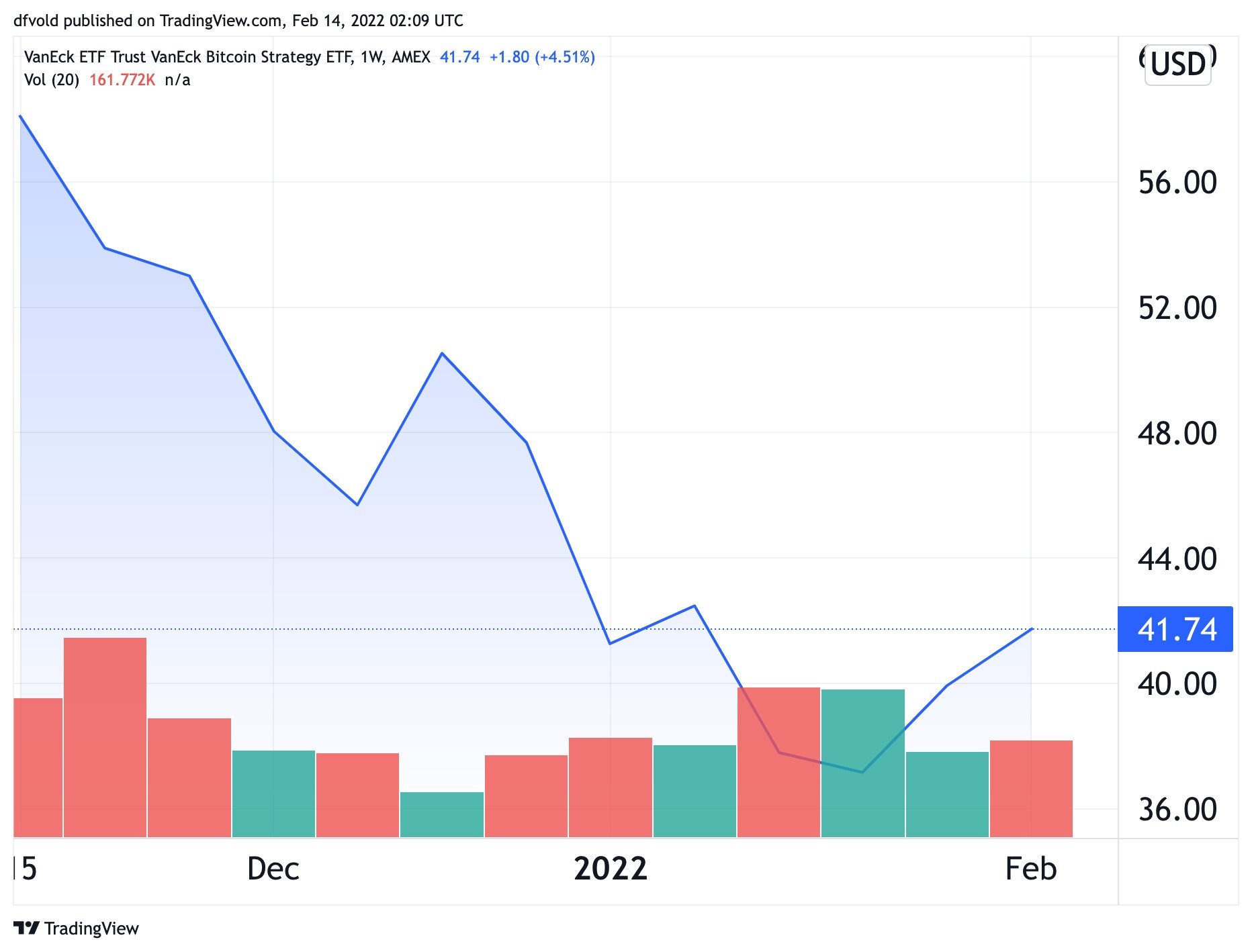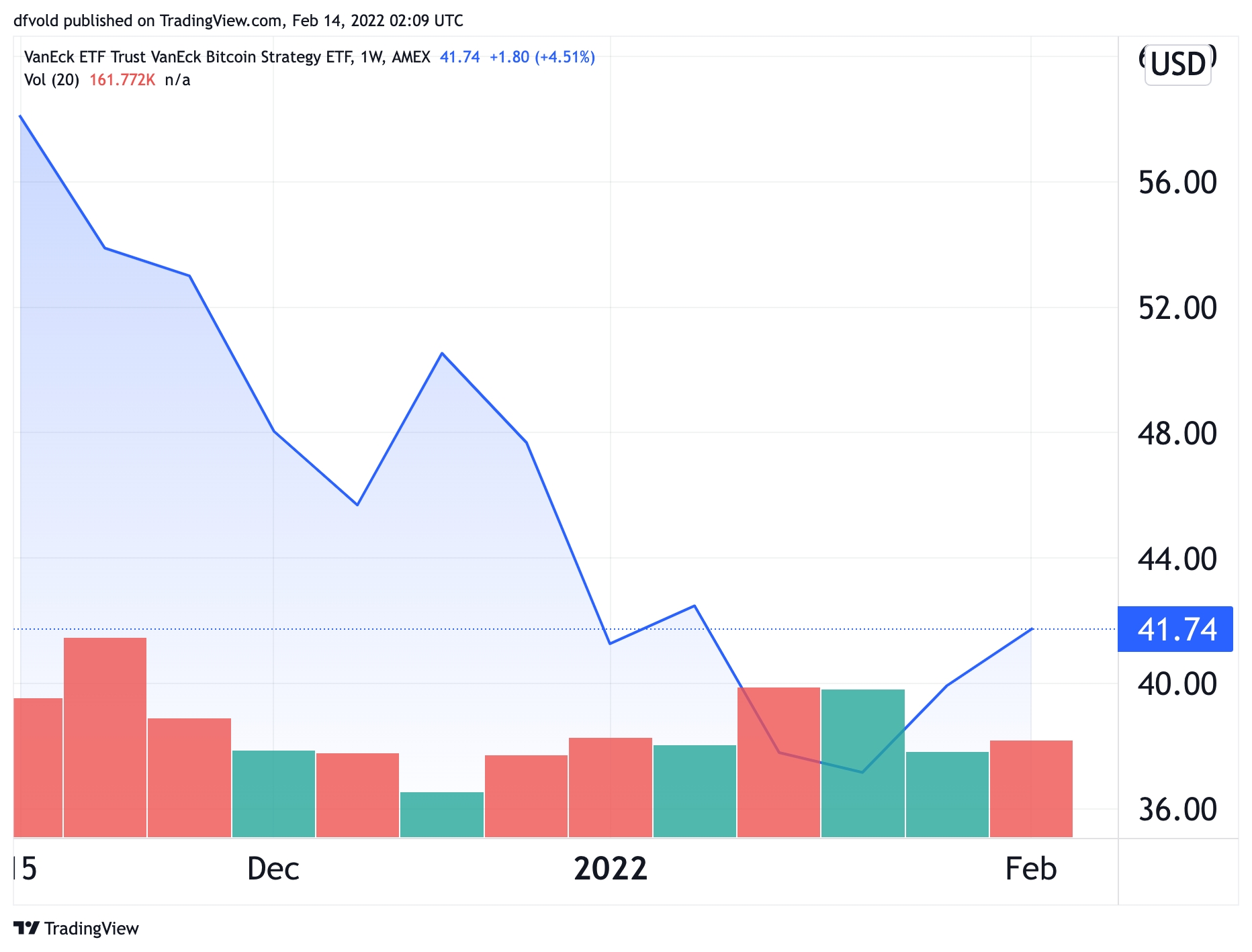 Between January 1st and 31st, bitcoin's price dropped by about 17% from around USD 46,200 at the beginning of the month to 38,400 at the end of the month.
BTC price since January 1: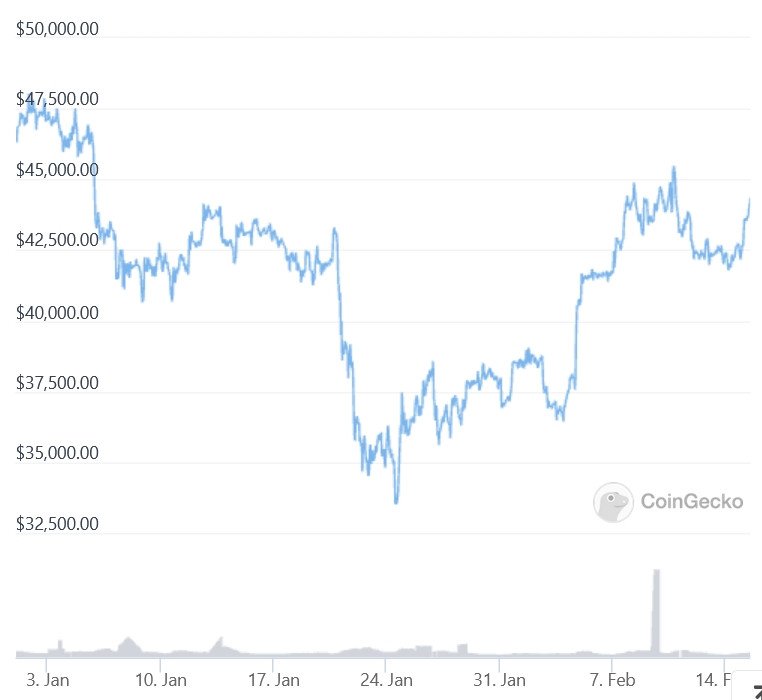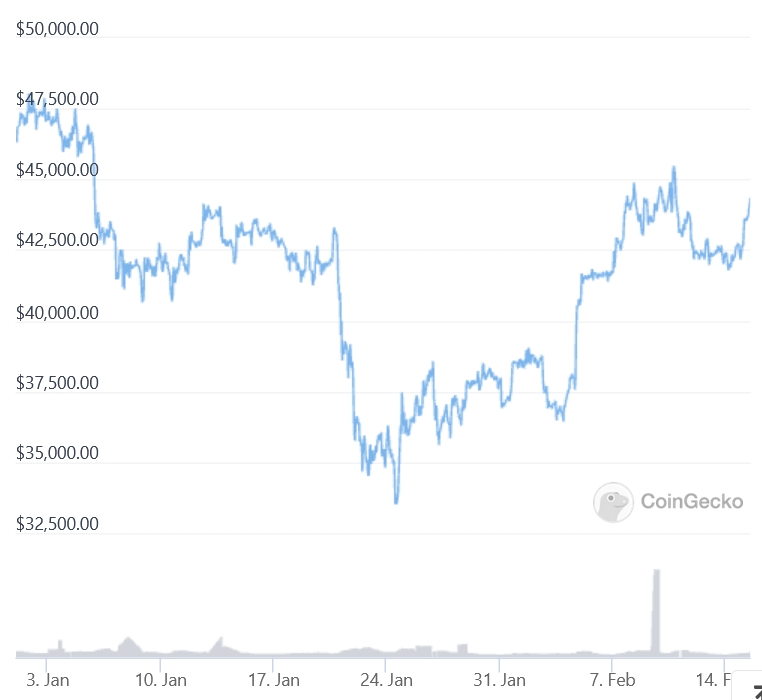 The notable strength in the trading volumes of ETFs backed by bitcoin was highlighted on Twitter last week by Bloomberg's senior ETF analyst, Eric Balchunas, who said that the ETFs "have retained their trading volume and much of their investor base."
This has happened despite "a brutal 50% drawdown" in the spot market, Balchunas said, calling it "a great sign for [the ETFs] staying power and growth potential."
Crypto ETFs' have retained their trading volume, and much of their inv base in the face of a brutal 50% drawdown. This is a great sign for their staying power and growth potential. As with $ARKK ppl being patient with their hot sauce, via @RebeccaSin_SK @JSeyff note today pic.twitter.com/WrDZEmL4oY

— Eric Balchunas (@EricBalchunas) February 7, 2022
Balchunas' tweet came as a Bloomberg Intelligence report by analysts Rebecca Sin and James Seyffart said that trading volume in "crypto ETFs" remained stable in January, with relatively small flow declines.
Spot-based bitcoin ETFs in the US remain a 'maybe'
Bitcoin remains the only cryptoasset in which investors can invest via ETFs on the regulated US stock exchanges. However, some analysts have speculated that an ethereum (ETH) ETF could be coming next.
Also worth noting is that the bitcoin ETFs that are currently available have managed to maintain high trading volumes despite sometimes being plagued by tracking errors relative to the spot price of bitcoin. These tracking errors occur because contracts dated into the future often trade at either a premium or a discount to the spot price of bitcoin.
In addition, the futures contracts backing the ETFs must be rolled over each month as they expire, adding complexity and costs to the management of the funds.
To avoid this problem, a number of companies have applied to list spot-based bitcoin ETFs that would track the underlying price directly.
So far, the US Securities and Exchange Commission (SEC) has denied all such applications. However, one sign that it may be about to rethink its stance emerged this week when the regulator sought public advice about whether spot bitcoin ETFs could be used for fraud or market manipulation, per a Bloomberg report.
For now, however, futures-based bitcoin ETFs remain the only game in town and have become the preferred choice for the traditionally-minded investors who are seeking exposure to the asset.
And with high trading volumes persisting through the past few months' price slump, it appears that strong demand for bitcoin exists even among traditional stock investors.
____
Learn more:
– First Bitcoin ETF Moves to November Contracts as Competition Heats Up
– Bitcoin ETFs in Europe & Canada Remain Popular Even With US ETFs Widely Available

– Grayscale Finds Rising Interest in Bitcoin as it Pushes for Spot BTC ETF
– Ethereum ETFs Struggle in Europe, but See Rising Volumes in Canada
– Grayscale Makes an ETF Move
---