Best Crypto to Buy Now 25 July – Maker, GMX, Trust Wallet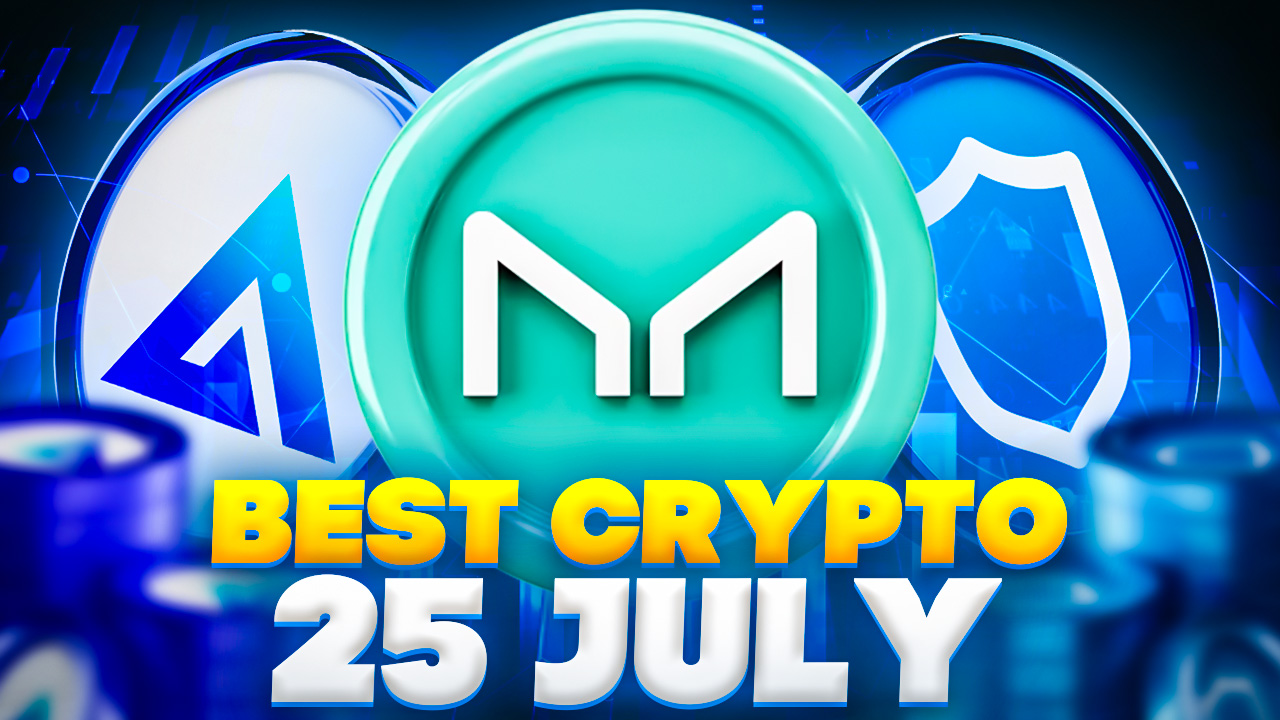 Prime Minister Fumio Kishida of Japan made a resolute statement today that could be a boon to crypto markets, reiterating the country's ambition to be at the forefront of Web3 innovation.
His remarks coincided with news that leading cryptocurrency exchange Binance plans to launch operations in Japan beginning August 2023. This provides a new on-ramp for Japanese investors to access cryptocurrencies, despite Binance's ongoing jurisdictional battles with American regulators.
In light of this, what are the best cryptos to buy now?
The BInance exchange made headlines this week for its plans to file a motion dismissing a lawsuit brought against it by the U.S. Commodity Futures Trading Commission.
Binance stands accused of illegally offering derivatives trading to U.S. customers, among other charges. This suit comes in addition to an ongoing securities fraud lawsuit levied against Binance by the SEC.
Across the Pacific, Coinbase CEO Brian Armstrong believes U.S. lawmakers feel a heightened sense of urgency around crafting cryptocurrency regulations.
In a recent meeting with members of Congress, he noted reinvigorated engagement on crypto issues following recent legal developments like Ripple's partial victory in its battle with the SEC.
Armstrong believes many lawmakers are now reconsidering their previous hands-off approach to the crypto space.
With adoption accelerating and legal precedents being set in real-time, regulators face immense pressure to provide guardrails without stifling innovation.
Despite swirling uncertainty, one thing remains clear – from Tokyo to Washington, there is no denying that cryptocurrencies are still commanding attention and unlocking unprecedented possibilities.
Maker, Evil Pepe Coin, GMX, Chimpzee, and Trust Wallet are some of the best cryptos to buy now given their robust fundamentals and positive technical analyses.
Maker (MKR) Resurfaces from Dip, Eyes Horizontal Resistance Level
Following a new YTD high of $1,250 on July 21, MKR has retraced to the Fib 0.236 level at $1,076. MKR is now trading at $1,148, up 7.49% so far today as it rebounds from the recent dip. However, MKR faces a significant challenge in the form of the $1,153 to $1,188 horizontal resistance zone.
The current price is signaling a strong uptrend, with the 20-day Exponential Moving Average (EMA) standing at $986, well above it. This bullish outlook is further confirmed by the 50-day and 100-day EMAs at $872 and $798 respectively, which continue to trail far below the price.
Additionally, the RSI has risen to 71.12 from yesterday's 65.64, denoting increasing buying pressure. However, as it enters overbought territory above 70, a potential price correction could occur soon.
Similarly, the MACD histogram has grown to 11 from 9, pointing to building bullish momentum that aligns with the positive EMA and RSI readings.
The market cap of MKR is currently at $1.124 billion, up by 8.24% so far today, while the volume stands at $109 million, up by 27.85% so far today. This increase in both volume and market cap suggests a growing interest in the token, which could potentially fuel further price increases
Nonetheless, traders should exercise caution. The resistance zone from $1,153 to $1,188 may halt MKR's climb. If the price fails to exceed this barrier, a pullback to the support around the Fib 0.236 level at $1,076, near the horizontal support of $1,055 to $1,086, could transpire.
While MKR's technicals largely indicate the potential for additional gains, the nearby resistance poses a key test.
Traders are advised to watch how the price acts around that level, as it could determine if MKR keeps rising or sees a near-term retracement.
Embrace Your Evil Side: Evil Pepe Coin Is One of the Best Cryptos to Buy Now
As the Pepe price encounters obstacles, Evil Pepe Coin is picking up steam and has already raised over $800,000 so far in investments from eager buyers.
Despite being a relatively new addition to the Pepe clan, Evil Pepe Coin ($EVILPEPE) has been posting impressive statistics.
While Pepe's value declined 12% last month to $0.00000100, Evil Pepe is rapidly approaching its ambitious presale target of $1,996,002 with just one week remaining.
This up-and-coming meme coin has a total supply of 6.66 billion tokens, with each token valued at $0.000333.
At this price point, the total market capitalization comes out to $2,217,780 - a relatively modest number in the cryptocurrency market.
With its appealing features and reasonable market cap, Evil Pepe Coin presents an interesting opportunity for prospective buyers.
Once it gets listed on decentralized exchanges, investors stand to potentially realize substantial returns as trading activity picks up momentum.
The coin's current accessibility and low valuation make it well-positioned for significant growth.
The provocative marketing tagline "Embrace your evil side" promotes Evil Pepe tokens to potential buyers.
But beyond the promotional hype, experts see real potential for price growth after the token is listed on exchanges. Key factors support this optimistic outlook.
First, 90% of the total token supply is available in the presale, ensuring a fair distribution.
Second, the remaining 10% will be locked in liquidity for one month, eliminating concerns about a scam "rug pull" where developers quickly cash out.
Finally, while rumors link Evil Pepe to the original Pepe team, it is the undeniable marketing momentum and widespread media attention that is truly driving capital influx into the project.
With clever promotion and fundamentals aligned for growth, Evil Pepe may deliver gains if community interest continues after the presale.
GMX's Recent Price Action: Signs of a Potential Turnaround?
GMX fell for eight days from July 14 to July 22 until finding support at the Fib 0.5 level of $51.58. Since then, it has rebounded strongly with gains for three days in a row.
Investors, however, need to be careful as GMX heads back toward a critical resistance level.
Having recovered from its recent lows, GMX is currently priced at $53.99, marking an uptick of 2.25% so far today.
As it hovers near the Fib 0.382 level at $54.04, it's also coming up against the 20-day EMA at $54.22. This confluence of resistance levels could prove a formidable barrier to further upward momentum.
The 20-day EMA, often used by traders to identify short-term market trends, is just a hair above the current price. This suggests that GMX is in a critical zone where it could either confirm a bullish reversal or resume the prior downtrend.
Further adding to the complexity of the situation is the 50-day EMA at $55.12 and the 100-day EMA at $57.72. These longer-term trend indicators suggest that the overall trend has been bearish, but the recent price action shows signs of a potential turnaround.
The RSI currently stands at 48.88. This figure, slightly below the neutral 50, indicates a nearly balanced market with neither the bulls nor the bears having a clear upper hand.
The MACD histogram shows a value of -0.45. While this negative figure indicates a bearish signal, the improving trend suggests the momentum could be shifting in favor of the bulls.
In light of these indicators, traders should tread carefully. GMX's immediate support lies at the Fib 0.5 level at $51.58. If the price fails to break through the resistance and falls below this support, it could signal a continuation of the bearish trend.
On the other hand, a successful break above the Fib 0.382 level and the 20-day EMA would be a bullish signal, potentially opening the door for further gains.
The current technical indicators portray a pivotal moment for GMX. The outcome of this retest at the confluence of the Fib 0.382 level and the 20-day EMA could set the direction for the immediate future.
Traders would do well to keep a close eye on these levels and adjust their strategies accordingly.
Chimpzee's Charitable Chase: Best Crypto to Buy for a Cause?
Chimpzee's crypto-focused charity project is quickly gaining momentum in the midst of the current crypto hype.
With the presale total approaching $1 million, it's clear that the project is resonating with individuals who are interested in using their crypto for charitable purposes.
Staying true to its roadmap, the project introduced the Chimpzee Gold Passport NFT featuring eight unique designs.
Eco-minded investors buying in during the "gold stage" of the presale can mint one of these NFTs in exchange for 750,000 $CHMPZ tokens, which promises an impressive 18% staking yield.
However, financial incentives are not Chimpzee's sole focus. Aligning with its core mission of contributing to environmental causes, Chimpzee recently donated $20,000 to the WILD Foundation, protecting the black jaguar.
They have also planted thousands of trees in Brazil and Guatemala while pledging $15,000 to elephant conservation.
Aside from its admirable objectives, Chimpzee represents a promising crypto investment opportunity.
Currently, in stage 8 of its presale, Chimpzee urges prospective buyers to act fast. With stage 9 fast approaching, the $CHMPZ price will rise to $0.00085.
With plans to launch on major exchanges at $0.00185, far above its current price of $0.000775, the future looks bright.
Being a deflationary token, the value of $CHMPZ will gradually increase as time goes on.
Propelled by endorsements from crypto influencers, Chimpzee's momentum seems unstoppable. Investors seeking profit paired with purpose should consider jumping aboard.
Trust Wallet Token (TWT) Strives to Establish Foothold on 50-Day EMA
Marking a significant move to the upside, the Trust Wallet Token (TWT) broke out of its three-week consolidation below the Fib 0.236 level of $0.8684 with a robust 7.95% surge yesterday.
This bullish momentum, however, met a tough resistance at the Fib 0.382 level of $0.9656, which is in confluence with the horizontal resistance zone of $0.9635 to $0.9809.
Despite the resistance, a glimmer of hope remains for TWT's continued bullish progression as it attempts to establish a foothold on the 50-day EMA at $0.9022.
The 20-day EMA, a short-term trend indicator, is currently at $0.8688, closely aligned with the Fib 0.236 support level. This further reinforces the $0.8684-0.8688 zone as a critical support area.
The 50-day EMA, a medium-term trend indicator, sits at $0.9022, marking the level where TWT is currently striving to consolidate.
Similarly, the 100-day EMA, a long-term trend indicator, stands at $0.9892, slightly above the aforementioned resistance zone. This suggests that if TWT manages to breach the immediate resistance, it could encounter further opposition before making significant upside strides.
The RSI has cooled slightly to 59.73 from yesterday's 67.05. This suggests a slight decrease in buying pressure. However, as the RSI remains above the mid-line 50, the overall bullish momentum is still intact.
The MACD histogram has increased slightly to 0.0128 from 0.0118, indicating a slight bullish bias in the short term.
Meanwhile, the market cap and volume have seen a decrease. The market cap is down by 3.68% to $383 million, and the volume, too, has decreased by 26.87% to $38 million. This contraction in trading volume may imply a decrease in investor interest, potentially leading to lower volatility in the near future.
TWT is currently trading at $0.9161, down by 2.82% so far today. This places it in a precarious position between the immediate resistance at the Fib 0.382 level at $0.9656 and the support at the 50-day EMA at $0.9022.
TWT is currently in a tug-of-war between the bulls and bears. The key levels to watch are the 50-day EMA for support and the Fib 0.382 level for resistance. A successful hold above the 50-day EMA could pave the way for another attempt at breaching the resistance.
Conversely, a break below might see TWT revisit the stronger support at the 20-day EMA and Fib 0.236 confluence zone.
Disclaimer: Crypto is a high-risk asset class. This article is provided for informational purposes and does not constitute investment advice. You could lose all of your capital.
---