Best Altcoins to Buy Today 16th January – MEMAG, FXS, FGHT, LRC, CCHG, MANA, RIA, SAND
Disclosure: Crypto is a high-risk asset class. This article is provided for informational purposes and does not constitute investment advice. By using this website, you agree to our terms and conditions. We may utilise affiliate links within our content, and receive commission.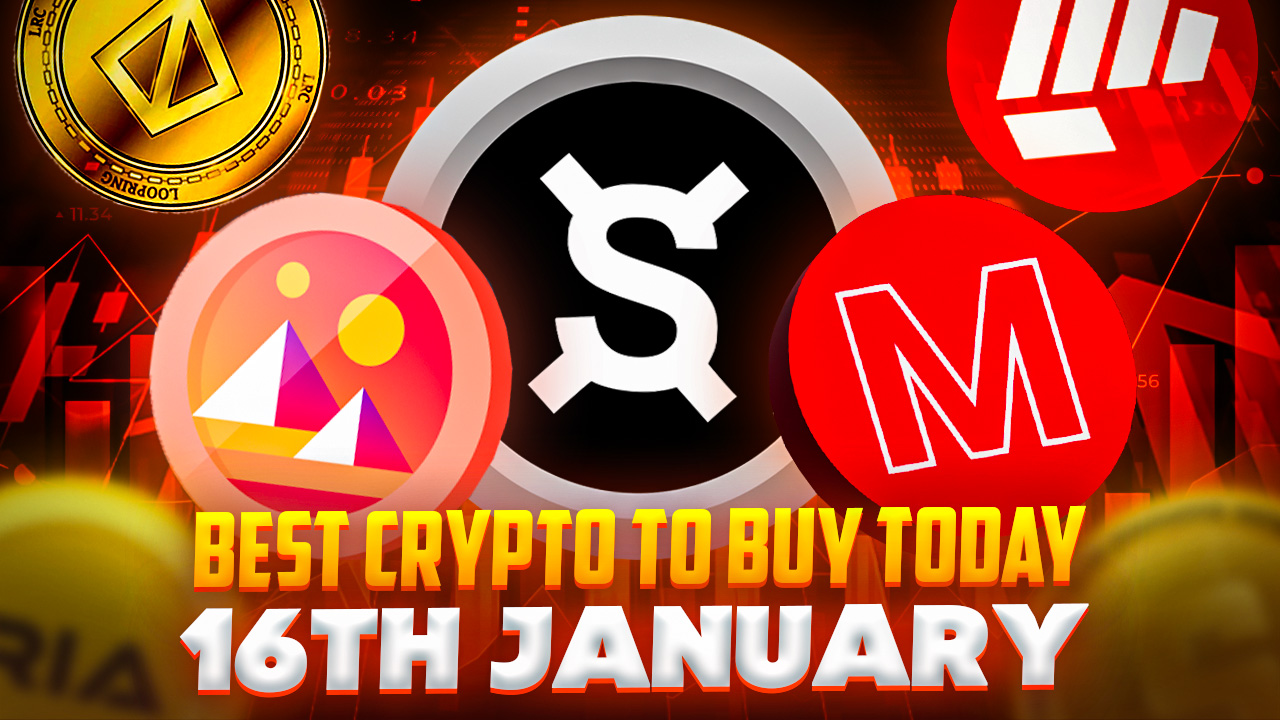 The cryptocurrency market has witnessed a 1% rise in value in the past 24 hours, with its total cap reaching $1.02 trillion after a very strong weekend. This figure represents a 17% rise in a week and a 21% gain in a month, as improved US inflation data and other welcome macroeconomic indicators suggest the beginning of the end for 2022's global downturn.
Even with the market-wide increases of the past few days, some coins have done better than others. This articles collects them into a list of the best altcoins to buy today, including a number of very promising new tokens that are currently holding their respective presales.
Meta Masters Guild (MEMAG)
Having launched its presale last week, Meta Masters Guild has raised just over $250,000, a figure which suggests that the cryptocurrency market has already gained confidence in the play-to-earn gaming platform.
🎉 $250k RAISED #MEMAGFAM! 🎉

❤️‍🔥 We have already passed our halfway milestone and the support from the #MMG community is INSANE 💪

🚀 Don't miss out on getting $MEMAG at a discounted price before the next stage! ⬇️https://t.co/SBqVjX5mWn#memag #memagpresale pic.twitter.com/fM25ZX9bTl

— Meta Masters Guild (@MEMAGgames) January 16, 2023
For the uninitiated, Meta Masters Guild is a mobile-focused gaming guild that will develop a range of Web3 and play-to-earn games. Its first title, Meta Kart Racers, is due to launch in the third quarter of the year, from which point on it will preside over a steady stream of future releases.
Its native token, MEMAG, will be used for governance purposes, as well as for staking and for purchasing items and NFTs. Its sale will have a total of seven stages, with the first — and current — stage offering 1 MEMAG for $0.007.
Hover, this price is due to increase by 42% in the next four days, giving investors only limited time if they want to make the biggest possible profit from the sale. They can participate by heading over the official Meta Masters Guild website and connecting their Wallet Connect or MetaMask wallets.
Frax Share (FXS)
One of the most recent entries into the top-100 cryptocurrencies by market cap, FXS has risen by an impressive 31% in a day. At $8.76, it's also up by 53% in a week, 97% in a fortnight, and 70% in a month, although the Ethereum-based governance token is down by 79% compared to its record high of $42.80 (set in January 2022).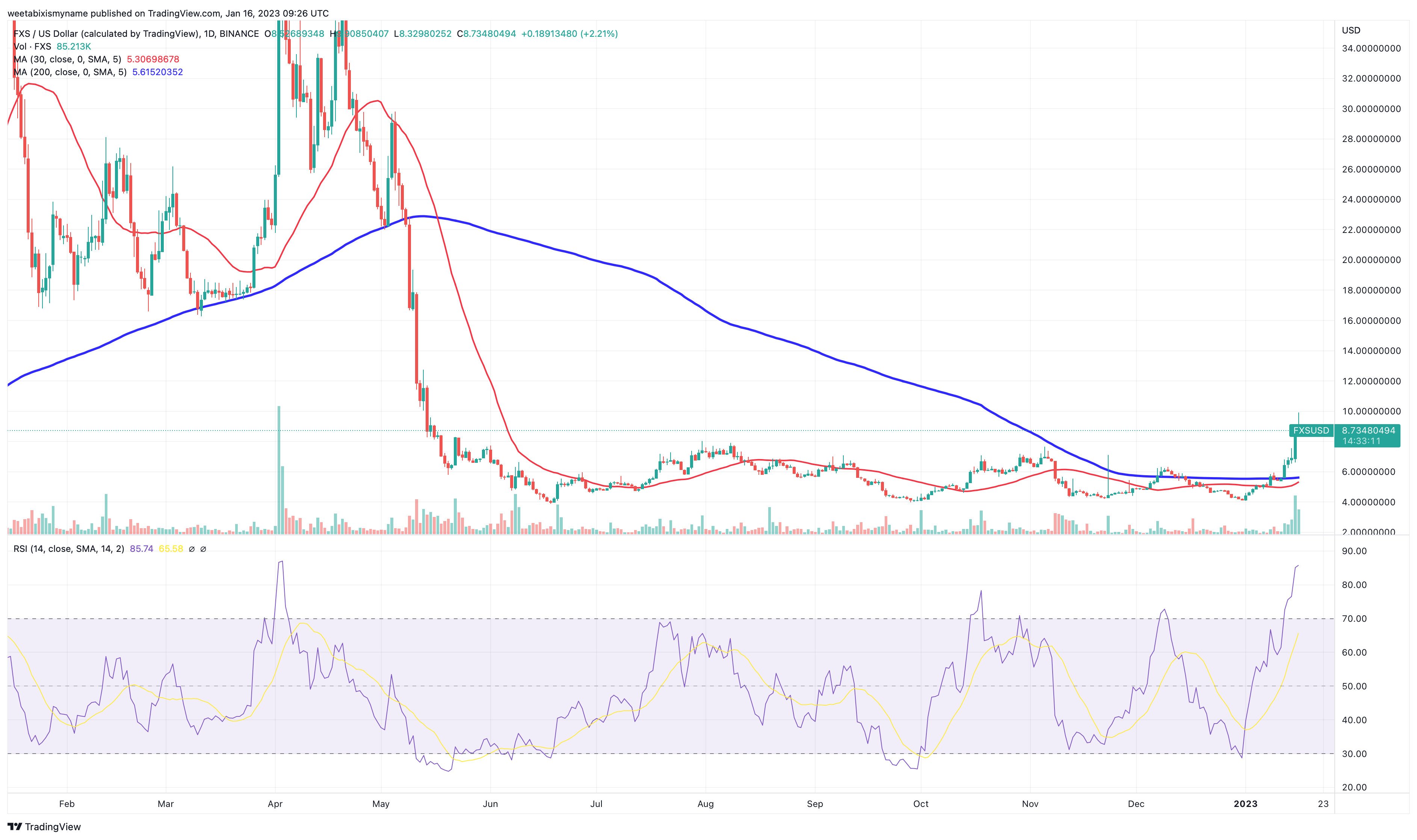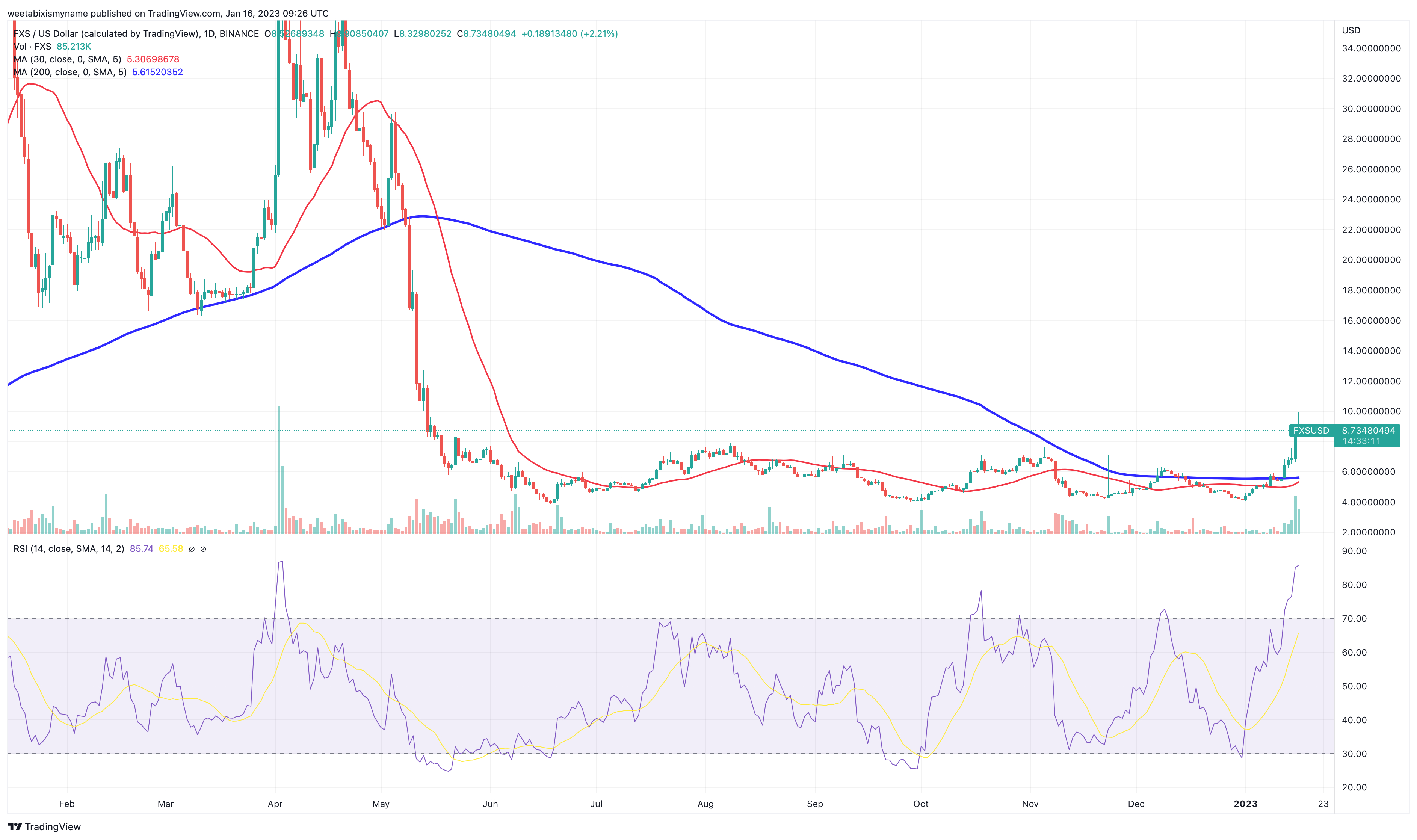 FXS' indicators reinforce the suspicion that it's currently enjoying a strong breakout rally. Not only has its relative strength index (purple) risen above 80 in the past few days, but its 30-day moving average (red) is on the cusp of surmounting its 200-day (blue), something which usually signals a very positive shift.
$CVX seems to be having an $FXS moment 📈

Did Lido suddenly realize how much CVX they're going to need buy to counter frxETH expansion? 🤔😆 pic.twitter.com/rHD0mEeGo0

— DefiMoon 🦇🔊 (@DefiMoon) January 15, 2023
As the native token of the decentralized lending platform Frax Finance, FXS is benefitting from growth in adoption of the latter. In particular, Frax Finance has witnessed growing usage of its staking service for ETH, with the frxETH token users receive in return for ETH becoming popular as a form of liquidity on (decentralized exchange) Curve.
Given that Frax's ETH staking platform was launched only in October, expect it — and FXS — to continue growing in the near future.
Fight Out (FGHT)
Fight Out (FGHT) is a move-to-earn platform that will mix real-life workouts with Web3 when it launches in the second quarter of the year. It will track and reward a much wider range of workouts than earlier M2E platforms, including boxing, weightlifting and yoga, while also offering a range of in-app and IRL courses at its own branded gyms.
📣 Big news #FightOutCrew! 📣

We have raised over $2.9M in our stage 1 presale! 🔥

Only 9 days left to get involved before the price of $FGHT increases! ⏰

Don't miss out! ⬇️https://t.co/Q9cB4zIXYs pic.twitter.com/g4ePkxiXz5

— Fight Out (@FightOut_) January 14, 2023
Its token sale opened in December and has already raised over $2.9 million, with 1 FGHT currently selling at $0.0166. The sale is due to end by Q2 2022, which is when FGHT — and ERC-20 token — will list on exchanges.

Visit Fight Out Now
Loopring (LRC)
At $0.278754, LRC has risen by 11.5% in 24 hours, as well as by 30% in a week. On top of this, the layer-two coin is up by 47% in a fortnight and by 30% in a month, while remaining 92% down from its ATH of $3.75 (set in November 2021).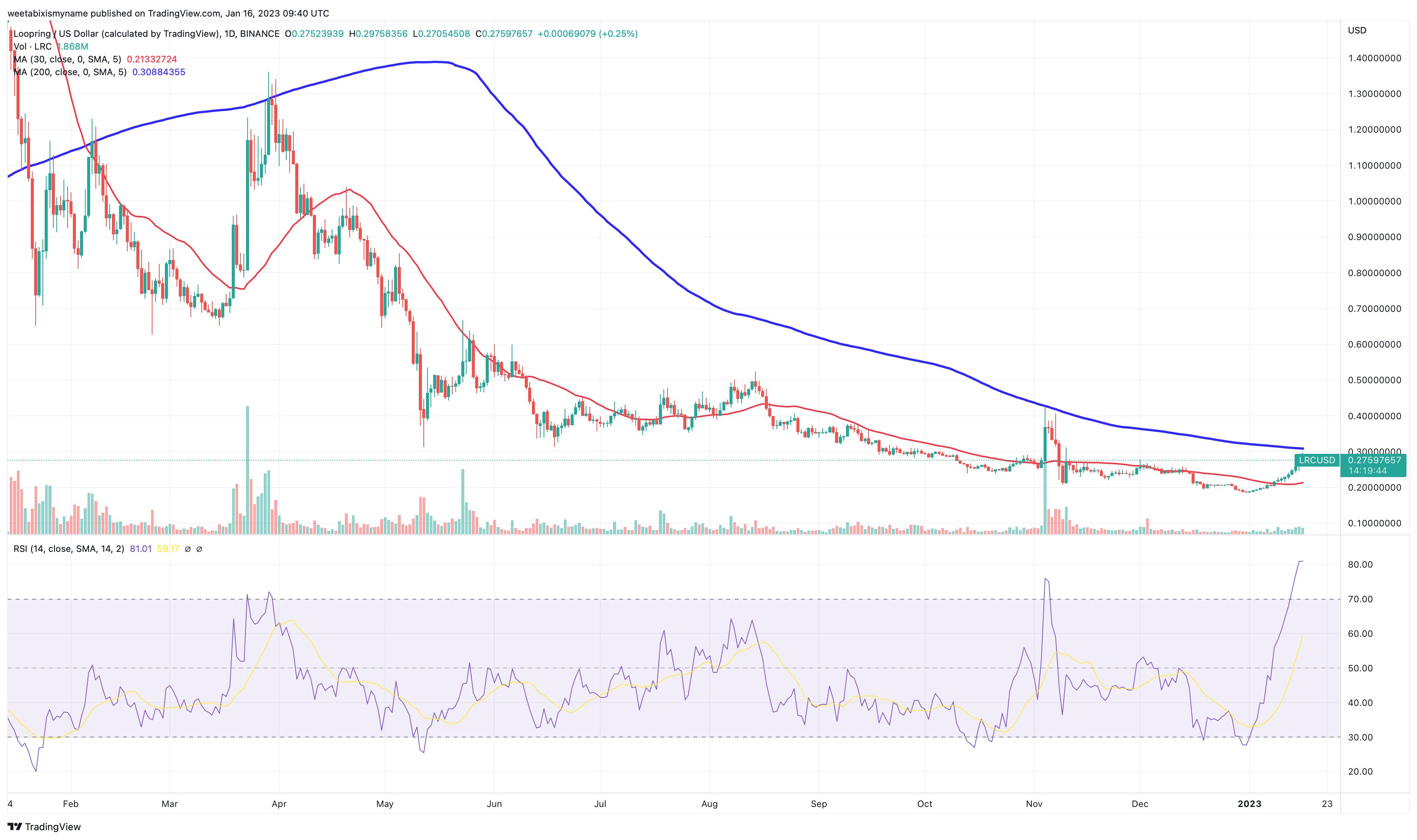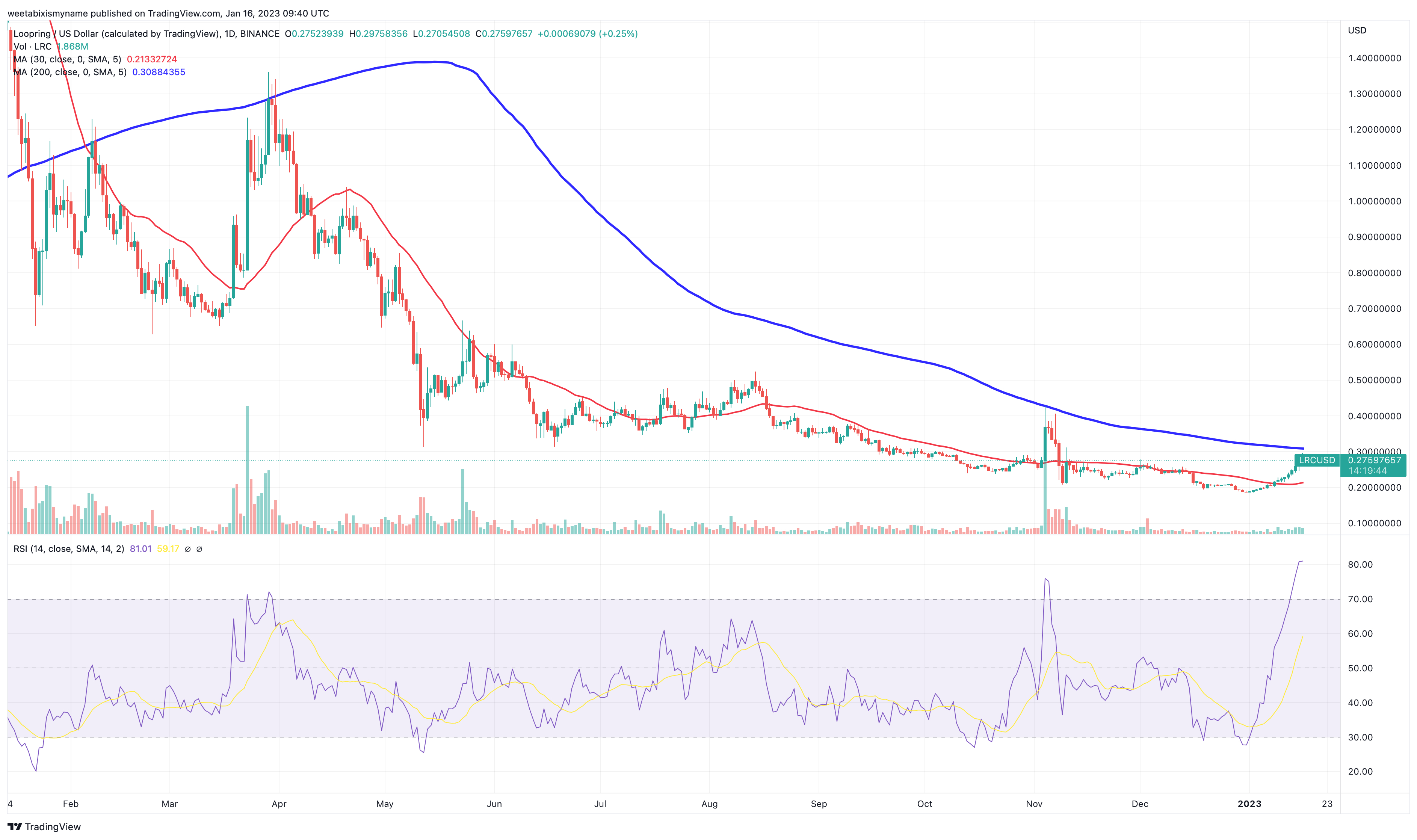 LRC's indicators show two things: 1) it has gained serious momentum in the past few days, with its RSI now topping 80; and 2) the fact that its 30-day average is still below its 200-day means its current rally still has plenty of room left to continue.
As one of the biggest layer-two scaling networks for Ethereum, LRC is rallying largely because it needs to make up for lost ground and correct its overselling over the past year. Indeed, with its total value locked in at $105 million (which is more than Cardano's), it's behind only Arbitrum, Optimism and dYdX in terms of size (according to L2BEAT).
ICYMI✨@GameStopNFT is live on Loopring L2💙#NFT creators + collectors are no longer constrained by costly gas fees

Now anyone can trade and mint NFTs for a fraction of the cost without sacrificing on security

➡️https://t.co/zZfK2o7wbc

Read more👇https://t.co/R6uB4TVrrC

— Loopring💙 (@loopringorg) July 27, 2022
More broadly, Loopring has seen some excellent adoption over the past year, with Gamestop choosing the network to launch its very own NFTs in July.
C+Charge (CCHG)
Aimed at the growing ranks of ESG investors in crypto, C+Charge (CCHG) is a peer-to-peer payment network for electric vehicle (EV) charging stations. Running on BNB Chain, it aims to use blockchain and crypto to democratize access to carbon credits, with its native CCHG set to be used within its network by EV owners to pay to charge their vehicles.
With the $CCHG token, you can:

🌱 Receive carbon credits
🌱 Use real-life utilities in every #EV charge
🌱 Be rewarded with our partners' incentives and free charges
🌱 Reduce carbon emissions

Join our presale now ⬇️https://t.co/ixe18bPqzI

— C+Charge (@C_Charge_Token) January 15, 2023
As part of its platform, C+Charge will reward users with NFT-based carbon credits for charging their EVs at its stations, giving people an incentive to go green. It has also already signed partnershps with Flowcarbon and with Perfect Solutions Turkey, adding 20% of the EV chargers in Turkey to its network. This testifies to the seriousness of its intent, and of how quickly it could end up growing when it launches later this year.
Decentraland (MANA)
After FXS, MANA is the best-performing cryptocurrency in the top 100 today. At $0.679013, it has risen by 21% in 24 hours and by 80% in a week, while also being 100% in a month.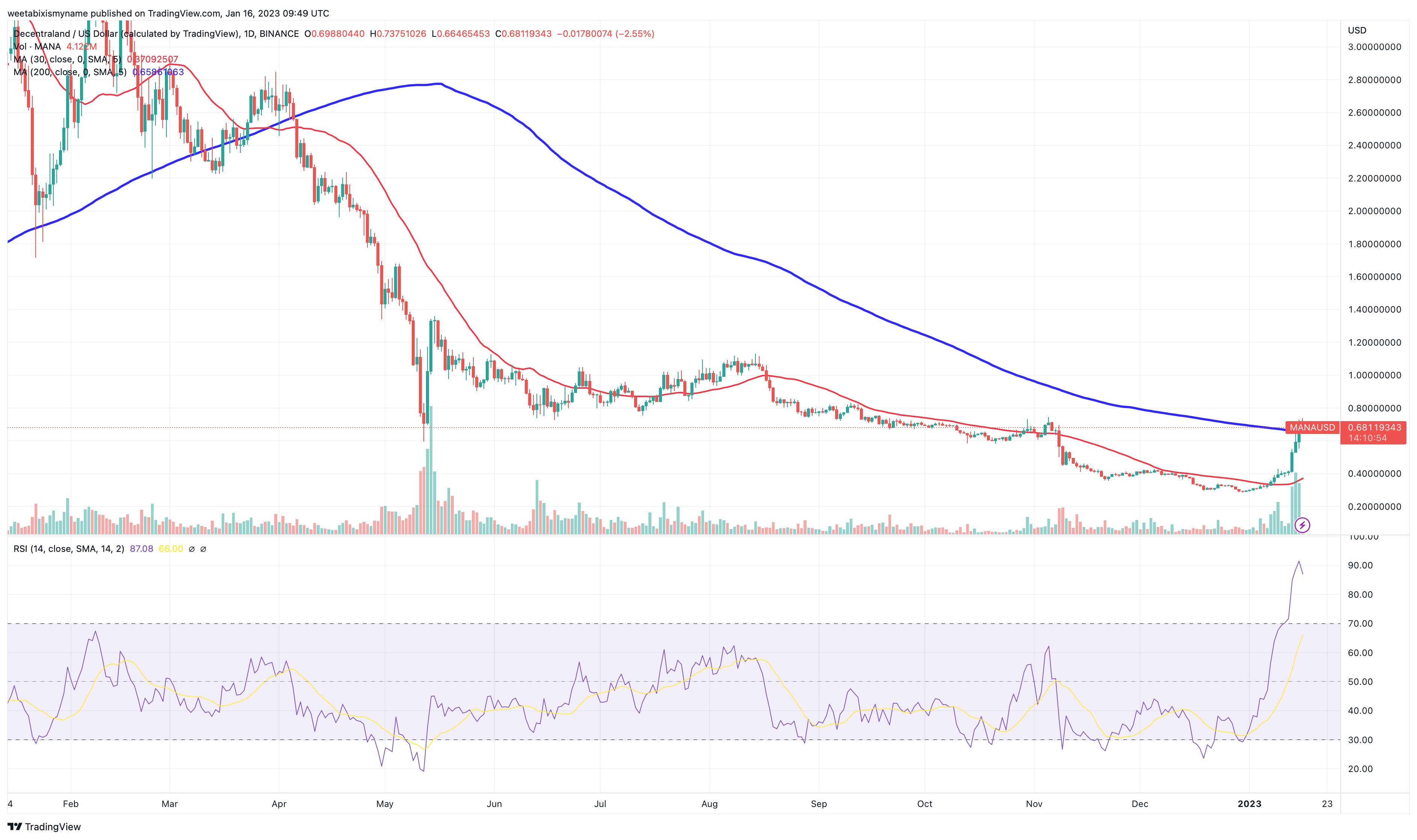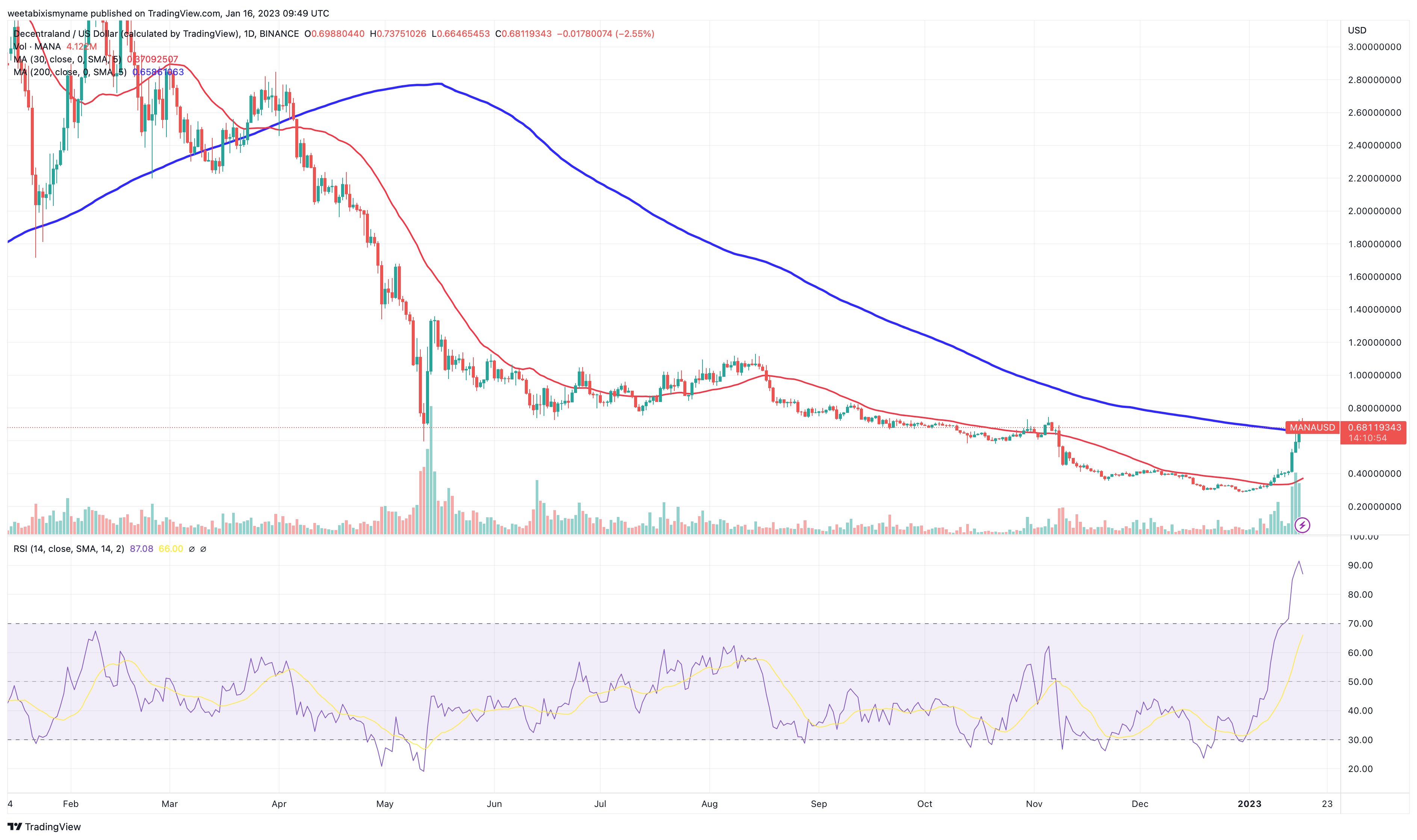 MANA's indicators suggest an ongoing rally, with its 30-day average still waiting to rise above its 200-day before the current upwards movement begins to reverse.
#mana pump was inevitable, @decentraland is the platform of the future. NOW 😍 pic.twitter.com/x2LLJrCWO1

— Burrito.dcl.eth (@DCLjasonx) January 15, 2023
MANA is rallying because it has been oversold over the past 12 months, with the coin still arguably very undervalued relative to its fundamentals. It remains one of the biggest 'metaverse' platforms in the world, with around 8,000 daily active users, according to its own figures.
I'm starting to like #ChatGPT #Decentraland 😀 pic.twitter.com/Kygw8fmyfn

— Burrito.dcl.eth (@DCLjasonx) January 15, 2023
Recent weeks have brought a range of new features for Decentraland users, including upgrades to avatars, user profiles, and friend request mechanisms. This all helps to make the platform more user-friendly, and when combined with Decentraland's many recent partnerships, it was only really a matter of time before it began rallying again.
Calvaria (RIA)
Calvaria is a new play-to-earn battle card game that's now in the final stage of its token sale, having raised nearly $2.8 million so far. Only 11% of the available RIA coins remain, with the token due to list on such exchanges as LBANK Exchange and BKEX Global in the next few weeks.
🚀 Upcoming Listing

💎 RIA(Calvaria: Duels of Eternity) will be listed soon on #LBank! @CalvariaP2E

🔖Details: https://t.co/U3X0fZXWS1 pic.twitter.com/E7cOrPSu6j

— LBank.com (@LBank_Exchange) December 23, 2022
Set to be playable on PC and smartphone, Calvaria interestingly doesn't require any cryptocurrency to play, although it does also include numerous play-to-earn elements. This makes it more accessible than pre-existing blockchain-based games, and could open it up to a much wider audience.
The game itself is due to launch in Q2 2023, with its world set in a mythical afterlife. Characters will be animated in full 3D, while players will have the ability to earn and upgrade a wide ecosystem of collectible cards, which will also be used to battle with different factions in the game's universe.
The Sandbox (SAND)
SAND has gained by 10% in the past day, reaching $0.693456. This marks a 40% gain in a week and a 78% rise in a fortnight, with the metaverse coin also up by 47.5% in the last 30 days.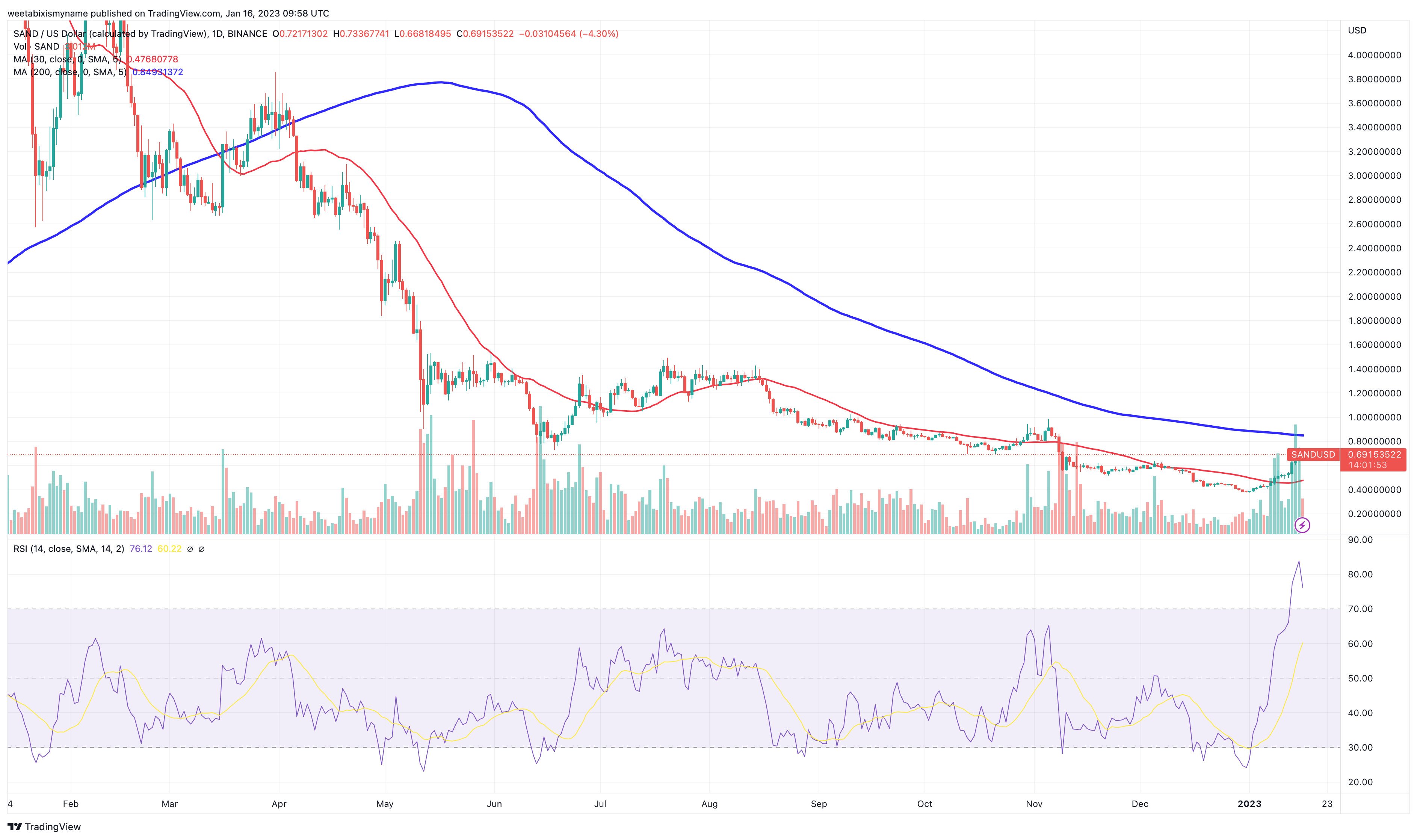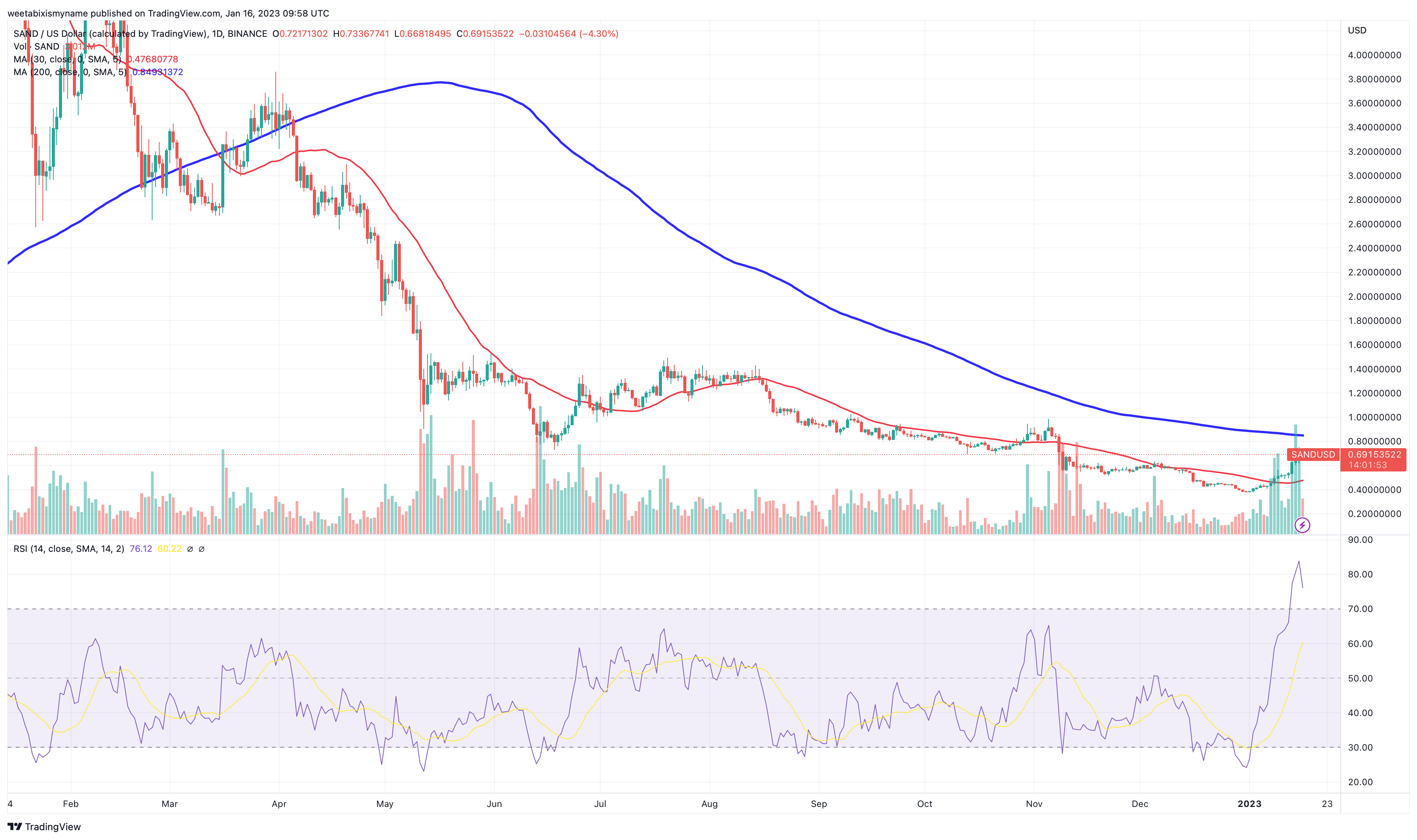 To a large extent, it seems that the Sandbox is rallying for much the same reason why Decentraland is rallying. Namely, there's an expectation that, with Meta (and other big companies) pumping so much money into the metaverse, pre-existing metaverse platforms such as the Sandbox (and Decentraland) are going to be among the future's big winners.
📢 Our ALPHA Season 3 growing metrics 👇

🔹Daily Users: 39K
🔹Monthly users: 201K
🔹Total Wallets: 4.1M
🔹LAND Owners: 22,267
🔹$SAND staking: 128M SAND
🔹Website 30d Users: 1.6M
🔹Number of chat messages: 4.1M
🔹KYC users: 113K
🔹Hours played: 1.6M#SandboxAlphaS3

— The Sandbox (@TheSandboxGame) October 10, 2022
And SAND is arguably better positioned than MANA to ride the growing metaverse wave, seeing as how the Sandbox reportedly has more active users than Decentraland. It has also attracted more outside investment than its main rival, with the backing of Softbank (among others) suggesting that the big money has backed it to succeed in the not-too distant future.
---