Become a Part of the Next Big Thing in Crypto Gaming with Calvaria – Don't Miss the Presale
Disclosure: Crypto is a high-risk asset class. This article is provided for informational purposes and does not constitute investment advice. By using this website, you agree to our terms and conditions. We may utilise affiliate links within our content, and receive commission.


Crypto Gaming – The Next Big Thing
The gaming industry is evolving fast. A brand new, dynamic niche is making waves given that it offers players a viable way of generating income. New games with cryptocurrency and digital assets like non-fungible tokens (NFTs) at their core are transforming ideas around utilizing play-to-earn (P2E) to improve player retention, as well as on how to attract new users. And games like Calvaria: Duels of Eternity, are leading the charge.
According to a recent survey of game developers commissioned by blockchain entertainment firm Coda Labs, 75% of developers expect to work on web3 projects in the future and more than half think that web3 will revolutionize the gaming industry. The CEO of Coda Labs commented that the survey "shows that a majority of developers have already dipped their toes into Web3 game development, driven by benefits such as additional funding, new revenue streams, and player retention".
For the first time, players of P2E crypto games are able to earn digital assets that are decentralized and transparent in nature, given that they are based on the blockchain. In 2021, Axie Infinity showed the world that it is possible for players to make a real living via playing the game.


Calvaria A Likely Future Star
But Axie Infinity was never quite able to break into the mainstream. P2E crypto-based battle cards game Calvaria, which is set to release its headline fantasy-themed game "Duels of Eternity" in Q2 2023, is looking to change that. Calvaria players collect and build a desk of battle card NFTs, which they can then use to battle one another or complete challenges, all whilst earnings RIA token rewards.
Calvaria aims to piggyback off of the past virality of physical card games like Yu-Gi-Ho and Pokemon, whilst also riding the web3 gaming adoption wave. Indeed, Calvaria seeks to play a role in driving web3 gaming adoption by lowering the barriers to participation by non-crypto native users. Users will be able to play the game for free and without having to connect a crypto wallet.
They will be encouraged to play the crypto version of the game throughout the experience (for example, they will be shown how much they would have earnt by now if they had a crypto wallet connected). But it is not a necessity. Calvaria will incorporate elements of crypto education into the game in order to try and bring the non-crypto users across to the crypto side.
Elsewhere, the fact that Calvaria is being built on the Polygon blockchain, an Ethereum scaling solution, means that transactions are set to be very fast and cheap. The same cannot be said for games being built, say, on top of the Ethereum blockchain, which suffers from much greater levels of network congestion and higher fees. Meanwhile, unlike many of its competitors, Calvaria will be playable via mobile application and on the computer, opening up the game to the widest potential user base possible.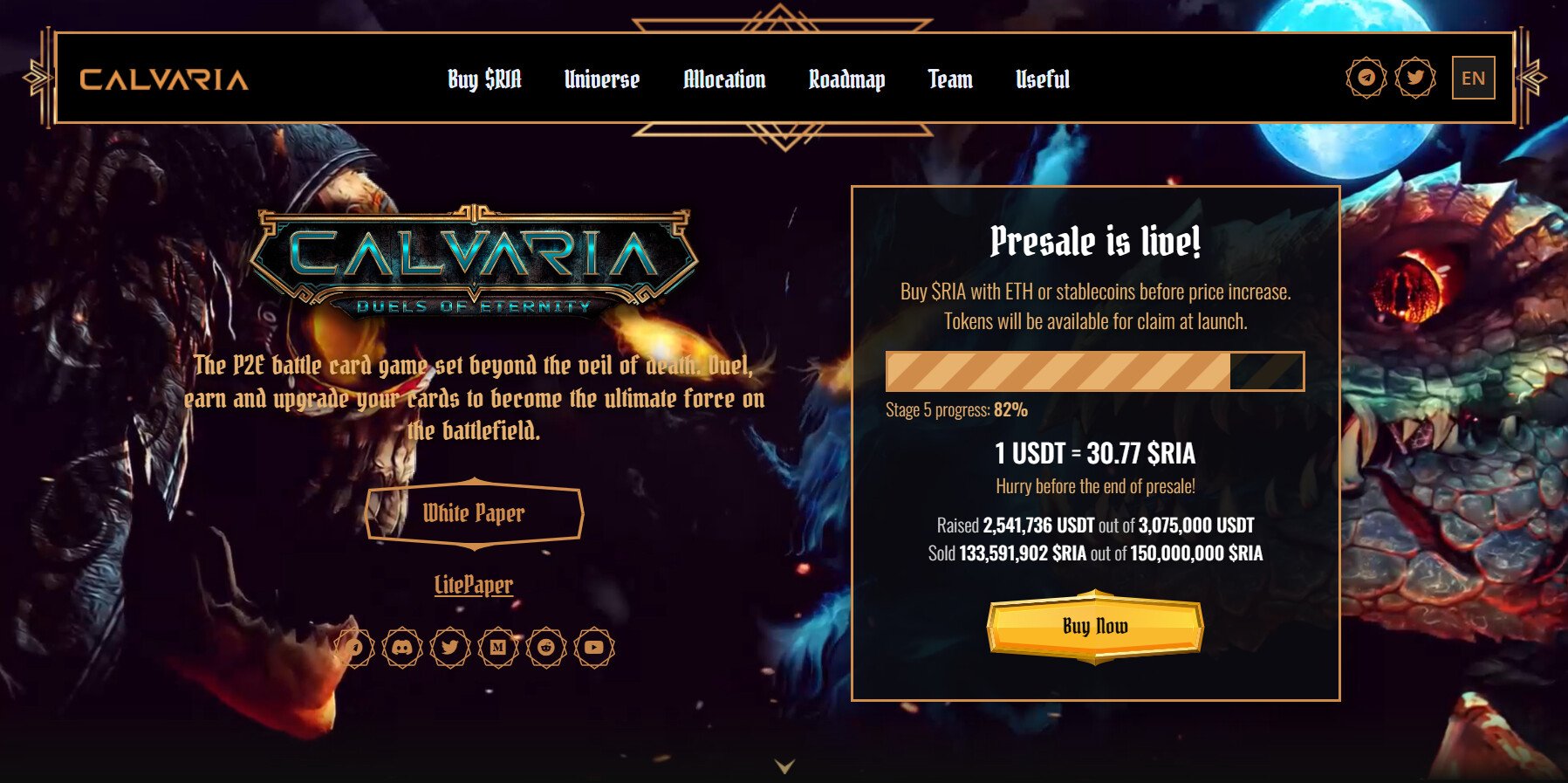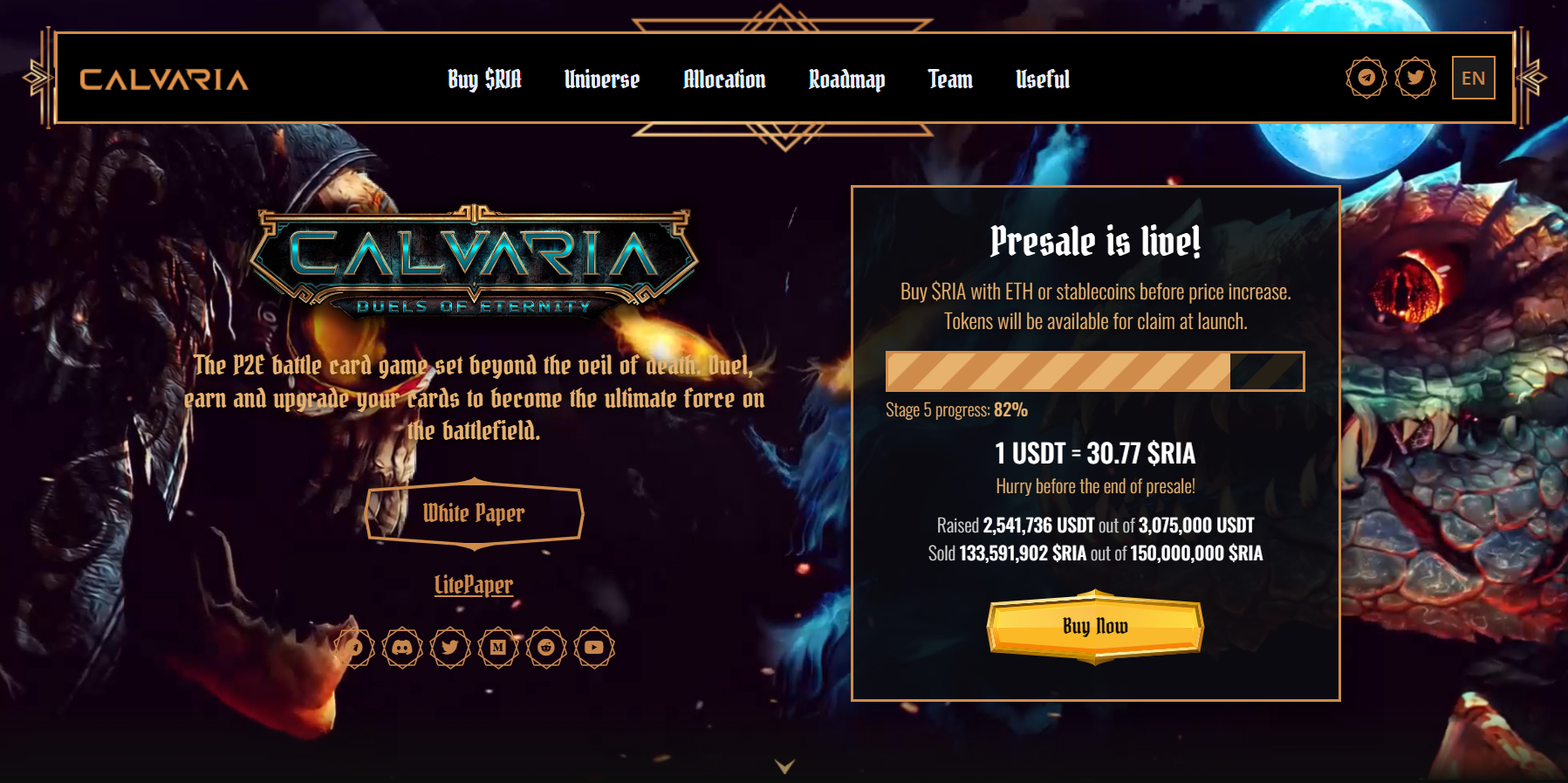 Secure Presale Tokens Now
Calvaria is currently conducting a pre-sale of the RIA token that will function as the game's default in-app currency. Investors looking to benefit from the seemingly inevitable rise of crypto gaming and looking to diversify their crypto portfolio should move quickly to secure their tokens, with the pre-sale selling out fast.
In the few weeks since the launch of the pre-sale, the project has already raked in over $2.54 million and only 18% of pre-sale tokens remain up for grabs. These tokens could be scooped up very quickly. Earlier this month, a crypto whale made a huge $97,500 purchase. Tokens are currently going for about $0.325 each, which observers have called a very favorable price.
If investors miss out on the opportunity to get tokens in the presale, they will have to wait until the tokens are listed on cryptocurrency exchanges in early 2023.
We will get listed on @BKEXGlobal !
More details will be posted later.https://t.co/mkjXnF9Lc0#calvariagang

— Calvaria: Duels of Eternity! ✨ (@CalvariaP2E) December 20, 2022
Why Calvaria Will Outshine Its Peers
The in-development game looks set to feature industry best graphics and fantastic gameplay and will take place in an immersive, exciting universe. Calvaria, boasts a host of superior features versus its existing rivals like Splinterlands and Gods Unchained. None of Calvaria's major competitors offer an in-game story mode, 3D characters, or the option of playing without having to link a cryptocurrency wallet.
Other notable features of Calvaria include that it will create and establish a Decentralized Autonomous Organisation (DAO) that will eventually hand over control of the game/project to the community, that it will feature an in-game peer-to-peer marketplace and that it will feature a Scholarship System. RIA token owners will be given DAO votes based on how much RIA they have staked.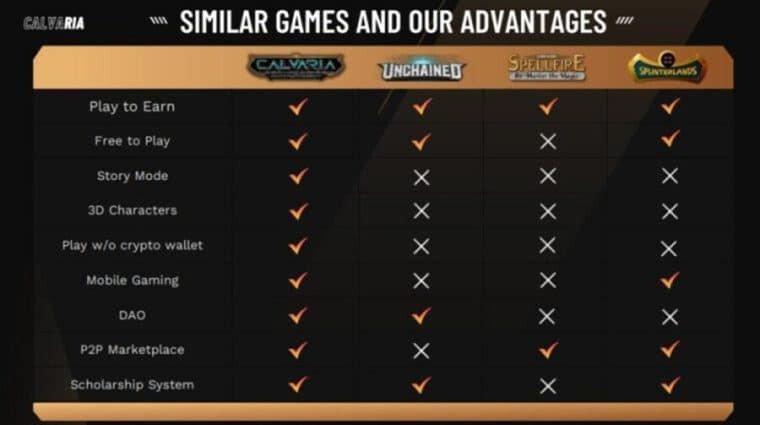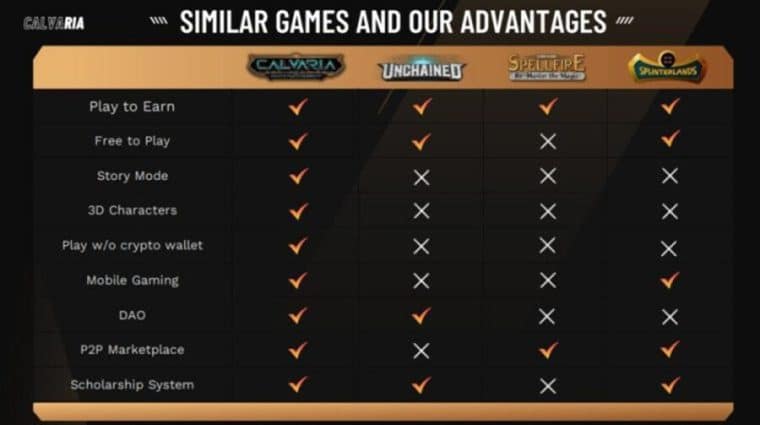 Calvaria has some big backers, including the likes of KuCoin, Polygon Studios, Gate.io, XT.com and Chainplay. The project has received favorable news coverage from a wide range of news websites, including the likes of Benzinga, Cryptonews.com, Business 2 Community, Yahoo Finance and Yahoo News. Calvaria was recently ranked in cryptonews.com's top 14 play-to-earn games in 2022.
How to Buy Calvaria's RIA Token?
Interest investors can easily get their hands on RIA tokens via Calvaria's website. All they have to do is press "Buy now" in the pre-sale box. They will then be directed to another page where they can connect their MetaMask or WalletConnect cryptocurrency wallet. They will then enter how much RIA they wish to purchase, before signing off on the transaction in their cryptocurrency wallet in the usual manner, including agreeing to pay a gas fee.
---