Axie Infinity Price Prediction as AXS Surges 30% in 7 Days – Here's Where It's Headed Next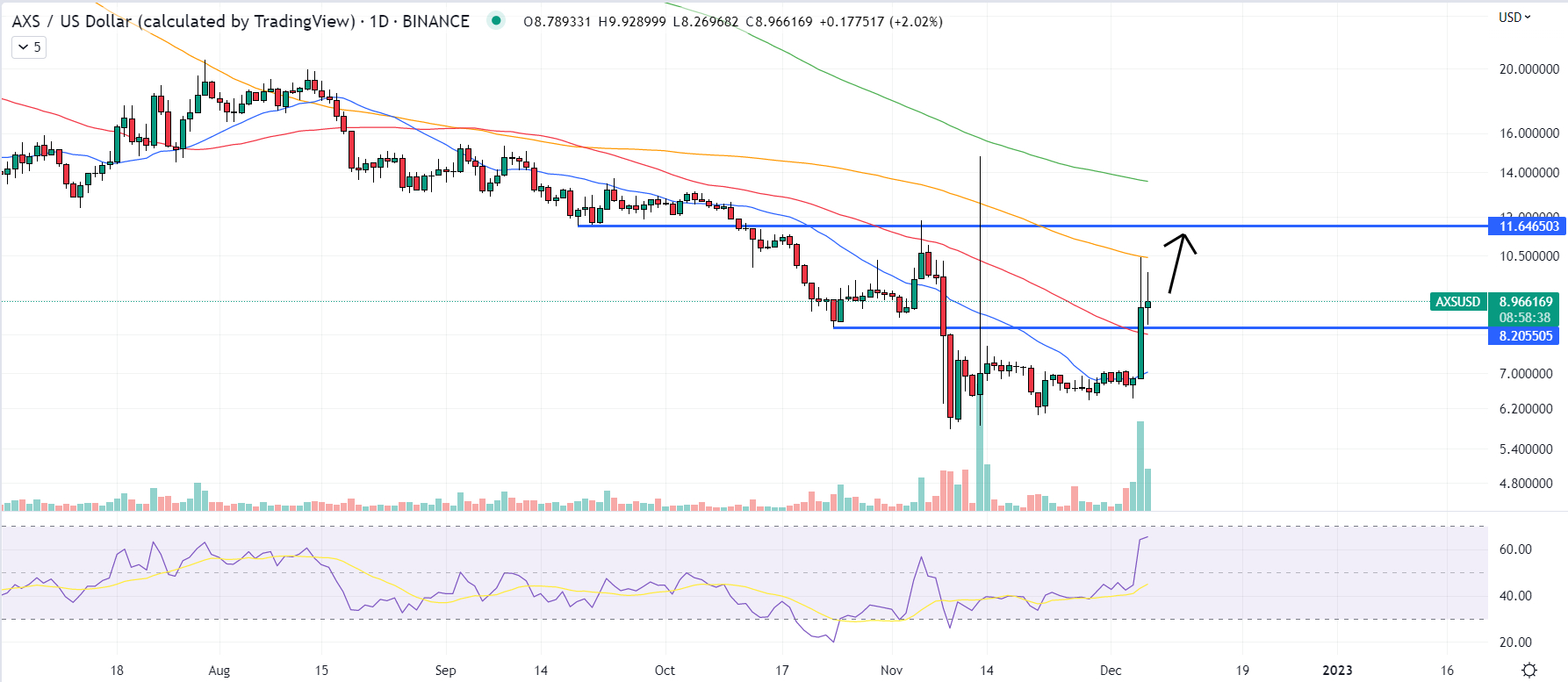 Axie Infinity Shards (AXS) price predictions have suddenly jumped in wake of the cryptocurrency's sudden price spike this week. AXS, which functions as the Axie Infinity gaming ecosystems currency was last trading higher by more than 30% in the last seven days, with most of those gains having come on Monday in wake of an update from the Axie Infinity creator team as to their plans to gradually decentralize the game.
AXS/USD was last changing hands around close to $9.0, with the cryptocurrency continuing to eye a push above the $10 level. According to a CoinMarketCap survey of 402 users, the median price prediction for AXS on the final day of 2022 is that it will hit $10, a just over 10% jump from current levels. The mean price prediction is for AXS to end their year worth $10.56 per token.
Bigger Gains Potentially Lay Ahead
The fact that AXS has found strong support in the $8.00 support area (a key low from October and the 50-Day Moving Average) will give the bulls confidence that this latest push higher has some legs. For now, the $10 area and the 100DMA at $10.43 seem to be acting as resistance. But if AXS/USD can push higher, the door is open for a swift test of the next key area of resistance at $11.60.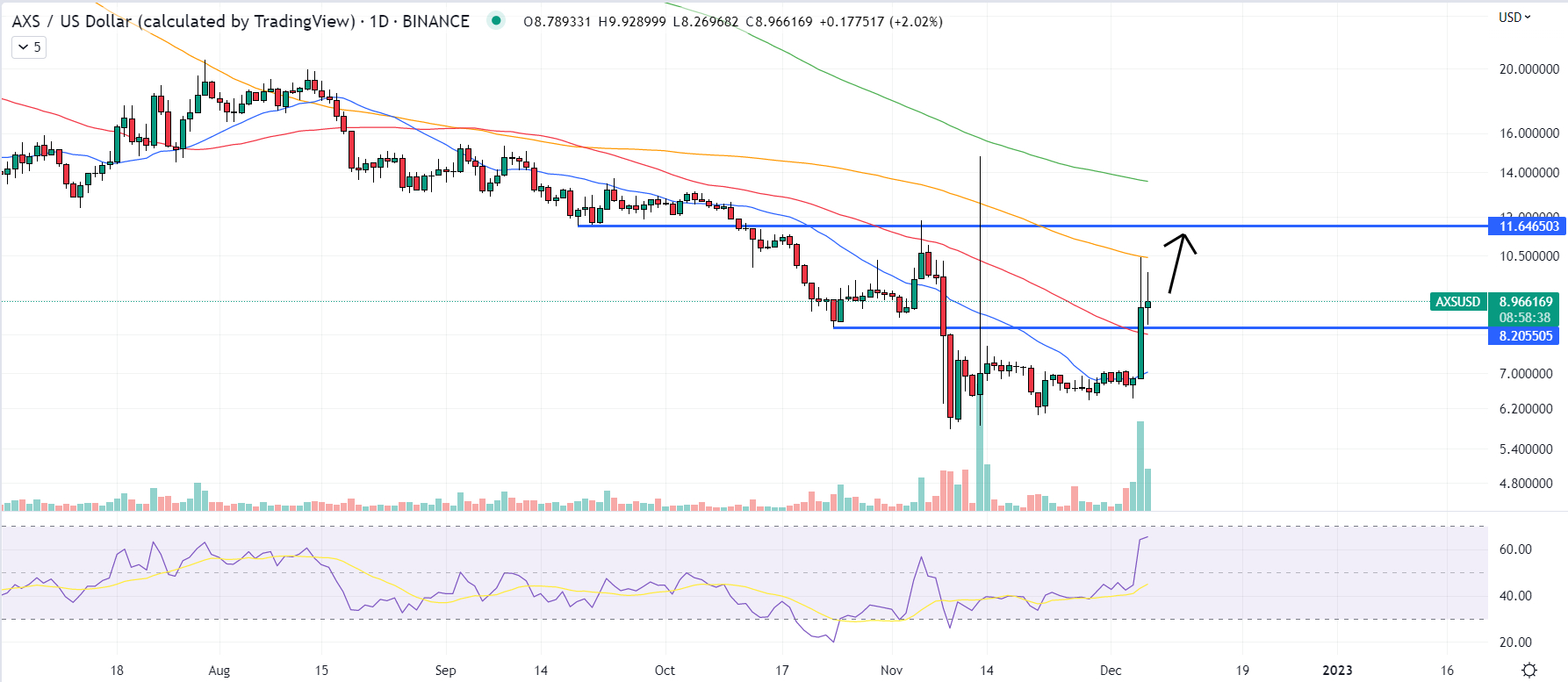 A push to this area could also confirm a breakout from a bearish trend channel that AXS/USD has been locked in for the majority of 2022. If broader conditions in cryptocurrency markets are right (i.e. a Santa rally kicks in) and AXS does confirm the break above its long-term downtrend, a test of its 200DMA around $13.50 could be next.
Axie Infinity Is Relentless and Inevitable
The co-founder of Axie Infinity who goes by the Twitter handle @Jihoz_Axie commented on the spike in AXS price on Twitter on Monday. He said he was "not sure" what was behind the price jump, but proceeded to outline a few reasons why Axie Infinity is "relentless and inevitable".
According to @Jihoz_Axie, "Axie is the #1 Web3 game by traction (Dappradar)", has the "largest Discord/Twitter in Web3 gaming: 650 K/910K", is making progress towards decentralized governance. @Jihoz_Axie also cited Origins S2, Land Alpha and more, which are a few of the games latest updates/advances.
Another Twitter who works as an Axie content creator and caster replied saying that the price spike was triggered as "someone bought a fat bag of AXS".
Dash 2 Trade (D2T)
Those interested in investing in a promising crypto trading platform start-up should look no further than Dash 2 Trade. The up-and-coming analytics and social trading platform hopes to take the crypto trading space by storm with its host of unique features.
These include trading signals, social sentiment and on-chain indicators, a pre-sale token scoring system, a token listing alert system and a strategy back-testing tool. Dash 2 Trade's ecosystem will be powered by the D2T token, which users will need to buy and hold in order to access the platform's features.
Dash 2 Trade is currently conducting a token pre-sale at highly discounted rates. D2T token sales recently surpassed $8.7 million. The sale is very close to entering its fourth phase, with over 99.8% of stage 3 tokens now sold. When the sale enters its next stage, prices per token will be lifted to $0.0533 from $0.0513.
IMPT
Amid the growth in popularity in recent years of environmentally and socially friendly investments, investors looking for a green cryptocurrency should consider the IMPT token. IMPT.io has partnered with thousands of the world's largest retailers to help offset their carbon footprints and allows users to trade carbon credits on the blockchain.
IMPT tokens are currently in their second stage of the presale with IMPT having raised over $14.3 million. That amounts to $350K in token sales in just the last 48 hours. Investors only have another five days to purchase tokens at the current discounted price of $0.023.
Calvaria (RIA)
Major blockchain-based games like Axie Infinity lost significant traction in 2022. As a result, many investors interested in the crypto gaming space are looking for alternative avenues. Calvaria, an up-and-coming play-to-earn battle card crypto game, could be a good alternative. Calvaria seeks to boost crypto adoption by creating a bridge between the real world and crypto, a fun and accessible crypto game.
Investors should consider Calvaria's RIA token pre-sale. Calvaria has now raised $2.23 million and is in the final stage of its fundraising process. Only 28% of pre-sale tokens remain up for grabs.
---