9 Walmart's Blockchain/Crypto Patents Revealed in One Day
It's no wonder that the U.S. companies are among the world's top 10 blockchain patent acquirers when even non-blockchain businessess are seeking for patents in droves. And no one knows how serious those companies are.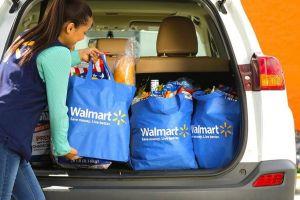 After Nike filed for a trademark for the term "cryptokicks", now, American retail giant Walmart is making waves in the blockchain patent world again.
The U.S. Patent and Trademark Office (USPTO) in a single day, August 1, published nine patent applications filled by Walmart Apollo, a subsidiary that controls Walmart's trademarks.
One of those, that is now making the biggest buzz in the cryptoverse, is titled "System and Method for Digital Currency via Blockchain" and discusses a possibility to create their own stablecoin.
The document describes "generating one digital currency unit by tying the one digital currency unit to a regular currency", adding that "the regular currency is U.S. dollar" – which means creating a USD-pegged stablecoin.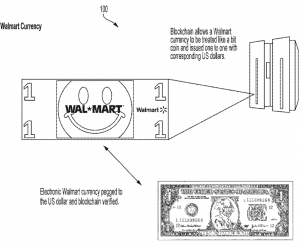 The document also states that, one of the advantages of using digital currencies, is that low-income households to whom banking is expensive, that is, credit cards and carrying cash present a problem, "may have an alternative way to handle wealth at an institution that can supply the majority of their day-to-day financial and product needs."
Some other possibilities regarding the potential new stablecoin include:
it may be available for use only at selected retailers or partners
in other embodiments, it might be available anywhere
it can provide a fee-free or fee-minimal place to store wealth, which can be spent or converted to cash
such accounts could earn interest
while it may be tied to a national currency (e.g. USD), in some embodiment, it could be tied to other digital currencies
digital currency may remove credit and debit cards without requiring cash
digital currency may act as a pre-approved biometric credit: "a person is the 'credit card' to their own digital value bank".
In the meantime, Walmart has filed a number of blockchain-related patents already, but some of the ones published on August 1st specifically, include:
Meanwhile, quite a few people have compared Walmart's potential coin to Facebook's Libra – some in terms of the size of the companies, others in similarities in goals, given that both aim to serve the underprivileged in their respective ways, and some have noticed the difference in reaction, or lack thereof, when it comes to the two companies.
However, just because a patent is approved, doesn't mean anything will be done with it. Companies file patents for various reasons. For example, the research group Brookings Institution's paper shows that many people apply for patents on obvious, vague, and already existing ideas, while the USPTO is incentivized with fees to approve applications.
We'll update the story should Walmart respond to our request for comment.

---