3 SushiSwap Price Predictions - Jim Talbot, DonAlt Bullish on SUSHI / BTC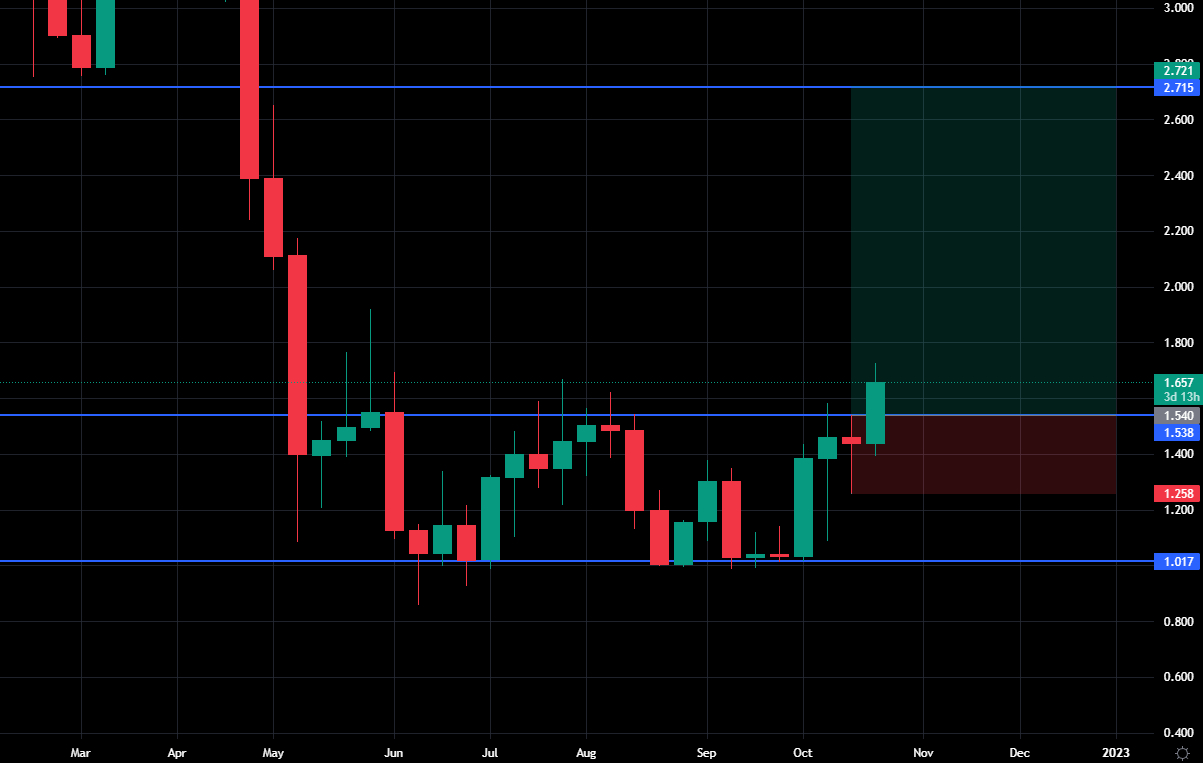 Three of the best crypto traders posted their technical analysis on the SUSHI price chart this week, noting its relative strength against Bitcoin.
Sushi Price Prediction - Best Crypto to Buy Now?
Yesterday Jim Talbot (@jimtalbot) who has 118,000 followers on Twitter uploaded one of his videos onto YouTube - also regularly streaming on Twitch.
Part of that included a mention of SUSHI token and included Magus (@TraderMagus) so this stream was two SushiSwap price predictions in one.
Their SUSHI price commentary starts at the 26:19 mark.
Jim Talbot states:
'If it gets up to $2.2 - I don't think that's out of the realms of possibility - that's about a 50% move'.
At the time the SUSHI price was lower, so his SUSHI prediction has started to play out so far - today hitting an intraday high of just over $1.7.
When asked to explain his thesis for SushiSwap, Jim stated:
'Basically you play beta. The three coins that are getting spoken about at the minute are APT, MATIC and SUSHI. So if we get an extended relief rally (on Bitcoin), you can make the assumption that SUSHI and MATIC will outperform. MATIC especially - quite nice market structure in my opinion.'
Magus agreed:
'Since Aptos, SUSHI and MATIC are some of the ones we're hearing a lot about, taking the kind of more directional trade on MATIC and SUSHI as a beta play makes sense. Although I'm just scalping Aptos.'
DonAlt
DonAlt (@CryptoDonAlt) who has 428,000 followers included a SushiSwap price prediction in his latest crypto market review stream on the TechnicalRoundup YouTube channel.
DonAlt's SUSHI technical analysis begins at the 34:00 timestamp.
He drew out a range on the SUSHI price chart and compared it to the LooksRare chart:
It's a nice chart, I've seen a few mentions of it - this is what you want to be seeing. Remember the LOOKS chart I've just shown. SUSHI was much stronger at the lows and it's hugging the highs now. You have a range and a resistance clearly at $2.8. If you get a breakout this week, there's a trade to be made. It's an important week for both Bitcoin and SUSHI - if BTC closes above resistance, SUSHI could fly. It depends, but I like the relative strength. SUSHI/BTC is in an uptrend, didn't get rejected by resistance and is now using it as support. It has a little bit of room to go.
He posted the approximate long set up above (see SUSHI price chart at start of this post) noting he would close the position manually if SUSHI re-entered the range, rather than setting a stop loss.
SUSHI Alternatives - Other Trending Altcoins
We recently covered three traders' Aptos price predictions and a MATIC price prediction. Solana was also highlighted on DonAlt's video stream.
We've also reported on new P2E token Calvaria (RIA) which has today moved onto its second presale round.
Dash 2 Trade (D2T) and IMPT token are also now on stage two of their respective presales. Following the strategy of buying into trending cryptocurrency assets getting a lot of attention, D2T was featured in Cointelegraph last week during its first presale round.
---