Wallet Connect: What Is It & How Does It Work?
Disclosure: Crypto is a high-risk asset class. This article is provided for informational purposes and does not constitute investment advice. By using this website, you agree to our terms and conditions. We may utilise affiliate links within our content, and receive commission.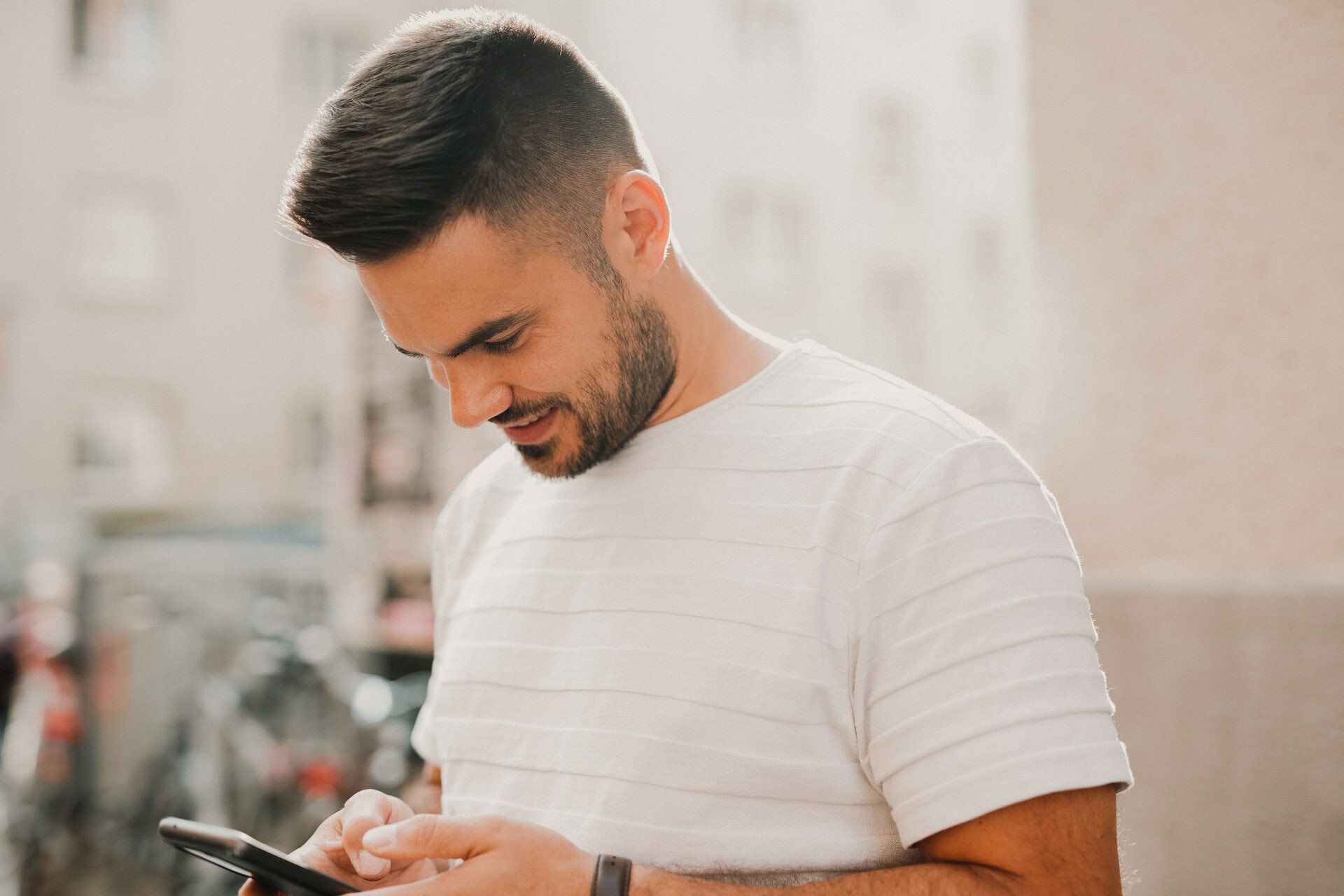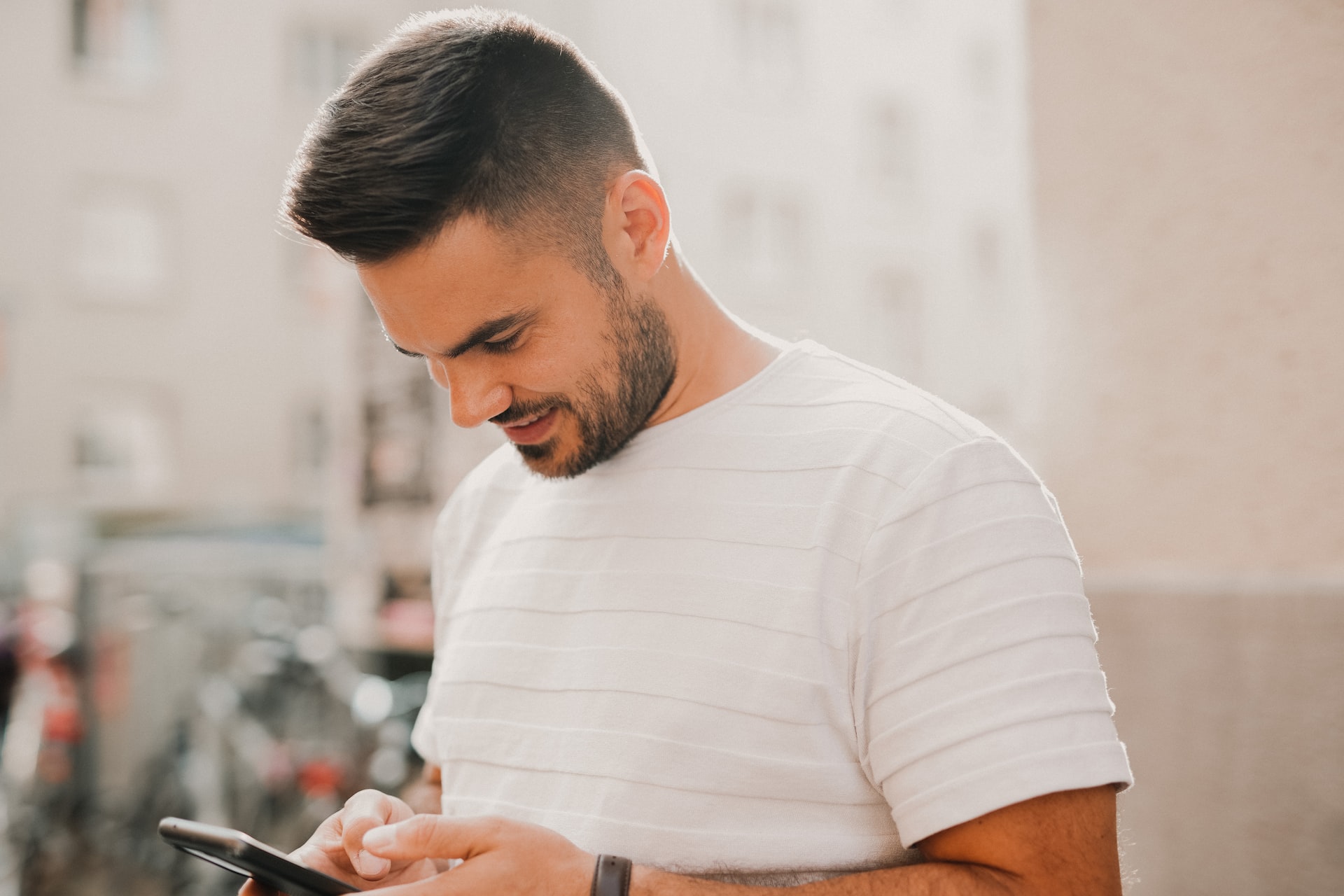 The popularity of decentralized applications (DApps) has continued to soar since 2021. However, to access and use DApps, users need to have a compatible web3 wallet, and not all wallets are compatible with every DApp. This is where WalletConnect comes in.
In this beginner's guide, we look at WalletConnect and how you can use it to connect your mobile crypto wallets to decentralized applications across multiple blockchains.
What Is Wallet Connect?
WalletConnect is an open-source protocol that allows you to connect your mobile crypto wallet to different decentralized applications and other crypto wallets.
The protocol achieves this through QR code scanning and deep linking, creating a remote and encrypted connection between your mobile crypto wallet and a specific DApp.
WalletConnect was created by Pedro Gomes in 2018 and has grown to become a leading wallet infrastructure in the Web3 ecosystem.
Now that we know what is WalletConnect, let's take a look at how it works in practice.
How Does Wallet Connect Work?
Today, the crypto market is flooded with various wallets available for use. And while this is a plus, it also has its downsides. One such drawback is that DApp developers are unable to carry out native support for all the wallets that are available.
This is where WalletConnect comes in handy, as developers can easily and effortlessly implement connections between crypto wallets and DApps. WalletConnect utilizes a shared key between two peers to create the encrypted connection, which makes it secure.
Given how secure WalletConnect is, you can process all your transactions in a secure manner without the need to reveal any personal identifying information as a user. Thus, this protocol guarantees both safety and privacy, something that browser extensions can't guarantee.
How to Set Up And Use Wallet Connect
Using WalletConnect to connect to different decentralized applications varies from mobile to web browsers. What remains constant, however, is that the process is both fast and straightforward.
If you have any issues connecting your crypto wallet to WalletConnect, which may occasionally happen, ensure you return to the start and repeat the step-by-step process. In addition, before you get started, make sure that your mobile crypto wallet actually supports WalletConnect.
For this guide, we will use Aave and Trust Wallet.
Aave is a decentralized crypto lending platform that uses smart contracts to enable users to borrow, lend and earn interest on crypto, while Trust Wallet is a leading mobile web3 wallet. To use Trust Wallet, ensure you download and set up the app before getting started.
Below is a step-by-step guide on how to connect to Aave using Trust Wallet and WalletConnect.
Step 1: Go on Aave
Go to https://aave.com/. Remember, you should always use the official domain of the DApp you want. This way, you are guaranteed a secure and private connection and usage. Next, click on the 'Launch App' button.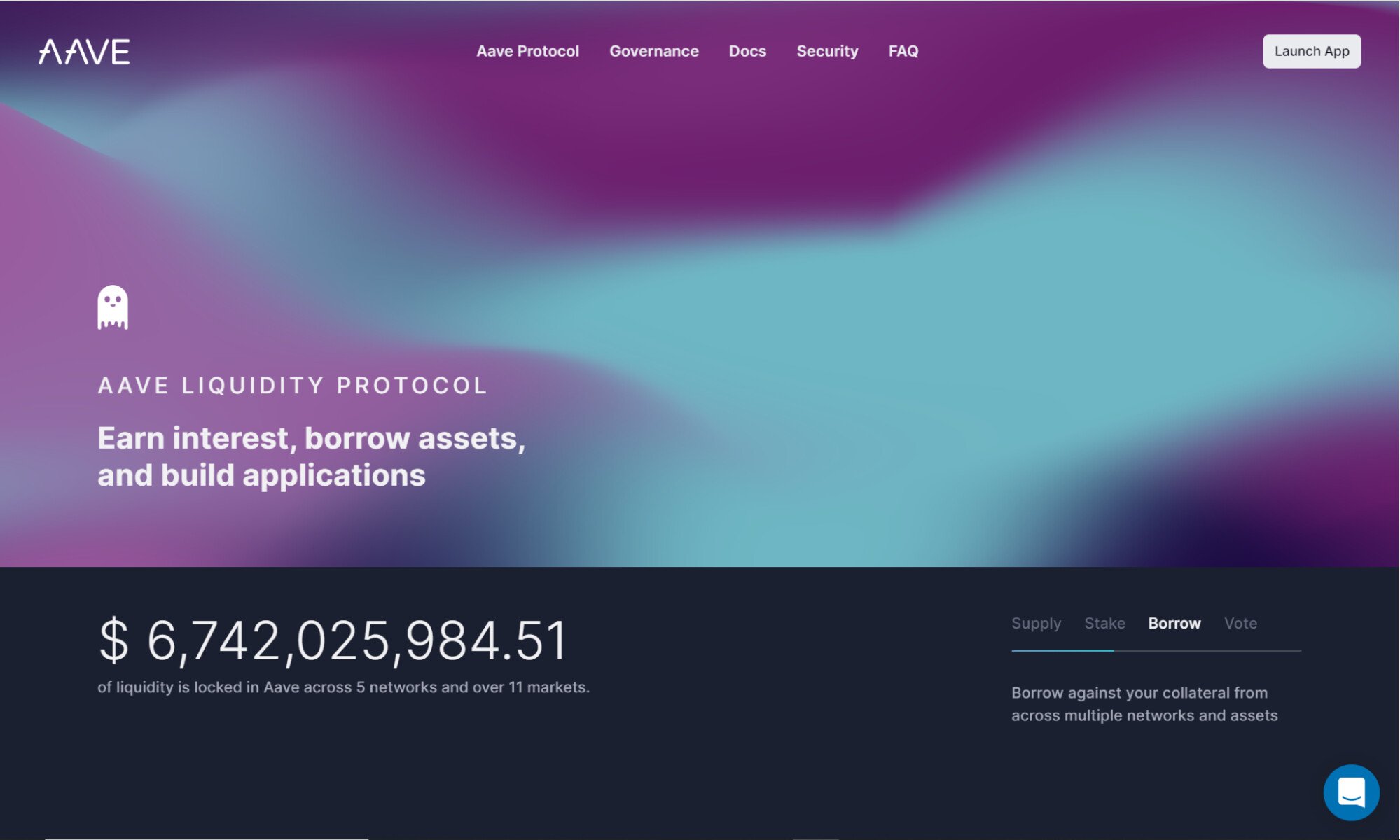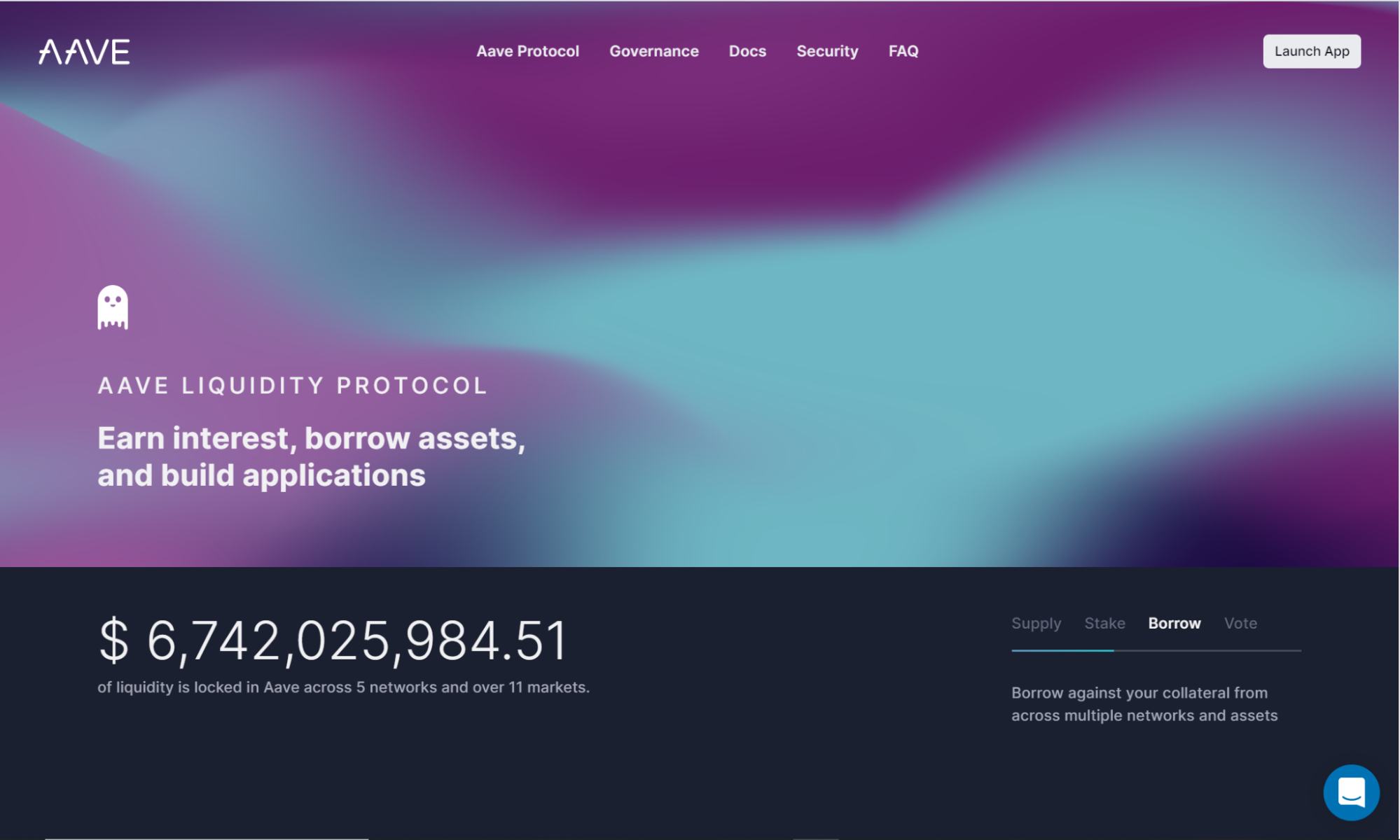 Step 2: Connect Your Trust Wallet App
Once you click on 'Launch App,' a pop-up screen will appear asking you to connect your wallet, as shown below. Click on 'Connect Wallet.' Pick WalletConnect to get a QR code display.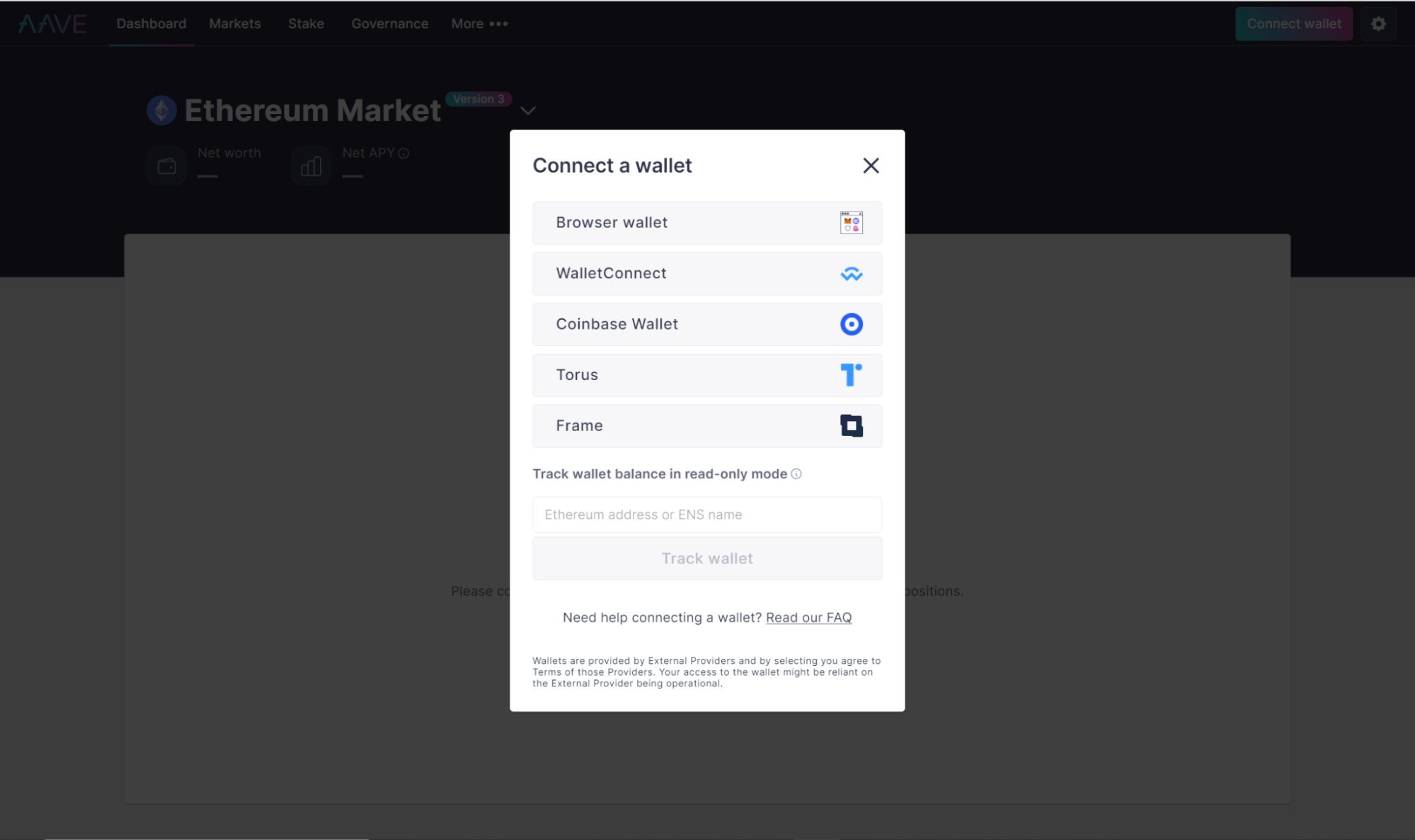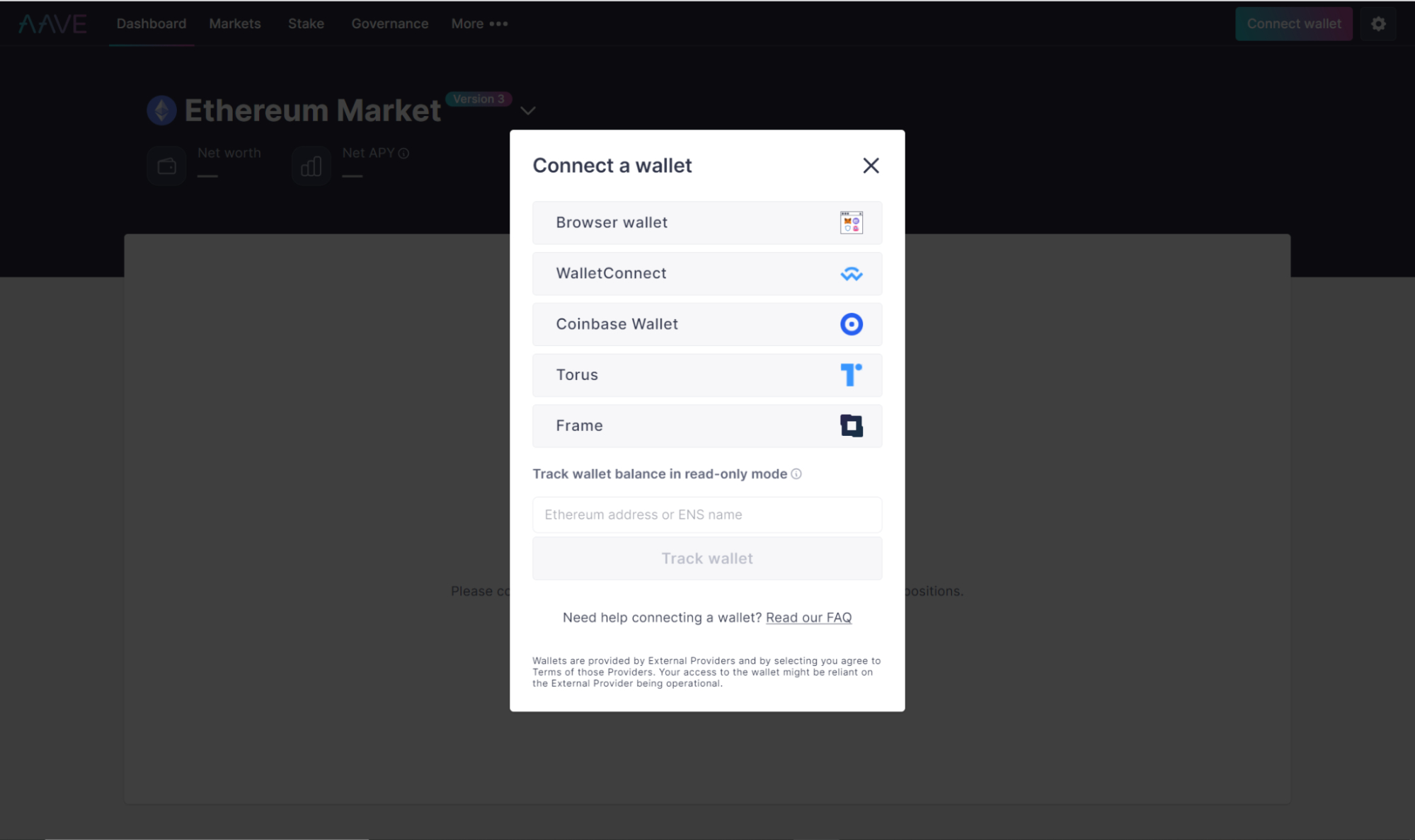 Step 3: Open Trust Wallet
Next, open Trust Wallet, click on 'Settings,' and select 'WalletConnect.' Then, click on 'New Connection' and wait for the QR code scanner to pop up on your screen.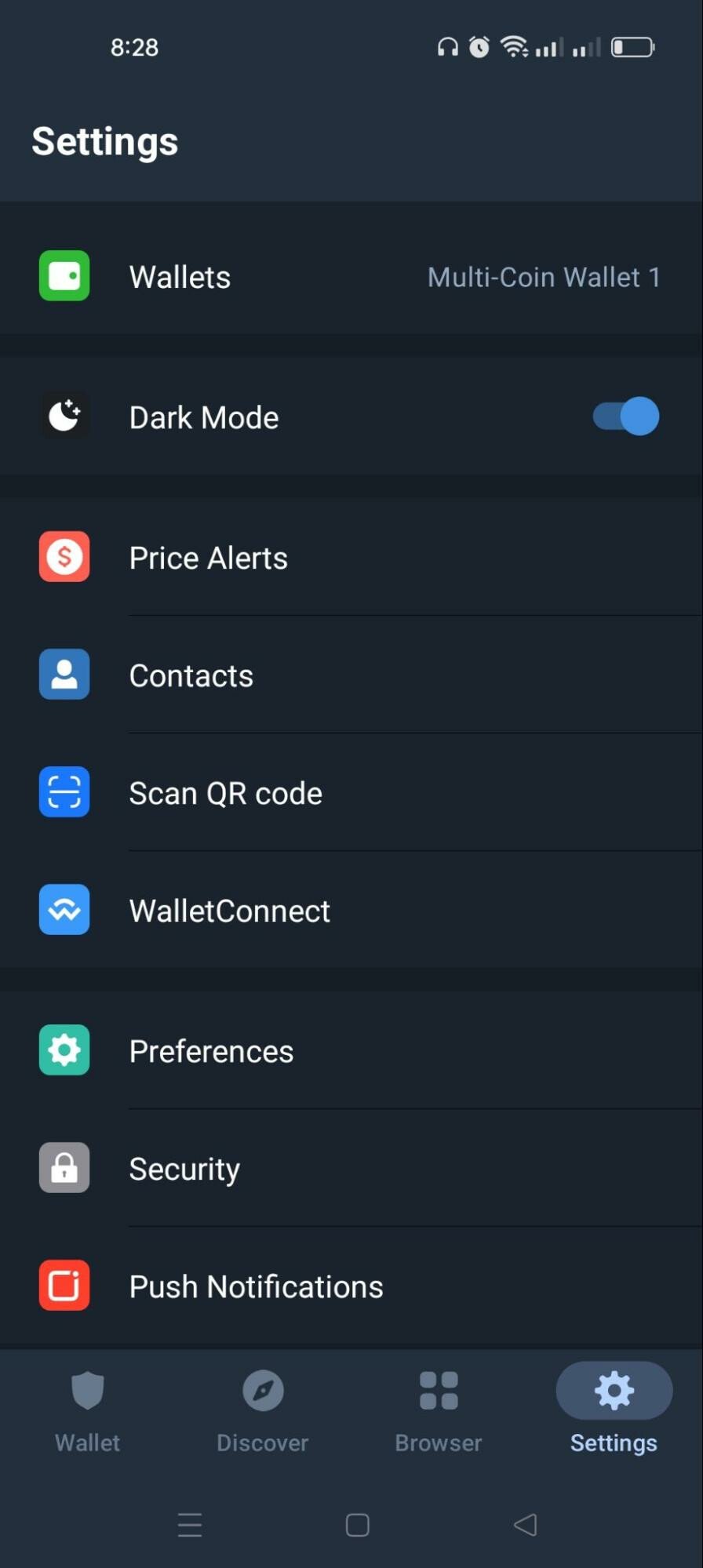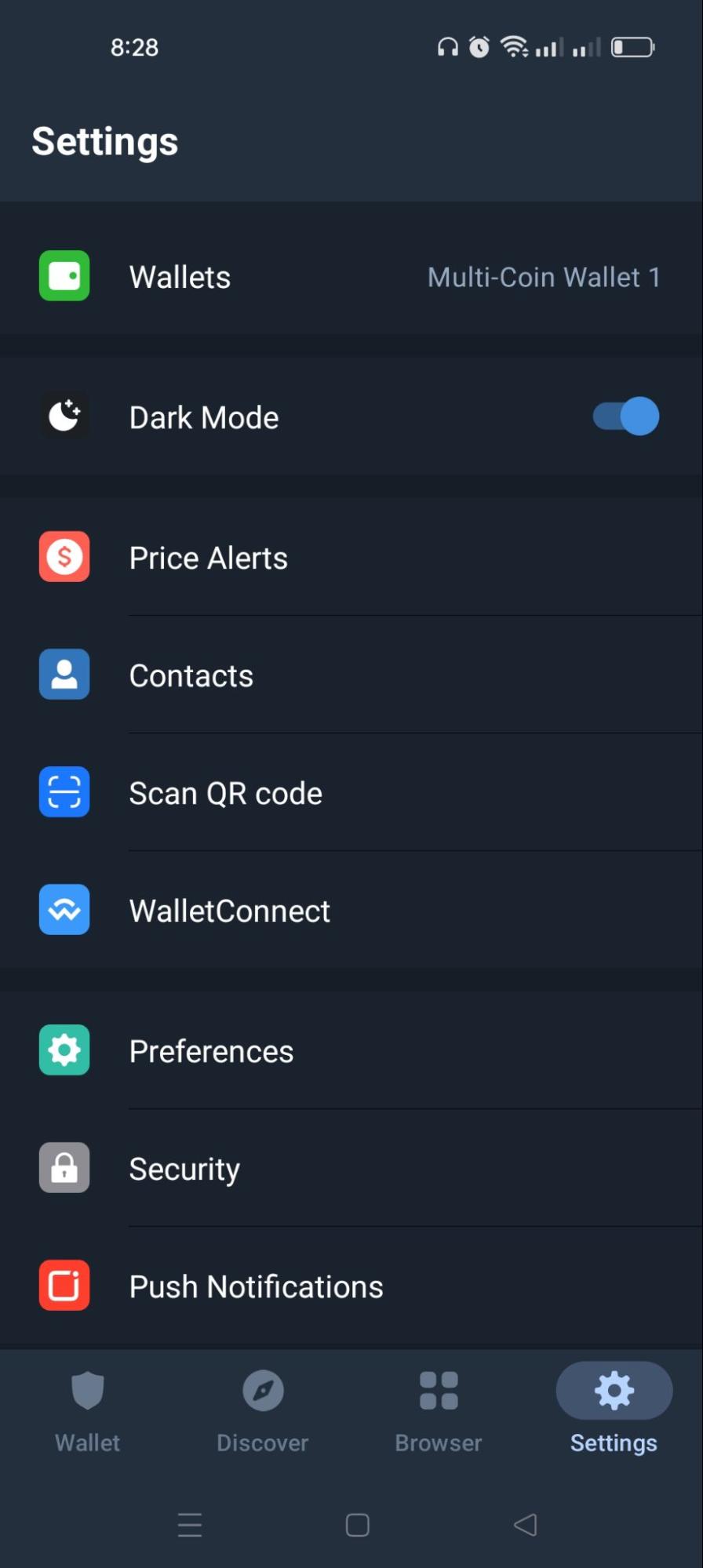 Step 4: Scan QR Code on Aave
Scan the QR code provided on the web browser using your smartphone. This process can take a moment.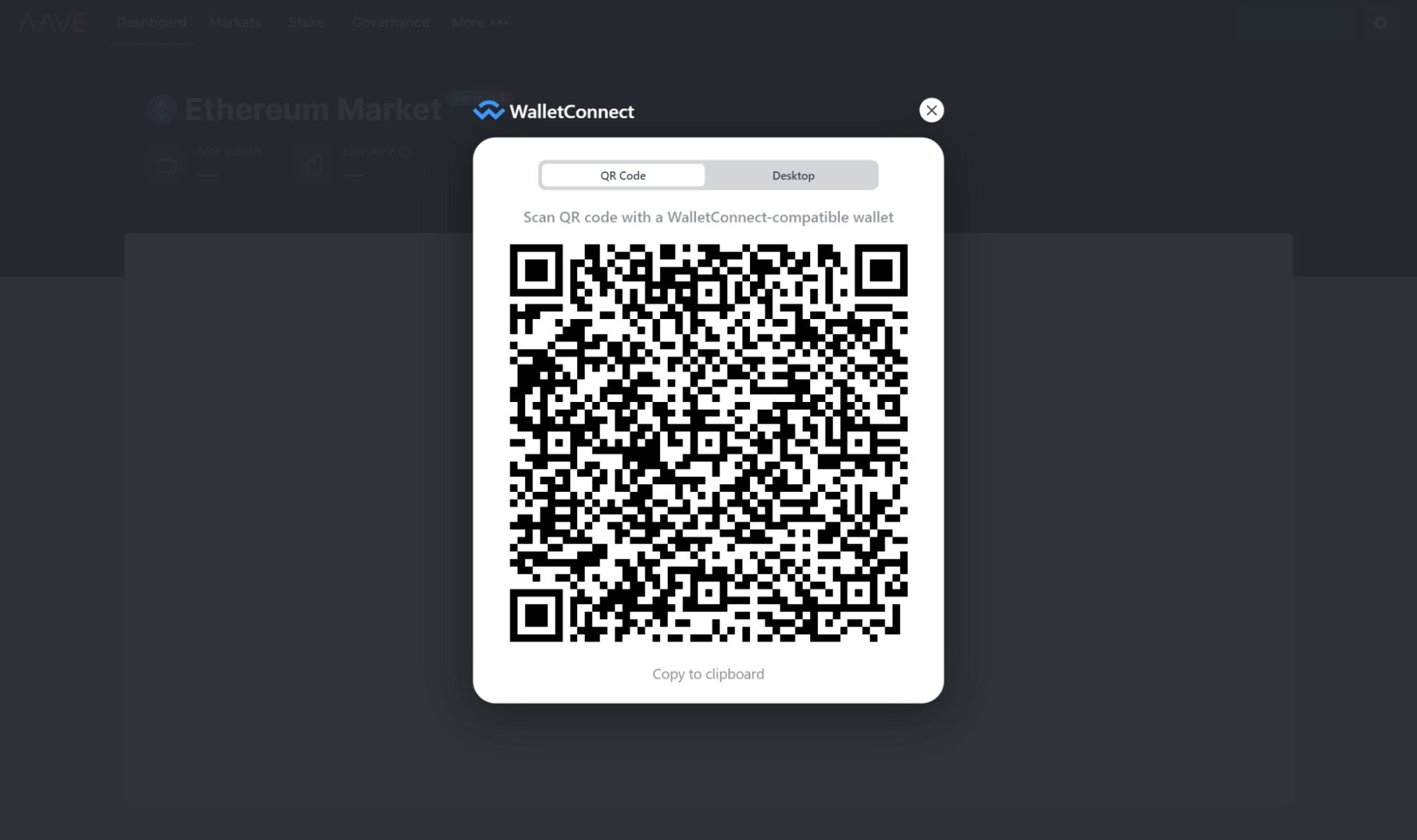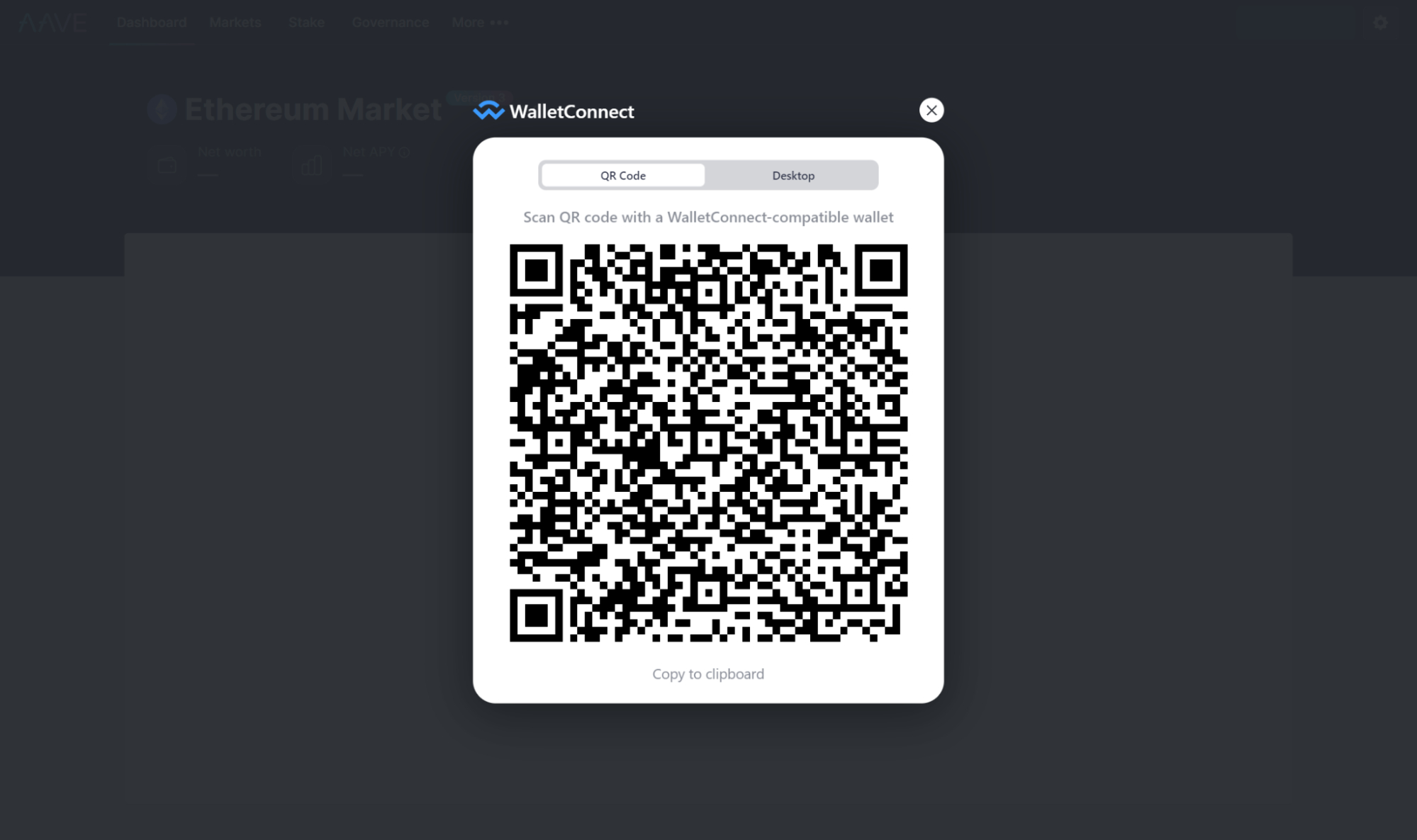 Your Trust Wallet app will automatically redirect you to the Aave DApp once the connection is successful. Next, click on 'Connect.' That will connect your wallet to the Aave DApp. The Aave will show that you are connected. Now can you interact with the DApp.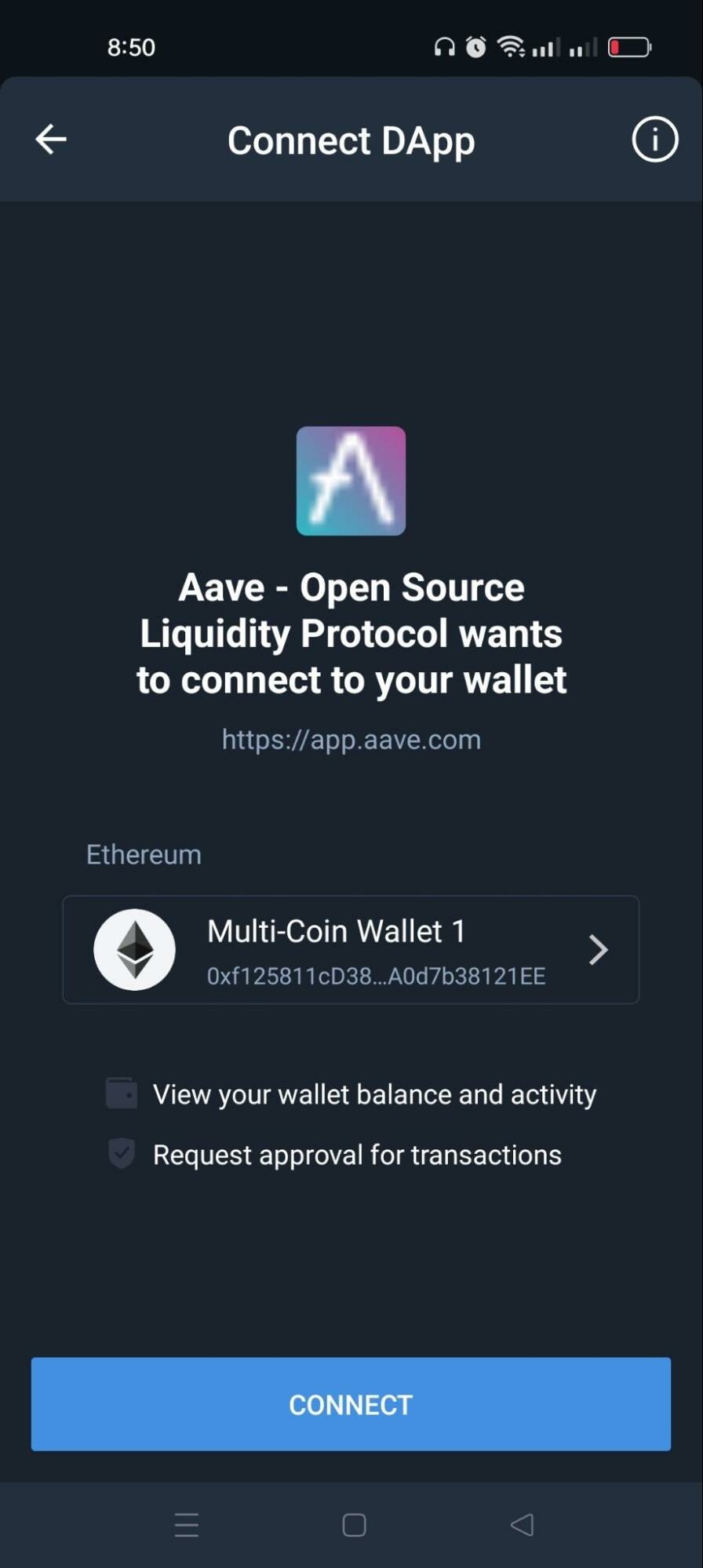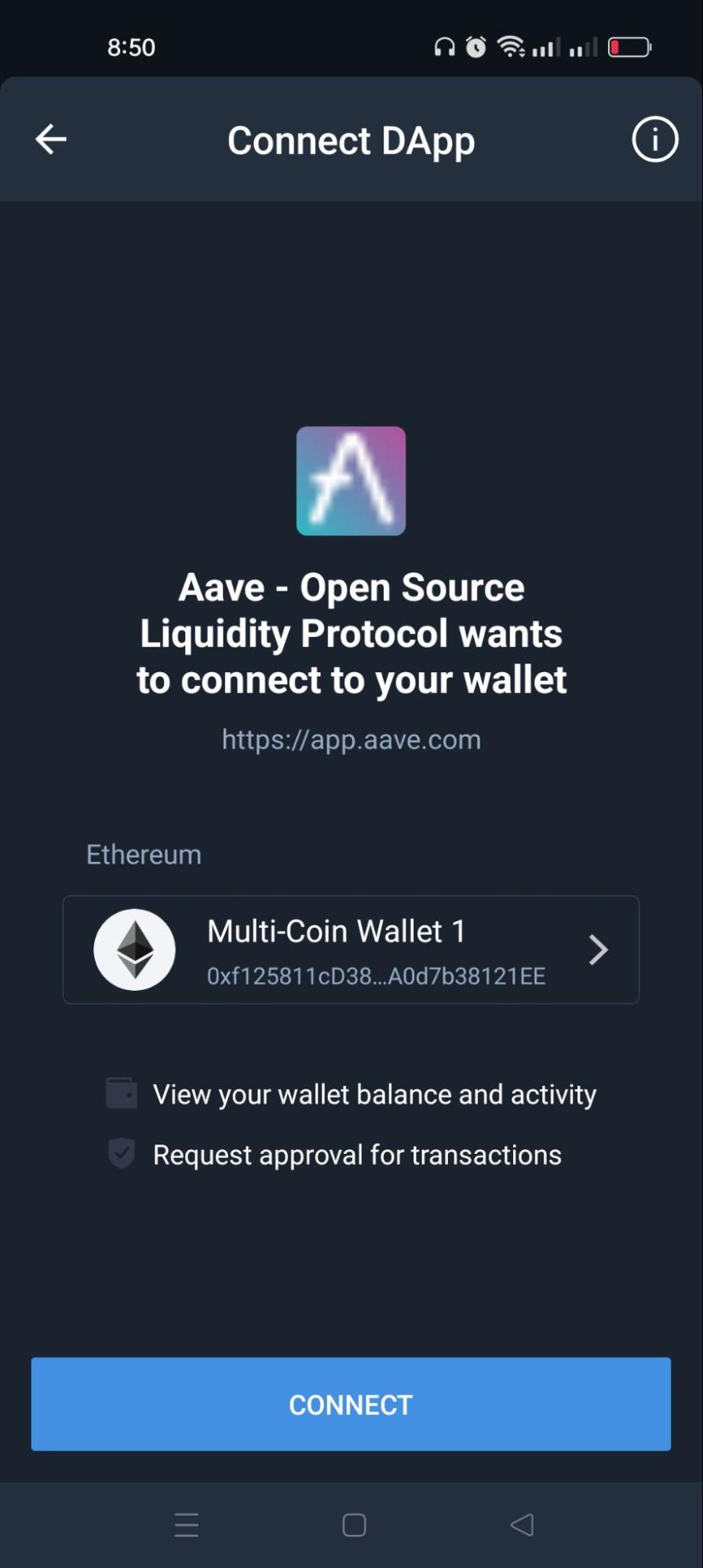 Step 6: Transact – Borrow or Lend
Now that you are in Aave, you can choose to borrow or lend your crypto. To lend your crypto, click on the 'Assets to supply' button.
To borrow, click on the 'Assets to borrow' button. Whether you want to supply or borrow, ensure you know the asset you want and click on the asset's 'Details' to proceed.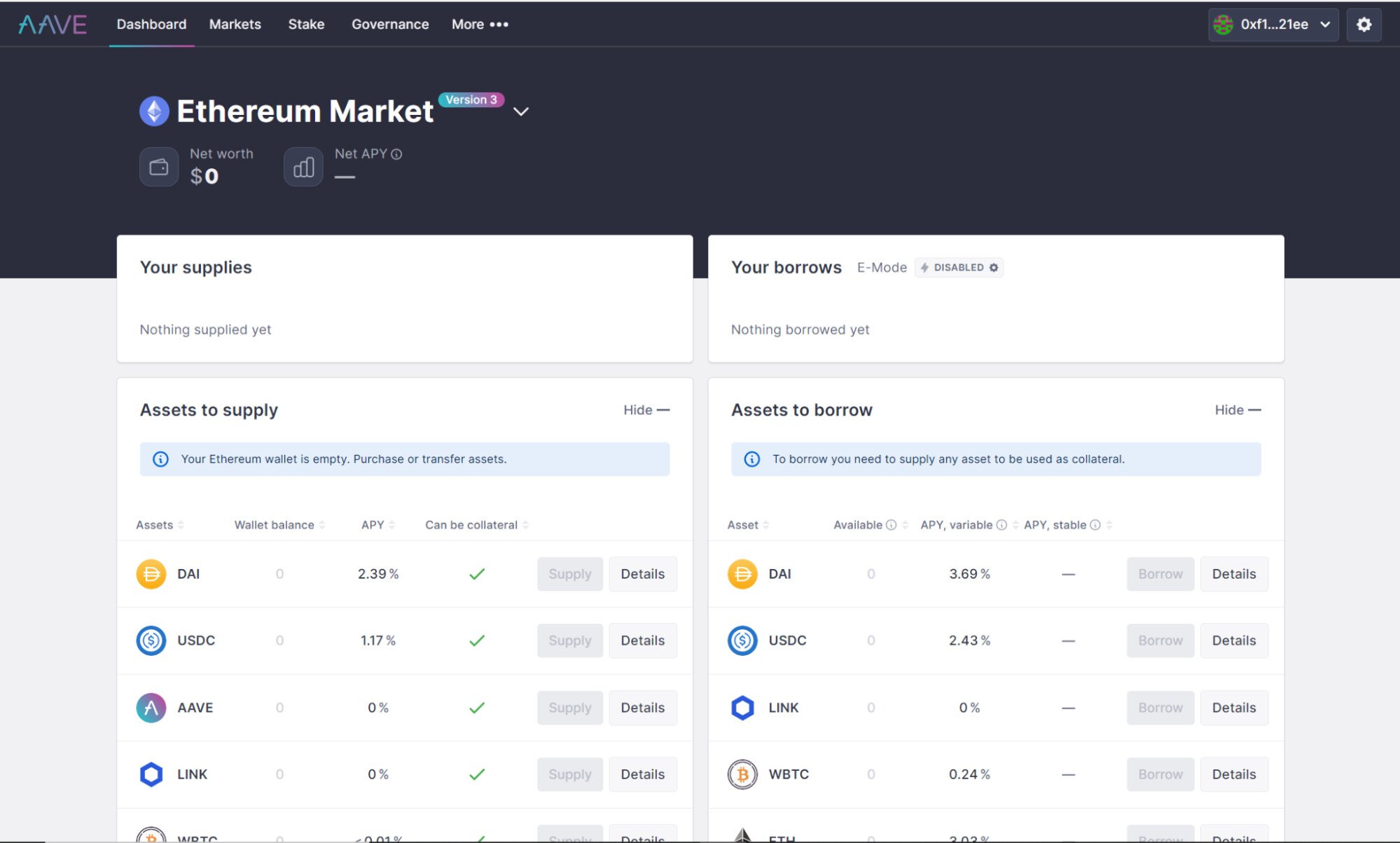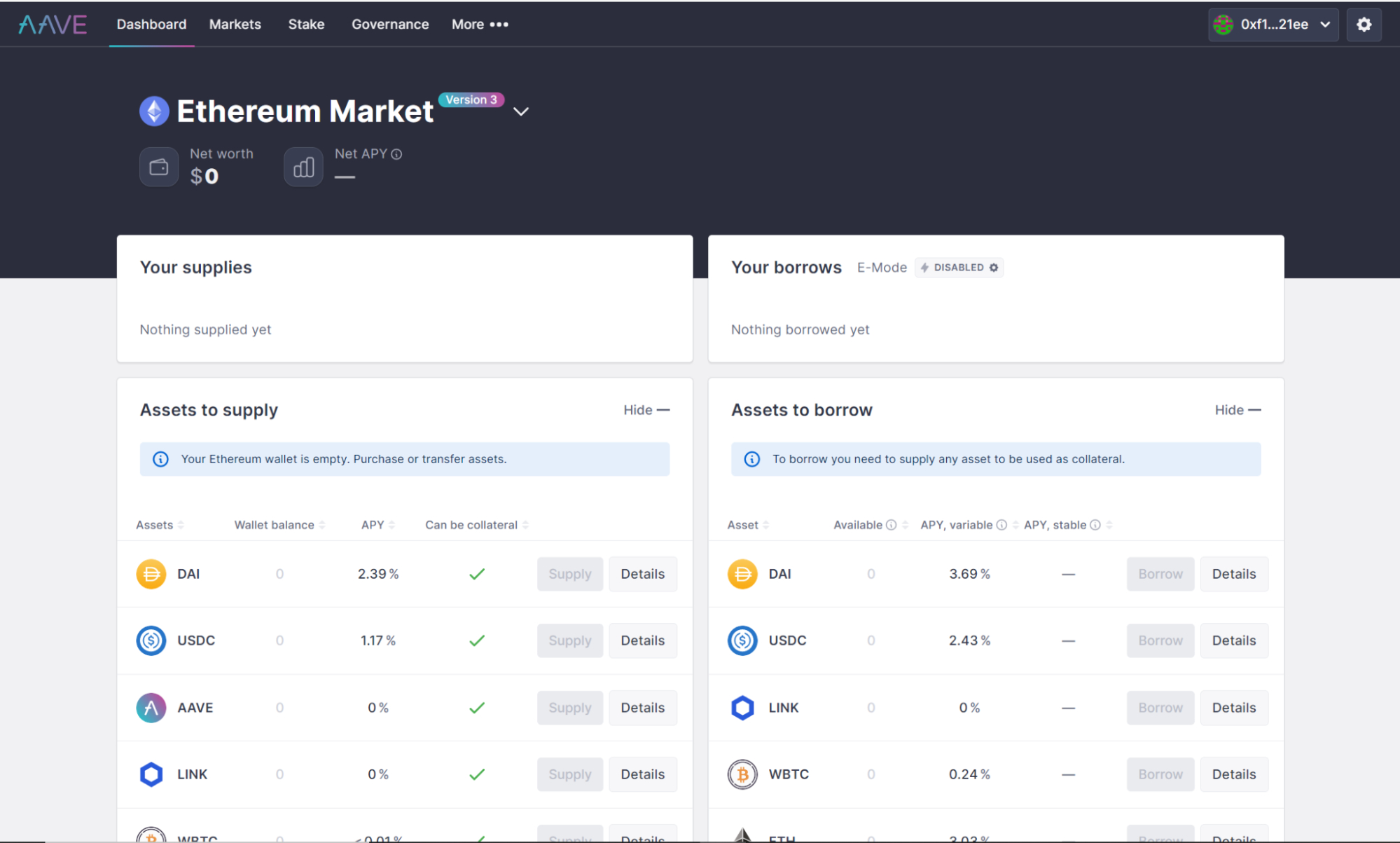 For instance, if you want to supply the AAVE asset, click on the 'Details' tab on the same row as shown below. On the 'Your info' tab, proceed to put in the amount of AAVE you would like to supply. Ensure that you have enough ETH in your wallet to complete the transaction.
You can also opt to purchase AAVE using fiat currencies. You will simply need to deposit fiat using your favored deposit method. Then, select 'Buy,' type in the amount you wish to spend on buying AAVE, and complete the transaction.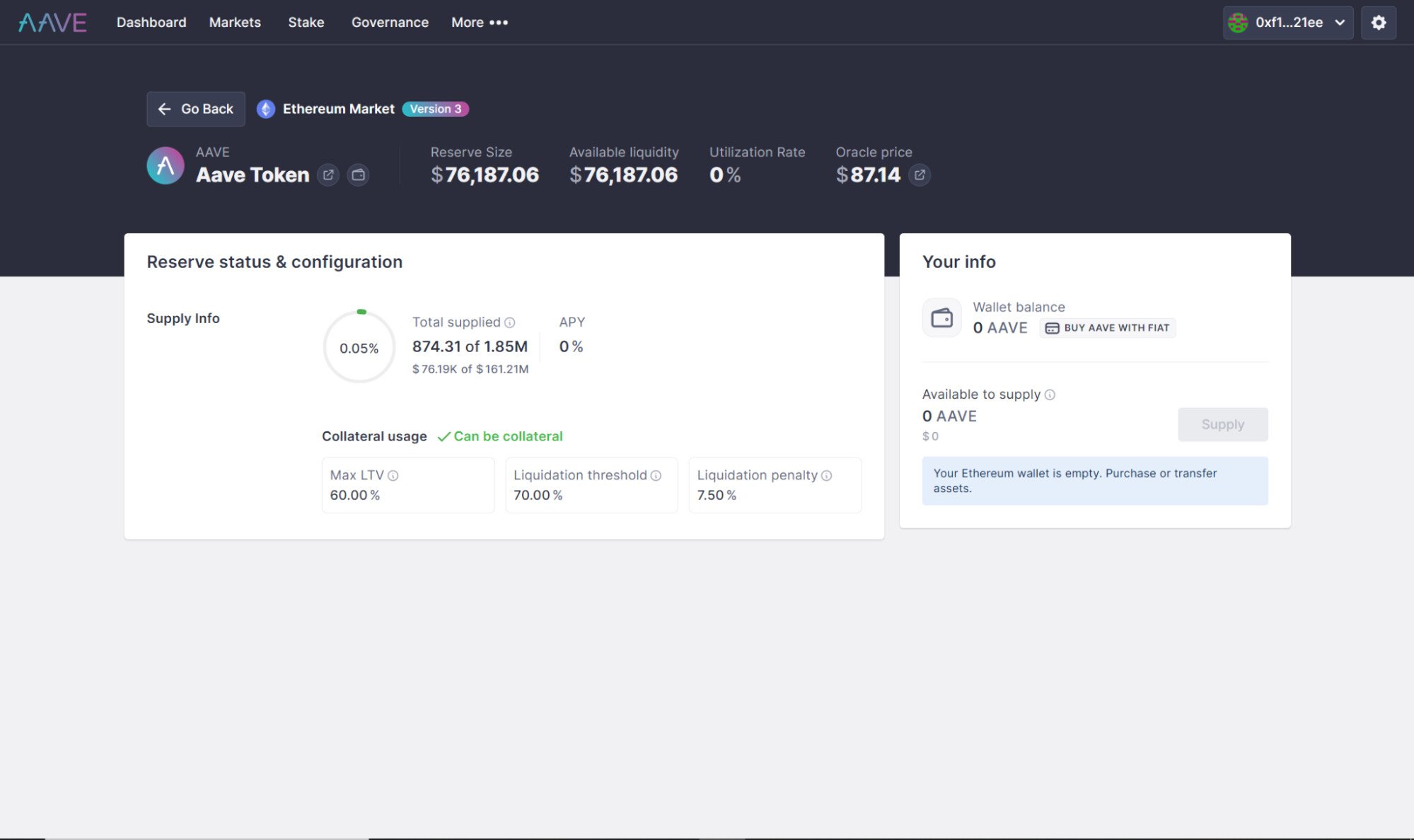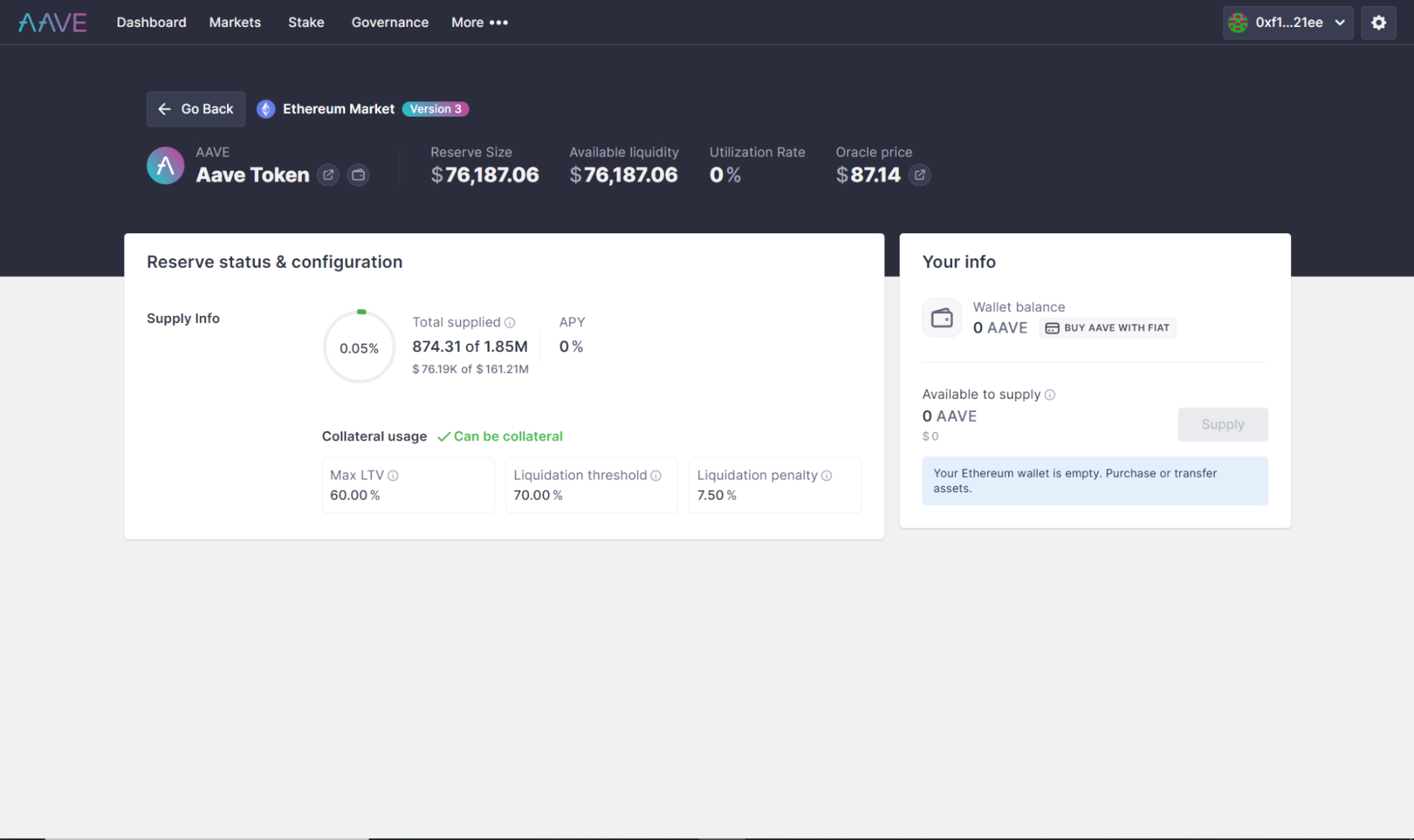 Once your transaction is successful, choose the amount you'd like to supply and click on 'Supply' to submit your transaction. In addition, you can confirm the transaction on your Trust Wallet app. It's important to note, that the transaction can take anywhere between a few seconds to a couple of minutes.
Once the transaction is successful, you will need to disconnect your WalletConnect from your Trust Wallet app. You can do this by either disconnecting WalletConnect via the Aave web browser or via the Trust Wallet app.
To disconnect WalletConnect using the Trust Wallet app, go to the app and click on 'Settings' then 'WalletConnect.' Next, tap on the Aave DApp link below the 'New Connection' tab and click on 'Disconnect.'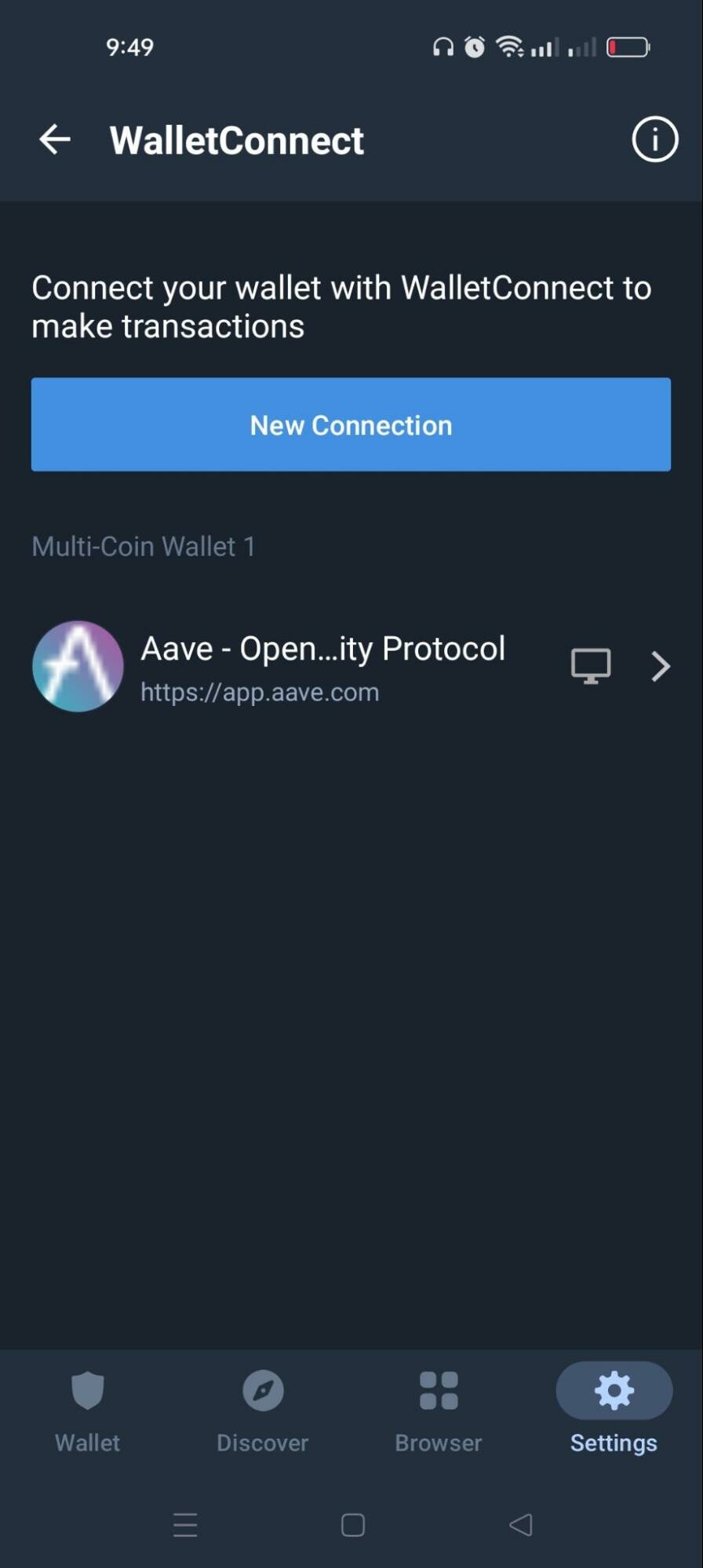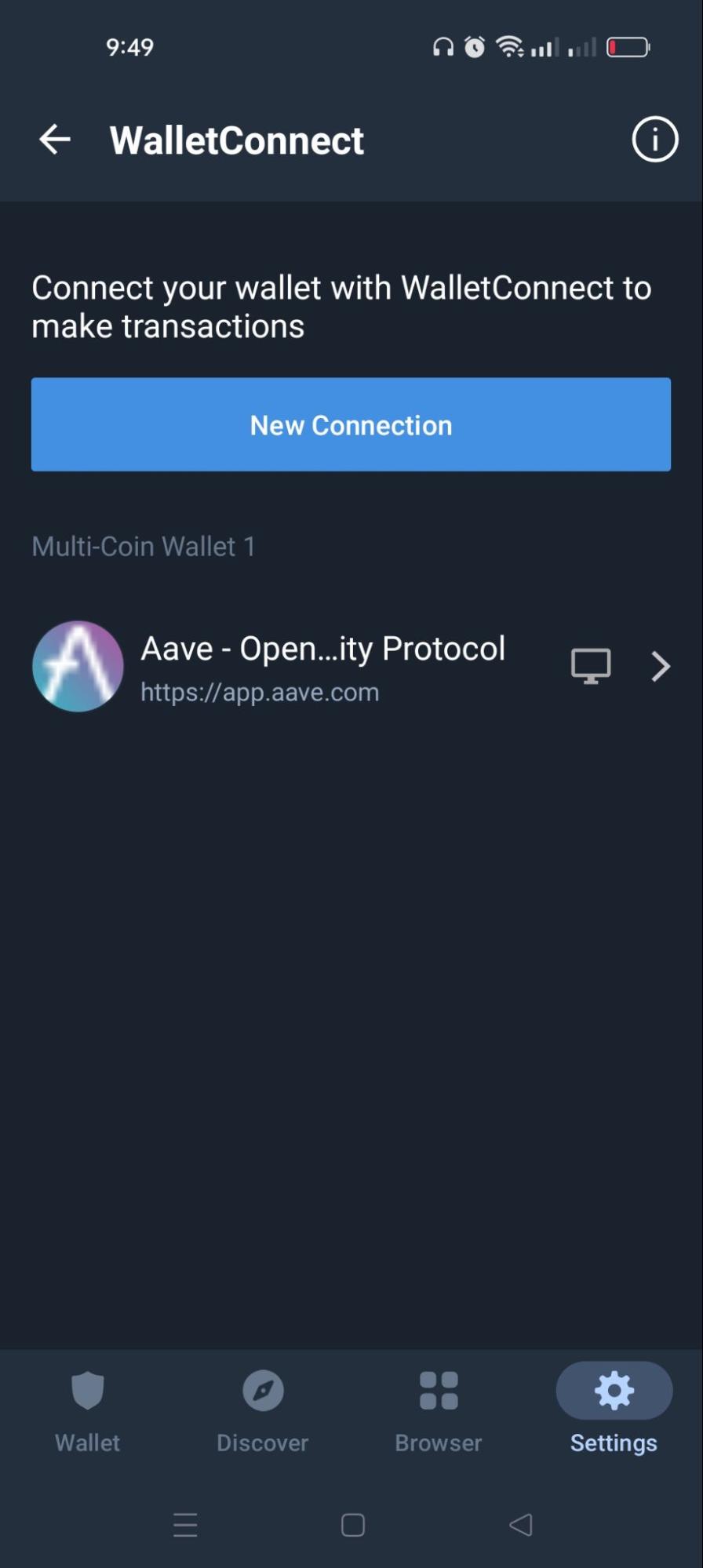 To disconnect the protocol using the web browser, go to the Aave website and click on the profile icon in the top right-hand corner next to the settings icon. A drop-down menu will appear. Click on 'Disconnect.'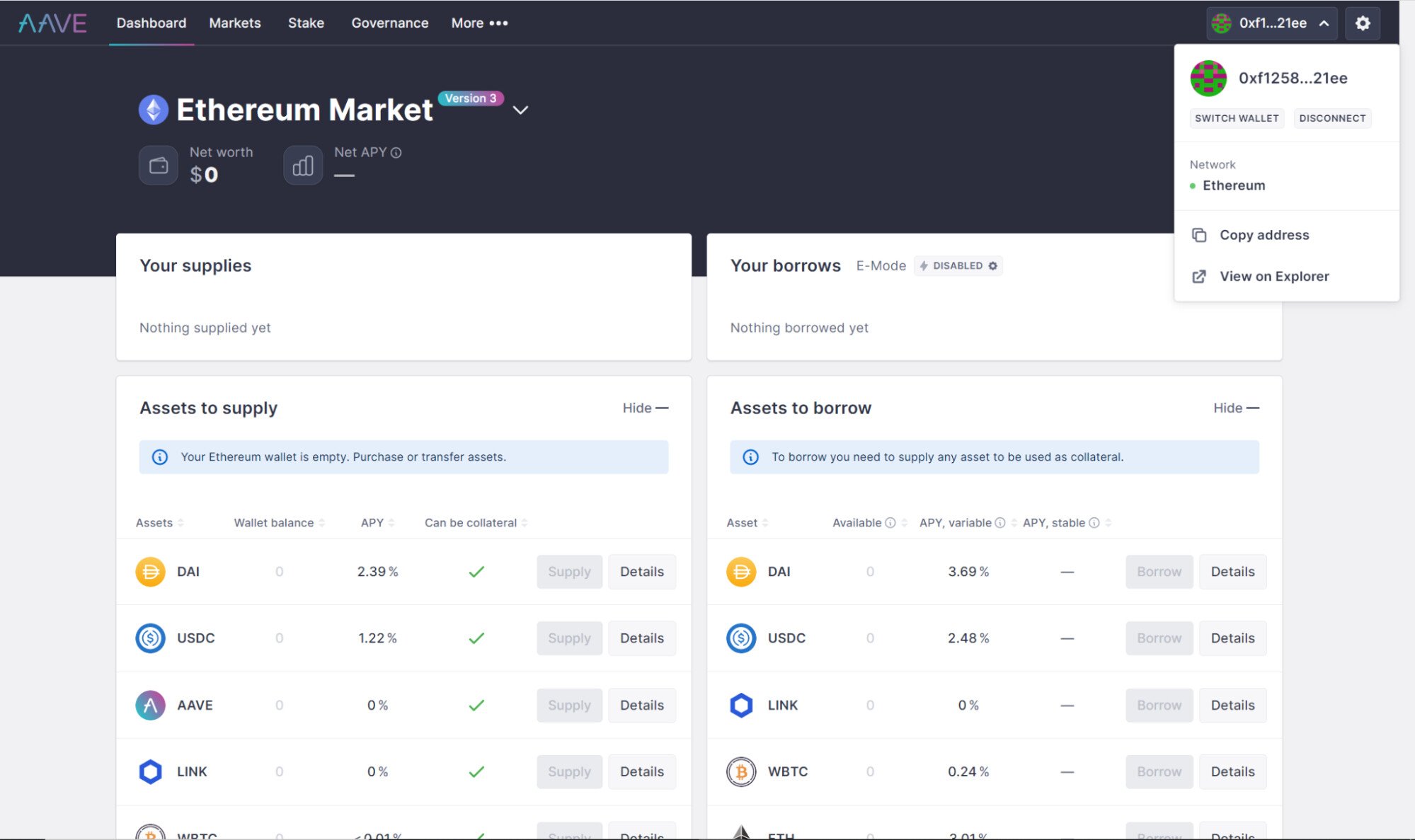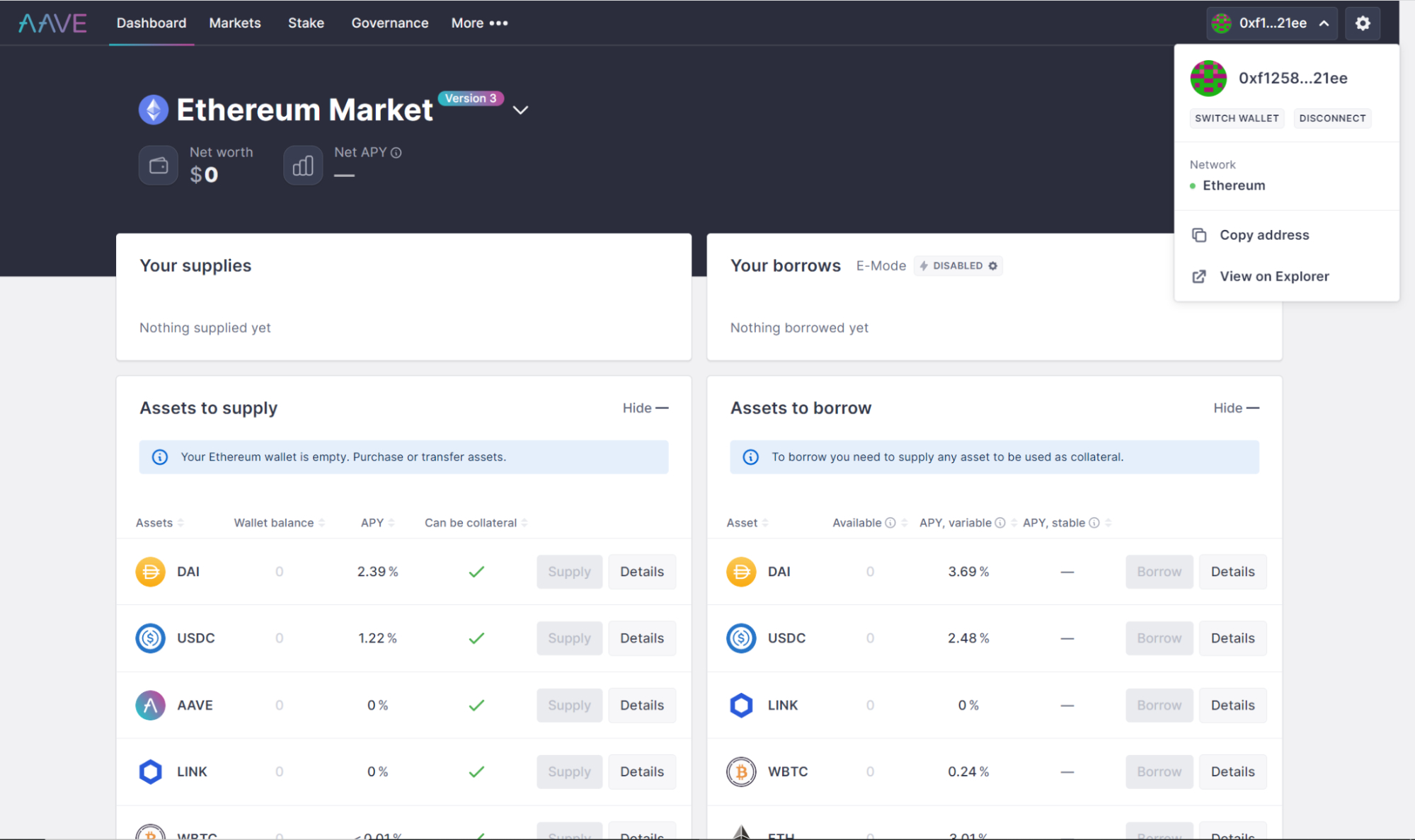 There you go! That's it.
WalletConnect Compatible Wallets
WalletConnect can be used with 170+ crypto wallets. Below are our top 15 crypto wallets that you can consider getting to connect to your chosen DApps through WalletConnect.
AlphaWallet
Argent Wallet
BitPay
Gnosis Safe
imToken
Ledger Live
Math Wallet
MetaMask
MyEtherWallet
Rainbow
SafePal
Spot Wallet
Steakwallet
Unstoppable Wallet
Trust Wallet
Is WalletConnect Safe?
Yes, WalletConnect is safe. WalletConnect is arguably one of the most secure and private wallet infrastructures in the Web3 space. The protocol creates an easy and secure connection for users to transact between their favorite decentralized applications and their mobile crypto wallets.
Additionally, WalletConnect does not share its users' private keys with any DApp. This means that users will still need to authorize all transactions they make via the protocol. That said, it's essential that you establish the risks associated with your preferred DApp before making any transactions, as DApps aren't risk-free.
Finally, don't forget to disconnect from the DApp upon completing your transaction.

---