QuarkChain
QKC
QuarkChain
QuarkChain is a highly scalable blockchain that utilizes sharding to become a high-capacity peer-to-peer transactional network. Its founders say it will be capable of handling over a 100,000 per second (TPS) in the future. Ultimately, QuarkChain balances the tradeoff between the three pillars of blockchain technology - decentralization, security, and scalability.
| Market Cap | Volume 24h | Circulating Supply |
| --- | --- | --- |
| $79,943,896 | $100,257,047.41 | 6399906497.0 QKC |

What is QuarkChain?
QuarkChain is a peer-to-peer network designed to process over a 100,000 TPS (more than a million initially, but the number dropped due to changes in project advertising strategy) thanks to its unique design and efficient data-distribution structure. It uses a sharding and is designed to meet the global commercial standards, be free of congestion, and deliver in high usage scenarios that require extra flexibility and speed. The network intends to become a high-throughput network for applications like distributed social media, high-frequency trading, IoT, payments, and gaming.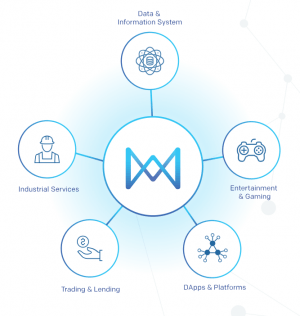 The main features of QuarkChain are:
Reshardable two-layered blockchain. At the heart of QuarkChain are two layers of blockchains. One layer consists of sharding blockchains (shards), and the second one is a root blockchain. The root blockchain functions to confirm the blocks from the first layers. The second layer can be resharded without altering the root layer.
Market-driven collaborative mining. It ensures the security of all transactions using game theory incentives. Fundamentally, 50% of the hash power is allocated to the root chain, which prevents double spending on any transaction.
Anti-centralized horizontal scalability. Blockchains with high TPS typically lead to exorbitant super-full nodes. Such structure encourages mining centralization. QuarkChain tackles this issue by empowering multiple cheap nodes to form a super-full node.
Efficient cross-shard transactions. QuarkChain allows for quick cross-shard transactions that are confirmed in minutes and can be issued at any time. The cross-shard transaction speed correlates to amounts of shards on the network.
Turing-complete smart contracts. The system supports turing-complete smart contracts and Ethereum Virtual Machine (EVM) to allow smooth migration between EVM dapps and the QuarkChain platform. Therefore, any dapp built on Solidity and needs higher throughput can easily migrate to the platform.
What Problem Does QuarkChain Solve?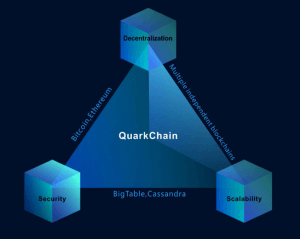 The project focuses on finding the right balance between the three pillars of blockchain technology - scalability, decentralization, and security.
Scalability
As the blockchain technology gains more and more traction, blockchain scalability becomes the biggest headache to the developers. If blockchains want to compete with global payment systems, they have to have a high transaction throughput.
For example, Visa can process from 45,000 to 60,000 transactions per second (TPS). AliPay is capable of more than 200,000 TPS. Even PayPal gets close to 200 TPS. Meanwhile, most popular crypto payment networks are lightyears away. Bitcoin can process only 7 TPS, while Ethereum can process 20 TPS. Only Ripple scales to 1500 TPS, which is still nowhere near the industry leaders.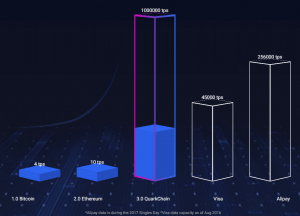 The truth is simple: most foundational coins, say Bitcoin, Ethereum, or Litecoin are struggling to scale. An ever-increasing transaction throughput requires increasing the block size, which in turn leads to greater demands on processing power, data storage, and network efficiency.
The most common proposals for the issue are splitting up different transactions through multiple blockchains, the Lightning Network, various network tradeoffs, and sharding. While they do offer a feasible solution to blockchain scalability, each of them come with their challenges. For instance, the Lightning Network can be a problem for contemporary blockchains due to its centralized nature. Centralized payment processing vehicle on a decentralized network essentially distorts Bitcoins image as a truly decentralized blockchain. Multiple blockchains solution lead to further security concerns. Tradeoffs usually strengthen specific areas at the expense of others, and sharding is difficult to implement on already existing systems.
These partial solutions limit the full efficiency of the blockchains. QuarkChain opts for sharding approach on an entirely new platform, which opens a much broader spectrum of possibilities for its network.
Decentralization and Security Concerns
Security is the number one concern for every transactional platform. By default, small proof-of-work blockchains without sufficient hash power are vulnerable to 51% attack.
High decentralization and hashing power guarantee blockchain security. However, the formation of mining pools challenge the idea of decentralization and pose risks even to the largest POW blockchains. Large mining pools can become a point of failure, and there's no guarantee that people who run them won't be blackmailed, bribed, or manipulated to do the hacker's bidding.
QuarkChain offers a bottom-up solution which ensures blockchain scalability, decentralization, and security via its collaborative mining, cluster nodes, and other technical implementations.
How Does QuarkChain Work?
QuarkChain is designed according to the following principles:
Enhance scalability while ensuring decentralization and security.
Enable seamless cross-shard transactions for user quality of experience.
Provide simple account management.
Develop an open standard to support various Dapps.
Create an incentive-driven ecosystem.
QuarkChain separates between the state of the ledger and confirmation of transactions using a two-layered system - the Sharding layer which enables networks high throughput by distributing data, and the Root layer, which confirms the blocks mined by the shards.

The Elastic Sharding Layer
The sharding layer is a ledger which records current ledger state, conducts transactions, and calculates results. Such functionality is data-intensive by design. Therefore, QuarkChain's elastic sharding blockchain layer consists of minor blockchains (shards). Each shard processes subsets of all transactions independently, and shards can be increased or decreased on demand (thus elastic). These minor-blockchains fuel QuarkChain's scalability and flexibility.
The Root Blockchain Layer
The second layer serves to confirm the transactions taking place on the network and mines the block to reach the desired mining difficulty.
QuarkChain calls it the root blockchain. It confirms all the transactions from sharded blockchains. It doesn't process any transactions itself and has sufficient mining difficulty to protect the blockchain.
Consensus Algorithm
QuarkChain is a hybrid Proof-of-Work (PoW) blockchain. It uses an ASIC-resistant PoW for mining and relies on "root chain first" consensus when dealing with forks.
For example, if two forks were to happen on the root chain, the longest one would survive. If two forks were to occur on a shard, a node would compare their corresponding root chains before comparing forks. Again, the fork with the longer root chain would prevail.
Such consensus algorithm requires a double-spend attacker to make:
1). The minor blocks to revert the transaction.
2). A longer root chain fork with the minor block headers.
Every network transaction is protected by 50% of the total network hash power. Double-spend attackers need to control at least 25% hash power of the entire network, which is less compared with Bitcoin of Ethereum (51%). However, the QuarkChain team argues that it is more difficult to do so with QuarkChain because the system makes it more difficult to harness the required hashing power.
Collaborative Mining
QuarkChain utilizes collaborative mining to design incentive mechanisms and difficulty algorithms.
The root chain uses 50% of hash power of the network to prevent double-spend attacks. The remaining hash power is evenly distributed between the shards to ensure all shards are mined simultaneously and boost the system throughput whenever shards increase.
In case anyone wants to revert transactions, they would first need to revert transactions on the root chain, and only then meddle with the shard layer transactions.
Nodes and Clusters
Mining on the QuarkChain platform consists of Nodes and Clusters. Nodes refer to powerful super-full nodes that are run by rigs and supercomputers, while Clusters are a collective of less powerful nodes that make up a super-full node together. Such a structure serves as an equalizer and even provides an edge to smaller players in mining.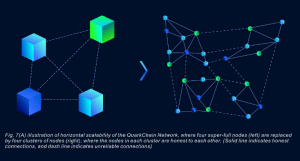 To reach full operational efficiency, QuarkChain moves away from full nodes and implements mini-nodes. Instead of containing the entire ledger, mini-nodes include only snapshots of data they need to work with — that way miners need to store the only fraction of the data.
Other important QuarkChain features are:
Supports smart contracts and Ethereum Virtual Machine (EVM).
Smart wallets.
Horizontal scalability (the more nodes there are, the higher the network's throughput).
Supports GPU mining.
There is no lower limit to nodes required for a shard.
Supports cross-shard transactions.
Who Are The People Behind QuarkChain?
The key people behind the QuarkChain foundation are its founder and former Google software engineer Qi Zhou; a software engineer with six years experience in Facebook and Google Zhao Guang Wang; research associate and Georgia Institute of Technology professor Xiaoli Ma; developer, researcher and co-founder of Demo ++ Yaodong Yang; and research associate Wencen Wu.
At the moment the project's website displays more than 25 employees with years of working experience at Microsoft, Google, Facebook, and other big companies.
What is QKC?
QuarkChain tokens (QKC) are ERC-20 compatible tokens issued on the Ethereum blockchain. The purpose of QKC tokens is to ensure the value exchange within the system and incentivize miners. The value of the coin is completely dependent on the usage and utility of the QuarkChain network.
QuarkChain will continue using ERC-20 tokens until it's mainnet is launched. Then, all outstanding QKC tokens will be converted to QuarkChain mainnet tokens.
QuarkChain ICO
QuarkChain ICO has occurred on June 3, 2018. The team has managed to reach the ICO hard cap of $20 million. Total supply of QKC is 10 million. The tokens were allocated the following way:
20% was allocated to the token sale.
45% is dedicated to mining, marketing, and community.
15% goes to the QuarkChain foundation.
15% goes to the team.
5% is given to the advisors.
QuarkChain also notes mining QKC may lead to minor inflation in the future. Also, the company has also issued a two year vesting period for the team and the QuarkChain foundation.
QKC supply controversy and warning by Binance
QKC Token was listed on Binance on 5, June 2018. The exchange is known for conducting extensive research into the projects to separate grain from the chaff and avoid "scam" projects. QKC listing was unique in it was released with a warning because at the time only 3.61% of the total QKC supply were in circulation. Having most of its tokens locked, this could've led to extreme price volatility. Thus Binance urged its traders to trade QKC with caution.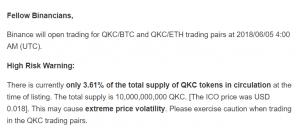 Where to Get QKC?
As of December 2018, QuarkChain is listed on the following exchanges:
Binance, Hotbit, Kucoin (paired with BTC, ETH).
CoinBene (paired with BTC, ETH, XRP).
CoinBene (paired with BTC).
Coineal, Bilaxy, Switcheo Network, IDEX, Kyber Network, LATOKEN, DDEX (paired with ETH).
Gate.io (paired with ETH, USDT).
WazirX (paired with BTC, USDT).
DragonEX (paired with USDT).
Bitbns (paired with INR).
Koinex (paired with INR, XRP).
Besides, after the introduction of the mainnet, you will be able to mine QKC.
Where to store QKC?
QKC ERC-20 tokens can be stored on all wallets that support ERC-20 tokens, including Trezor, Ledger Nano S, MyEtherWallet and others.
QuarkChain also has its own native mobile wallet qPocket. It supports multi-shard transactions of QuarkChain, ETH, and ERC-20 tokens.
The Current State of the Project
Although the first talks of QuarkChain started to appear in February 2018, the project was conceived in early 2017. In Q2 2017, the team began researching the blockchain scalability challenge and potential solution. In Q1 2018 the founders have released QuarkChain whitepaper. In 2019 the company launches its mainnet and Q2 should mark QuarkChain core 2.0 release.
QuarkChain seeks to deliver 100,000 on-chain TPS and enable anyone anywhere to enjoy the benefits of the blockchain technology. At the moment, it already processes over 14,000 TPS during the testnet stage.
So far, there's no definite date set for this milestone, but Quarkchain Core 2.0 is set to release in the Q2 2019.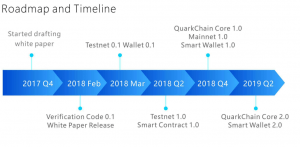 Recently, QuarkChain has successfully launched their testnet and plans for the official launch of the mainnet on December 30, 2018.
Also, QuarkChain has more than 50 partners. They include companies like Loopring, Morpheus Network, OATH, and others.
Promise changes
Right before QuarkChain ICO, the project's whitepaper stated the network would handle over 1 million TPS. However, after the ICO, the promise has been downgraded to just 100,000 TPS, which has sparked suspicion of shady practices for the ICO investors.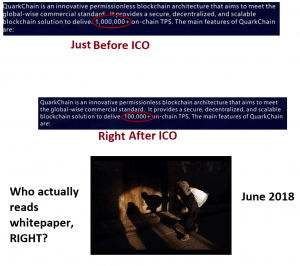 Soon after the people started noticing the change, Anthurine Xiang, QuarkChain CMO has explained the company's choice to downgrade the initial objective:
"Our initial advertising was indeed 1,000,000 TPS, Transactions per Second. But people would think it unrealistic based on prior methods and see this project as a fibbing project that only absorbs fortune from its investors, and get frightened by this number. Thus, nobody will be interested in having a more in-depth understanding of the method we are using or the technology itself.
In theory, we could reach more than 1,000,000 TPS to as high as 1,700,000 TPS. To fulfill the expectation of our community members, we lower this number for now in our promotion and achieve the higher numbers step-by-step. From the psychology perspective, overdeliver is way better than underdeliver. Second, I want to point out that 1 million TPS can't be delivered in one day."
Similar Projects
Ethereum (ETH) - The most widely acknowledged decentralized apps platform.
Zilliqa (ZIL) - A high throughput blockchain platform which also employs sharding solution.
Fusion (FSN) - An inclusive crypto finance platform providing cross-chain, cross-organization, and cross-datasource smart contracts.