Moeda Loyalty Points
MDA
Moeda Loyalty Points
Launched in 2017 at the United Nations hackathon to tackle the 17 Sustainable Development Goals, Moeda is a way of financing for entrepreneurs with impact projects. It is a cooperative, blockchain-based banking system designed to aid the world's underbanked people, socially conscious investors, and entrepreneurs. The project name Moeda comes from a word in Portuguese meaning "coin."
| Market Cap | Volume 24h | Circulating Supply | Maximum Supply |
| --- | --- | --- | --- |
| $798,052 | $23,998.00 | 19628888.00000000 MDA | 19628888.00000000 MDA |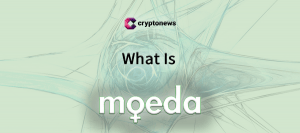 What is Moeda and Moeda Loyalty Points?
According to the World Bank's data, roughly 2 billion people in the world are either still unbanked, don't have access to financial services or are excluded from the traditional financial systems. Moeda's website states that around 38% of the world population is underbanked. Missing financial structures has severe consequences, harshly limiting economic growth in those areas.
Fundamentally, Moeda is a payment network offering peer-to-peer payments without intermediaries. It facilitates remittances and micro-lending to farmers, communities and disadvantaged entrepreneurs in the worlds developing regions. One of the aims of the project is to promote the interests of excluded communities in a fair and sustainable way.
Another term which approximates with Moeda's objectives is impact investing. According to the World Economic forum, impact investing is an investment approach to seek both financial returns and positive social and environmental impact. Moeda's activities are designed to maximize the efficiency of impact investing for both investors and local activists who come up with the sustainable development ideas.
Moeda's cooperative principles are guided by the World Council of Credit Unions (WOCCU). They are as follows:
Institutional development and self-sufficiency.
Savings mobilization based on the market.
Increasing access to financial services as a consequence of democratic participation.
Loan services that are tailored to members needs and designed to achieve high repayment rates.
Safety and efficiency through proven financial management systems and controls.
Assistance with the development of a competent legal/regulatory framework.
International exchange between credit unions utilizing partnerships.
Micro-enterprise support by granting access to savings and credit.
Support women by spreading awareness of gender issues.
Moeda's business model relies on four primary components:
A registered digital tokens (MDA & MDABRL)
A blockchain network for peer-to-peer payments.
A web platform and a mobile app for easy accessibility of services.
A commitment to promote sustainable growth by supporting local entrepreneurs, especially in rural, underbanked areas.
Finally, Moeda's cooperating banking is the decentralized autonomous association of people, united to meet everyday economic, social, cultural necessities via democratically controlled enterprise.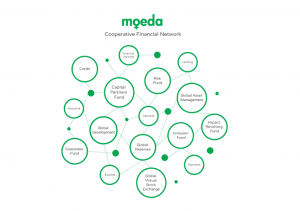 How Does Moeda Work?
At first glance, Moeda's services resemble the ones of social investment platforms like Kickstarter or Indiegogo, but with the focus on humanitarian causes. However, the long-term vision is to become a transparent, low-cost global network like Kiva, Alipay or Paypal for the underbanked people all over the globe.
Moeda's team is determined to eliminate the three key barriers that have plagued effective public funding for UN Sustainable Development Goals (SDGs):
Insufficient transparency into the impact investments, which made it too risky to allocate and manage large portfolios in the niche.
Insufficient access to capital for the borrowers due to the lack of effective and transparent communication tools. Moeda offers a way to document project status, collaborate with other community members and establish a reputation.
Gender bias against women-led projects despite historically higher project success ratio.
These issues will be tackled through the successful development of Moeda's ecosystem.
Moeda's Web Platform
Moeda's platform has two different portals - one for investors and one for entrepreneurs. The investing portal lists seed projects and allows investors to fund projects. The entrepreneur's side of the platform promotes access to funding, business education, and the market. Both parties have to pass KYC/AML before using the platform's features.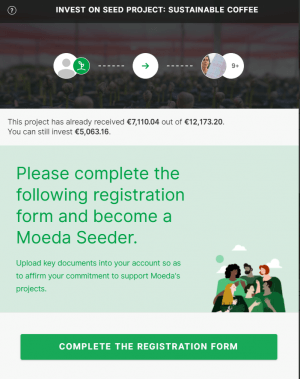 Moeda's Seeds Mobile App
Moeda's team is developing Android and iOS applications to increase the mobility and access to the service. The app will support the following operations:
Instant end-to-end payments and better accessibility of digital tokens.
A transparent record of financial activities conducted through the blockchain.
Sharing information, knowledge, and tools to explore the details of the seed projects.
A system where users are categorized by merit for credit and are owners of their financial data using a digital identity linked to an immutable ledger.
Naturally, the app will also serve as a further source of information to understand and inspire new ways how to aid everyone involved in the Moeda's ecosystem.
Services for investors
Investors who use Moeda to invest can support sustainable economic activities, help to fight poverty, inequality, and climate threats while promoting local development, the creation of sustainable wealth and women's empowerment.
Currently, the minimal investment in seed projects starts at $8, and there are already more than 3000 investors in the network.
Eventually, Moeda will also offer different tailor-made risk approaches for different impact investors.
Services for entrepreneurs
Moeda eliminates common obstacles which prevent ventures from taking risks. These are too high credit rates, unfriendly terms and conditions, bureaucracy, and brokers. Likewise, the company seeks to provide all the required support for the screened ventures to ensure they succeed and lead towards local community's autonomy.
The core services for entrepreneurs boil down to:
Educational content
The network of suppliers and contacts
Technical and managerial training
Credit lines
Simplified checking or debit accounts
Simply accessible electronic means of payment.
Every initiative applying for funding and support from Moeda must undergo a thorough screening and risk assessment processes. Besides, the company has developed a logic model to measure seed projects financial and extra-financial returns, which is called The Impact Formula. Its key performance indicators are wisdom, cooperation, trust, and environment.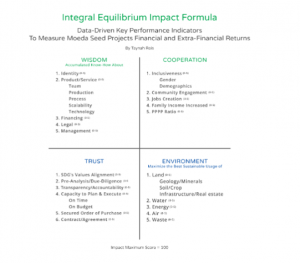 What is Moeda Loyalty Points token (MDA)?
Moeda Loyalty Points (MDA) is an ERC-20 loyalty token issued on the Ethereum blockchain.
It is used to display investors affiliation and level of support for the venture. MDA doesn't grant any equity rights as well as it doesn't have any intrinsic value. The official wallpaper also states that the company may repurchase loyalty tokens from the open market so that MDA value would be positively linked with the success of the project.
Primary Moeda's token use case is peer-to-peer payments, remittance, and loans for local entrepreneurs. Also, all MDA users can invest MDA into Moeda Seed Projects via Moeda Platform application.
Moeda ICO and Token Supply
Moeda's initial coin offering (ICO) came about in August 2017. It was carried out with the help of Moeda's partner Bitcoin Suisse AG organization, which helped to facilitate direct donations. The ICO included two phases: the private sale and the public crowd-sale. It was an instant success, as more than $20 million in both BTC and ETH were raised. 20 million MDA tokens were issued in total, of which 19,628,888 are in circulation. 1 MDA token was issued for $1 at the time.
MDABRL token
In June 2018 Moeda's project introduced MDABRL fiat pegged token which will act as the systems stablecoin. The MDABRL tokens will be issued on Stellar (XLM) protocol, which has proven to be the best match for such project.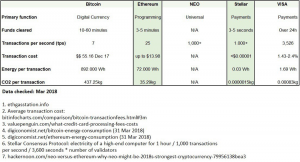 The MDABRL cryptocurrency is a reserve token, which is backed 1:1 by Brazilian Real fiat currency. The token will be used to park assets in a stable currency and is available for the Moeda users only. The Brazilian Reals used to back the token are managed by a Consortium of Banks, which will collect a share of the transaction fees in return. The Consortium of Banks includes Cresol Cooperative Bank, Ascoob Bank, Polocred Bank, and others. A strong relationship with the Consortium of Banks enables Moeda to fully operate in Brazil.
The new fiat pegged token meets all the Brazilian government's regulatory requirements and will be audited by two independent audit companies to cement the stability of the token.
Moeda's Team
The Moeda's development team is composed of 30 professionals, entirely dedicated to the cause of financial inclusion and UN sustainable development goals.
The company's CEO and co-founder is Taynaah Reis. Other co-founders of the project are an investor and entrepreneur Brad Chun and Isa Yu, the Director of Cryptomarket and Investor Relations and a technology consultant in the blockchain space since 2014.
Where to Get Moeda Loyalty Tokens (MDA)?
As of 2018 November, MDA tokens are listed on five cryptocurrency exchanges:
Binance (tradeable for BTC, ETH)
Gate.io (tradeable for USDT, ETH)
LBank (tradeable for ETH)
OKEx (tradeable for BTC, ETH, and USDT)
CoinBene (tradeable for USDT)
Currently, there are no MDA-FIAT trading pairs listed on exchanges.
Where to store Moeda Loyalty Points?
MDA is an Ethereum ERC-20 token which can be stored in every Ethereum wallet. Most common options include MyEtherWallet web wallet, hardware wallets like Ledger Nano S or Trezor, desktop wallets Exodus and Mist or a universal Jaxx wallet that functions as a mobile, desktop and web wallet.
Current State of the Project
The Moeda's team releases regular updates about the project's development on the company's blog. Since its launch in 2017, the company has been working on pilot projects which will be the basis for the projects expansions and formed numerous partnerships. Also, the company is preparing for the release of Moeda Seeds App.
In August, Moeda has listed first Seed Projects available for investment on Moeda's website. It is expected that many screened investment opportunities will arrive on the site and the app as of December 2018.
Similar projects
MicroMoney - an Asia-oriented micro-loans company and credit bureau. It aims to improve the life quality of the underbanked population and provide services similar to traditional lending options like credit cards and personal loans.
Bankera - a startup which seeks to change the banking industry by introducing globally accessible banking services to the blockchain.