Lympo
LYM
Lympo
Lympo is a blockchain startup that introduces a new approach to user-generated health and well-being data management. It seeks to establish a global user-empowering ecosystem that enables and rewards fair and square exchange of user-generated sports, health and wellness data. Besides, the company already has functioning Android and iOS apps where you can earn LYM by completing fun challenges.
| Market Cap | Volume 24h | Circulating Supply |
| --- | --- | --- |
| $3,577,256 | $795,880.40 | 826672979.0 LYM |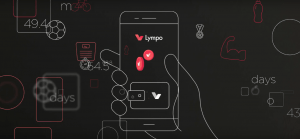 What is Lympo (LYM)?
Built on the Ethereum blockchain, Lympo aims to make the world a healthier place by creating a fair user-generated health and fitness data ecosystem where individuals and companies can trade data fair and square using the Lympo token (LYM).
The ultimate Lympo goal is to establish a marketplace where the harvested data can be used efficiently, and every ecosystem player is treated fairly. Think of Airbnb or Uber, but for matching people with sports and wellness specialists.
The Lympo ecosystem is designed for:
Data owners. Individuals who generate data by using mHealth devices and apps for health benefits.
Gyms, trainers, insurers, physicians, sports inventory creators - parties which can use data to improve current equipment, workouts, regimens, plans and health of their clients.
Data proxies and processing businesses. Lympo API will empower third-party companies to develop data-driven healthcare solutions.
What Problems Does Lympo Solve?
People are growing increasingly concerned about their health, lifestyle, and well-being. This trend reflects well on consumer behavior - the growing demand for different health apps, wearables, devices, growing interest in sports and mindfulness activities like yoga, meditation or healthy food choices.
All these trends are also the driving force behind booming mobile health (mHealth) and wearables tech market which has experienced immense growth in recent years. Such a shift in consumers lifestyle choices also presents many new challenges and opportunities for both users and entrepreneurs.
One of the major issues is lack of cohesiveness, interconnectivity, and cooperation between users, companies and their data. For instance, many phones and wearables can track users activity level, eating habits, measure heart rate, sleep cycles or even blood pressure. Such data is rich with valuable information and is sought by various companies and researchers. However, large quantities of data collected by mHealth apps and devices are not cross compatible and lack a single universal point of access.
Lympo bridges the gap by introducing a new fair mobile health data system that incentivizes users for getting healthier and sharing their data. It also brings more transparency and control in the space. Eventually, Lympo wants to become the standard go-to point for all the stakeholders in the emerging niche.
Many players can benefit from the Lympo solution. Users will get benefits from the marketplace. The new clients will easily discover gyms and personal trainers. Businesses will have a chance to obtain the data directly from their users and use it to personalize services and offers.
Finally, a highly segmented market and insufficient incentives present a serious challenge with far-reaching implications. A well-adopted universal solution could lead to the development of new wave applications, services, and tools to improve medical care, insurance policies, and data-driven sports analytics.
Long story short, Lympo seeks to disrupt the health and fitness data market by:
Rewarding users for reaching their health goals with cryptocurrency.
Bringing control of the user data back to users hands.
Improving users privacy.
Enabling data sharing.
Bringing more transparency in the data acquisition process for all stakeholders, including individuals, trainers, health organizations and research companies.
Fostering innovation in the space.
Brief History of Lympo
The Lympo ecosystem did not start from scratch. Before implementing blockchain technology, Lympo already existed as a functioning platform which connects people with the best local personal trainers. It even was chosen as one of the top 100 emerging technology stars in eastern and central Europe. Currently, it cooperates with more than 500 fitness professionals and operates in Lithuania with an ongoing expansion to California, U.S., and Melbourne, Australia.
Lympo pre-sale and ICO took place in early 2018, led by the CEO Ada Jonušė, who is also an advisor for the ETHlend platform. The team also consists of seasoned sports entrepreneurs, software engineers, and advisors. $5.5 million were raised during the pre-sale. The ICO was a success and raised around $12.7 million, which, at the time, amounted to nearly 15.000 ETH. The ICO price of LYM token was around $0.0234 or 0.00003 ETH.
Lympo Coin (LYM)
The LYM token is a multi-purpose cryptocurrency that can be used to pay for wellness, fitness and other health-enhancing products and services. Aside from the fact it can also be traded in exchanges, users who hold more than 10 000 LYM through the most of 2018 also qualify to become the company's shareholders.
Lympo coin is an ERC20 token issued on the Ethereum blockchain. It is the only payment vehicle in the Lympo health and fitness data ecosystem.
LYM tokens have three primary use cases:
Rewarding Lympo users for achieving personal healthy lifestyle goals.
Conducting the purchases of healthy lifestyle products and services.
Means of investment in health and wellness startups in Lympo crowdfunding and investment platform.
As a Lympo coin holder, you can:
Purchase online and offline training sessions with fitness trainers, coaches or consultations with various therapists and dieticians.
Pay for a wide selection of healthy lifestyle products, including clothes, shoes, healthy food, gyms with a possibility to get LYM for achieving health goals and challenges.
Buy users health data. Organizations that want to access Lympo data can do so only with LYM tokens.
Invest in health and wellness startups via the Lympo investing portal.
Become an exclusive holder of Lympo tokenized shares.
How to Become a Lympo Shareholder?
According to 2018, July 31 announcement, anyone who holds 10,000 or more LYM tokens in an Ethereum wallet from August 15, 2018, until the end of the year will be eligible to become Lympo shareholders. The company ownership will be granted by issuing special Ethereum tokens which are called tokenized Lympo shares.
In the words of Lympo CEO Ada Jonuse:
"Lympo's aim is a token with the real long-term value, a real use case inspiring people to be healthier and mass market adoption independent from the entire crypto economy. Our mission is to grow Lympo to a powerful company and to conduct an IPO (initial public offering) in the future. In contrast to traditional businesses, we want our community to be a part of this journey. And that is why a decision was made by the team to offer a total of 20% of Lympo shares to our token holders."
To receive tokenized Lympo shares a user had to:
Hold at least 10,000 LYM in a wallet that supports ERC-20 tokens.
Register as a holder at the Lympo website.
Fill a KYC form.
Obtaining tokenized Lympo shares means the owner can take place in the company's decision making, transparency and a real value for Lympo enthusiasts.
Lympo Blockchain for Sports Foundation
A part of reserved Lympo tokens is allocated to Lympo Blockchain for Sports Foundation. The organization supports various sports events and initiatives as an attempt to encourage healthy lifestyle choices and promote the Lympo fitness wallet.
How Does Lympo Work?
The Lympo ecosystem consists of the Lympo platform and its core components, Ethereum blockchain and smart contracts, user community and various health and wellness service providers.
It is secured by the Ethereum blockchain which enables the exchange of value with Lympo utility tokens. It means that all users have access to all data generated on the network and the record of previous transactions.
However, personal user data is not stored in the blockchain itself. Instead, it is kept on servers in the peer-to-peer network. The blockchain element mainly serves as the payment network and processing tool that enforces the exchange of data. All on and off-chain data is secured using end-to-end encryption.
User-generated data can be imported from different devices, like smart health apps, wearables, and electronic fitness devices, gyms and fitness centers, and even medical records.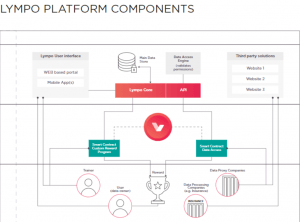 The Lympo ecosystem is composed of three parts:
Lympo digital wallet and reward mechanisms.
Lympo marketplace.
Lympo crowdfunding and investment platform.
The Lympo Digital Wallet and Reward Mechanisms
Mobile Lympo fitness wallet is at the heart of the Lympo ecosystem and functions as a gateway for onboarding users. It allows creating a profile, fill in the health data and connects to user's favorite sports and health trackers.
The users receive rewards in LYM tokens for sharing their data. The app also has an integrated feature that allows personal trainers and coaches to challenge clients to achieve individual goals and receive tokens for their efforts.
Lympo Marketplace
The Lympo marketplace lists all goods and services on the platform. Users can spend their tokens to find the best personal trainer, premium features of the platform (etc. to increase exposure or extra options for health and sports data storage), purchase health and wellness products offered by Lympo partners, healthy food and supplement providers.
Lympo Crowdfunding Platform
Lympo crowdfunding platform is an investment hub which provides LYM holders an opportunity to invest in promising fitness, wellness, and health startups. Major market players will rate the opportunities, and these will also benefit from the extra exposure. Investment transactions will be conducted with LYM tokens only.
Where To Trade Lympo?
Current exchanges listing Lympo are:
Gate.io (tradeable for BTC, ETH, USTD)
KuCoin (tradeable for BTC, ETH, USDT)
HADAX (tradeable for BTC, ETH)
Ethfinex (tradeable for BTC, ETH, USD)
CoinZest (tradeable for KRW)
Cobinhood (BTC, ETH, USDT)
IDEX (tradeable for ETH)
Allbit (tradeable for ETH)
Notably, the only exchanges where you can buy LYM with fiat are Ethfinex (USD pair) and CoinZest (KRW pair).
Current State of the Project
Lympo is a compelling project with much growth potential. As of 2018 November, Lympo already has a working MVP, mobile wallet, has secured numerous partnerships and is on its way to start monetizing LYM tokens by partnering with employers and health insurances. Next step is releasing the open API for third-party solutions' development. Users in California, United States, can already enjoy earning LYM for sharing their data using Lympo app.
Earlier in 2018 Lympo has announceda partnership with Dallas Mavericks and their owner billionaire entrepreneur Mark Cuban. The 2011 NBA champions will be one of the first teams to accept cryptocurrency for tickets and merchandise. Moreover, the two parties also teamed up for the Lympo U.S. app launch event in November 2018. Also, a heavy marketing campaign to introduce Lympo to bigger markets in the U.S. and Australia is already on the radar.
Similar Projects
SportyCo (SPF) - a decentralized sports investment and funding ecosystem.
All Sports (SOC) - a global decentralized sports industry chain.
_____
Disclosure: Cryptonews.com is backed by Antanas Guoga, Member of European Parliament, a serial entrepreneur, investor, and co-founder of Lympo.