GXChain
GXC
GXChain
GXChain and its GXC token are expected to become building blocks of the future data-based economy in which users can exchange and monetize personal data with no intermediaries.
| Market Cap | Volume 24h | Circulating Supply | Maximum Supply |
| --- | --- | --- | --- |
| $22,900,196 | $2.34 | 75000000.00000000 GXC | 75000000.00000000 GXC |

What Is GXChain?
Launched in mid-2017, GXChain is promoted as the project running on a permissionless blockchain which seeks to bring the globalized data economy closer to reality. GXChain is closely linked to the concept of the Internet of Value in which the users can make instant transfers with any assets of value, without middlemen and related third-party fees. While these assets can take any form, ranging from the stuff of monetary (shares) or social value (votes), the main focus of the GXChain is the data, particularly the relationship between data purchasers, decentralized storage, data privacy and authorization as well as its sources.
GXChain was initially conceived in 2016, growing into an ecosystem comprising three main components in the form of the GXChain blockchain, Blockcity decentralized application (dApp) and the decentralized peer-to-peer data marketplace. The GXChain ICO involved a private sale which was completed in April 2017. The project is based in China, with MQ Huang being the project's founder and CEO, joined by Cheng Wang as the co-founder and CTO and Jessie Fan in the role of the COO.
In September 2019, the project took a major hit when the Chinese authorities launched a crackdown on it and seized the company's assets without further explanation. Despite this, the project officials claim to be working on finding a solution to this crisis and resume the development of planned features for 2019, which include the development of Trusted Execution Environment (TEE) and Oracle Machine.
What Is GXChain Trying to Achieve?
As the GXChain has the ambition to become a global blockchain-based data exchange solution, it offers a set of features to meet the demands of both data providers and business users:
GXChain seeks to improve data ownership as a prerequisite for developing a fully functional economy based on it. Rise of the computer and internet technologies has led to the emergence of big data, easier data acquisition and analytics. As such, data on various user habits, commercial activities and personal history are much sought after by corporations. GXChain wants to reverse trends in which these data are acquired without the users' consent. To help users protect their ownership over these data, GXChain has introduced the Blockchain Digital Identity G-ID technology, in which each G-ID corresponds to a single user and his/her data. G-IDs are created on GXChain only after the user's ID is verified, acting like a data passport which prevents unauthorized tampering with data.
GXChain wants to strengthen data security and prevent breaches from endangering personal security of users and overburdening tech resources tasked with protecting data. In part, the GXChain project was launched in response to several high-profile security breaches which hit businesses relying on centralized data storage and management. These include Facebook-Cambridge Analytica incident and Equifax breach which exposed user data to the perpetrators and put to shame the companies in charge of these data. In response, GXChain plans to introduce the Blockchain Data Safe Box in which the users' data will be encrypted by means of private-public key pairs. In this manner, the users should become the only party controlling and managing access to their personal data.
In addition to helping with private data management, GXChain wants to help its users monetize it more easily. GXChain relies on its own internally developed Proof of Data Incentive Mechanism in which the users can acquire digital assets, such as GXC tokens, by authorizing the use of their data. Based on this, more assets will become available as the users allow access to larger and varied types of data in a regular manner. For example, the users can be encouraged to upload their data to the blockchain dedicated to healthcare and receive token-based rewards for it. This would not only help them monetize their assets but allow them to receive better medical services when travelling abroad or moving from one country to another. Finally, the GXChain team promises that the offered level of data security will not have an impact on the GXChain's performance, which is described as being capable of processing up to 100,000 transactions per second (TPS).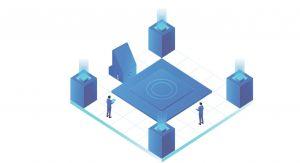 What Is Blockcity?
Blockcity is the first implementation of the GXChain in practice. It is a global mobile dApp running on the GXChain, operating as a personal data management solution. Blockcity is the key component in the process of the monetization of the user data. Its main task involves consolidating user data left across numerous sites into encrypted files which serve as the basis for earning the platform's GXC tokens. These tokens are received based on the users' willingness to share their data with the existing Blockcity community.
Speaking of community, Blockcity is promoted as the entry point and a "virtual city" of those who want to use blockchain to market their data. To that purpose, Blockcity managed to gather one of the larger blockchain communities at a global scale, with some 2.2 million users as of 2019. The users are required to register with their government-issued identification documents prior to receiving their digital identity authorization.
Once set, the app leaves the choice to users to either use its token-based incentives to authorize data sharing, or simply use its features to protect their privacy. In any case, Blockcity guarantees that no personal data will be cached without the users' knowledge. At the same time, activities of the users in the Blockcity community are carefully recorded, thus setting the stage for turning Blockcity into an ecosystem for future credit compliance checks based on the users' behavior record.
How Does GXChain Data Marketplace Operate?
GXChain supports P2P transfers of all the data put on the marketplace while having no direct access to the data itself. Unlike the underground data marketplaces, GXChain promises to provide full data privacy protection and prevent fraudulent activities.
Data privacy is ensured by means of asymmetric encryption which covers entire data exchange operation. Even in the worst case scenario in which a third party manages to intercept data, the actual data content can be hacked only by securing access to a private key.
The GXChain marketplace supports the introduction of data copyright protection, with each transaction being given a one-of-the-kind time stamp. This is supposed to ensure that the compensation for shared data always reaches the right data source, even if the data are sold on multiple occasions.
The platform also promises regular checks of data sources which are given access to the network, thus securing that the data on offer are both relevant and authentic.
GXChain Governance Model
GXChain combines on-chain and off-chain governance simultaneously, in the hope of achieving decentralization at no expense of efficiency.
Decentralized governance is based on giving each asset holder the right to participate in it, i.e. each GXC holder has the right to vote on the operations, strategic plans and the tech/business direction the platform is moving in.
The on-chain governance is based on the GXChain Committee and a web of TrustNodes. Eleven members of the Committee can put to vote any initiative which may modify the global operations of the platform.
TrustNodes comprise 21 members whose tasks include transaction verification, generation and broadcasting of blocks.
The off-chain governance is based on the operation of the GXChain Foundation. This organization was established in November 2017 in Singapore. Its mission is to support the development of entire GXChain ecosystem and promote the rights of GXC holders, while fostering cooperation and communication among them and potential developers. It is obliged to submit annual reports on its year-long activities as well as financial statements on the platform's operations.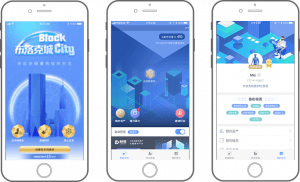 GXChain Architecture
GXChain architecture is composed of several layers:
Data Layer. This bottom layer handles block structures which includes operations with blocks, accounts, and digital identities.
Network Layer. GXChain encompasses a network of full nodes, with each node contributing equally and being capable of verifying transactions and blocks. Network layer supports connections and communication among the nodes.
Consensus Layer. GXChain runs the Delegated Proof of Stake consensus model (DPoS) which is described as the most suitable for managing its data-based economy.
Incentive Layer. This layer manages token distribution and their allocation as the basis of the GXChain's incentive model.
Contract Layer. This layer consists of more than 70 built-in contracts, smart contract and oracle machine. It implements cross-chain relays which allow GXChain to interact with both homogeneous and heterogeneous blockchains.
Application Layer. It is a home to API for application software, while featuring a client packaging for multiple programming languages.
GXC Token Availability
As of September 2019, the GXChain's market cap was valued at more than USD 31 million. The currency's total supply covers more than 99 million GXC tokens, of which 65 million were found in circulation at the same time.
GXC tokens are available for trading on cryptocurrency exchanges such as Binance, Gate.io and others. Acquired tokes can be stored in the platform's officially supported wallet.