Elastos
ELA
Elastos
Elastos is the first open source Internet Operating System with a decentralized peer-to-peer economic infrastructure powered by blockchain technology. It can be used to authenticate digital rights, transfer contracts, turn digital information into assets and will serve as a new smarter and safer World Wide Web, also called the Internet of Wealth.
| Market Cap | Volume 24h | Circulating Supply | Maximum Supply |
| --- | --- | --- | --- |
| $24,087,445 | $526,151.00 | 20346868.00000000 ELA | 20346868.00000000 ELA |
What is Elastos?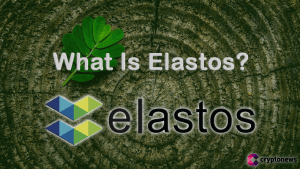 In brief, Elastos aims to be a safe and trustworthy Internet of the future. It will create an environment where applications can be detached from the internet for complete control of one's digital assets like books, movies, software, or games. Even an average person who has no digital properties can benefit from Elastos Web, as it grants one able to handle personal data or re-sell digital goods.
What's more, Elastos is meant to be a platform for decentralized applications (DApps). However, it should not be confused with other blockchain projects since it's a blockchain-powered operating system. It runs together with other blockchain projects and can be used to run DApps directly on the device instead of a blockchain, thus solving three principal issues of contemporary internet - security, scalability, and decentralization.
Elastos users will access DApps using regular devices (PC's and mobile phones). According to the team, the Internet that we use today is a web of information. Elastos Web will serve as a different economic zone where Elastos tokens are the base currency.
Project's whitepaper mentions that Elastos will deliver the most value for:
Consumer and enterprise Internet of Things (IoT) infrastructure and/or industrial software. Sustainable IoT demands reliable and secure software behind smart devices. Elastos will aid the onboarding of infrastructure and industrial software.
Consumer DApps. Elastos facilitates the digital economy by enabling scarcity and trading digital assets like movies, books, and other digital goods (and re-sell them like tangible items).
Enterprise DApps. Ability to track supply chains and information across value chains using sidechains.
The key features of Elastos include:
Protecting the property rights of digital content. The platform will allow users to issue tokens for digital assets or applications representing the ownership of digital files. They can be enforced by smart contracts.
Clean and simple public chain, hidden from third-party applications and services.
Predefined sidechains for taking the load of the main chain.
Elastos Runtime runs on users mobile devices regardless of their preferred OS. The apps are free to run and their performance measures up to contemporary mobile apps.
Elastos supports traditional programming languages and popular programming frameworks, making it relatively easy to write code.
The system separates apps from the network to prevent the leaking of digital content.
The value of digital assets is preserved even when using apps on other operating systems like Android, iOS, or Windows.
Both Elastos DApps and smart contracts run on the Elastos Smart Web, creating a closed ecosystem for fair exchange of digital assets, services, and content.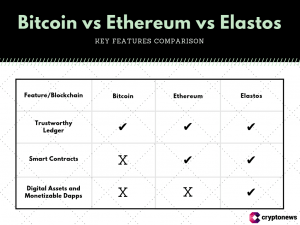 What Problem Does Elastos Solve?
According to the developers of Elastos, Ethereum-based DApps face the following limitations:
Storage and speed. In its current state, the Ethereum blockchain stores only a limited amount of data (and at limited speed). The storage capacity is limited to the blockchain itself.
Bugs. Once executed, smart contracts cannot be stopped or reversed for the sake of protecting the parties involved. However, the parties are also at risk since it's impossible to prove the agreement has no bus.
Cost. Executing contracts on the Ethereum blockchain can be expensive. Smart contracts, data checking, recording, and contract execution are the tasks that require active nodes and accumulate fees with every task.
Junk data. Once published, a smart contract remains on the blockchain forever. Unused, expired or unusable contracts affect blockchain efficiency and congest the network.
Insufficient Flexibility. Ethereum Virtual Machine (EVM) and the blockchain are inseparable, so changes made to the blockchain affect the EVM, and vice versa.
Security. Smart contracts are vulnerable to the middleman attacks when they retrieve off-chain data.
In addition, the Elastos team outlines prominent problems that need to be addressed:
Blockchains made for consensus-based record keeping lack flexibility and computation speed.
Current blockchains aren't designed to store data. There isn't enough space on the blockchain to store digital data like movies or books.
For example, the present day blockchain technology is suitable for recording and keeping property rights. Authors can prove that certain digital assets belong to them, but they can't do anything to prevent people from stealing and copying them without permission.
Elastos Smart Web solves this issue by empowering the digital asset creators to assume full control over the purchasing, viewing, or selling of their products. If you purchased a digital book, you could re-sell it later, as you would do with a physical book. Therefore, the system serves both producers and consumers alike.
Besides, Elastos adopts a flexible main chain and sidechain design. The main chain is responsible for basic transactions and payments, and the sidechain runs smart contracts, applications, and services.
All in all, Elastos seeks to run applications on Elastos Runtime instead of the blockchain. It has different forms and can act as an independent OS, a virtual machine, a software development kit or similar systems, thus solving the issues mentioned above.
How Does Elastos Work?
Elastos Smart Web ecosystem is composed of four pillars: Elastos Blockchain, Elastos Runtime, Elastos Carrier, and Elastos Software Development Kit (SDK).
Elastos Blockchain. Building a decentralized Smart Web requires a reliable identification system where every device, website, individual, and digital asset has an ID. The blockchain technology allows and secures it.
Elastos Runtime. A lightweight operating system for personal computers and smartphones. It prevents applications and services from accessing the internet directly.
Elastos Carrier. A decentralized peer-to-peer platform which uses all network traffic and conveys information on behalf of the applications.
Elastos SDK. A component to access IDs and Elastos Carrier services on the Smart Web.
Most blockchain applications act as a middle layer between a DApp and the internet. Elastos uses the internet as a base-layer infrastructure. Everything within the Elastos ecosystem (virtual machines, devices, and DApps) have a blockchain-issued decentralized ID (DID). Every time an application asks for internet access, Elastos uses blockchain to verify the request.
Elastos Smart Web ensures you don't have to and simply can't access the Internet when running them. Such separation protects users from malware, attacks and other malicious activities on the web.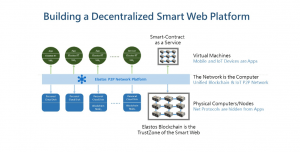 Collaborative Mining
The Elastos blockchain uses merged mining with Bitcoin. It means block consensus is reached on both chains simultaneously. The Bitcoin network is used as a parent blockchain to Elastos.
Merged Bitcoin mining ensures Elastos has enough hashing power to be protected against 51% attacks. Another perk is no need for additional energy resources. It makes Elastos one of the most environmentally friendly projects. The tradeoff works for miners, too, since they don't need to use additional computing power to submit Proof-of-Work to both chains.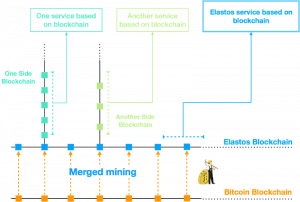 What Is ELA token?
ELA is the currency of the Elastos Smart Web. It is used for investing in digital assets, trading, paying for the fees and so on. 33 million ELA have been minted in the Genesis block.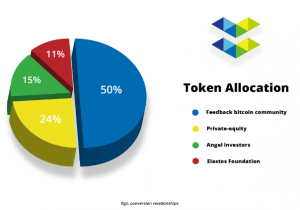 Elastos also gradually increases the supply of ELA tokens at a fixed 4% annual rate. It is used to compensate for the natural loss of the tokens, like lost private keys, transaction mistakes and other no longer accessible tokens in circulation.
Elastos conducted two funding rounds. They raised approx. 4000 BTC in August 2017 and nearly 2500 BTC in January 2018. It was around $44 million for 6% of the total token supply. Their ICO is regarded as one of the most successful ICO's in 2018.
Where to Buy or Sell Elastos (ELA)?
At the beginning of 2019, Elastos is listed on the following exchanges:
LBank (paired with ETH).
CoinEgg (paired with BTC, ETH).
Huobi (paired with BTC, ETH, USDT).
KuCoin (paired with BTC, ETH).
Bit-Z (paired with BTC, ETH).
HBUS (paired with BTC, ETH, USDT).
Where to Store ELA?
ELA is neither ERC20 nor NEP5 token and uses own chain. It must be stored in Elastos native wallet, which can be downloaded from the official Elastos wallet website. On top of that, the developers have released Elastos EcoWallet for Android and iOS devices.
Elastos Team
Elastos was founded by Chen Rong, who conceived the idea in 2000. He founded the Elastos Foundation together with Fen Han in June 2017. Today, the project employs over 50 experienced professionals and well-known developers. Besides, the company has formed many partnerships and received backing from such organizations like NEO, Bitmain, Tsinghua Science Park, and others.
Current State of the Project
In the midst of 2018 Elastos came under scrutiny for terminating ELA token lock-in and return program, which was meant to incentivize token holders. Also, there were rumors of internal spats within the team.
Despite that, the team continues to progress and have introduced NEO smart contract compatible sidechains, new mobile wallet, chain mining and several other updates in December 2018. Next milestones for 2019 include releasing further tools to improve the Elastos ecosystem.
The complete Elastos roadmap including the latest updates can be found here.
Similar Projects
EOS (EOS) - A blockchain protocol designed for horizontal scaling of decentralized applications.
Aelf (ELF) - A highly efficient multi-chain parallel-process system with cross-chain communication.
Ethereum (ETH) - A decentralized platform for smart contracts and dapps.