CoinPoker
CHP
CoinPoker
Coinpoker is a platform that uses blockchain technology to address key issues in the poker industry.
| Market Cap | Volume 24h | Circulating Supply |
| --- | --- | --- |
| $4,401,675 | $23.23 | 274720612.0 CHP |

The Crypto Poker Platform with Decentralized Card Shuffling
Long before CoinPoker launched its cryptocurrency poker platform 2017, the online poker industry struggled with transparency. In particular, online card shuffling practices have long evoked scrutiny from players, and the limited interest in individual player interests from large industry players only perpetuates a sense of distrust.
CoinPoker aims to be the first poker platform, let alone a crypto poker platform, to give players the insights they demand into the inner workings of card shuffling software. The poker room released their decentralized random number generating (RNG) software earlier this year, addressing one of the most prevalent issues in gambling: lack of transparency in game mechanics.
The technology behind the decentralized RNG uses the same cryptographic hash function used on the Ethereum network (KECCAK-256) to securely disclose card shuffling information to players that can later be verified through a validation tool.
Players are able to verify the fairness of the shuffle through proof of participation. The same technology is used to disclose undealt cards to a certain extent Their transparent card shuffler is only one step the Ethereum poker site is taking towards its vision for the future of online poker, and the platform continues to explore the ways cryptocurrency and decentralized technology can make online poker accessible to everyone.

CoinPoker's Vision for Transparent Cryptocurrency Poker
Developed by a small team of poker enthusiasts and cryptocurrency advocates, CoinPoker is the solution to what the team term's as online poker's 'transparency problem'. All CoinPoker activities are geared towards empowering the average poker player using the benefits that cryptocurrencies offer in terms of access and security.
According to the CoinPoker team, traditional online poker is dominated by an oligopoly of large, impenetrable giants with little interest in the needs and interests of individual users. As a result, the industry has seen minimal innovation on the front of transparency, particularly about the handling of funds and card shuffling.
Players at CoinPoker can deposit and withdraw funds using ETH tokens, or the ERC-20 token CHP (Chips). All transactions to and from CoinPoker are publicly visible on the Ethereum blockchain as opposed to the one-sided approach to financial handling on traditional online poker sites. Thanks to the nature of cryptocurrency transactions, being transparent about the handling of funds does not come with any threat to security.
For the sake of security, traditional online poker rooms are secretive about their card shuffling software. Players are given minimal insight into the inner workings of the random number generators used on their platforms. Industry giants from PlanetPoker, the first market leader in online poker, through to Full Tilt more recently have been subject to cheating scandals. As a result, the demand for a way to prove fairness is something CoinPoker has been working towards delivering since it launched its whitepaper.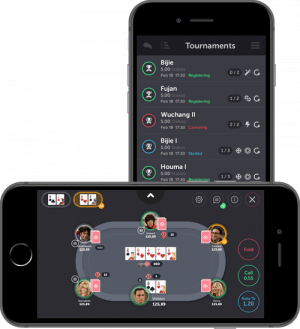 Why Coinpoker Developed Decentralized Poker Card Shuffling
Where there is ambiguity, there is always distrust. In a live, casino it is clear that the cards are shuffled and that when remarkable flops or bad beats happen, they are the result of luck alone.
When watching a shuffling animation on a screen, all players have to rely on is their faith in the poker room's integrity, which can be tough for players in an industry where cheating on either side is a well-known issue. In light of recent advances in decentralization technology, CoinPoker's team was determined to find a way to use cryptographic hash functions to disclose information about online card shuffling without compromising security.
Demystifying online card shuffling is what the team perceived as an essential part of building transparency and trust in their community. Applying the KECCAK-256 cryptographic hash function to their random number generating algorithm makes CoinPoker's new RNG module impossible to reverse engineer. Moreover, it involves all players at the table in the shuffling process of creating the input value or seed for the shuffling algorithm, which is usually only created by the poker room behind the scenes.
Essentially players can choose to participate or not at the start of each hand. As soon as they do, a one-way cryptographic function with a secret seed value is generated and sent to all players and CoinPoker. CoinPoker then uses all values to create the final seed value, which acts as input for the random number generator and results in the final order of the deck.
Once a hand is completed, players verify the randomness of the deck, as well as see the undealt cards that would have been in play.
Decentralized Poker Gamification with CoinPoker's Hand Hindsight
When security is no longer an obstacle to sharing information, transparency becomes simpler. Along with their transparent card shuffling software, CoinPoker released their Hand Hindsight feature, which allows players to view undealt cards from previous hands.
Below is an example of how this feature can be used to improve players' gaming experience on the crypto poker platform:
"Imagine that you have a flush draw on the turn, and your opponent makes a bet that you can't afford to call. Despite folding and making the right move, you have that itching sensation that you would have hit it on the river."
Giving players the power to review their decisions is something CoinPoker hopes will add value to player experience and is yet another feature unique to the crypto poker room.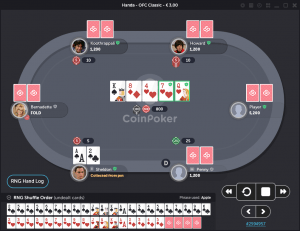 Reward for Bugs Found in the Decentralized RNG
CoinPoker invites cryptography and poker experts to test their transparent card shuffling software for bugs. The open decentralized RNG source code is available on GitHub not only for testing but for the crypto community to improve and build upon.
The 1,000,000 CHP Bug Bounty will be awarded to anyone who can find fault in the program in line with certain guidelines listed on their website.
Going Beyond Crypto Poker and Decentralized RNG Tech
Since launching in November 2017 over 60,000 users have played on CoinPoker, and 56+ million hands were played. In addition to Texas Hold'Em and Pot Limit Omaha cash games and multi-table tournaments, CoinPoker recently added Short Deck Poker tourneys after popular demand was expressed by its growing community.
While growth is a key objective for CoinPoker, and the investment in developing what it hopes is groundbreaking technology in its decentralized RNG is one way to get the attention of the industry, CoinPoker's community is at the heart of all its major strategic decisions.
Players from all over the world are able to access CoinPoker on desktop or by downloading the mobile app for Android and iOS. Ease of access combined with the introduction of this groundbreaking technology is what the team behind the crypto poker platform hopes will result in attracting more players to their tables.
Where To Get CoinPoker CHP Coins
At the moment, CHP tokens are listed on the following exchanges:
Where To Store CHP
Aside from depositing the tokens to the CoinPoker platform, holders can keep the tokens in their private wallets. CHP is the ERC-20 token, which makes it compatible with most Ethereum wallets. It includes services like MyEtherWallet, Metamask, Jaxx, Exodus, and hardware wallets by Ledger and Trezor.
_____
Disclaimer: Among supporters and advisors of Coinpoker is Antanas Guoga, serial entrepreneur, philanthropist, a Member of European Parliament, and a backer of Cryptonews.com.