Bankera
BNK
Bankera
Bankera is a digital bank for the blockchain era. It seeks to bridge the gap between cryptocurrencies and traditional finance.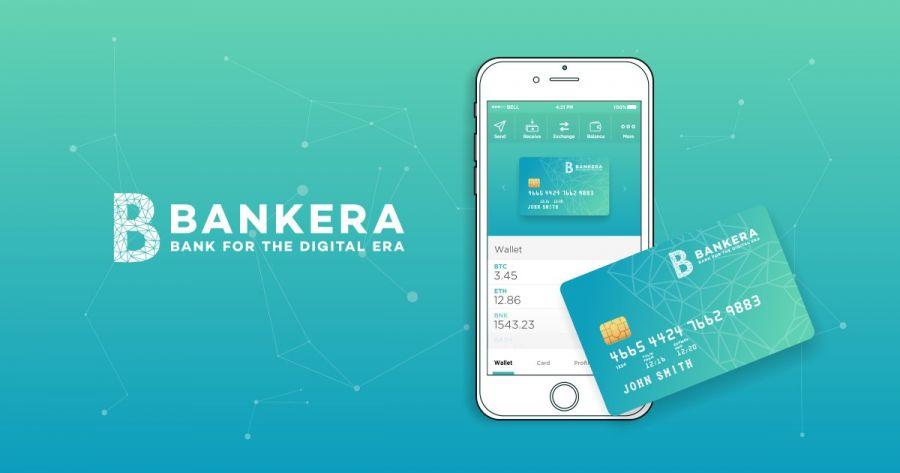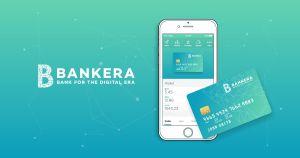 Bankera is a crypto startup which aims to revolutionize banking by bringing traditional finance and cryptocurrencies under one roof. In the future, Bankera wants to be a one-stop shop for all kinds of financial services and should evolve into a secure, legal, and trustworthy blockchain-based bank.
| Market Cap | Volume 24h | Circulating Supply | Maximum Supply |
| --- | --- | --- | --- |
| $26,420,763 | $20 | 24898912108.00000000 BNK | 24898912108.00000000 BNK |
Besides, Bankera is an operational fork of SpectroCoin (not to be confused with Spectrecoin (XSPEC)), a cryptocurrency exchange operating since 2013. Bankera is a necessary extension of SpectroCoin. Both projects share management team members, expertise, IT and regulatory infrastructure, and the client base. The only difference between the two is SpectroCoin remains focused on the crypto wallet and exchange services, while Bankera is oriented towards payment and banking solutions.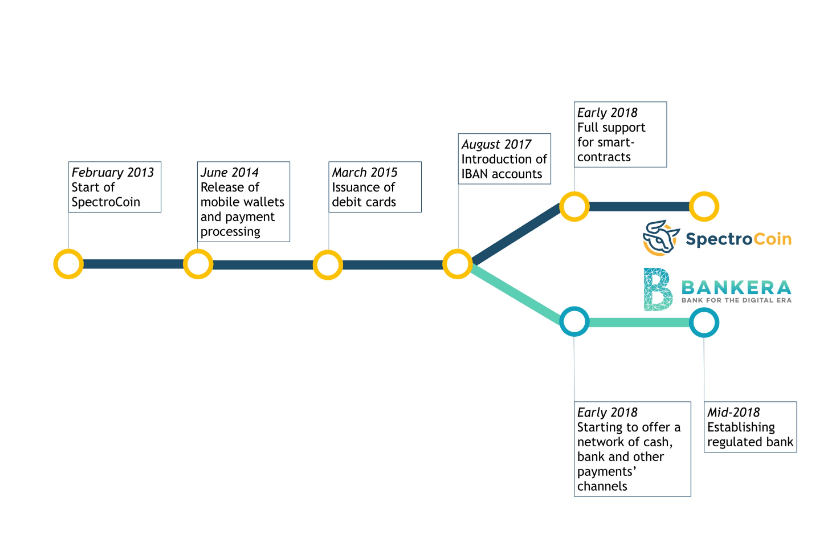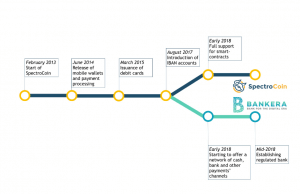 The Bankera ecosystem will consist of several compartments. It includes:
Cryptocurrency Brokerage.
Bankera Exchange Platform.
Bankera's Wallet.
Cryptocurrency Loans.
Investment Tools.
Debit Cards.
Payment processing including accounts with IBANs, and interbank foreign exchange rates.
In the crypto space, Bankera is mostly known for its massive ICO. During the crowdsale, the project raised $150 million. Apart from that, the project has a working exchange platform, a cryptocurrency brokerage service with an intuitive mobile app, and provides payment processing service.
Blockchain technology and banks have a tense relationship, to say the least. While some banks have declared wars on cryptocurrencies and exchanges, others like Bank of America, hold the most blockchain patents in the world. While some crypto companies, say, Ripple, work shoulder-to-shoulder with banks and regulators to improve current infrastructure, others openly state their goal to disrupt traditional finance. Let's not forget it was the global financial crisis of 2008 that inspired the creation of Bitcoin and distributed ledger technology (DLT). Also, the last global recession is attributed to irresponsible banking practices, too.
The groundbreaking blockchain innovations are shaking up the traditional finance thus causes us to rethink value creation and money. Cryptocurrencies like Bitcoin have equipped people with tools to digitalize money, improve transparency, and conduct faster international payments, including the underbanked areas.
Although there are many attempts to apply DLT to traditional finance, most blockchain fintech startups are focusing on a specific niche, such as lending or remittances. However, due to the limited scope of their vision, they can't enjoy economies of scale in a way traditional banks do. Meanwhile, traditional banks cannot adopt blockchain as fast as they would like to because they are held back by legacy systems and regulations.
Bankera seeks to introduce a new standard for modern banks by taking advantage of what blockchain technology has to offer at scale.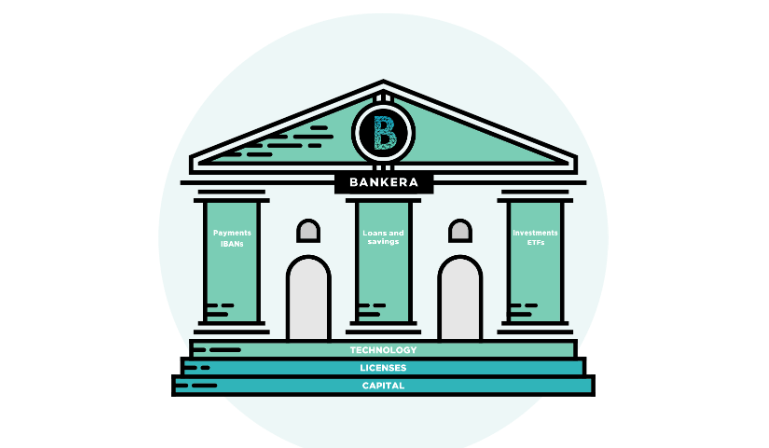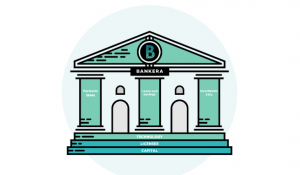 Let's take a closer look at Bankera's ecosystem.
Cryptocurrency Brokerage. Bankera's cryptocurrency brokerage service comes as a part of SpectroCoin, which provides global blockchain wallet for trading Bitcoin (BTC), Ethereum (ETH), NEM (XEM), Dash (DASH), Xaucoin (XAU), and Banker (BNK). Also, it accepts deposits in 30 fiat currencies.
Bankera Exchange Platform. Bankera's exchange platform provides the next-generation trading experience with high liquidity, transparent order book, and low fees. Initially, active trading pairs include BTC, ETH, DASH, NEM, and BNK coins. More cryptocurrencies will be added in the future. Moreover, the exchange provides an extra use case for BNK tokens. All its trading pairs will be free of charge.
Bankera's Wallet. Bankera's wallet will offer many traditional payment options for both deposits and withdrawals. Also, its users will enjoy frictionless peer-to-peer payments, digital asset transactions, and inter-blockchain connectivity for cross-chain settlements. It will be released for the web, iOS, Android, and Windows Phones. A similar functioning mobile app is available for SpectroCoin.
Cryptocurrency Loans. Bankera will offer crypto-backed loans for cryptocurrency enthusiasts who seek to obtain assets without selling their crypto. The platform will provide quick loans for various jurisdictions, secure storage, and competitive lending ratios.
Investment Tools. Individuals and companies will be able to take advantage of in-house low-cost exchange-traded funds, advisory, brokerage, trading, custody, and wealth management solutions. These tools will leverage AI technology.
Debit Cards. They supposed to help users spend funds held in the Bankera wallet everywhere where traditional payment cards are accepted. Both physical and virtual cards will be available. SpectroCoin users can order the cards already, however, it experienced issues with the card supplier WaveCrest. Despite that, Bankera is said to have new cards' provider to replace the old ones, but they are yet to be functional.
Payment processing tools with competitive interbank foreign exchange rates. The payment solutions allow businesses to accept all sorts of payments and are easy to integrate. These solutions come with prebuilt ecommerce plugins and APIs and can be found on the SpectroCoin exchange page.
Bank accounts with IBAN numbers. Every SpectroCoin user can already apply for a personal bank account with IBAN.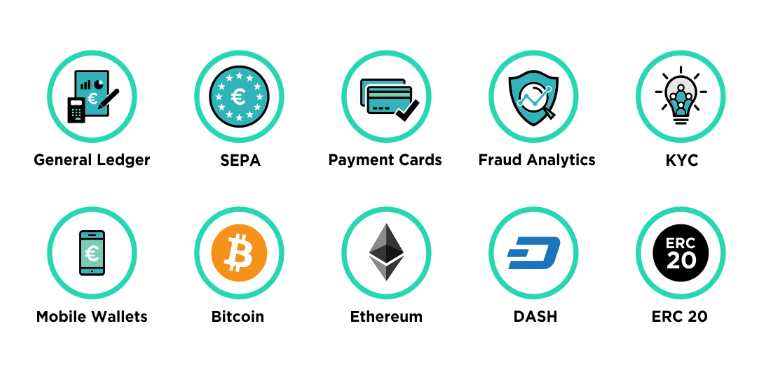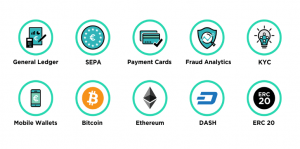 As mentioned previously, Bankera is the operating fork of SpectroCoin. The projects share most of the expertise and team members. It is the brainchild of Vytautas Karalevicius, Justas Dobiliauskas, and Mantas Mockevicius. Vytautas is the company's CEO and cryptocurrencies Ph.D. at KU Leuven University. Mantas fills the role of CCO and has over eight years experience. Justas acts as the company's CTO and has been a software developer for large financial institutions for more than nine years. All the founders have been working with SpectroCoin since 2013.
Besides, the company has gathered a large team of more than 50 blockchain specialists.
Banker (BNK) is a native Bankera's token. It is an ERC20 token and provides several use cases for its holders.
First, it can be used to trade without fees on the Bankera's exchange, meaning that every BNK trade pair imposes zero fees. Second, it grants the right to receive a respective share of 20% of Bankera and SpectroCoin weekly revenue. Thus, BNK classifies as a security token. Your BNK tokens must be held either on Bankera or SpectroCoin exchange to get the transactional revenue commissions. If you keep it in a personal Ether wallet, you have to claim the commission using Bankera's smart contract.
25,000,000,000 BNK tokens are issued in total. During the ICO, the earliest investors were able to get 1 BNK for $0.0207 or €0.017. The tokens were distributed according to the graph below.


BNK is available on the following exchanges:
HitBTC (paired with BTC, ETH, USDT).
SpectroCoin (paired with EUR, BTC, ETH, DASH, XEM).
Bankera Exchange (paired with BTC, ETH).
BNK is an ERC-20 token, which can be stored in any ERC-20 compatible wallet. Some of the most popular ERC-20 wallets include Ledger Nano S, Trezor, MyEtherWallet, Metamask, and a handful of others. Moreover, Banker can be kept at its native SpectroCoin wallet and its own Bankera Exchange.
Bankera Development and Progress
Bankera is an ambitious project, to say the least, and a path to becoming a full-service blockchain bank is full of difficulties.
Recently, the company was fined €1.2 million by the Bank of Lithuania for not complying with the AML/KYC regulations during the ICO. Besides, VISA has forced WaveCrest to terminate its payment card service, and new, functioning cards are yet to be launched.
Despite the obstacles, Bankera has been moving towards achieving its vision. Recently, the project has launched its cryptocurrency exchange. Earlier in 2018, it has acquired the Pacific Private Bank in Vanuatu. The official company announcement stated:
"By acquiring the bank, our team has secured a working product with a strong client base and, most importantly, a solid IT infrastructure. The bank's know-how will be a significant resource to help Bankera ensure its success."
Next milestones in Bankera's development include further growth Bankera's exchange, acquisition of a banking license or partner, and presenting its investment solutions by the end of 2019. Besides, the company has admitted it is experimenting with Ripple and XRP solutions and plans to use them both in the future.
Similar Projects
SALT (SALT) – A project providing tools to leverage blockchain assets to secure cash loans.
Crypto.com (MCO) (former Monaco) – Payments and cryptocurrency platform seeking to accelerate worlds transition to cryptocurrency.
TenX (PAY) – Seeks to make any blockchain asset spendable instantly.