42-coin
42
42-coin
42-coin is an extremely scarce cryptocurrency with completed emission, fair distribution via mining, and support of both private and public transactions. The maximum supply of it is 42 coins, which makes them extremely rare.
| Market Cap | Volume 24h | Circulating Supply |
| --- | --- | --- |
| $3,272,908 | $30.47 | 42.0 42 |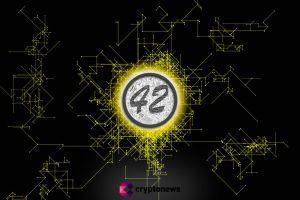 42-coin is by far the most expensive cryptocurrency in the market. It is an extremely rare deflationary coin with fair distribution. Its price history chart shows that on January 14, 2014, one 42-coin (or simply 42) was sold for a whopping $1,146,320.
But what is 42 Coin and project all about?
Let's find out.
What is 42-coin cryptocurrency?
42-coin is the leading cryptocurrency in the market in terms of price per single 42 coin. But what makes it so valuable?
The answer is rather simple: because only 42 coins can ever be mined, thus making it one of the most scarce cryptocurrencies in the market. It is an exemplar of taking bitcoin's scarcity model (max. 21 million coins) to the extreme.
42 coin was created by a programmer Hendo (known as hendo420 on bitcointalk.org) in January 2014. In a 2014 interview with Business Insider, he stated that 42 coin is like a unicorn.
"It's unique — you'll never see a full coin," he said. Indeed, despite being more than a week old, the network has yet to mine a full coin. "It's like seeing a goddamn unicorn," he said at the time.
As a half-joke, it is said the 42 coin was inspired by Douglas Adams' novel "The Hitchhiker's Guide to The Galaxy." The book states that number 42 is the answer to the ultimate question to about God, life, the universe, and everything else - a question which we, humans, are merely too dumb to comprehend, let alone grasp the answer.
The other half of the story has it that Hendo was a huge fan of American baseball player Jackie Robinson, who was the last baseball player to wear number 42.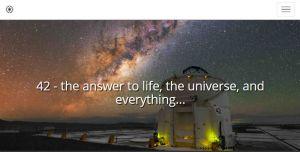 As of 2019, 42-coin has completed its emission, which means it was fully mined. It managed to avoid currently popular distribution methods such as ICO, premining or instamining the coins and thus was fairly distributed among the miners.
It supports both private and public transactions, so it can be used as a privacy coin. Also, it uses a hybrid Proof-of-Work (PoW) and Proof-of-Stake (PoS) protocol, which constitutes a new way to secure its blockchain against 51% attacks.
Here are other 42-coin project technical specifications:
Max supply: 42 coins
Transaction confirmation method: PoS+PoW/Scrypt
Number of transaction/block confirmation: 7/42
Target spacing: 7 mins PoS, 21 mins PoW
Block reward: 0 PoS, 0 + tx fees PoW
Min/Max stake age: 42 hrs/unlimited
Transaction type: Public & Private
P2P Port: 4242
42 coin controversy
The 42-coin project is mostly known as a failed project, but it took a new life since November 12, 2016.
Several months after the launch of 42 cryptocurrency, a contributing Github user changed the 42 coin's supply to unlimited. Unfortunately, no one noticed the change. As the number of coins was growing, the coin started to lose its high valuation.
On July 2015, one of the developers noticed there's no cap to stop the coin supply from surpassing its planned max supply, and tried to fix it, but the update was not merged in time. The issue was not fixed, and the initial max coin supply was surpassed, which constituted a mortal blow to the project.
The project was dead for a while until it was revived by developer under the pseudonym Lasergun on June 7, 2016. At the time there were around 70 coins in circulation. The community decided to fix the supply back to the original 42 coins by waiting until there were 84 old coins and then reducing the circulating coin supply by half (back to 42).
In addition, the 42-coin blockchain was moved to a new one based Novacoin source code. The developers also added PoS as an extra method of transaction confirmation, and its block time was increased to seven minutes.
The project has been developed ever since and has a community which takes care of it. They have an active Bitcointalk.org thread, as well as a Telegram group.
How to get 42 coin?
Currently, 42 coin trades at the following exchanges:
Livecoin (paired with BTC, ETH, USD).
Trade Satoshi (paired with BTC, ETH, LTC, DOGE).
XBTS (paired with BTS).
Novaexchange (paired with BTC, DOGE).
Mind that you don't have to purchase an entire 42 coin for its full price, as it is highly divisible. For instance, you can get just one-millionth of a coin for a millionth of its price.
Check the project's website to download its native wallet.
Conclusion
All in all, 42 coin seems like an interesting digital scarcity experiment and could potentially serve as a valuable collector's item in the future. The 42-coin project has certainly left its mark in the crypto community, with some people regarding it as a "legendary coin." Nevertheless, be aware it has a small community with just a few developers on board which was resurrected from the dead, and it is generally treated as a half-joke experiment.
Similar coins:
Dogecoin (DOGE) - The most popular joke cryptocurrency in the crypto market.
Novacoin (NVC) - A hybrid cryptocurrency which uses both PoW and PoS.
Trollcoin (TROLL) - One coin to troll them all.