Bitpanda Review
Bitpanda is a European trading platform offering cryptocurrencies, crypto index funds, stocks, ETFs, metals and commodities, with a range of products suited to traders of all experience levels. Bitpanda allows European investors to manage all their assets in one place. Bitpanda is one of the most regulated broker platforms in Europe. Their native BEST token offers discounts and VIP levels that come with their own perks. Their fees are relatively low. If you'd like to take your trading with you, Bitpanda also offers a mobile app for both Android and iOS. 
Bitpanda Review: Key Features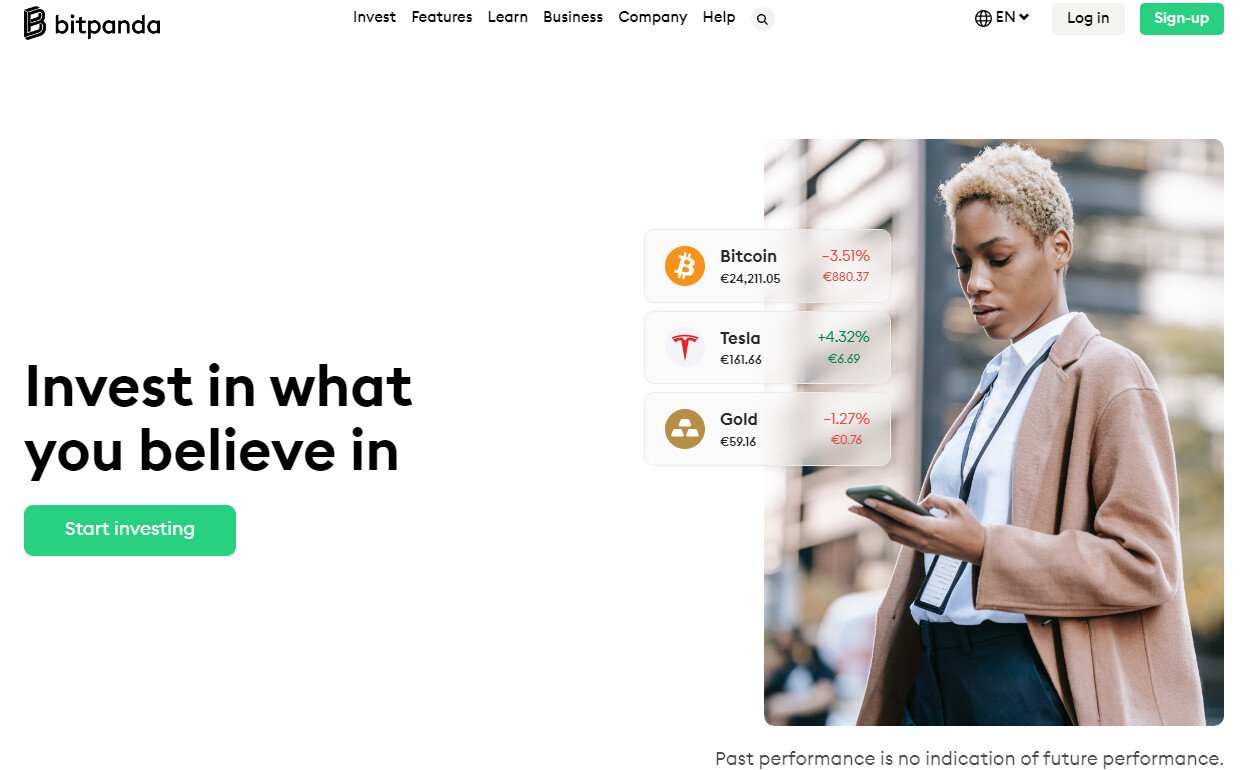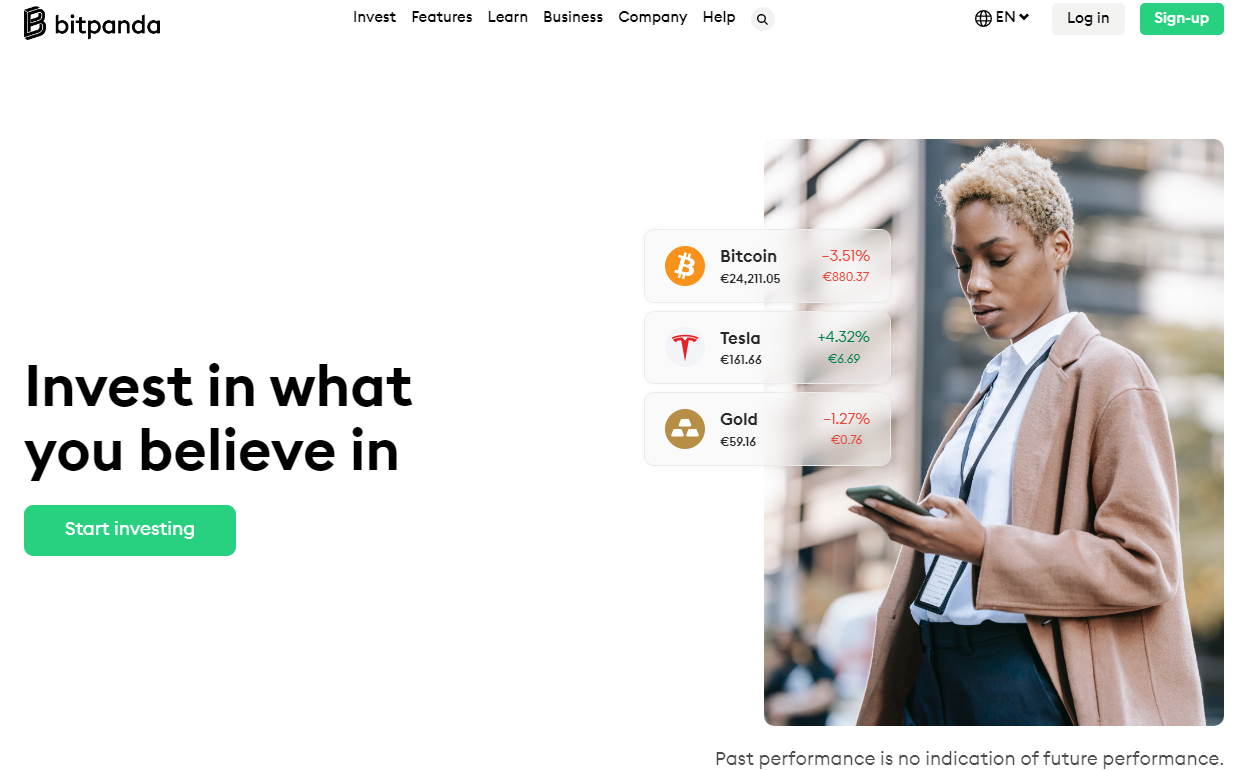 Bitpanda is a trading platform offering more than just cryptocurrencies and aimed at traders of all levels. Some of their most notable features include:
Safe and secure investing. Bitpanda diligently follows European laws and regulations and holds 10 European licences & registrations. Crypto assets are stored in highly-secure cold storage facilities that are examined by an external auditor. 
Invest 24/7. Invest whenever you want, even when the traditional stock market is closed. 
Get started from just €1. Invest in your favourite companies or tokens starting from €1 
Ten supported fiat currencies. Bitpanda is mostly geared towards Europeans, so they offer support for EUR, USD, CHF, GBP, TRY, PLN, HUF, CZK, DKK and SEK. 
Stocks, metal, indices, commodities and ETF trading. Aside from cryptocurrencies, Bitpanda also lets you trade the aforementioned assets. All of these are on one account and in one portfolio, letting you manage all your assets from one place. 
Their own native token, BEST. Using BEST, you can get discounts on fees and VIP treatment if you have a large enough amount of tokens. 
Extensive helpdesk. Pretty much any issue you run into is covered in Bitpanda's helpdesk – but even if it isn't, their customer support team is there to help you, letting you categorise your inquiry precisely. 
All in all, Bitpanda is an excellent choice for European investors and those from other locations who appreciate the breadth of their offering.
Bitpanda History and Background
Bitpanda was founded in 2014 in Vienna, Austria, with the aim of making investing accessible for everyone. The company was initially known as Coinimal, but they rebranded to Bitpanda in 2016, when they expanded their existing suite of features. In 2023, Bitpanda boasts more than 4 million users and over 400 team members and claims to be one of the fastest-growing fintech companies in Europe. 
General info
| | |
| --- | --- |
| Web address: | Link |
| Main location: | Wien, Österreich |
| Daily volume: | 18.3 BTC |
| Mobile app available: | Yes |
| Is decentralized: | No |
Parent Company:
Bitpanda GmbH
Transfer types:
Bank Transfer, Credit Card, Debit Card, Crypto Transfer,
Supported fiat:
EUR, USD, CHF, GBP, TRY, PLN, HUF, CZK, DKK, SEK
Supported pairs:
0
Has token:
BEST
Fees:
Medium(Compare rates)
Pros & Cons
Safe and secure investing 
Invest 24/7 
Get started from just €1 
Ten supported fiat currencies 
Crypto, crypto indices, stocks, metal, commodities, and ETF trading
200+ cryptocurrencies 
Extensive helpdesk
Mandatory KYC
Not available in the US
The broker was founded by co-CEOs Eric Demuth and Paul Klanschek, and their CTO is Christian Trummer, who joined the team a few months after Bitpanda was founded. The three of them make up the core team behind the business. 
The company's payments service holds a PSD2 payment service provider license, which is a European regulation for electronic payment services, an E-Money licence and a MiFID II licence. Bitpanda is registered as a virtual asset service provider (VASP) in Austria, Germany, France, Spain, Italy, Czech Republic, and Sweden. 
This means that Bitpanda has the highest level of crypto regulation available in each of these countries. The broker itself is a registered digital assets service provider with the Austrian Financial Market Authority (FMA) under FM-GwG and with the French Autorité des marchés nanciers (AMF) under PACTE law. Citizens of the United States are restricted from using the broker, as well as some other jurisdictions, depending on their regulatory framework. However, the broker does not list other restricted countries on their website.
Everyone who wants to trade on Bitpanda has to verify their account. The broker has verification levels where your trading volume depends on what documents you have provided and whether you meet the requirements. Before going through the verification process, users will have to provide a valid mobile phone number to start verification. Bitpanda will send you a PIN code, after which you can go through with the process. As far as identity documents go, Bitpanda accepts passports, while ID cards are accepted from a select list of countries available on their website.
Bitpanda also employs a practice called a verification deposit. Once your account has been verified, you have to deposit an amount between EUR 25 and EUR 2,500 via bank transfer (SEPA) or online payment methods SOFORT or GIROPAY/EPS. Before that, there is a limit of EUR 2,500 for deposits with EPS/GIROPAY and SOFORT, which will be increased after a verification deposit is completed. The verification deposit can also be completed in equivalent amounts in the CHF, GBP, or USD currencies, but it is impossible to deposit cryptocurrencies before this process is completed.
There are some limits even after the verification process is fully completed. The 24-hour limit for online payments such as NETELLER, Skrill, and iDEAL is EUR 10,000. Credit card deposits are capped at EUR 2,500 within a single 24-hour period, while bank transfers go up to EUR 500,000. 
BEST Token
Bitpanda has its native token called the Bitpanda Ecosystem Token (BEST). With this token, users can get a 20% discount on trading and deposit fees, as well as trading premiums. For the latter, there is also a minimum value for BEST, which is EUR 0.132 for 2021 and will increase by 10% annually for the next five years. A part of the tokens spent on trading premiums is burned quarterly until only 50% of the total supply remains.
The token also introduces VIP accounts, depending on the amount you hold. If you're at least a VIP level 1, which means you hold at least 5,000 BEST, you get a vote in strategic decisions, like which assets get added next. Other perks of each VIP level include:
| Level 1 | Level 2 | Level 3 |
| --- | --- | --- |
| (minimum 5,000 BEST) | (minimum 50,000 BEST) | (minimum 500,000 BEST) |
| Claim an additional +0.05% in BEST every month (at least one trade per month) | Claim an additional +0.10% in BEST every month (at least one trade per month) | Claim an additional +0.15% in BEST every month (at least one trade per month) |
| Participate in BEST VIP votes | Participate in BEST VIP votes | Participate in BEST VIP votes |
| (more to come) | 20% lower deposit fees when using credit cards and 25% lower deposit fees for SOFORT | 20% lower deposit fees when using credit cards and 25% lower deposit fees for SOFORT |
|   | As an affiliate, start earning 14% (instead of 10%) of the revenue share for customers you refer to Bitpanda and up to 20% maximum | As an affiliate, start earning 14% (instead of 10%) of the revenue share for customers you refer to Bitpanda and up to 20% maximum |
|   | (more to come) | Be part of "Bitpanda Plus." |
|   |   | (more to come) |
Bitpanda Fees
On Bitpanda there is a minimum amount for each asset that you don't have to pay deposit fees for, as well as wallet deposit and withdrawal fees, plus minimum amounts for each, excluding the fee. You can see these amounts in the following table:
| Asset | No fees for minimum deposits of | Wallet deposit fees | Minimum deposit amount (excl. fee) | Wallet withdrawal fees | Minimum withdrawal amount (excl. fee) |
| --- | --- | --- | --- | --- | --- |
| 0x | 160 ZRX | 8 ZRX | 16 ZRX | 10.4002334 ZRX | 2 ZRX |
| 1inch | 46 1INCH | 2.3 1INCH | 4.6 1INCH | 3.12846456 1INCH | 50 1INCH |
| Aave | 0.34 AAVE | 0.017 AAVE | 0.034 AAVE | 0.02563212 AAVE | 0 AAVE |
| Augur v2 | 6.1 REP | 0.305 REP | 0.61 REP | 0.38348562 REP | 0.1 REP |
| Band Protocol | 18 BAND | 0.9 BAND | 1.8 BAND | 1.20840034 BAND | 0 BAND |
| Basic Attention Token | 200 BAT | 10 BAT | 20 BAT | 13.57428852 BAT | 0 BAT |
| Bitcoin | 0.05 BTC | 0.0001 BTC | 0.0001 BTC | 0.00006 BTC | 0.0015 BTC |
| Bitcoin Cash | 0.01 BCH | 0.0001 BCH | 0.0001 BCH | 0.000023 BCH | 0.05 BCH |
| Bitpanda Ecosystem Token | 115 BEST | 5.75 BEST | 11.5 BEST | 7.87303026 BEST | 10 BEST |
| Cardano | 2.2 ADA | 0.2 ADA | 2 ADA | 0.16417 ADA | 2 ADA |
| Chainlink | 6 LINK | 0.3 LINK | 0.6 LINK | 0.43062628 LINK | 1 LINK |
| Chiliz | 440 CHZ | 22 CHZ | 44 CHZ | 27.44031190 CHZ | 10 CHZ |
| Compound | 0.24 COMP | 0.012 COMP | 0.024 COMP | 0.01681406 COMP | 0 COMP |
| Cosmos | 1 ATOM | 0.03 ATOM 0.1 ATOM | 0.1 ATOM | 0.001 ATOM | 1 ATOM |
| Dash | 0.1 DASH | 0.0001 DASH | 0.01 DASH | 0 DASH | 0.01 DASH |
| Dogecoin | 100 DOGE | 15 DOGE | 50 DOGE | 7.2532225 DOGE | 20 DOGE |
| EOS | 10 EOS | 0.001 EOS | 0.1 EOS | 0 EOS | 0.01 EOS |
| Ethereum | 0.05 ETH | 0.0025 ETH | 0.005 ETH | 0.0018 ETH | 0.02 ETH |
| IOTA | 2 MIOTA | 0.1 MIOTA | 1 MIOTA | 0.0200008 MIOTA | 1 MIOTA |
| Komodo | 10 KMD | 0.01 KMD | 0.1 KMD | 0 KMD | 0.1 KMD |
| Kyber Network | 70 KNC | 3.5 KNC | 7 KNC | 5.10472418 KNC | 0 KNC |
| Lisk | 10 LSK | 0.05 LSK | 0.1 LSK | 0.0100004 LSK | 0.1 LSK |
| Litecoin | 0.1 LTC | 0.0001 LTC | 0.001 LTC | 0.0005 LTC | 0.1 LTC |
| Maker | 0.04 MKR | 0.002 MKR | 0.04 MKR | 0.00283096 MKR | 0 MKR |
| Nem | 100 XEM | 0.1 XEM | 1 XEM | 1.5 XEM | 0.1 XEM |
| NEO | 1 NEO | 0 NEO | 1 NEO | 0.0050002 NEO | 1 NEO |
| Ocean Protocol | 294 OCEAN | 14.7 OCEAN | 29.4 OCEAN | 17.37813238 OCEAN | 50 OCEAN |
| OMG Network | 27.6 OMG | 1.38 OMG | 2.76 OMG | 1.87437712 OMG | 1 OMG |
| Ontology | 50 ONT | 1 ONT | 5 ONT | 1 ONT | 2 ONT |
| Pantos | 1657 PAN | 83 PAN | 166 PAN | 57.66789262 PAN | 5 PAN |
| Polkadot | 2 DOT | 0.03 DOT | 1.15 DOT | 0.03 DOT | 1.03 DOT |
| REN | 320 REN | 16 REN | 32 REN | 21.40560886 REN | 0 REN |
| Ripple | 0.1 XRP | 0 XRP | 0.1 XRP | 0.1 XRP | 1 XRP |
| Stellar | 10 XLM | 0 XLM | 0.1 XLM | 0 XLM | 10 XLM |
| Synthetix | 10 SNX | 0.5 SNX | 1 SNX | 0.71188216 SNX | 0 SNX |
| Tether | 126 USDT | 6.3 USDT | 12.6 USDT | 7.04785594 USDT | 0.1 USDT |
| Tezos | 5 XTZ | 0.1 XTZ | 0.5 XTZ | 0.0499997 XTZ | 0.1 XTZ |
| TRON | 1000 TRX | 1 TRX | 10 TRX | 0 TRX | 1 TRX |
| UMA | 12.6 UMA | 0.63 UMA | 1.26 UMA | 0.83804196 UMA | 0 UMA |
| Uniswap | 5.3 UNI | 0.265 UNI | 0.53 UNI | 0.20116487 UNI | 0 UNI |
| USD Coin | 124 USDC | 6.2 USDC | 12.4 USDC | 7.05024358 USDC | 0.1 USDC |
| Waves | 5 WAVES | 0.01 WAVES | 0.1 WAVES | 0 WAVES | 0.1 WAVES |
| yearn.finance | 0.0036 YFI | 0.00018 YFI | 0.00036 YFI | 0.00022894 YFI | 0 YFI |
| Zcash | 0.05 ZEC | 0.001 ZEC | 0.005 ZEC | 0.00010120 ZEC | 0.001 ZEC |
Bitpanda Design and Usability
Bitpanda has a simple, intuitive user interface. By clicking on Get Started, you will be redirected to a site where you enter your full name, email address, country of residence and set a password. If you're looking to open a business account, you can follow a link at the bottom of the page. Once you've confirmed your email address, you will be asked to answer several questions that are required by EU anti-money laundering (AML) regulations, most of which concern how much money you earn and how much you intend to trade on an annual basis, as well as verify your account by providing the necessary IDs. You don't have to complete the verification immediately; while this step can be temporarily skipped, keep in mind you will have to come back to it sooner or later. You will not be able to deposit funds or start trading before you complete this process.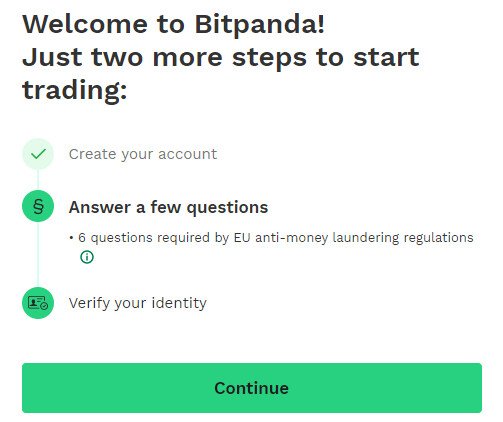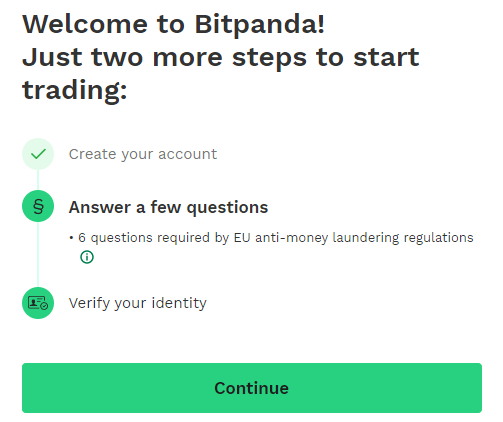 If you're a complete newcomer or prefer simplicity and ease of use, then Bitpanda is the best choice for you. It is extremely intuitive, and trades are made with only a few clicks. The interface is very clean and tidy, so there is very little chance that a misclick will lead you down a path you don't understand. However, the broker also lists the top movers at the top of your screen; this is useful when you want to keep track of the market without constantly looking at just the first few coins by market cap.
Bitpanda does a good job of keeping its platform tidy and easy on the eyes, without sacrificing anything vital. However, as Bitpanda is a European broker, don't let the prices give you a shock—they're expressed in euros if you don't explicitly change them into USD. This will give you a lower number due to the difference in the two currencies, not a steep plunge of any asset.
Bitpanda also offers an app on both Android and iOS; however, Bitpanda warns that not all desktop features may be available on the mobile version but adds that they're working on transferring each of them so that users can use the desktop and mobile platform interchangeably. 
Bitpanda Customer Support
There are several ways for customers to get help on Bitpanda. The first is the Bitpanda Helpdesk, where many questions relating to any part of the broker are answered. Questions and answers are separated by topic, with the most viewed pages listed separately at the bottom.
If that doesn't help, you can contact their support team. You will be offered a contact form where you can select the type of inquiry you're making, then select the general topic of your request, after which the site shows you an overview of the topic itself (in case you couldn't find that before, as it may answer your question). If you still need assistance, you select your preferred language (English, German, French, Turkish, Italian, Spanish, and Polish are available), then enter the email address that you used to create your account, and explain your issue. You can also attach files, like screenshots that may help the team address your problem. Bitpanda's team aims to reply to all support requests within 72 hours, but they add that it may take longer and that no request is ignored or forgotten.
Bitpanda also has a community where you can talk about things unrelated to your account, like price movements, coin listings, and general changes and their effects. The community can also be immensely helpful with some issues. Still, Bitpanda warns that they do not handle support requests through social media channels and that for any serious questions, customers should reach out to them through the aforementioned form.
Bitpanda Security
Bitpanda uses cold storage for their assets, but they do not specify what amount is stored offline. The broker has never been hacked and claims state-of-the-art security measures that prevent this from happening. When it comes to user accounts, Bitpanda will always require you to verify it's you through your email address whenever you're accessing them from a new device, along with always using reCAPTCHAs, and do spot checks with you when you're changing important data on your account, like your email address or phone number. Bitpanda also offers DDOS protection, as well as using SSL encryption.
Bitpanda is a registered digital assets service provider with the Austrian Financial Market Authority (FMA) and with the French Autorité des marchés financiers (AMF). The Bitpanda Payments company holds a PSD2 license.
As for what users can do to secure their accounts, Bitpanda is also diligent about this part. Aside from prompting you to choose a secure password, you are also encouraged to activate two-factor authentication.
Overall, the broker is considered one of the most secure ones currently in the market.
Bitpanda Deposit and Withdrawal Methods
Depositing cryptocurrencies to your Bitpanda account is extremely straightforward: you simply send the assets from your personal wallet to the account's wallet, either by copying the address or scanning the QR code. You have one address for each asset; if you want to get more to make your assets less traceable, you will first have to use the existing address. Bitpanda's support page has a very detailed explanation for each asset and anything you need to keep in mind when depositing, with all the quirks and specifics that a coin may have. Deposits will be credited automatically as soon as they have received 6 confirmations from Bitcoin miners or the equivalent level of security on other networks.
You can also deposit fiat currencies. To do this, you will need to choose the currency you're depositing, which needs to be one of the following:
Euro (EUR)
US Dollar (USD)
Swiss Franc (CHF)
British Pound (GBP)
Turkish Lira (TRY)
You will also have to choose the payment provider you want to use. Verified accounts can deposit with SEPA, GIROPAY/EPS, SOFORT, NETELLER, Skrill, Visa, and Mastercard to their Euro Wallet. Bitpanda To Go vouchers can also be redeemed for cryptocurrencies directly. Other fiat currencies have a slightly more limited choice of payment providers; for example, TRY can only be deposited through bank transfers. The broker offers a thorough explanation of each currency's specifics. Except for bank transfers, you will have to confirm your deposit with an SMS-PIN you will receive once you've entered all the details. The amount is credited to your account shortly.
Withdrawals will also depend on whether they're fiat or crypto. Withdrawing from your fiat wallets is also simple: you choose the payment provider and, if necessary, create a payout account with them (usually only required for the first time you're withdrawing), enter the amount, and confirm. For fiat, both deposits and withdrawals must be EUR 25 minimum or the equivalent in other currencies.
Withdrawing crypto is also easy. From the Send option in the top right corner, you'll need to select the asset, enter an amount, and the address you're sending to. When withdrawing ETH, you will also need to confirm you're not investing in an ICO and that you understand that Bitpanda is unable to credit any ICO-issued tokens to your account, which would result in you losing them. Withdrawals to your personal wallet take as long as it is required to get all the confirmations, depending on the coin.
To simplify the withdrawal process further, Bitpanda also offers the Contacts feature. This lets you record an address as a contact, so you don't have to copy it every time you need to send funds from your Bitpanda account. Additionally, if your contact is the address of another Bitpanda account—in other words, another user—those transactions are free of charge and processed within seconds. You only need the email address the other user registered their account with. When it comes to external wallets (for example, your own crypto wallet), nothing changes other than the fact that you can now save your address instead of always entering it manually.
Bitpanda Review: Conclusion
Bitpanda is a well-rounded broker offering more than you're used to getting in the crypto space. Regardless of your level of expertise, there is something for everyone, and the fact that you can use both their platforms with one account means that once you're comfortable with trading, you can level up without the hassle of opening and verifying another account. Their approach to security means that you won't have to worry about where you're sending your funds, and the detailed explanations of everything you want and need to know will always keep you well-informed.