XRP Price Prediction as XRP Shoots Back Up Above $0.50 Support – Is the Sell-Off Over?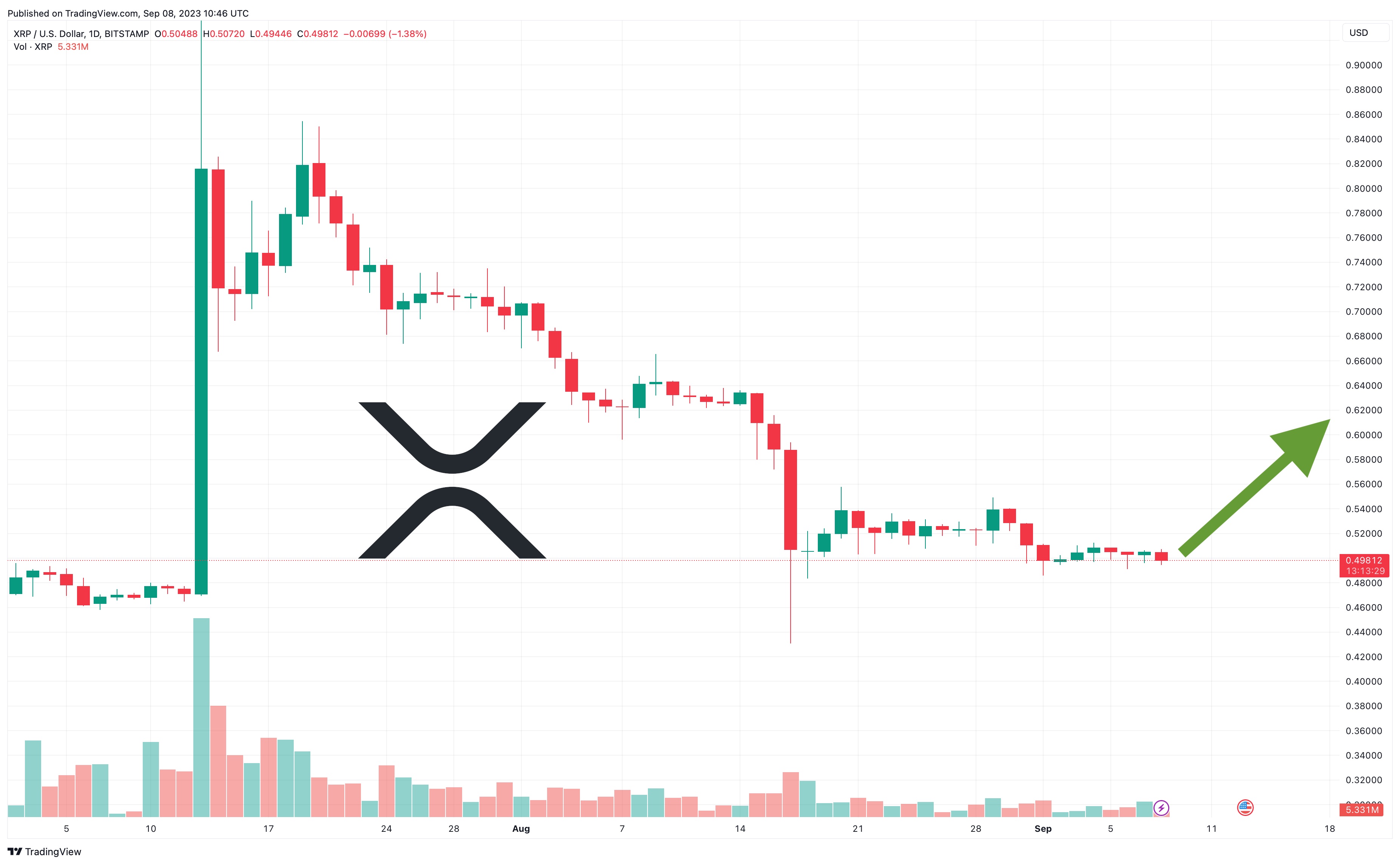 The XRP price has risen by 0.5% in the past 24 hours, returning to the $0.501675 level on a day when the cryptocurrency market as a whole posts a 1% gain.
XRP is now flat in the past seven days but down by 21% in the past month, as recent market pressures (including Bitcoin ETF delays) have eaten into substantial gains made in the immediate aftermath of Ripple securing a partial victory against the SEC in mid-July.
However, XRP remains up by 47.5% since the beginning of 2023, which overall has been a year of recovery for the token.
And with XRP beginning to show renewed signs of momentum, its price could soon lock in further gains very soon.
XRP Price Prediction as XRP Shoots Back Up Above $0.50 Support – Is the Sell-Off Over?
XRP's little bump today comes with the coin's indicators remaining in a weakened position, signalling a period of overselling that should come to an end in the near future.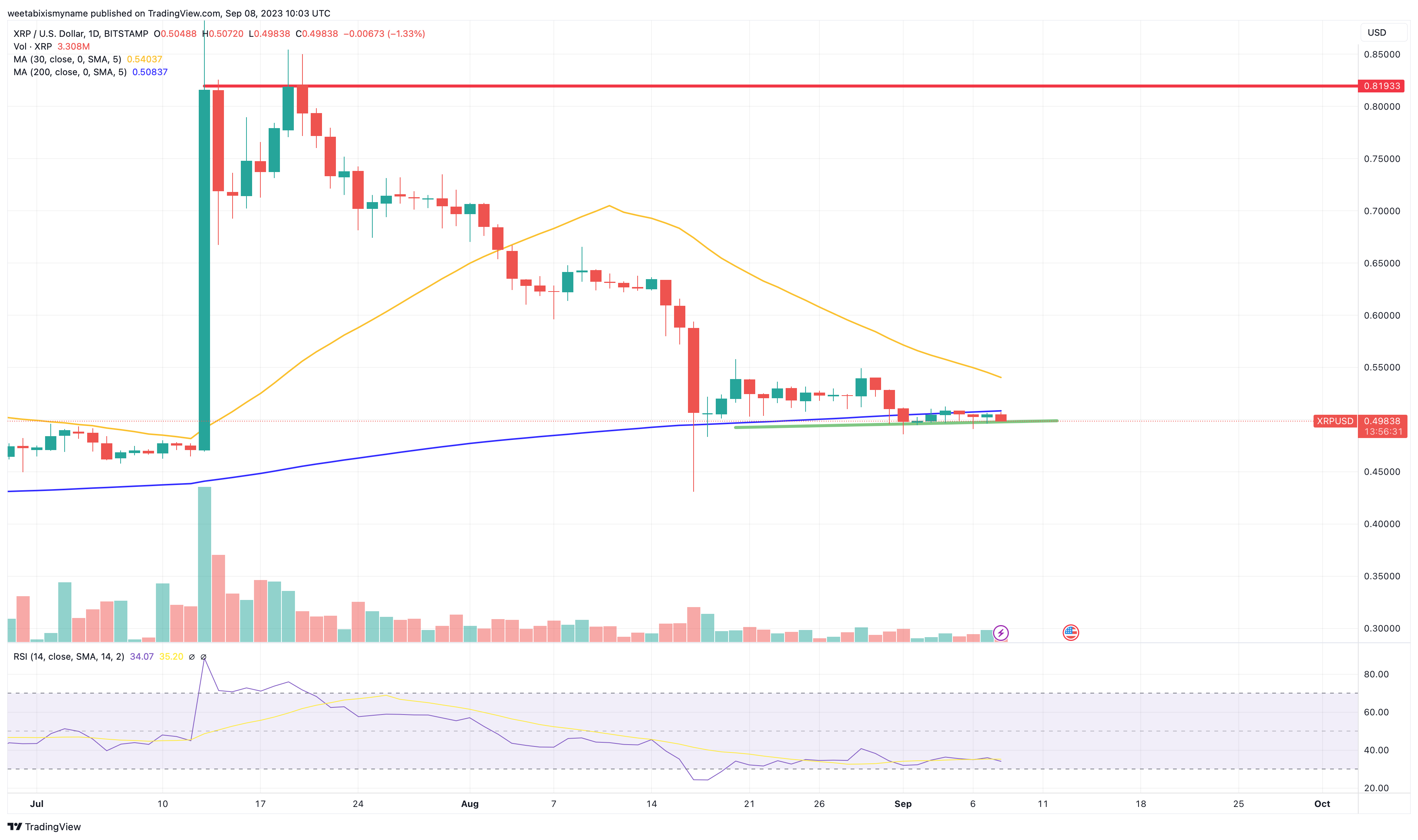 For instance, XRP's relative strength index (purple) has struggled to rise beyond the 30 level, where it has been since the middle of August in a symptom of excessive selling.
This would suggest that XRP's recent declines have probably bottomed out, although the coin's 30-day moving average (yellow) might suggest otherwise, given that it hasn't yet fallen decisively below its 200-day average (blue).
However, this may not need to happen before XRP enjoys some sustained gains, seeing as how the coin's price has fallen below the 200-day average, and seeing as how its support level (green) has begun rising a little after a long period of decline.
In other words, XRP is in a position where it should rebound strongly in the next few weeks, if not days.
Part of the reason why XRP has suffered in recent weeks is because of market-wide pressures, including the aforementioned Bitcoin ETF delays and also including macroeconomic weaknesses, such as those stemming from the slowdown of the Chinese economy.
However, XRP itself is as fundamentally strong as it was back in the middle of July, when it shot up to $0.85.
Because while the SEC is seeking an interlocutory appeal against July's decision in the Ripple case, it's not certain it will gain one, let alone be successful in such an appeal.
As such, XRP remains safe as a non-security, with exchanges continuing to list it.
On top of this, Ripple's business continues to grow steadily, with the company recently partnering with Mastercard on the latter's ongoing CBDC project, for example.
Given such progress, it's only a matter of time before XRP mounts another big comeback, with the altcoin likely to return to $0.60 in the next few weeks.
Diversification With New High-Potential Altcoins
While XRP is due to rebound, its recovery may take some time to come into effect, given that it requires an improvement in overall market sentiment.
However, traders looking for gains in the meantime are recommended to consider newer altcoins, particularly those holding successful presales.
And one of the busiest presales happening right now belongs to Launchpad.xyz (LPX), an all-in-one Web3 trading platform that has raised more than $1.6 million since its sale began several weeks ago.
Due for launch later in the year, Launchpad.xyz will provide investors with an extensive range of tools and resources, helping them to stay ahead of the unpredictable cryptocurrency market.
These features will include a Web3 wallet, a play-to-earn gaming hub, trading signals, fractionalized assets, collaborative trading rooms, and also automated trading bots.
This isn't everything though, since Launchpad is set to introduce its own decentralized exchange and an NFT marketplace, while it will also provide tools for identifying the most promising new tokens and projects.
This all promises to make Launchpad one of the most comprehensive trading platforms in the cryptocurrency ecosystem, with its native token being used within its platform to pay fees and subscriptions.
The token will also be open for staking, meaning that traders can earn a steady income simply by holding the token, which is also likely to see considerable price rises once it lists.
New investors can join the presale and grab some LPX early by going to the official Launchpad.xyz website, with 1 LPX selling at $0.0445 for the entirety of the offering.
But once the sale ends, LPX's addition to trading platforms could see this price seeming very cheap very quickly.
Disclaimer: Crypto is a high-risk asset class. This article is provided for informational purposes and does not constitute investment advice. You could lose all of your capital.
---