XRP Price Prediction as XRP Becomes 7th Most Traded Crypto in the World – What's Going On?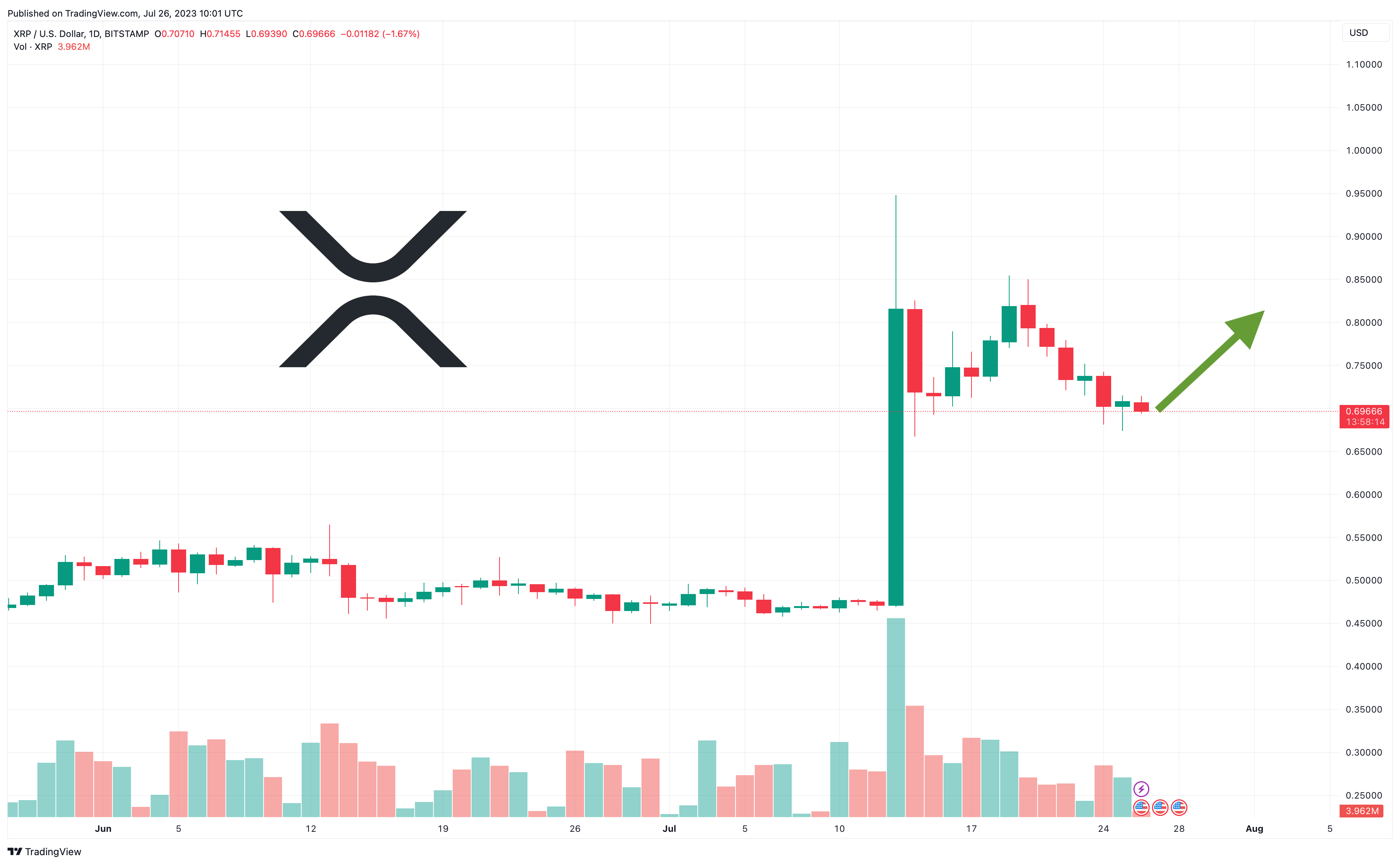 The XRP price has risen by 1.5% in the past 24 hours, climbing to $0.702540 as the cryptocurrency market as a whole barely moves today.
While XRP remains down by 10% in the last seven days, it's still up by 45% in the past month and by 110% in the past year, boosted massively by Ripple's partial success in its case against the SEC.
XRP is, therefore, likely to witness further growth in the coming days, helped further by its relisting on US-based exchanges in the past couple of weeks.
At the same time, Ripple's continued growth as a company is likely to help XRP rise steadily in price in the longer term, potentially transforming the altcoin into a real rival to Ethereum and Bitcoin in terms of trading volume and market cap.
XRP Price Prediction as XRP Becomes 7th Most Traded Crypto in the World – What's Going On?
While XRP has corrected by as much as 16% from its post-ruling high, its indicators are suggesting that it may be close to rising again.
Most notably, XRP's relative strength index (purple) has risen back to 40 after falling below 30 in recent days, a sign that new buyers may be coming to take the opportunity to buy the altcoin at a discount.
On the other hand, XRP's 30-day moving average (yellow) is still yet to fall below its 200-day average (blue), implying that its current weakness hasn't yet played out.
The 30-day may not fall below the 200-day, however, with XRP improving on its support level (green) today, in that it rejected a fall below the price of $0.70.
As such, we may see the altcoin rising again very soon, with its newfound status as the seventh-most traded cryptocurrency in the market helping to keep it elevated.
Also helping it will be the ongoing positivity surrounding XRP in the wake of the ruling issued in the Ripple-SEC case, with the presiding judge finding that Ripple's sales of XRP on exchanges didn't violate securities laws.
At the same time, Ripple is now in a better position to resume expanding as a cross-border payments business, with the Republic of Palau recently launching a stablecoin running on Ripple's XRPL network.
This highlights Ripple's potential to attract major adoption and usage, with the company also partnering with the Central Bank of Colombia last month for a CBDC pilot.
Given such expansion, the market can expect XRP to reach $1 in the next few months, before potentially seeing out the year at around $1.50.
Newer Meme Tokens Emerging as Rivals
The uncertainty surrounding DOGE at the moment may lead traders to look elsewhere for faster gains, with presale tokens being among the most profitable coins this year.
One of the biggest presale coins – in terms of the amount raised – is currently Wall Street Memes (WSM), a new ERC-20 token that has already attracted over $17.8 million in investment.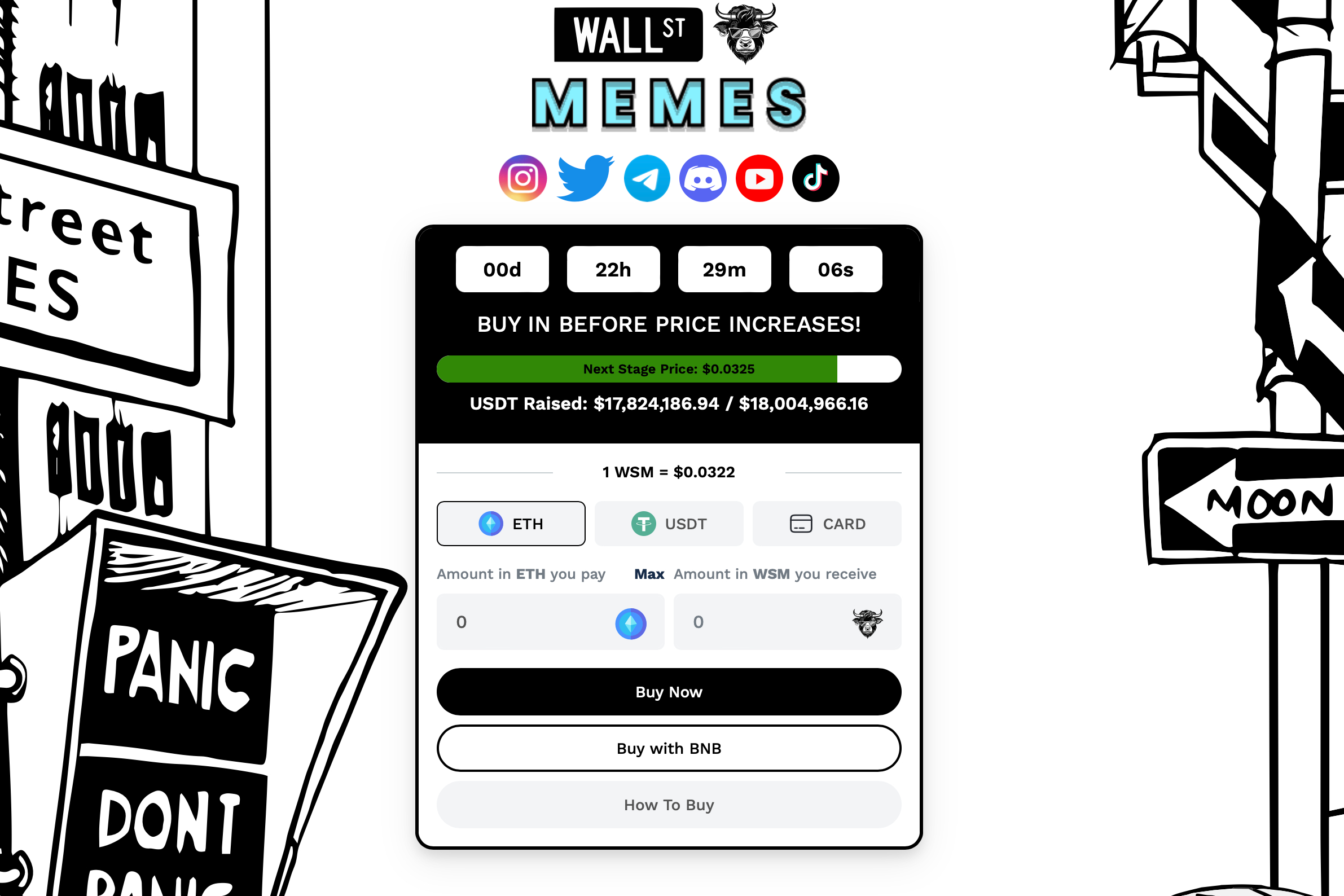 Wall Street Memes is a meme coin that has appeared out of the meme stocks movement, which instigated the 2021 AMC and GameStop rallies.
Impressively, its Twitter account now counts more than 255,000 followers, providing a sign that it already has a strong following.
Not only has its incipient community helped it raise nearly $18 million, but it will also help support WSM's price when the altcoin lists on exchanges in the next few weeks.
This is important, because far too many new meme tokens tend to fade away far too quickly after initial surges, with WSM looking as though it has enough of a community to enjoy sustained rallies over time
50% of its supply has been allocated to its presale, while another 30% has been earmarked for community rewards, helping to make WSM a relatively decentralized meme token.
New buyers can join WSM before it lists by going to the official Wall Street Memes website, before connecting their crypto wallets.
1 WSM currently costs $0.0322, with the meme token's sale ending at a price of $0.0337, which may end up seeming cheap once it gains a few exchange listings.
Disclaimer: Crypto is a high-risk asset class. This article is provided for informational purposes and does not constitute investment advice. You could lose all of your capital.
---