XRP Price Prediction as Price Rallies 20% From Recent Crash – Is The Selling Over?
Disclosure: Crypto is a high-risk asset class. This article is provided for informational purposes and does not constitute investment advice. By using this website, you agree to our terms and conditions. We may utilise affiliate links within our content, and receive commission.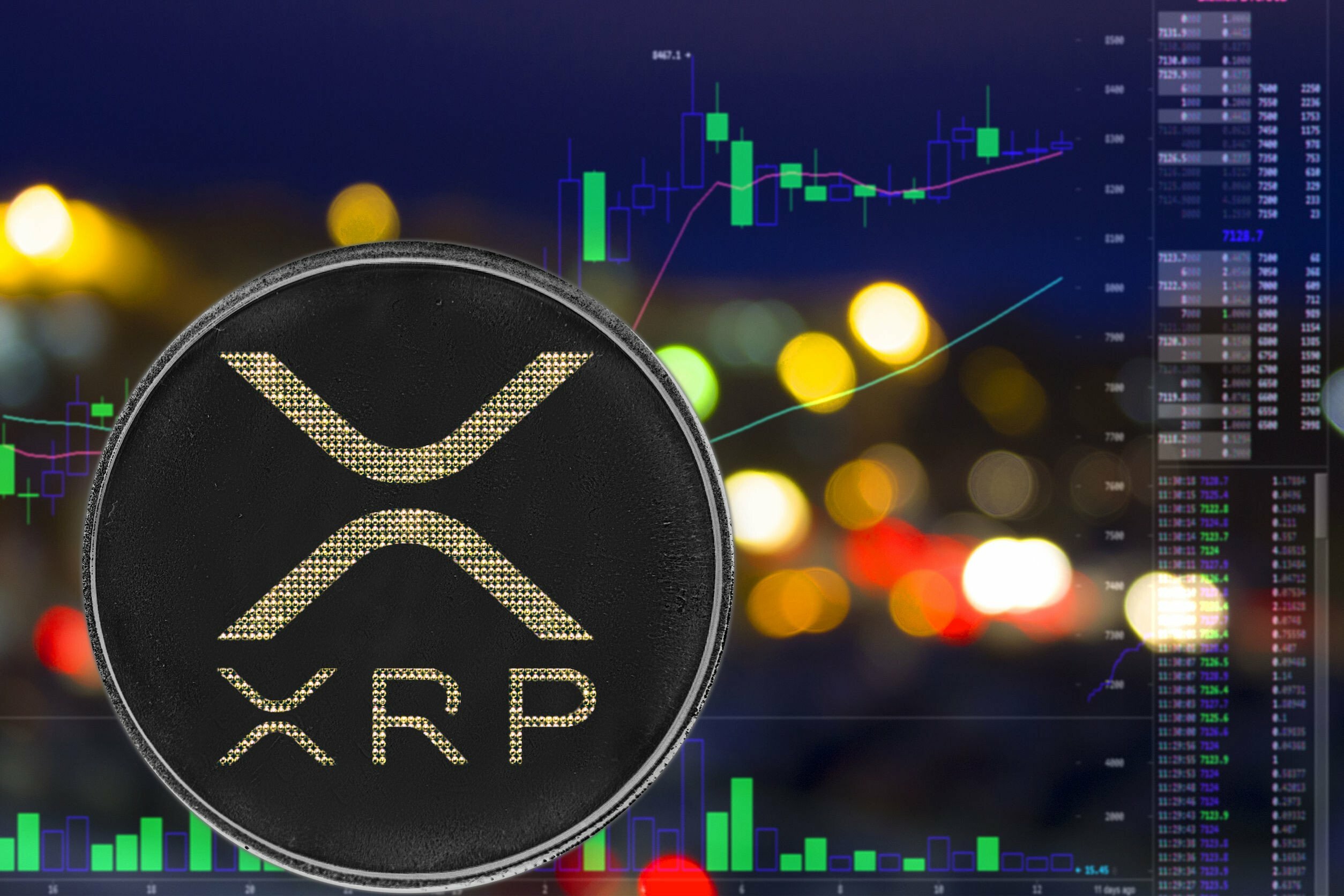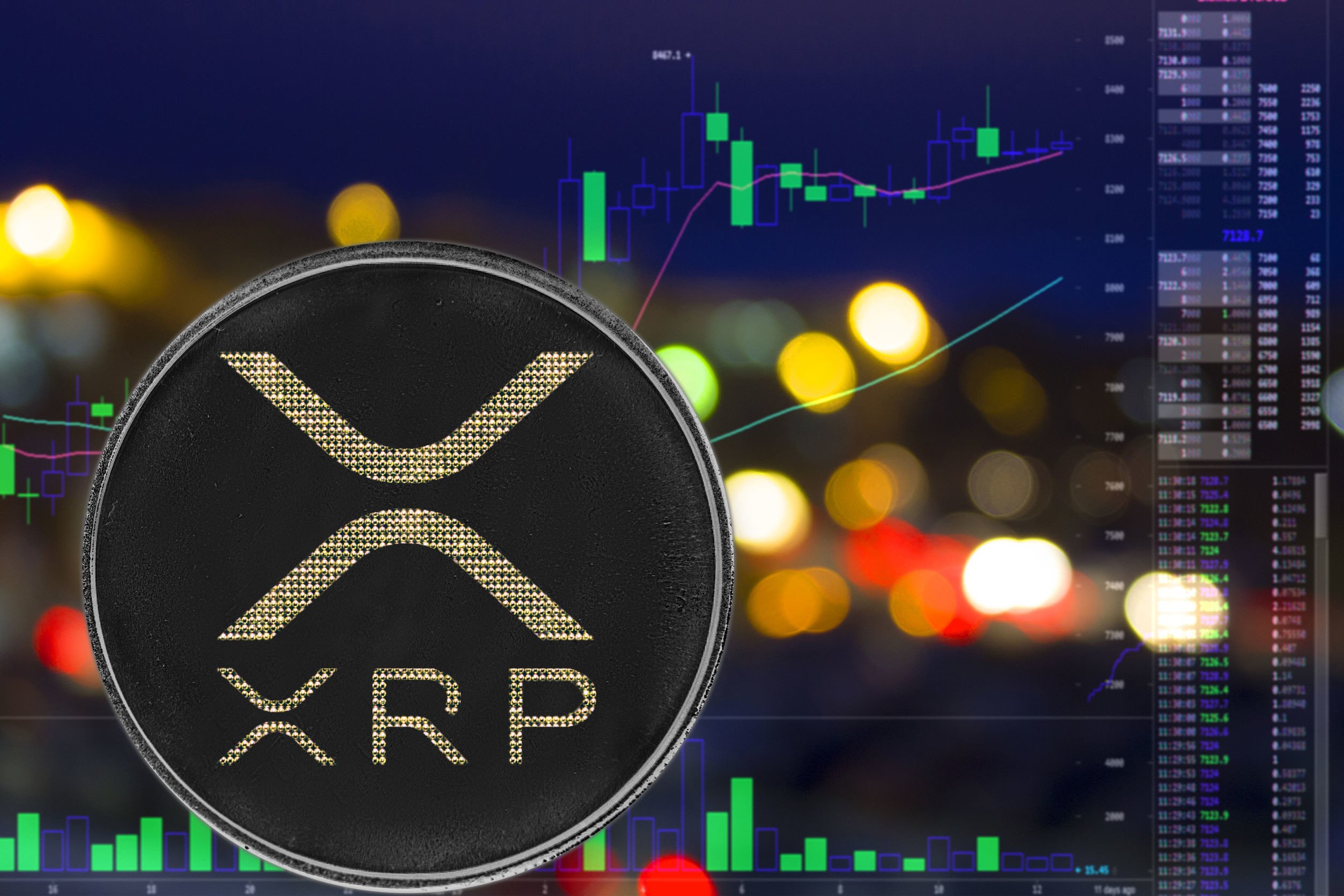 The XRP price has risen by 8% in the past day, with its current level of $0.394470 representing a 20% jump since it fell to around $0.33 in the wake of the FTX insolvency crisis. XRP is one of the best-performing major coins in the last 24 hours, although the outcome of the SEC vs. LBRY case casts doubt on Ripple's ability to come to a positive conclusion in its own case.
Regardless, the unfolding FTX drama could ultimately pull down XRP's price yet again in the next few days or weeks, assuming that the imperiled exchange fails to secure fresh funding or some kind of rescue acquisition. At the same time, a win for the SEC in its case against Ripple would send XRP much lower.
XRP Price Prediction as Price Rallies 20% From Recent Crash – Is The Selling Over?
XRP's chart shows that it remains on a downswing. Its relative strength index (purple) appears to have stalled on its way back up to 40, signaling that there isn't enough momentum in the market to help it recover fully from recent losses.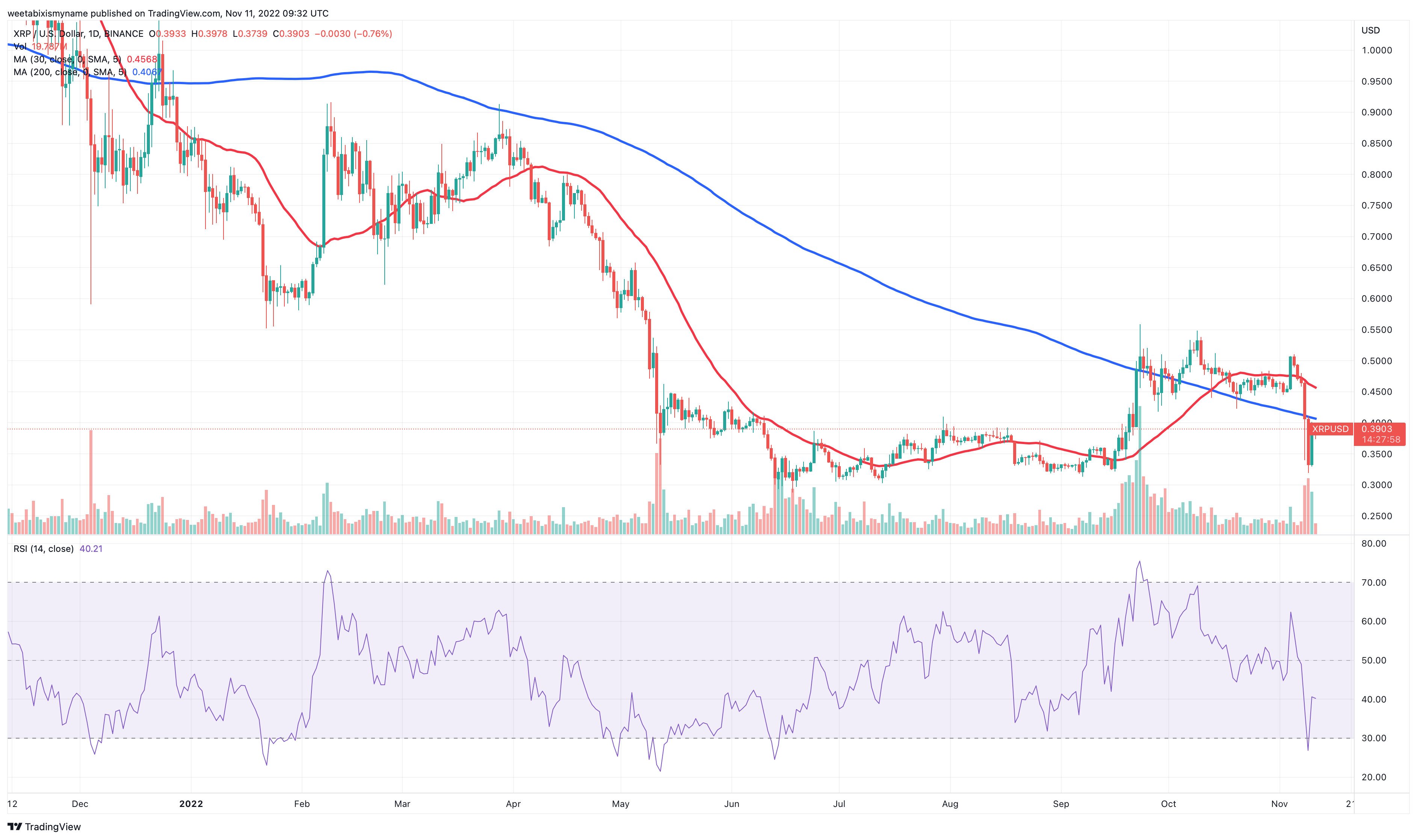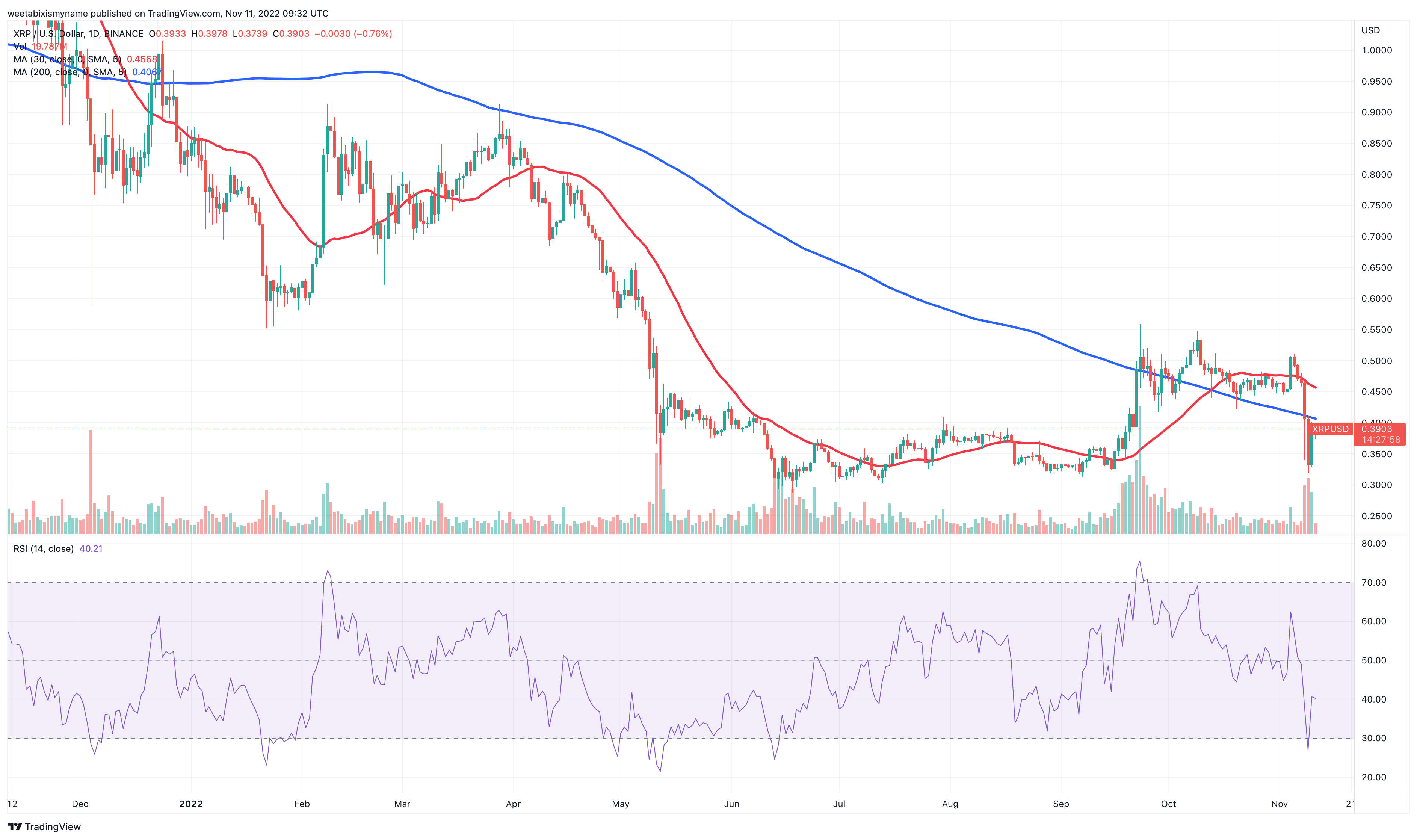 On top of this, XRP's 30-day moving average (red) is sliding downwards and will likely form a 'death cross' with its 200-day average (blue) in the coming days. This could indicate further losses as part of a plunge towards a lower medium- or long-term level.
Such fears are reinforced by recent goings-on in the cryptocurrency market and industry. Most notably, FTX remains on the brink of collapse, with Binance withdrawing from a proposed acquisition yesterday that could have helped the exchange.
Now, CEO Sam Bankman-Fried appears to be scrambling to raise around $9.4 billion from investors and other trading platforms. However, existing investor Sequoia Capital wrote off its investment in the exchange yesterday, seriously undermining hopes that other investors will pony up more cash.
Here is the note we sent to our LPs in GGFIII regarding FTX. pic.twitter.com/Cgp1Yxk1pz

— Sequoia Capital (@sequoia) November 10, 2022
This all suggests that there's a very real chance FTX completely collapses. If it does, there's little doubt that XRP (and most other major coins) will fall further.
If there weren't already bad enough, XRP's situation could be worsened by Ripple's case with the SEC.
While previous months had brought positive developments for Ripple, the outcome of the SEC's case against LBRY this past week has unnerved investors. That is, the presiding court has upheld that LBRY was selling unregistered securities, a judgment that could have implications for Ripple's legal battle with the US regulator.
LBRY fought the good fight but lost at summary judgment.

The Judge hung his hat largely on the fact that there was essentially no use for the tokens at the time of the sales.

I would expect this case to make its way into the SEC's final brief in the Ripple case. https://t.co/IDlq8J4RMS

— Jeremy Hogan (@attorneyjeremy1) November 7, 2022
While the details of each case are a little different, LBRY's loss nonetheless has made XRP fans a little less optimistic about Ripple's chances. And if it does lose, there's potentially no telling how far XRP could fall.
Of course, it's worth putting this in some perspective. Up until the end of the LBRY-SEC case, most observers were confident in Ripple's chances, with the company welcoming a variety of positive rulings over the past few months.
For instance, last month brought the ruling that it could present several amicus briefs (i.e. evidence and testimonies from third parties), something which was granted against the SEC's own motions. This was followed up by major exchange Coinbase applying to file such a brief in support of Ripple, a move which would indicate that the platform would resist XRP in the event of a favorable outcome.
Coinbase.

Amicus Brief.

Well, heck, if you come out in opposition to the SEC here, might as well relist XRP. Don't you think? https://t.co/JMsJbmWYTd

— Jeremy Hogan (@attorneyjeremy1) October 31, 2022
Going a little further back, March brought news that the court had upheld Ripple's right to use a fair notice defense, in which it would argue that the SEC failed to give it sufficient warning that XRP could be deemed a security. And in January, the court ruled that Ripple could have access to documents and emails related to a speech given in 2018 by then-SEC Chairman William Hinman, with such docs potentially containing key evidence on how the regulator really viewed XRP.
In light of all these mini-victories, it's easy to understand why XRP fans had been hopeful that Ripple would secure a positive summary judgment or settlement. And while LBRY's loss does cast all of the above in a new light, it would be rash to jump to negative conclusions.
Three New Altcoins
Even if Ripple is on track to win its case, a conclusion is still many months away. As such, investors looking for more immediate gains may look elsewhere, with presale coins, in particular, enjoying a profitable 2022.
The three new altcoins below are currently holding their respective token sales. More importantly, each of these coins boast promising fundamentals, implying that they could do well once they list on exchanges for the first time, and beyond.
Dash 2 Trade (D2T)
Based on the Ethereum blockchain, Dash 2 Trade is a trading intelligence platform that provides investors with real-time market data and social indicators in order to help them make more informed decisions. It kicked off its token sale just over three weeks ago and has now raised $5.9 million, while it has also announced its first CEX listing on LBank Exchange.
RobotEra (TARO)
Beginning its presale only a couple of days ago, RobotEra (TARO) is an Ethereum-based Metaverse platform in which gamers can play as robots and participate in the creation of its Sandbox-style virtual world. What this means is that they can create land, buildings, and other in-game items, all of which are represented and owned as NFTs. Interested investors can participate in its token sale by heading over to its website and buying with either USDT or ETH, with 1 TARO currently going for 0.020 USDT.

The price will increase to $0.025 in the second stage of its presale.

Visit RobotEra Now
Calvaria (RIA)
Calvaria (RIA) is a play-to-earn game in which players can collect and battle with NFT-based cards, which can also be traded. One of its standout features is that users can play it without requiring them to hold any cryptocurrency (although RIA is also usable for purchasing in-game items and for staking). This potentially makes it more accessible than other similar blockchain-based games, implying that the title could be a gateway into crypto for many gamers.

As the platform increases in popularity, this should reflect positively on the price of the RIA token.

Its presale has raised just over $1.6 million and has just entered its fourth stage, during which 40 RIA can be had for 1 USDT.

Visit Calvaria Now
---