XRP Price Prediction as $700 Million Trading Volume Comes In – Can XRP Reach $1?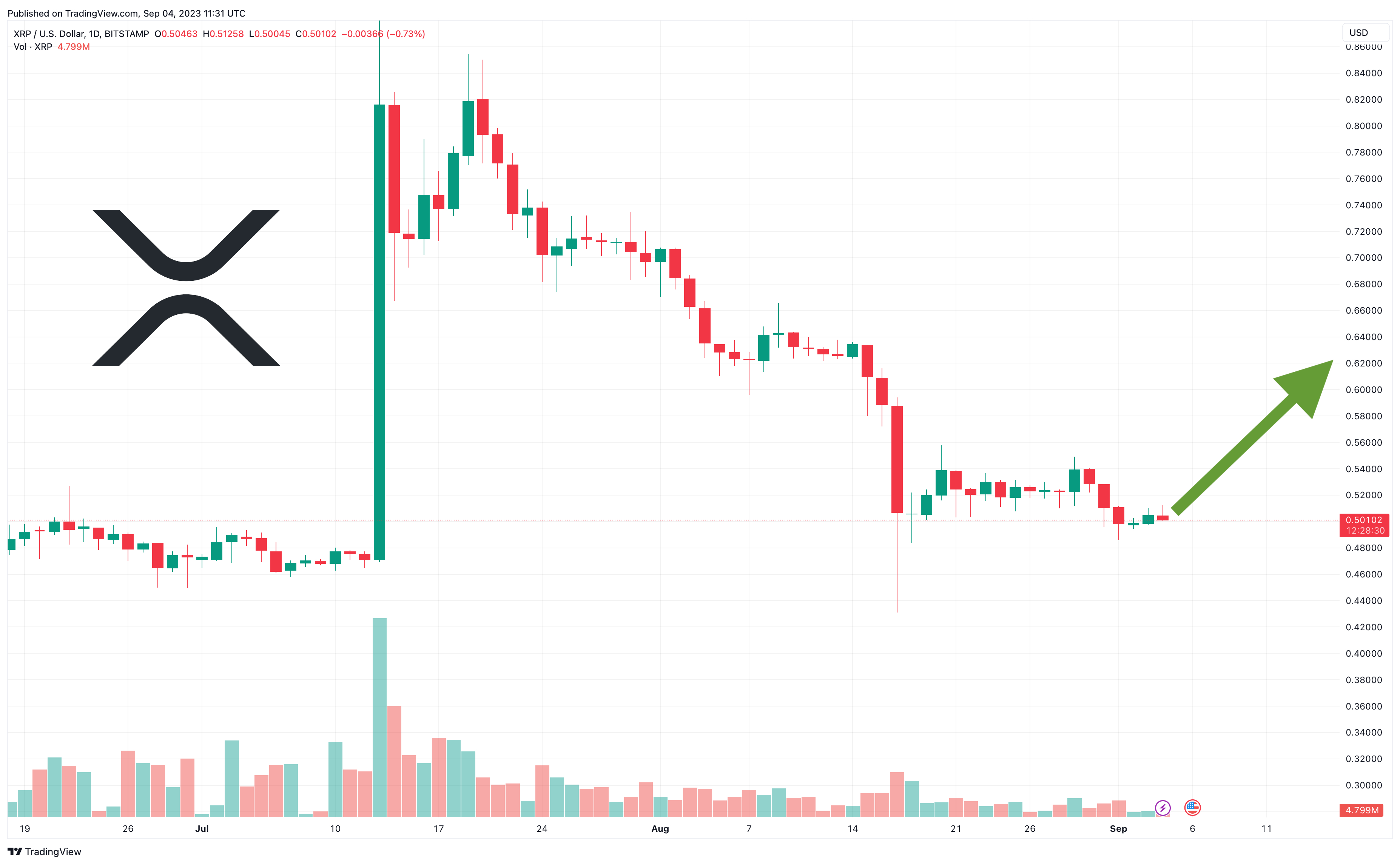 The XRP price has remained more or less stable today, with its 0.2% gain in the past 24 hours coming as the wider cryptocurrency market moves by a similarly modest percentage.
At $0.502512, XRP is down by 2% in a week and by 20% in the last 30 days, although the altcoin is still up by 47% since the beginning of the year, helped largely by Ripple's success in its legal case with the SEC.
And with XRP's 24-trading volume rising beyond $700 million today, the coin has enough liquidity and activity in its market to see further gains in the coming days.
XRP Price Prediction as $700 Million Trading Volume Comes In – Can XRP Reach $1?
Now would appear to be a good time to buy XRP, in that the coin remains oversold and undervalued, with its indicators suggesting that it should be rebounding anytime soon.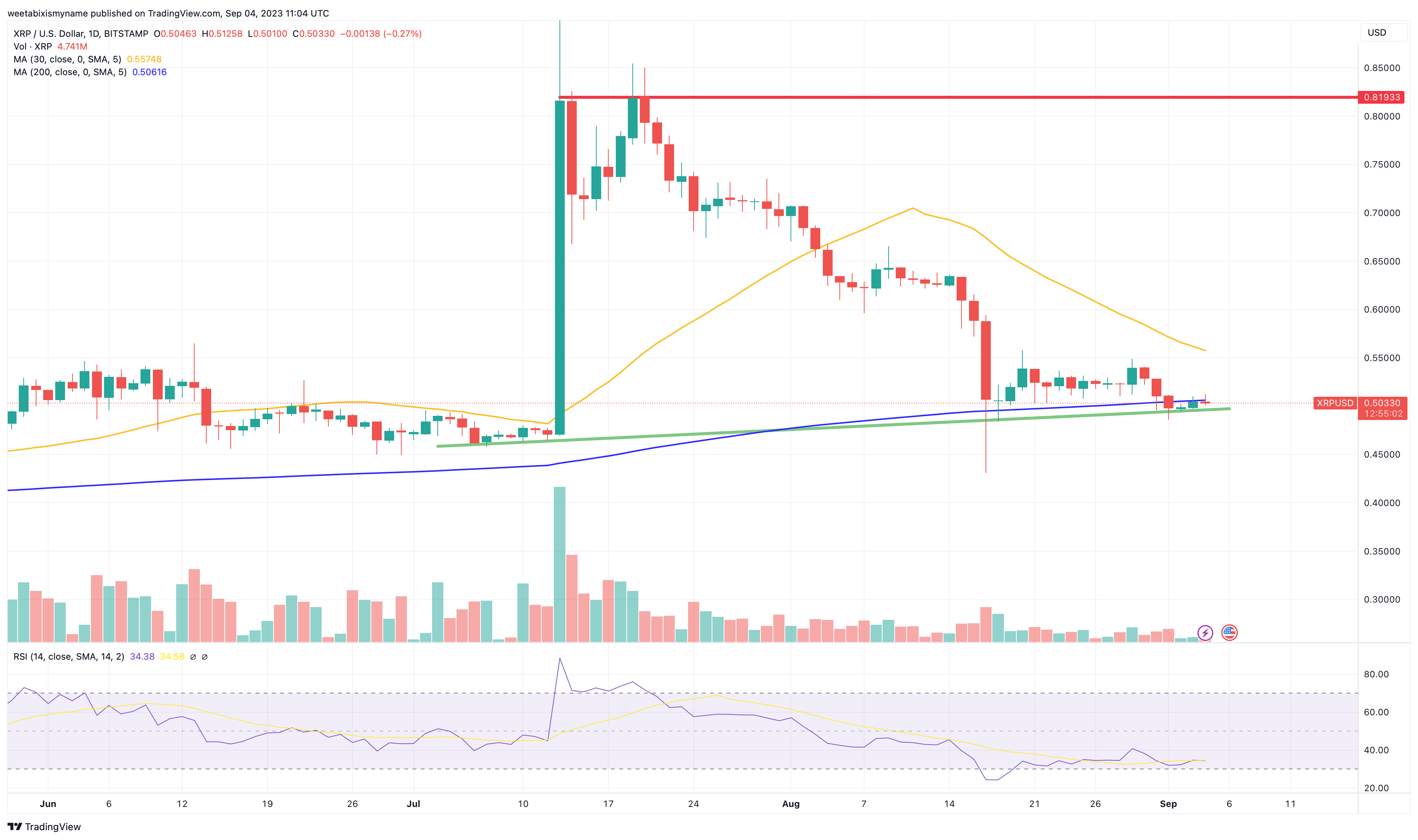 The key indicator to watch in this regard is XRP's 30-day moving average (yellow), which is only a few days away from dropping below its 200-day average (blue) and thereby signaling that the altcoin has reached a bottom.
In fact, XRP's relative strength index (purple) would suggest that the coin's bottom may already be here, given that this indicator has spent the past few weeks hovering around the 30 level.
This confirms what most traders would already suspect, which is that XRP is grossly undervalued relative to its 'fair' price, and that anyone who buys it now may end up enjoying sizeable profits in the not-too-distant future.
It's hard to say when such profits are likely to arrive, given that the market continues to be subdued in the face of weak macroeconomic indicators (e.g. the Chinese economy) and delays regarding Bitcoin ETF applications.
Such factors have weakened XRP (and the rest of the market) since mid-July, when Ripple celebrated receiving a largely positive ruling in its long-running battle with the SEC.
Yet the fundamental facts and ramifications of this ruling haven't changed, with Ripple and XRP both remaining in a distinctly stronger position than they were prior to July.
Indeed, XRP remains listed on US-based exchanges, which all immediately relisted the token in the aftermath of the ruling, and which continue to do so despite the SEC's (so far unsuccessful) attempts to file an interlocutory appeal against aspects of the ruling.
And Ripple also continues to be in a stronger position as a business, having signed several partnerships since the ruling, something which will utlimately result in more adoption for XRPLedger and XRP itself.
For this reason, we can XRP to hit $0.550 in the next few weeks and to return to $0.65 or $0.75 by the final couple of months of the year.
Faster Gains With Presale Tokens
While XRP's outlook remains mostly positive, the current instability of the overall market could mean that it witnesses only piecemeal gains over the next few weeks and monthts.
This means that many traders may opt to diversify into newer altcoins, in order to increase their exposure to potential upside and above-average rallies.
One promising area for such rallies resides with presales, with certain tokens set to rise big once they list on exchanges for the first time.
Probably the likeliest candidate to enjoy a big post-presale rally is Wall Street Memes (WSM), a new ERC-20 cryptocurrency that has raised more than $25 million in barely a couple of months.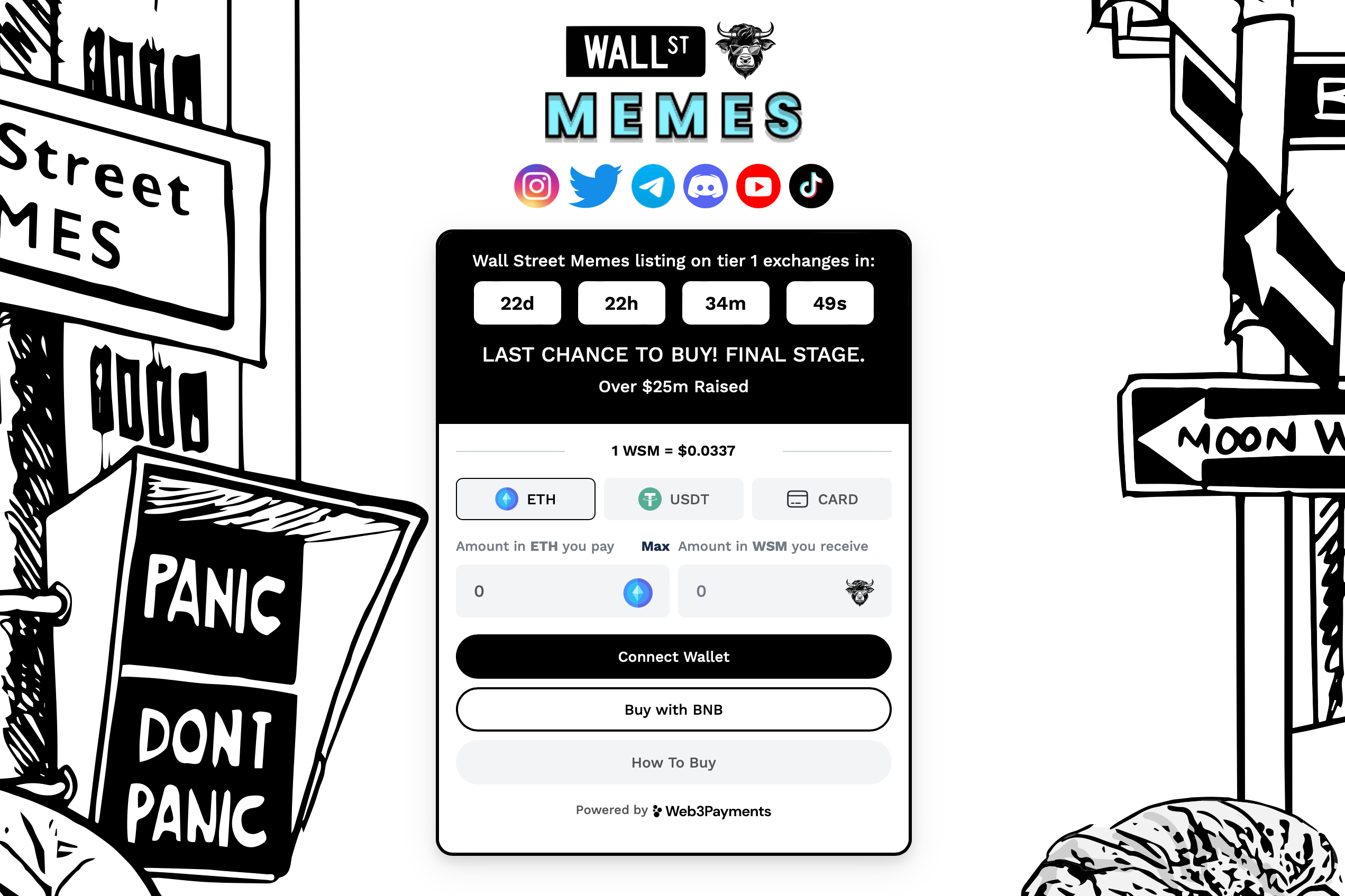 Appearing out of the meme stocks movement that spearheaded the GameStop and AMC rallies in 2021, Wall Street Memes has benefitted massively form having a ready-made community of followers and supporters around it.
A clear sign of this is provided by its Twitter account, which now boasts more than 268,000 followers, all of whom can be regarded as potential (if not actual) buyers and supporters of WSM.
The coin will come with a max total supply of two million, of which 50% has been allocated to the presale and 30% to community rewards, something which should help incentivize greater community involvement in the token.
As promising as WSM sounds as a meme token, new investors have only a limited time in which they can buy the coin at its discounted presale price, given that the sale is due to end in just over 22 days.
Newcomers can participate by going to the official Wall Street Memes website and connecting their crypto wallets, with 1 WSM costing $0.0337.
And promisingly enough, WSM is already set to list on several Tier 1 crypto-exchanges once the sale ends in the next few weeks, enabling its early investors to potentially make a tidy profit.
Disclaimer: Crypto is a high-risk asset class. This article is provided for informational purposes and does not constitute investment advice. You could lose all of your capital.
---