XRP Price Prediction as $2 Billion Trading Volume Comes In – Can XRP Hit $1 This Week?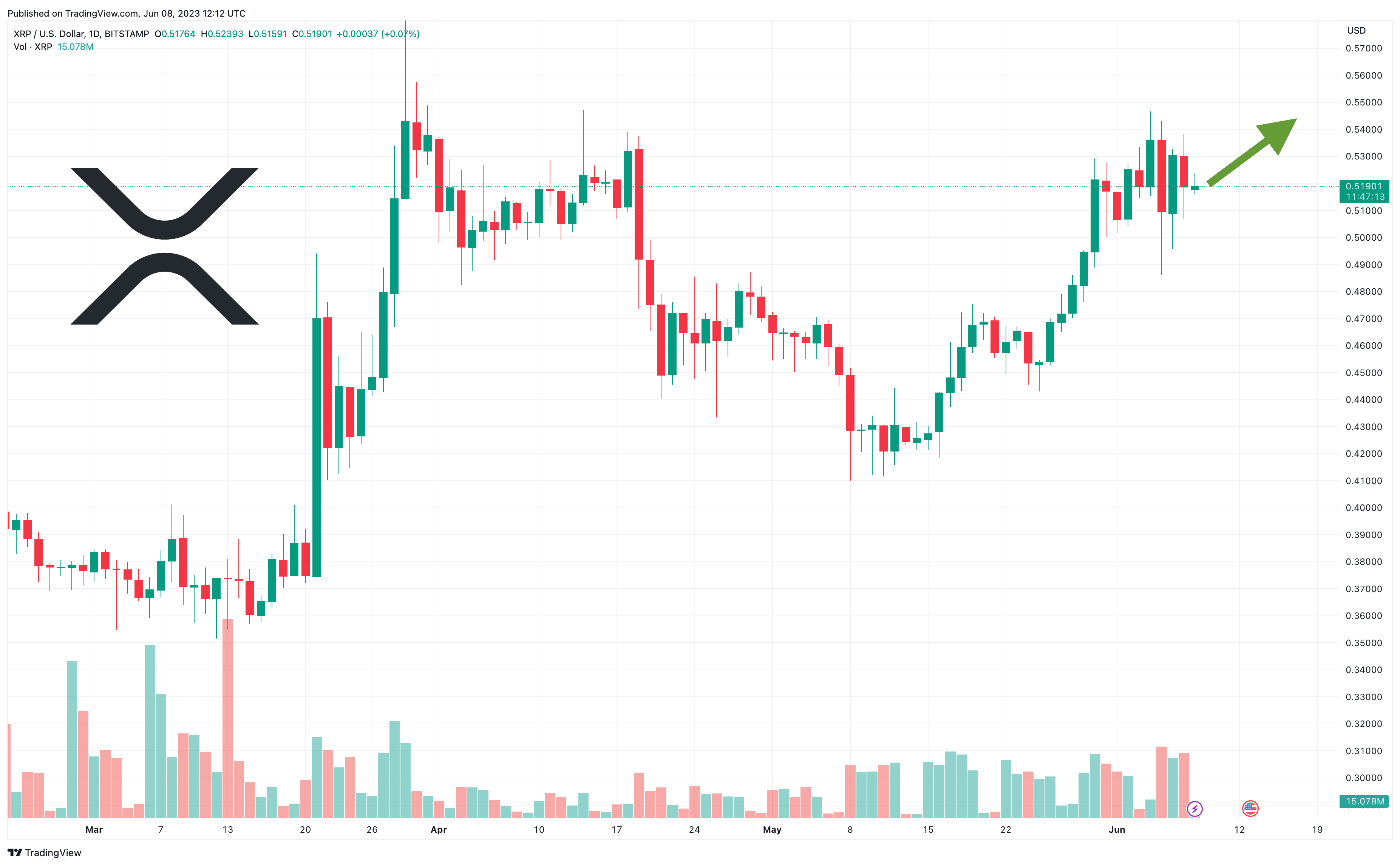 The XRP price has dipped today to $0.521650, representing a drop of 1% as the cryptocurrency market as a whole also falls in the past 24 hours.
However, XRP remains up by 3% in a week and by 22% in the last 30 days, with the altcoin also seeing its 24-hour trading volume remain close to the $2 billion level.
XRP's recent performance stands in contrast to much of the wider market, which has been badly affected by the SEC's legal actions against Coinbase and Binance.
But with observers expecting a Ripple victory in its own case against the securities regulator, XRP could be on the brink of much bigger gains soon.
XRP Price Prediction as $2 Billion Trading Volume Comes In – Can XRP Hit $1 This Week?
XRP's indicators are in a very positive position, with the altcoin actually up a little in the past hour, despite the 24-hour dip.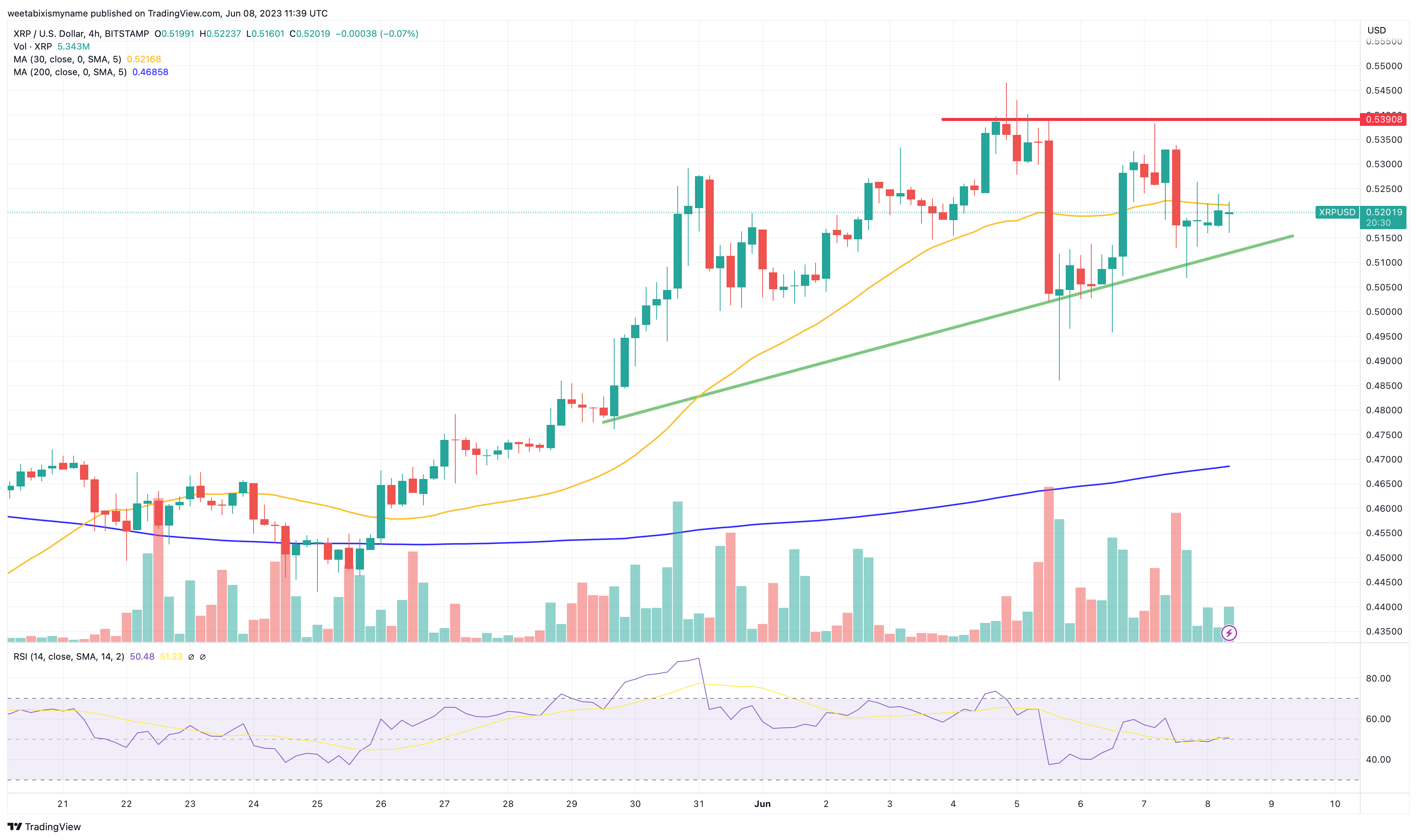 XRP's relative strength index (purple) has crept over 50 in the past few days, as it recovers from the market-wide impact of the SEC's latest enforcement actions.
This indicates some recovering momentum, as does XRP's 30-day moving average (yellow), which still remains elevated above its 200-day average (blue) and therefore suggests that the altcoin is likelier to continue rising in the near term.
Even more encouragingly, XRP's support level (green) has also been rising since late May, forming a pennant with its resistance level (red) that may result in a breakout.
And as noted above, there's every reason to believe that XRP could enjoy a major breakout in the not-too-distant future.
The main reason for this is that the Ripple-SEC case is expected to conclude soon, with most experts within the industry expecting the result to be a largely positive one for Ripple.
There are numerous recent developments that strengthen the argument that Ripple will secure a more or less favorable judgment, including last week's revelation that the SEC had previously received legal advice that XRP is not a security.
Then there's the court excluding an expert witness the SEC had called upon to help demonstrate that XRP buyers had formed a realistic expectation of profit, as well as the earlier ruling that Ripple could use a fair notice defense.
Taken together, such developments have heightened the sense that Ripple has done a good job in raising its chances of success.
Just as encouragingly, Ripple has also been able to grow its business in the past couple of years, even with the case casting a shadow over it.
Its recent financial reports have revealed healthy sales of XRP as part of its cross-border payment services, which have expanded into new countries and markets in recent months.
For this reason, a positive ruling could really see Ripple's business take off in the following months.
And with it, XRP may rally impressively, rising to $1 in the weeks following a conclusion and potentially hitting $2 by the time the year ends.
Fresh Altcoins, Fresh Rallies
As promising as Ripple's situation seems, it may still have to wait a few more months for a decision in its case, which obviously isn't guaranteed to end well for it.
Because of this, it may be advisable for traders to diversify into other altcoins, particularly newer ones that show promise and haven't yet enjoyed any major breakthrough rallies.
A good example of such a cryptocurrency is ecoterra, an Ethereum-based recycle-to-earn platform that has raised over $4.8 million in the presale for its ECOTERRA token.
Ecoterra's platform is due to launch later in the year, and it will reward users for recycling household waste at participating recycling points.
Such rewards will come in the form of ECOTERRA and non-fungible tokens, which can be resold by holders in order to earn a potential profit.
The platform will also incorporate a rewards system for users who provide proof of using renewable energy, while it will also include its own marketplace for NFT-based carbon credits.
Investors can buy into this promising ecosystem now by going to the official ecoterra website and connecting their software wallets.
1 ECOTERRA currently costs $0.00925, while it will climb to $0.01 in a little over 20 days, when it enters the next stage of its sale.
---