XRP Price Prediction as $1.2 Billion Trading Volume Sends XRP into the Green – Big Move Coming?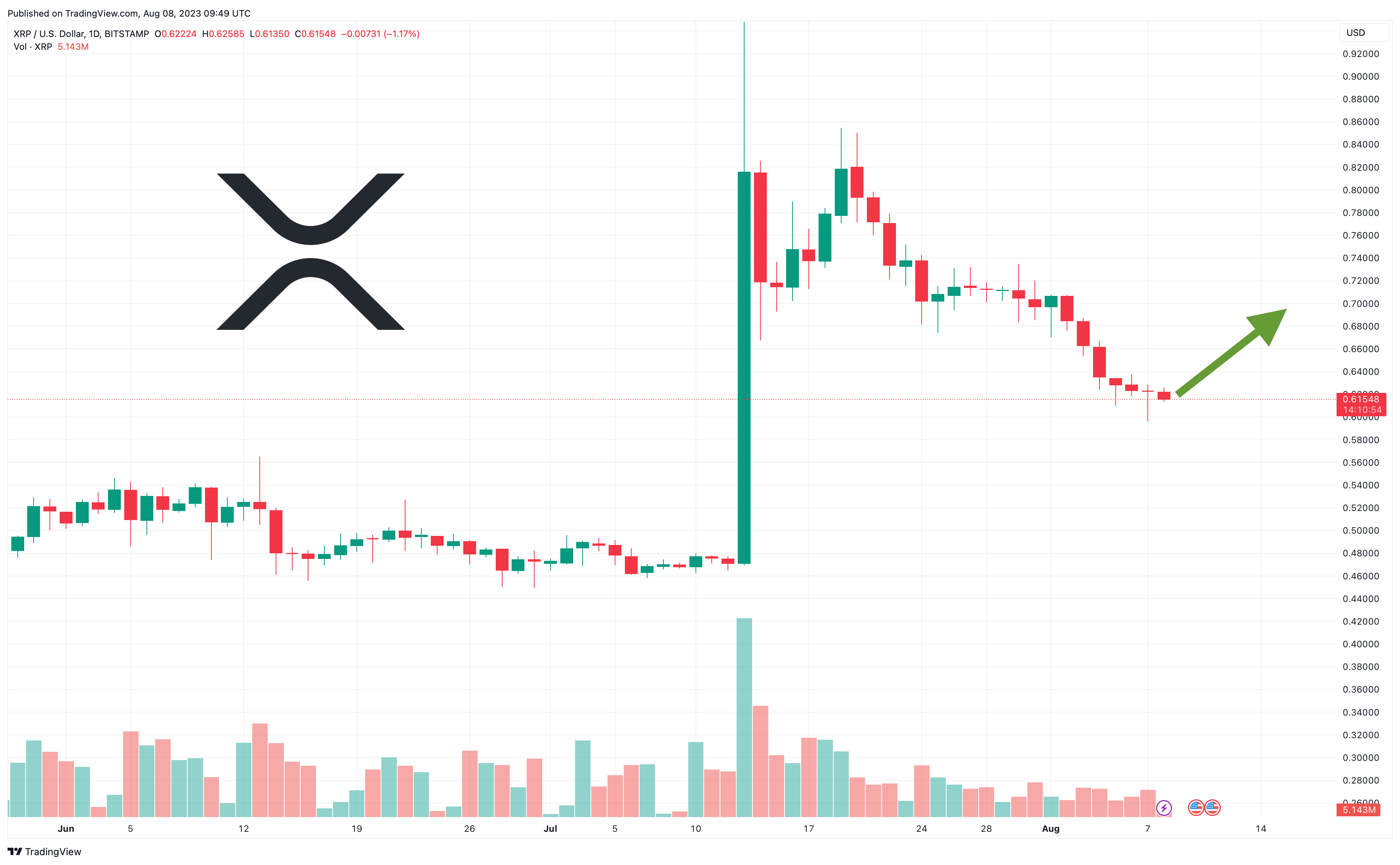 The XRP price has risen by 0.5% in the past 24 hours, with its move to $0.618192 coming as the cryptocurrency market as a whole barely budges today.
XRP is now down by 10% in the last seven days, but remains up by 31% in the past month and by 81% since the beginning of the year, following the largely positive outcome Ripple welcomed in July in its case with the SEC.
And with XRP's 24-hour trading volume rising beyond $1.2 billion today, there's a very good chance that the altcoin could see further gains in the next few days and weeks.
XRP Price Prediction as $1.2 Billion Trading Volume Sends XRP into the Green – Big Move Coming?
If there's anything good that can be said about XRP's chart and technical indicators, it's that they suggest the altcoin may have reached the bottom of its recent decline.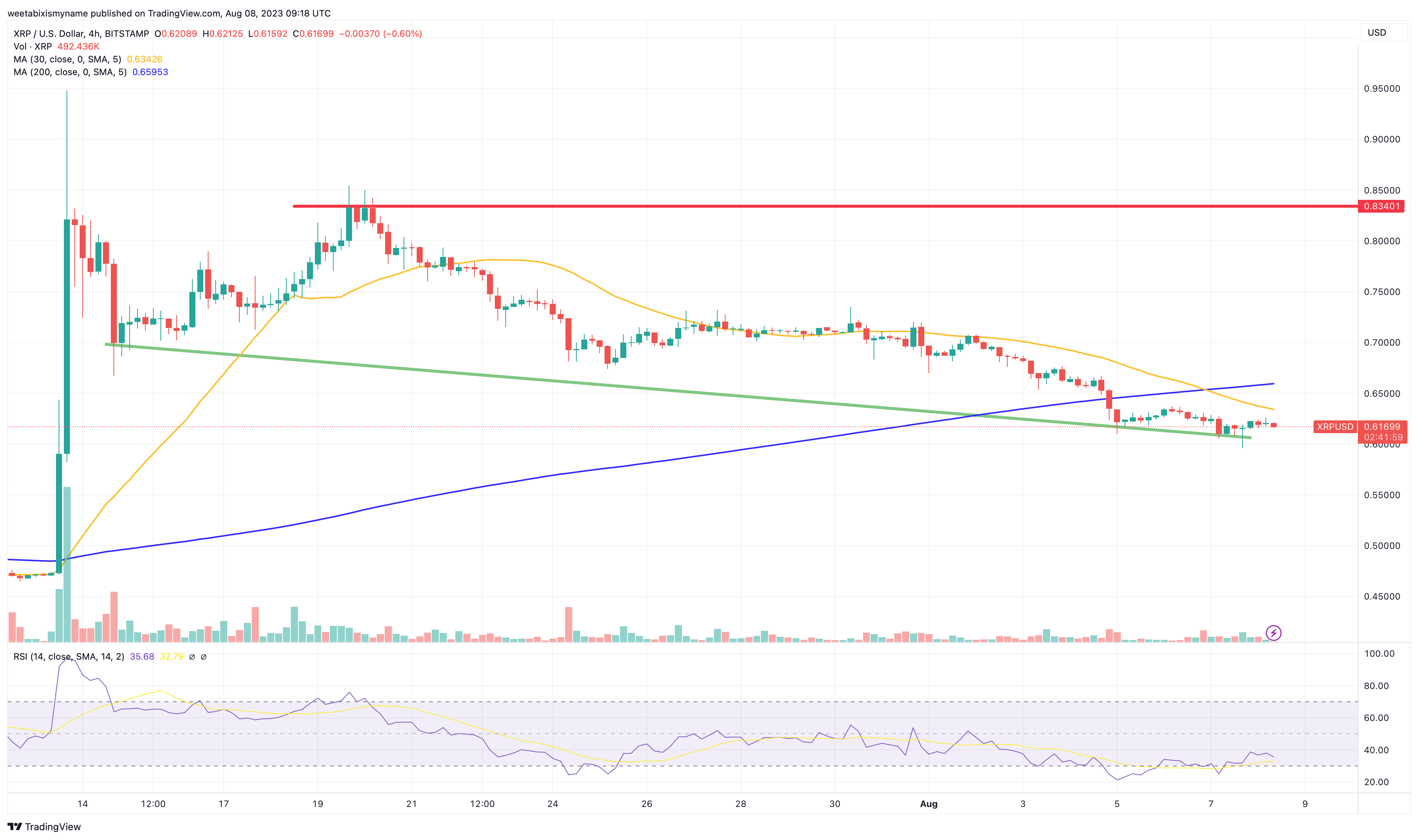 XRP's 30-day moving average (yellow) recently dropped below its 200-day average (blue), something which usually precedes a recovery.
Likewise, the coin's relative strength index (purple) fell to nearly 20 a couple of days ago, a position which can only really be followed by a correction upwards.
Of course, the real question concerns the timing of any recovery, with XRP's support level (green) continuing to slide down with each passing day, and having declined ever since the coin's surge in the middle of July.
It's possible that XRP could fall a little further before the inevitable recovery happens, especially when the wider market appears to be going through a period of low optimism and bearishness.
Such bearishness doesn't change the fact that XRP remains in a fundamentally strong position, however, with the coin still likely to see sustained growth in the wake of Ripple's partial victory over the SEC in July.
Many holders and XRP supporters expect the coin to make big moves in the not-too-distant future, an expectation given credibility by the fact that Ripple appears to be expanding more aggressively now that its case with the SEC has effectively ended.
For example, not only did the company begin a partnership with the Republic Palau in the past few weeks, but yesterday also saw the announcement of a tie-in with Rocky Mountain that will see both firms develop an open data platform for carbon credits.
The last month has also seen the Bank of England cite Ripple and XRPLedger as one likely platform for a CBDC, underlying the extent to which Ripple could really expand in the next one or two years.
As such, expect XRP to recover from its little blip and enjoy sustained growth over the medium- and long-term, potentially hitting $0.80 or higher by the end of the year.
New Altcoin for Investors Who Missed XRP
As bright as XRP's future now looks, it may take some time for the coin the see sustained rises, leaving shorter-term traders having to turn elsewhere for big rallies.
Fortunately, this year has provided a healthy supply of new altcoins that have comfortably outperformed the market, including presale tokens that have surged upon listing.
Possibly the next presale token in line for a post-listing surge is XRP20, a new ERC-20 token that has already raised just over $1.1 million in its presale, which started only last week.
There are two things in particular that are interesting about XRP20, with the first being that its sale has priced it at $0.000092, which was chosen because it was the price XRP itself reached back in 2014.
The second interesting thing is that, as an Ethereum-based token, XRP20 provides a version of XRP that's open to staking, thereby providing its holders with the chance to earn passive income via staking.
XRP20 will come with a total maximum supply of 100,000,000,000, with 40 billion up for grabs during its presale and another 40 billion being reserved for staking rewards.
Making XRP20 more interesting is its tokenomics, with 10% of its total supply set to be burned over time, on top of 0.1% of every transaction also being destroyed.
Over time, such burning should help squeeze XRP20's price upwards, as demand for the coin exceeds its supply.
Fortunately, investors can buy it early and at a discount by visiting XRP20's official website and connecting their software wallets.
Disclaimer: Crypto is a high-risk asset class. This article is provided for informational purposes and does not constitute investment advice. You could lose all of your capital.
---