XRP Price Prediction as $1 Billion Trading Volume Floods In – Time to Buy?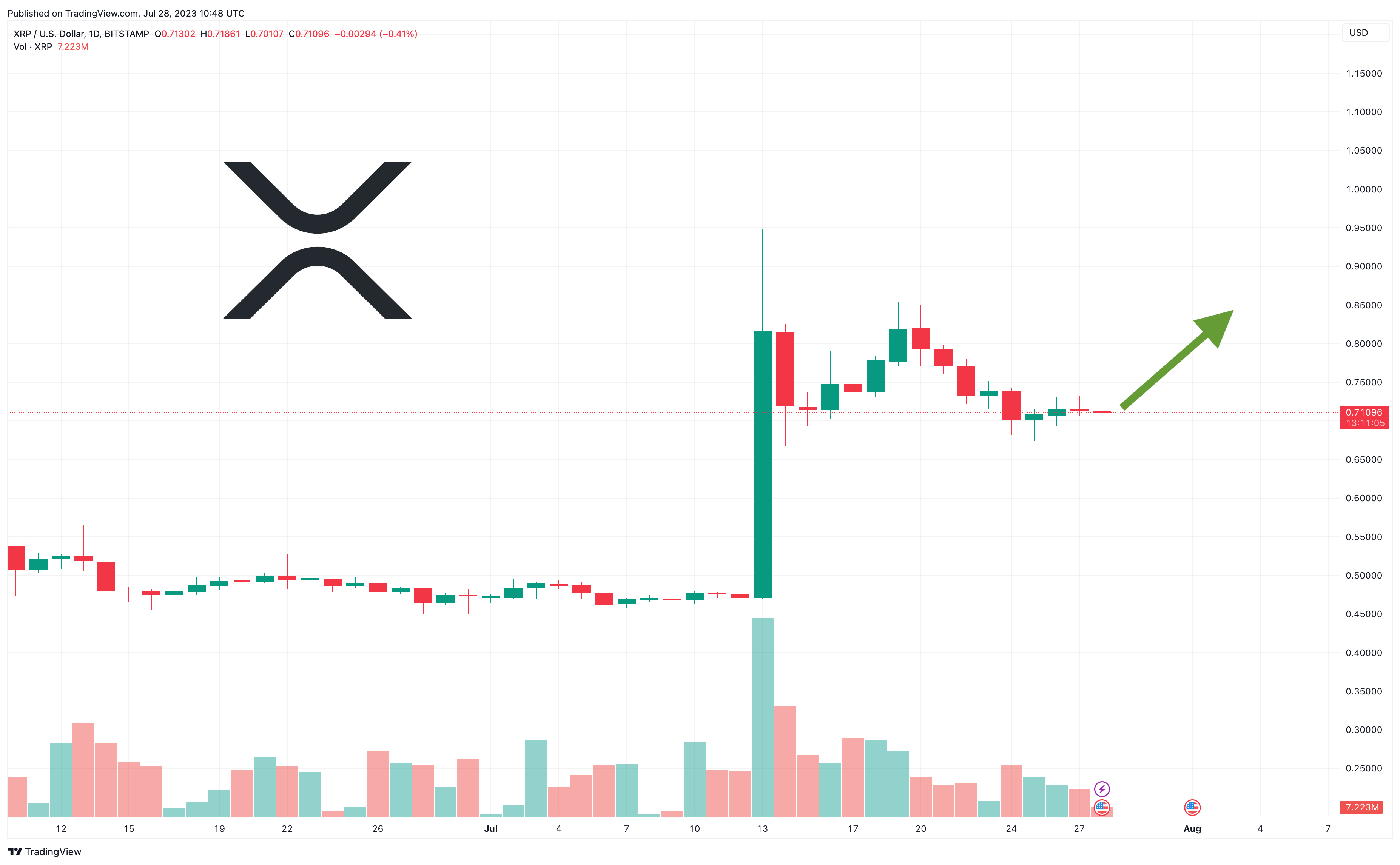 The XRP price has recovered a little in the past hour after falling by 0.5% in day, with its current level of $0.711867 marking an 8% loss in the last seven days.
Despite the correction it has suffered in the past week or so, XRP remains up by 50% in a month and by more than 100% since the beginning of the year, following a positive outcome for Ripple in its case against the SEC.
And with XRP's 24-hour trading volume remaining above $1 billion, there's still plenty of scope for the altcoin to launch more rallies in the coming days and weeks.
XRP Price Prediction as $1 Billion Trading Volume Floods In – Time to Buy?
While XRP hasn't had a great time over the past week, its chart suggests it's now in a position where it could see some rebound rallies in the next few days.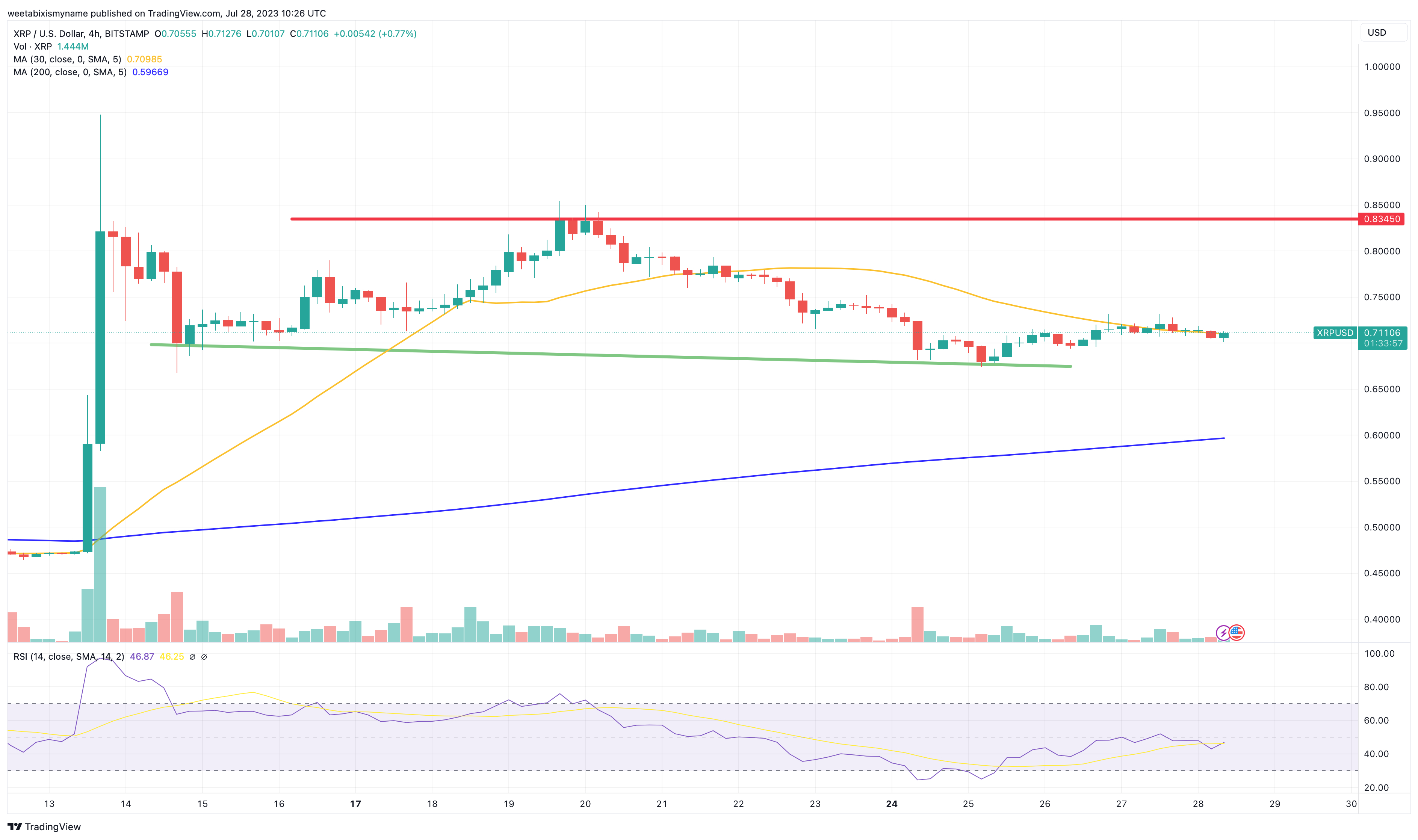 The altcoin's relative strength index (purple) has recovered to 50 after dropping below 30 earlier in the week, meaning that it has gone from being oversold to regaining some buying momentum.
Similarly, XRP's 30-day moving average (yellow) has stopped falling and looks as though it could begin rising further above its 200-day average (blue), a move which would also indicate incoming price gains.
Having said that, traders should be mindful that XRP's support level (green) has largely fallen since the coin rallied in the middle of July, so it's possible that we could see further losses before it returns to growth.
These misgivings aside, there's no doubt that XRP is in a great position in terms of its fundamentals, now that Ripple has secured a largely positive result in its case with the SEC.
With the judge declaring that Ripple's sales of XRP on exchanges did not amount to the offering of unregistered securities, US-based trading platforms have been relisting XRP, which – along with Ripple itself – has effectively received the green light to continue growing again.
Indeed, this week Ripple celebrated a new partnership with the Republic of Palau, where it will be helping with the trial of a stablecoin running on the XRPLedger.
It's likely that other partnerships will soon follow in the next few months, with Ripple also announcing a partnership with South Korea-based tech consultancy Catalyze Research, which together with the cryptocurrency firm will explore ways of expanding XRPLedger's presence in the Asian nation.
Such developments are highly promising, and they point to a future in which Ripple's cross-border operations will boost adoption of XRP, which would rise accordingly in price.
From its current position of around $0.711867, XRP could reach $0.80 in the next few weeks, before celebrating the New Year at around $1.
Profit With Presale Tokens
While XRP remains in a good position, it can always help traders to diversify their portfolios, particularly when there are new coins in the market that could be in store for market-beating gains.
This is especially the case with presale tokens, with the strongest of these potentially in line to rally substantially once their sales end and they list.
A prime candidate for such rallying is Wall Street Memes (WSM), a new ERC-20 token that has already raised more than $18.2 million in its presale, which began last month.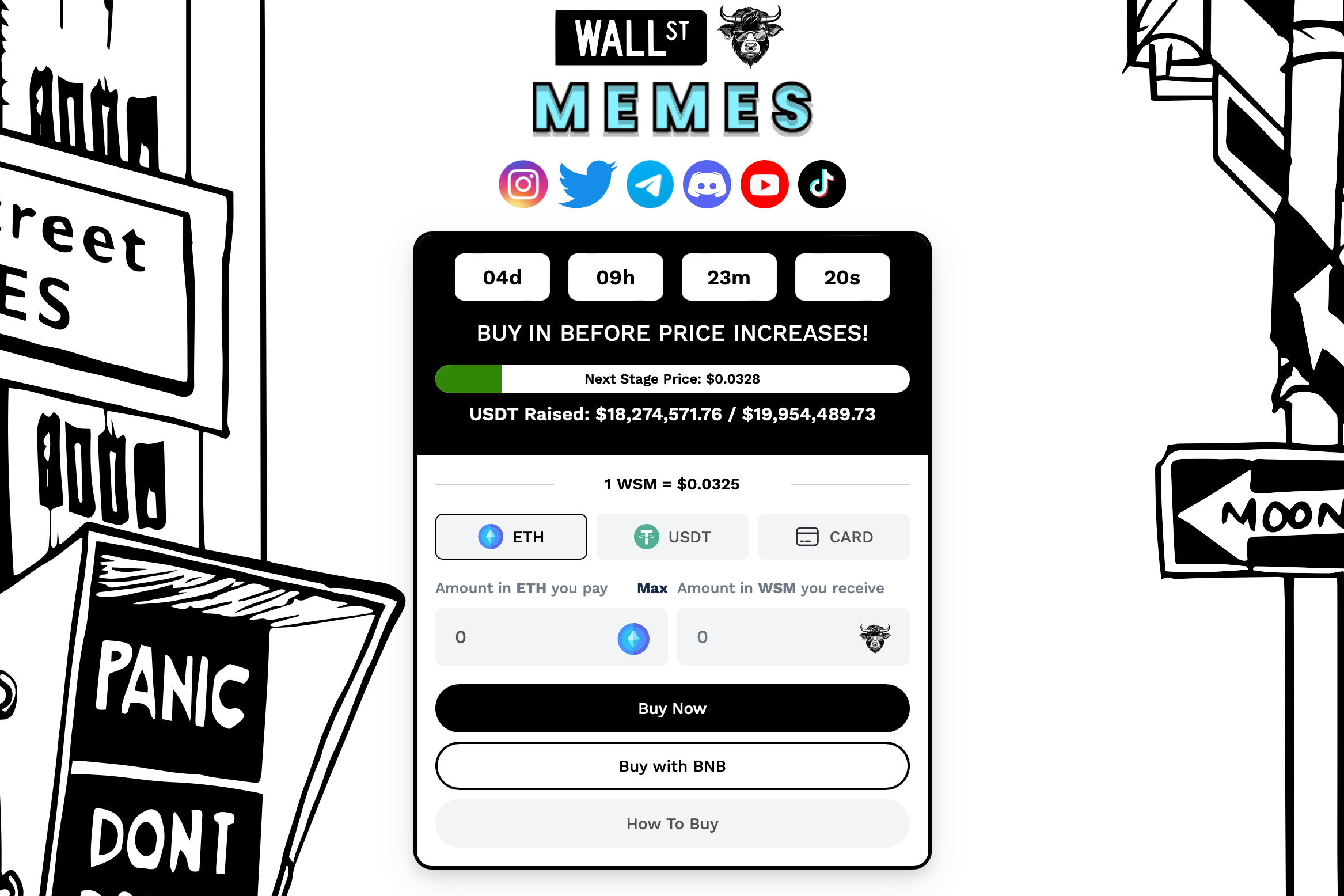 With strong links to the meme stocks movement, Wall Street Memes has clearly been able to assemble a substantial online community, with its Twitter profile counting over 256,000 followers.
What's significant about this is that, with a strong community behind it, Wall Street Memes has the key ingredient to be a successful and sustainable meme token, as suggested by the runaway success of its presale.
With its supply capped at two billion WSM, Wall Street Memes has allocated 30% of this total supply to community rewards and 50% to the presale, ensuring a high level of decentralization.
This protects it against dumps and also helps to incentivize greater community involvement and investment, something which should help support WSM's price over the long run.
New investors can get involved in the WSM sale by visiting the official Wall Street Memes website, where 1 WSM currently costs $0.0325.
This price will rise to $0.0337 by the end of the sale, with WSM expected to list on exchanges in the next few weeks, at which point it could enjoy a hefty rally.
Disclaimer: Crypto is a high-risk asset class. This article is provided for informational purposes and does not constitute investment advice. You could lose all of your capital.
---