XRP Price Prediction as $1 Billion Trading Volume Comes In – Can XRP 10x From Here?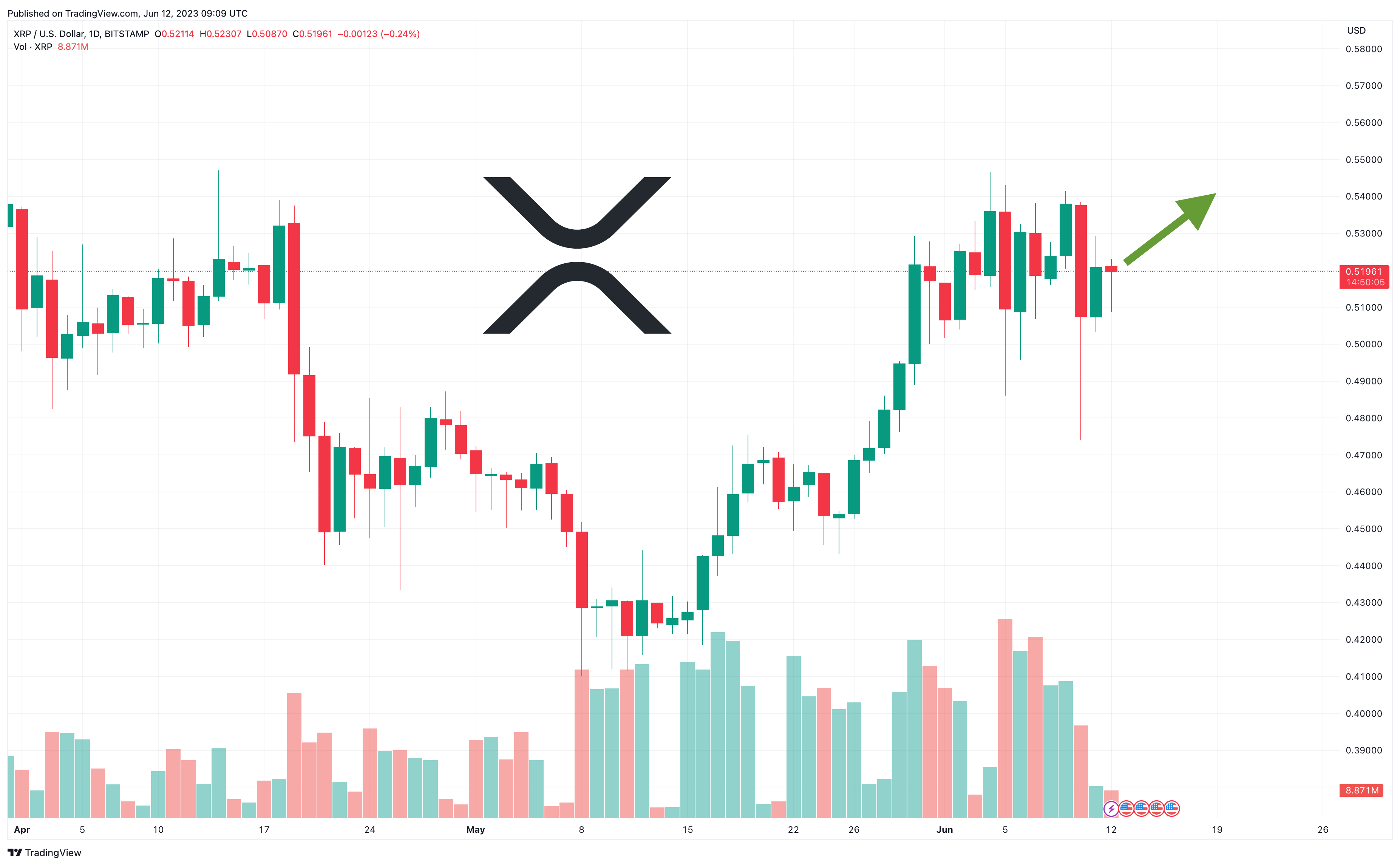 The XRP price has risen by 1% in the past 24 hours, recovering to $0.516186 after a weekend in which the exit of market makers from Binance caused altcoin prices to fall by more than 25%.
XRP is now down by 3.5% in the past week but still up by 20% in the last 30 days, with the altcoin having risen by 51% since the beginning of the year.
While the SEC's actions against Binance and Coinbase have left the market unstable at the moment, XRP is in a stronger position than most other alts, because Ripple's own case with the SEC is due to end in the next few months.
And if this case ends positively for Ripple (which many observers expect it will), then XRP could rally massively in the following weeks.
XRP Price Prediction as $1 Billion Trading Volume Comes In – Can XRP 10x From Here?
XRP's chart makes for more positive reading than the charts of many other alts, even if its indicators are in a mixed position at the moment.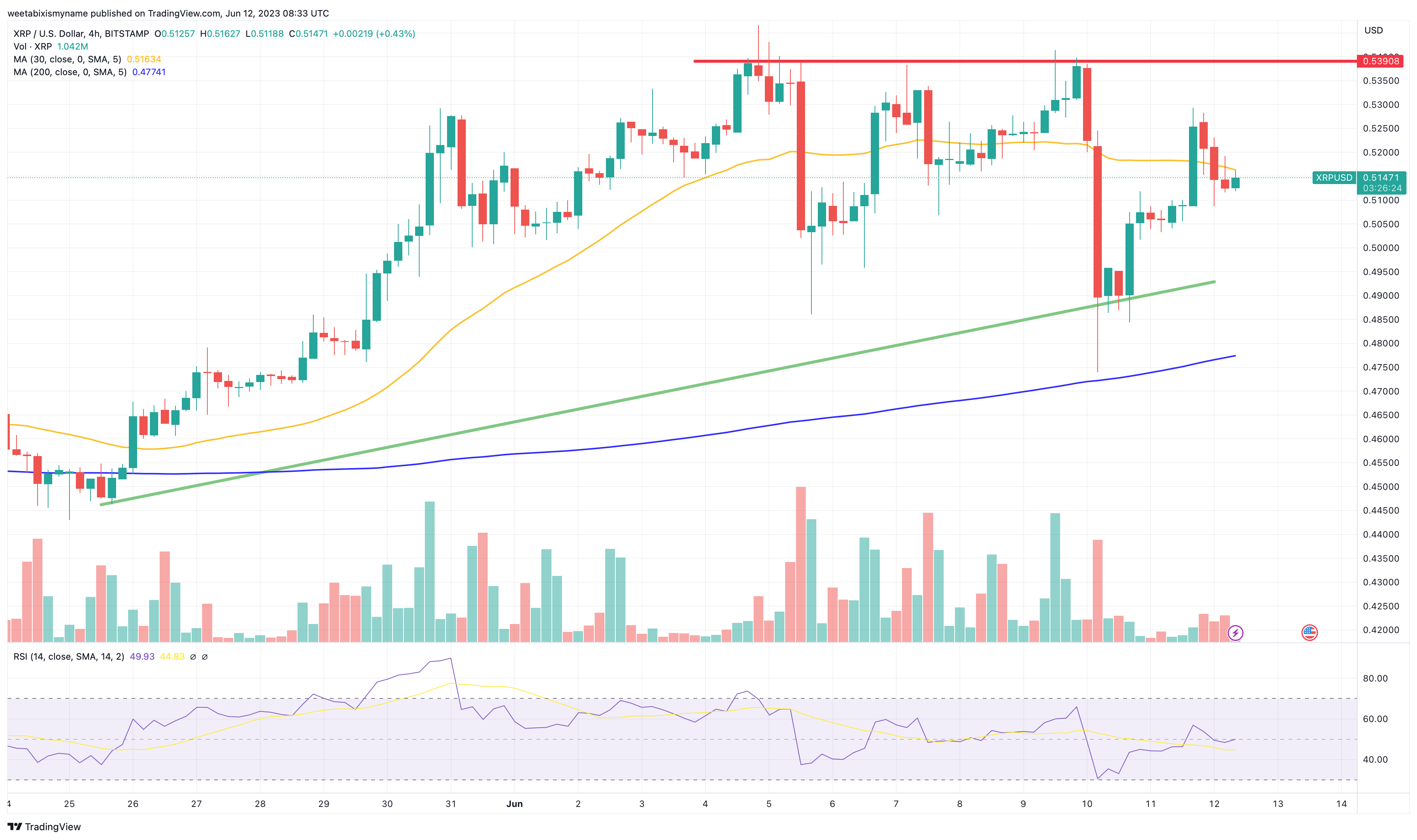 Its relative strength index (purple) has picked up again to 50, after spending the weekend very close to 30, which is indicative of overselling.
This suggests that XRP is regaining a little of its former momentum, although its 30-day moving average (yellow) has begun sliding downwards after the weekend's troubles, something which can signal further losses to come.
Still, XRP's support level (green) has actually risen in the medium term, providing some degree of reassurance that the altcoin isn't likely to fall much lower than it did on Saturday.
And looking at XRP's own particular situation and fundamentals, it's well-positioned to weather the SEC- and Binance-related fallout and enjoy additional gains in the not-too distant future.
As we've noted on numerous occasions in the past few weeks, developments in the Ripple-SEC case have largely been very positive for Ripple, hinting that it may see a result that benefits its.
For one, emails were submitted to the court in the past couple of weeks that revealed the SEC had received legal opinion that XRP was not a security, a revelation which undermines the regulator's argument that Ripple had sufficient fair warning of a probable legal action.
Ripple has also seen a number of other positive developments in the past few months, including the court excluding an expert witness called by the SEC, while also denying the regulator's demands to exclude Ripple's own witnesses.
Because of this, there's a real sense that Ripple has a good chance of securing the kind of judgment or settlement that enables it to continue as a business, and which enables exchanges to list XRP.
This would be massive for XRP, which would likely see a big rally in the weeks following a judgment.
It could quite conceivably rise from its current level of about $0.51 to $1 in the shorter term, while seeing a big, longer term rally to $5 during the next bull market.
Diversifying With New Alts
There's no doubt that XRP will surge if Ripple gets something close enough to a win, yet such an outcome certainly isn't guaranteed.
For this reason, investors may be advised to diversify their portfolios into newer altcoins, which don't have legal actions hanging over them and which haven't yet seen big rallies.
Presale tokens in particilar hold out the potential for big gains, seeing as how sales end with the corresponding coin listing on exchanges.
Possibly one of the most promising presale tokens in the market right now is Wall Street Memes (WSM), a new altcoin allied with the meme stocks movement, which was famously responsible for the 2021 GameStop and AMC rallies.
Wall Street Memes launched the presale for its WSM token a few weeks ago, and has already raised more than $6.2 million.
This shows how much interest it has already generated, and while it is a meme token without any substantial utility, it appears to already boast a strong following and community, which is vital for supporting its price in the long run.
Its Twitter has more than 229,000 followers, which again shows its ability to attract the cryptocurrency community.
With its presale currently in its 12th stage, 1 WSM now costs $0.0283, although this price will rise to $0.03370000 by the time the 30th and final stage begins.
Investors can join the presale by visiting the official Wall Street Memes website and connecting their crypto wallets.
The presale is due to end in the next couple of months, at which point WSM will list on exchanges, potentially earning its early investors a significant profit.
---