Worldcoin to Stop Using USDC for Orb Operator Rewards – Here's the Latest
Disclosure: Crypto is a high-risk asset class. This article is provided for informational purposes and does not constitute investment advice. By using this website, you agree to our terms and conditions. We may utilise affiliate links within our content, and receive commission.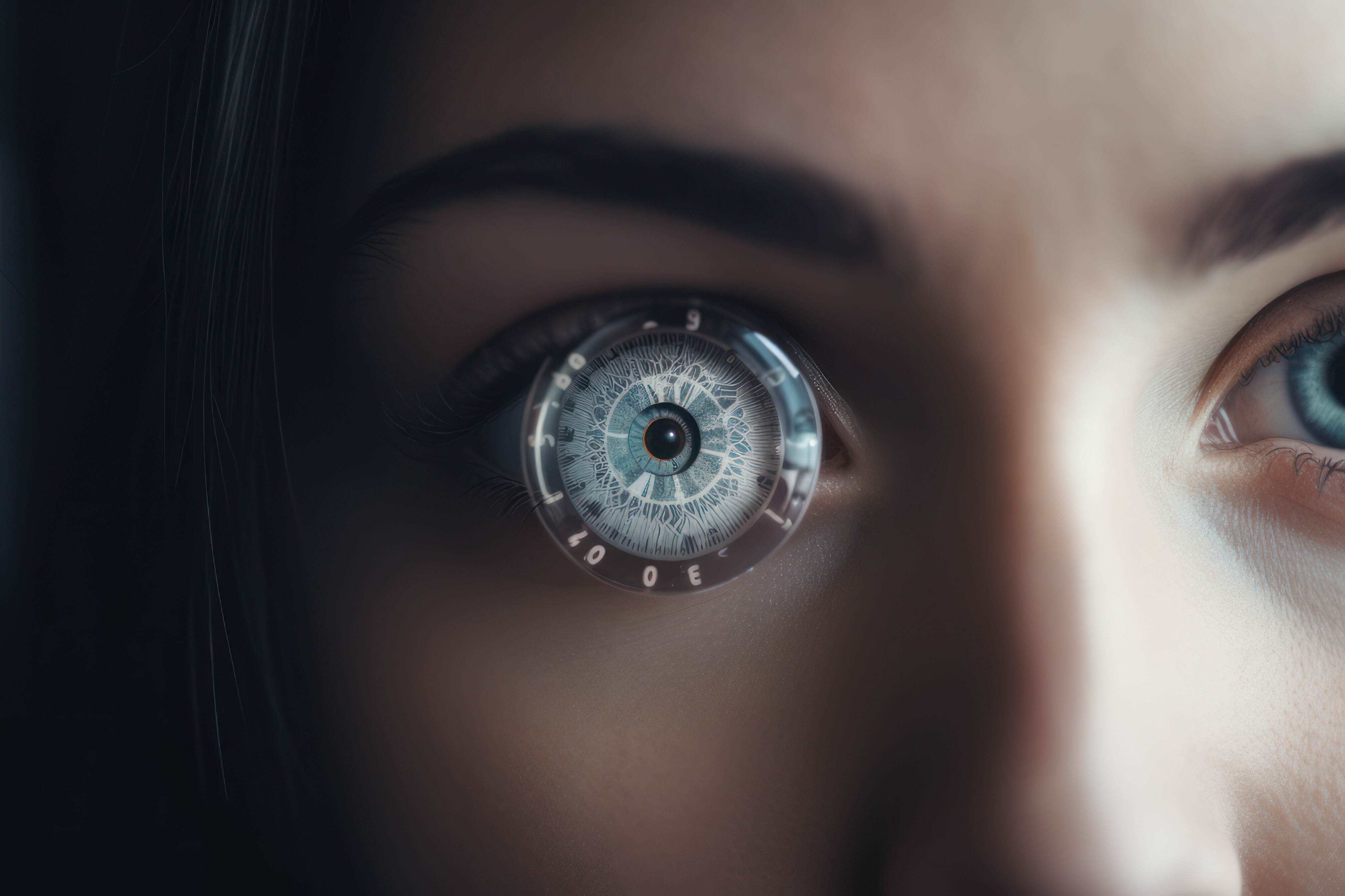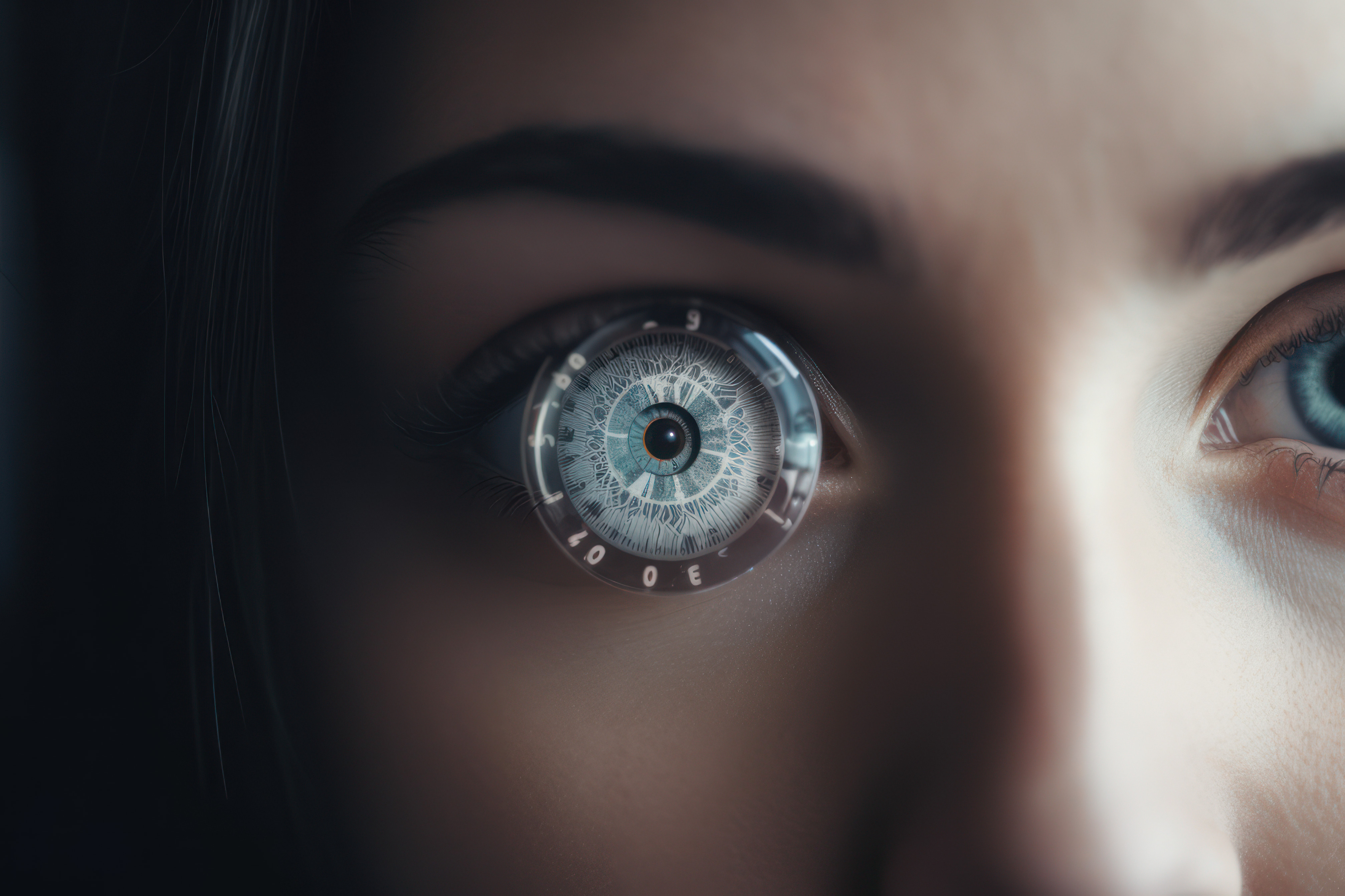 The Worldcoin Foundation has announced a major change in the reward system for the Orb device operators: they are now paid in WLD tokens instead of the popular stablecoin USD Coin (USDC).
Ecosystem contributors, known as the Worldcoin Operators, have been paid in USDC during what has been a post-launch "transitional phase".
As this phase is ending, the Foundation is moving away from the stablecoin.
On October 10, the Worldcoin Foundation started a pilot program wherein rewards to "select Operators" are paid out in Worldcoin (WLD).
These rewards are also contributing to the circulating supply of WLD, it noted.
According to the Sunday announcement,
"In November 2023, the Worldcoin Foundation expects that the transition process will be completed such that all Operators will receive WLD going forward."
The Worldcoin Operators are independent ecosystem participants who operate custom imaging devices called Orbs and receive rewards for verifying "people's uniqueness and humanness."
The WLD token was launched on July 24 and is not available to individuals or companies who are residents or are located in the United States and "certain other restricted territories."
Since the token launch, more than 800,000 Orb-verified users have claimed around WLD 34 million in free user grants, the Foundation stated.
This, it said, resulted in the growth of the circulating supply from WLD 100 million to WLD 134 million (1.34% of the 10 billion total supply).
The Worldcoin Foundation said that,
"As of October 22, 2023, the circulating supply is composed of (a) 100M WLD in loans extended to market makers, (b) approx. 34.3M WLD in claimed user grants and (c) a small amount of WLD that has been received by Operators as Operator rewards so far."
WLD in Red
At the time of writing (9:15 UTC, Monday morning), WLD was down 5.2% in a day, trading at $1.54. It is down nearly 3% over the past week and almost 2% over the past month.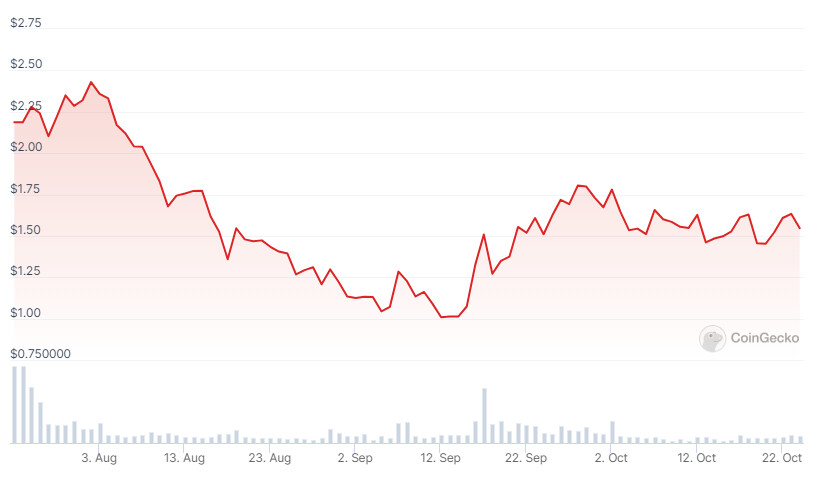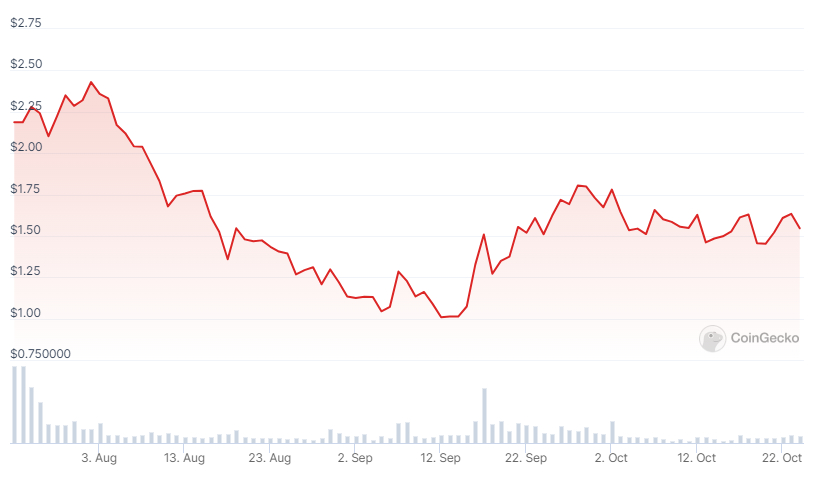 It saw its all-time high of $3.30 on the day of its launch, falling 53% since. Its all-time low, however, was $0.97 recorded in September – the price is up 59% since then.
According to CoinGecko, WLD is the 146th coin by market capitalization, with $207.2 million.
A Foundation subsidiary called World Assets Ltd. signed loan agreements at launch with five market makers operating outside of the US to "ensure sufficient liquidity" for the WLD tokens traded on centralized exchanges outside that country.
The five entities received loans of WLD 100 million, due to expire on October 24.
The subsidiary has extended the loan agreements until December 15, with a reduced loan amount of WLD 75 million.
This means that it will return WLD 25M million this Tuesday – or purchase a token amount up to the loan amount to be returned – resulting in a reduction of the circulating supply.
____
Learn more:
– Kenyan Authorities Accuse Worldcoin of Espionage and Statehood Threats
– French Data Watchdog Conducts 'Inspections' at Worldcoin's Orb Center in Paris

– Worldcoin Faces Global Regulatory Hurdles Amid Expansion
– Worldcoin Sets New Sign-Up Record in Argentina Despite Ongoing Investigation Over Data Privacy
---