5 Upcoming NFT Projects to Buy as an Early Investor
Disclosure: Crypto is a high-risk asset class. This article is provided for informational purposes and does not constitute investment advice. By using this website, you agree to our terms and conditions. We may utilise affiliate links within our content, and receive commission.
Disclaimer: The text below is an advertorial article that is not part of Cryptonews.com editorial content.
Even with the price of Bitcoin tanking alongside rising interest rates, many NFT projects continue to drop their collections in the hope that investors will buy into their vision.
Obviously, most of these projects are set up to fail and provide little utility for their investors – if any. However, there are still a handful of projects that are worth keeping an eye on. These projects are likely to have strong and experienced teams or groundbreaking projects that will help shape how NFTs are used in the future.
Unfortunately, finding promising projects to buy as an early investor can be quite time-consuming and challenging. Luckily, we have done the research for you.

Here are five upcoming projects to buy as an early investor.
The Top 5 Upcoming NFT Projects to Buy as an Early Investor
Cocky – An exclusive lifestyle club providing access to world-class music events
YogaPetz – A collection of NFTs focused on Yoga and mindfulness
ArtGobblers – A novel art project for NFT artists
Probably A Label – A promising web3 music platform
MetaBeat – A music NFT project focused on K-Pop.
A Closer Look at the Top 5 Upcoming NFT Projects to Buy as an Early Investor
Cocky
Cocky is an exclusive lifestyle club that grants all of its NFT holders access to world-class music events. Suppose you're a fan of electronic music and enjoy traveling to unconventional locations across the globe. In that case, the Cocky Can NFT is an upcoming project for you to buy as an early investor.
Their NFT collection consists of 10,000 Cocky Can NFTs that depict a soda can with 51 different skin variations. In addition to the skin variations, Cocky Can NFTs also come with three different colored lids to represent the different tiers of benefits received by the holder. The lids can come in Silver, Gold, or Black.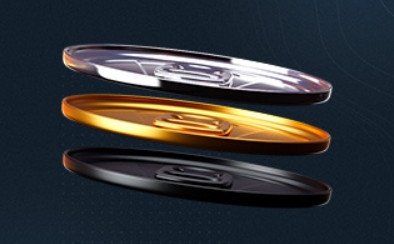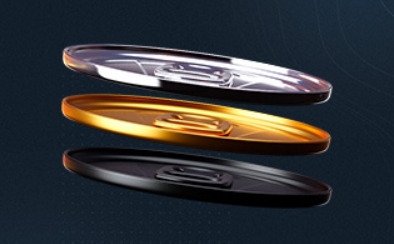 Depending on your tier, you are entitled to the following benefits as an NFT holder;
Accommodation provided by Cocky at their events
Subsidized transport to get to the event
Additional invites to bring along friends
Bar tabs to enjoy at the event
Exclusive merchandise
In addition, one lucky holder will randomly receive a black Cocky Can NFT, which is the rarest in the collection. The holder of this NFT will receive VIP benefits at Cocky events for perpetuity.
Cocky has created an exciting and novel feature for their utility NFTs, dubbed Mutations. These Mutations are stamps that appear on the background of the NFT each time the holder attends one of the Cocky events or participates in the ecosystem.
The Mutations allow holders to write their own stories on their NFTs regarding their journey through the Cocky ecosystem, eventually making every NFT totally unique over time. The NFTs with the most mutations are likely to be the most sought after and will become highly desirable as time progresses.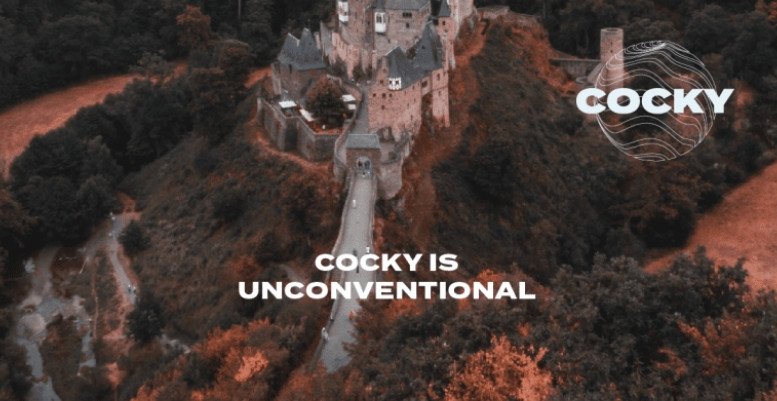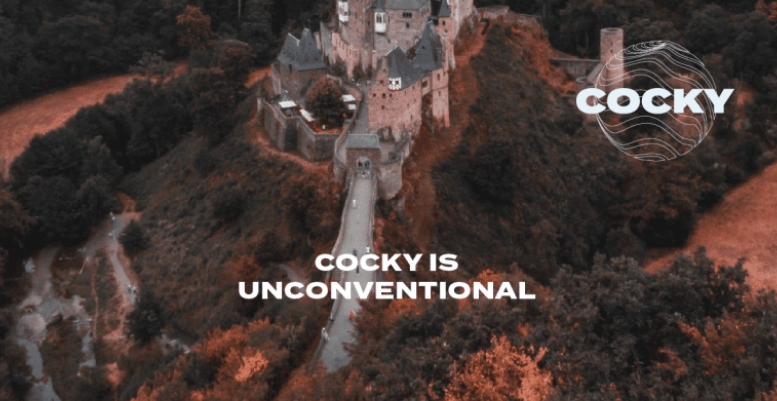 One great feature regarding the Cocky events is that they occur in unconventional locations. Their shows won't be held in muddy farmer's fields or run-down warehouses. Instead, all Cocky events are held in prestigious locations that pay a particular focus on the location's landscape, culture, and history.
Due to the inherent capacity restrictions at these locations, ticket volume will be issued depending on the venue's capacity. Therefore, Cocky Can NFT holders must quickly register their interest in attending the events.
If a Cocky holder receives a ticket and cannot attend, they will have the opportunity to sell their ticket on the custom-built secondary market. However, to level the playing field and provide extra utility, only those with a Cocky NFT are eligible to purchase a ticket on the secondary market.
Cocky plans to host at least two in-person events annually, with additional regular virtual events. Cocky has the goal to grow its community by throwing bigger and better events over time. Eventually, they hope their events will become as famous as top-tier festivals such as Coachella, opening up their ticketing to the general public. However, the VIP benefits will still only ever be reserved for their Cocky Can NFT holders.
The NFTs are scheduled to be minted on the Ethereum Network sometime in Q4 2022, providing you with the opportunity to buy into the project as an early investor. Keep an eye on their social media accounts for additional announcements.
YogaPetz
If you're a fan of Yoga and meditation, then YogaPetz is a project for you to invest in. YogaPetz is a collection of 10,000 NFTs that are all centered on a balanced life, true self, and mindfulness.
Alongside the NFT collection, the project consists of an exclusive membership club, a Breath-to-Earn game, and a metaverse called the Yogiverse.
Each YogaPetz NFT provides a residency to the owner in the YogaPetz resort members club. There, YogaPetz owners can hang out, heal, and explore spiritual concepts with one another. Being a member of the club provides the following benefits;
Access to the exclusive Discord server
Access to the YogaPetz marketplace
Access to the Breath-to-Earn game
Attend in-personal events
Participate in exclusive giveaways
The team behind YogaPetz has over 10 years of experience in developing mobile applications. As a result, they have released a web3 lifestyle app with social-fi and game-fi mechanics. The game allows Yogis, the game's players, to earn tokens by learning, practicing, and exercising in Yoga.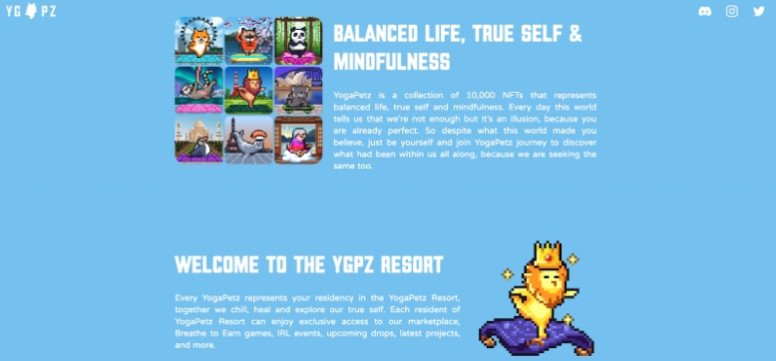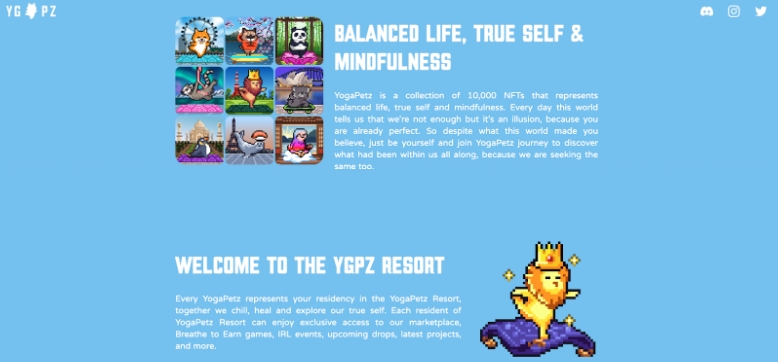 Furthermore, their Breath-to-Earn game allows YogaPetz owners to earn $PRANA by playing the game. Users simply have to follow the breathing exercises set out in the in-game instructions and complete the correct breathing techniques to earn $PRANA.
Finally, YogaPetz also has a metaverse called the Yogiverse. This will be the central location for the YogaPetz Resort and will allow all NFT owners to come together to build the resort, which will become a place for mindfulness practice with guided meditations and sound baths. The team has enlisted a handful of wellness advisors to lead the resort and provide professional services in the metaverse.
Art Gobblers
Art Gobblers is a novel experimental, decentralized art factory created by Justin Roiland and Paradigm.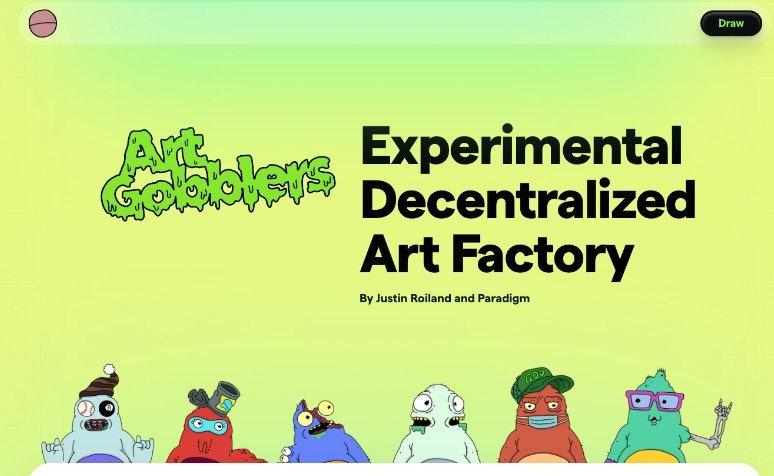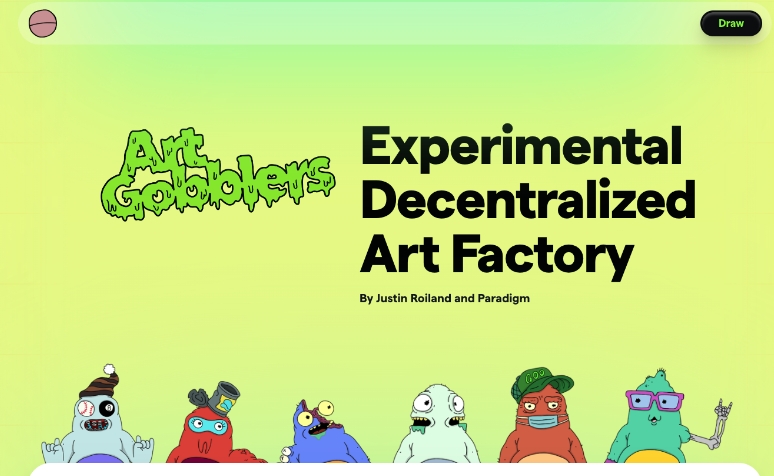 The entire project's mission is to build a self-sustaining ecosystem centered around creating and collecting the coolest art in the universe.
The project released a Draw Tool, which allows artists to come to the platform to draw their own artwork on-chain. The Draw Tool is similar to a web-based version of Microsoft Paint, and it works on a desktop or iPad, providing all the tools that skillful artists would require to create their own art pieces.
Once an art piece has been created, the system turns it into a 1/1 NFT using in-game resources. Then, one of the 2000 Gobbler NFTs will eat the new art and display it in the belly gallery forever;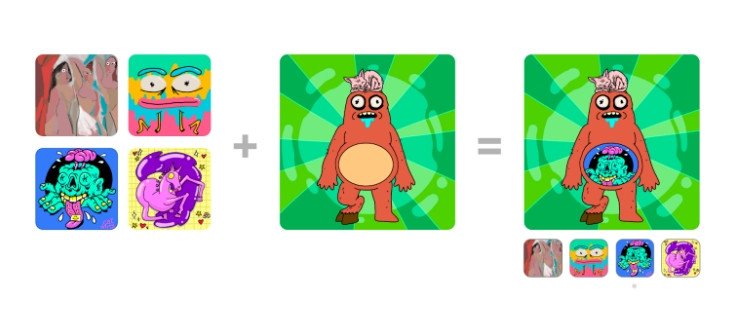 Each Art Gobbler NFT produces Goo tokens, which are used to create the blank pages that are required to produce the art. The more Goo a Gobbler has in its tank, the faster it generates more Goo.
2,000 Art Gobbler NFTs will be initially minted. However, over the next 10 years, players will create 8,000 more Gobblers by spending Goo – creating a self-sustaining ecosystem.
The system is designed to mimic a flywheel where artists make cool art, causing the cultural relevance of Art Gobblers to grow. As a result, Gobbler art will be in higher demand from collectors, causing artists to produce cooler art.
The initial Gobbler mint consists of 2,000 fully animated Gobblers, which can all Gobble the art drawn by artists. If you previously bought one of Justin Roiland's previous NFT collections, you are eligible to enter the raffle for a mint list spot. The mint is expected at some point in September 2022.
Probably A Label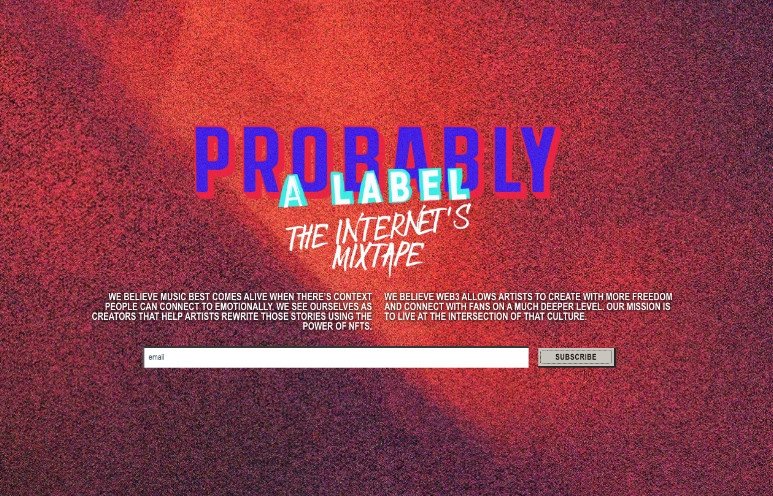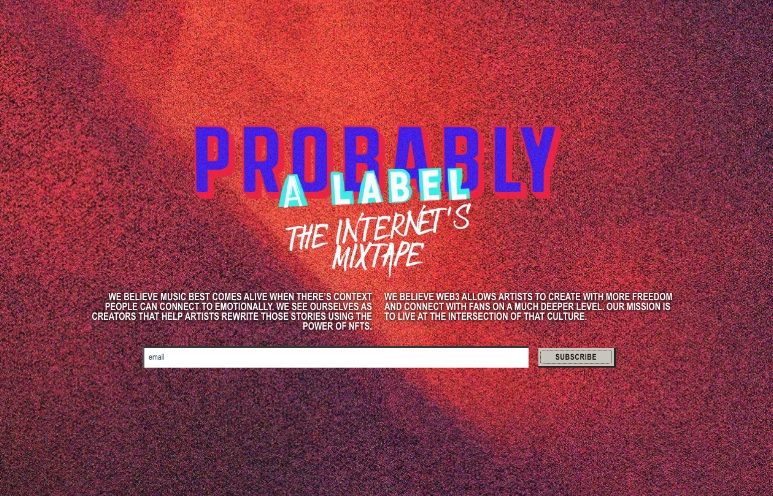 Probably A Label is a new type of record label that is on a mission to change the definition of Intellectual Property ownership in the music industry by utilizing web technology.
The project was birthed through a partnership with a major record label called Warner Record and a Web3 company called ProbablyNothing. Together, they aim to create a hybrid of the traditional label that can interact with today's method of music consumption.

Their main goal is to change how IP is viewed and utilized by combining it with technology such as NFTs to elevate the way that people consume music.
The project ecosystem consists of two separate sections; Studio A and Studio B.
Studio A is the intellectual property incubator for all Probably A Label NFT pass holders. It was created to help pass holders bring their content to life by accepting concepts using NFTs from approved projects, including;
Bored Ape Yacht Club
Crypto Punks NFTs
Doodles
Women And Weapons
StickemenToys
PhotoSynths
DegenToonz

Probably A Label pass holders whose submissions are accepted in the incubator will gain access to resources such as financing, marketing, creative development, partnerships, branding, and PR.
Studio B is a community-driven music library that is built to democratize discovery in the music industry. It allows all pass holders to submit tracks to Studio B that can consist of major musicians or up-and-coming artists.
All the live music in Studio B can be used on collaborative projects led by holders, allowing them to use the music in different productions such as documentaries and movies. The collaborative ecosystem is designed to reward creatives and make discovering their music more accessible through collaboration.
Overall, Probably A Label is trying something different in the sector by combining the traditional label with new technologies and making a decentralized ecosystem for NFT holders.
MetaBeat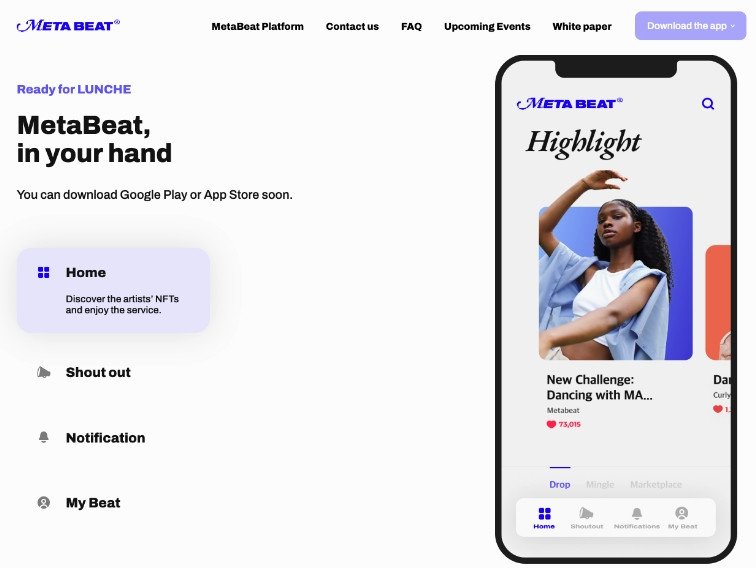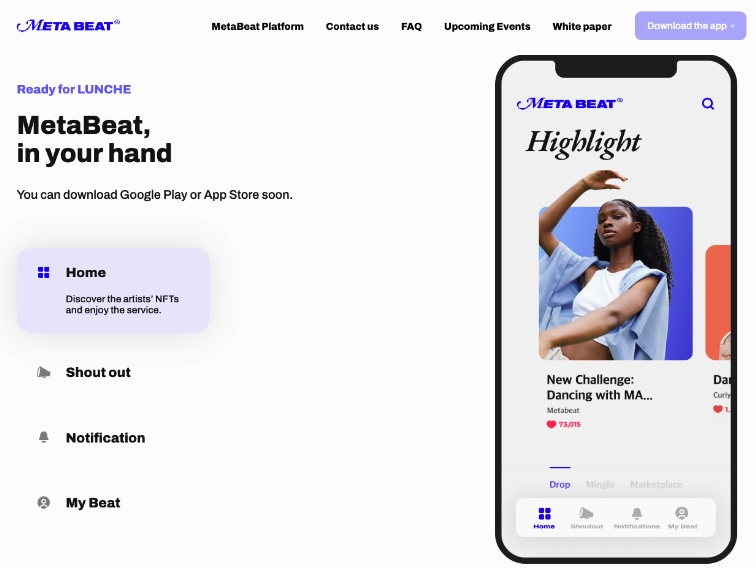 MetaBeat is a platform designed to strengthen the relationship between fans and music artists. It is a global K-Pop music content IP platform that has created a total Fan-to-Earn (F2E) ecosystem.
The entire platform was created around the K-Pop industry, which has grown exponentially over the past five years. In K-Pop, the engagement from fans is very high, and Metabeat seeks to capitalize on this by providing fans with a way to earn through the economy.
The project has three primary features; Drop, Mingle, and Shout-Out.
MetabBeat helps the actual transaction of copyrights through ownership of NFTs. The Drops can be generated by music albums, singles, metaverse concerts, or fan meetings. Users purchase these Drops through the MetaBeat platform and can enjoy the benefits of ownership if they can get their hands on them.
The Mingle feature allows users to share the rewards of copyright through the NFT trading option. It also opens the door for fractional ownership of the NFT. Furthermore, users can stake $BEAT tokens to support their favorite artists and receive rewards.
The Shout-Out feature helps artists recognize their fans' value by paying compensation according to their "Fandom Index" score. In short, you get rewarded for becoming a loyal fan of your favorite K-Pop artist. The rewards are provided in $BEAT tokens, and the platform offers missions and challenges to earn additional tokens.
All NFTs are purchased through the MetaBeat marketplace. In addition, the platform offers an application that can be downloaded on Google Play or the iOS store.
MetaBeat has seen investment from top venture capital firms such as Neo Global Capital Ventures, AC Capital, and KuCoin Labs.
Conclusion
All of these upcoming projects provide fantastic opportunities to purchase NFTs to become an early-stage investor in the project. In addition, they all have the capacity for some serious growth ahead of them if their teams can deliver on their proposals.
However, in our opinion, the best project to buy as an early investor is certainly the Cocky Can NFT collection. This project is redefining the value of utility in the NFT space by providing real-world access to in-person, world-class music events. Holding this NFT provides both investment growth potential and utility to all holders – which is something that most projects have failed to deliver.
---