Unconventional New Crypto Platform Goes Viral for Rewarding Users Who Vote in Elon Musk-Style Polls - Next Big Thing?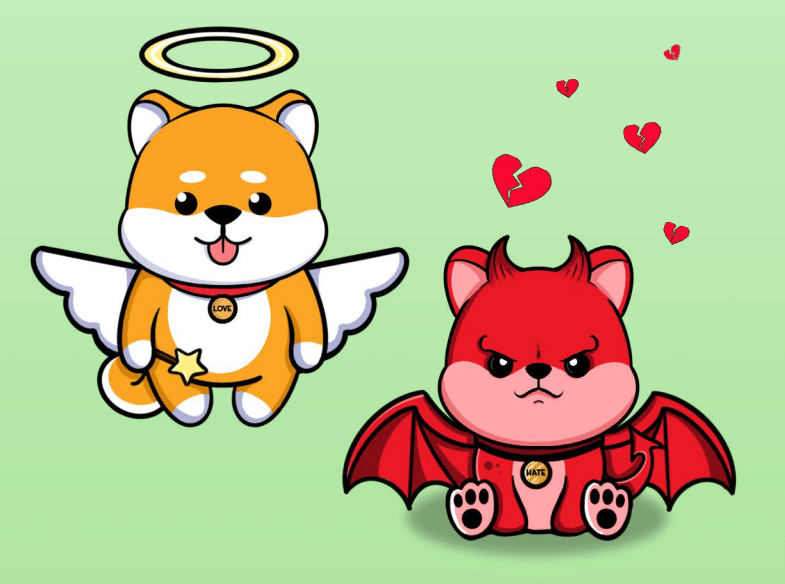 The Love Hate Inu is raising a lot of dust on its presale as one of the best-emerging projects in the emerging industry. So far, the Love Hate Inu protocol has raised over $3 million in less than a month. A feat that ranks the project as one of the best projects so far in the emerging industry.
The Love Hate Inu platform is one of the few meme tokens that offers real-world utility, unlike other popular meme coins like Doge and Shiba Inu.
The token attributes this utility to its voting system, which is based on blockchain technology that allows people to choose "Love" or "Hate" on pressing social matters.
These matters range from polls about the environment, politics, celebrities, and social influencers.
All this, however, is not all there is to the hype around this special meme token.
What makes Love Hate Inu Tick?
Generally, meme coins are known to have little to zero utility in real world affairs, but this particular token is very dissimilar in so many ways.
Firstly, The LHINU is a meme coin with real-world utility for so many reasons.
The coin is set to become the next game changer on so many levels, by being the world's first ever blockchain-technology-powered voting ecosystem.
This system allows users from all walks of life to air their opinions without fear or bias on issues ranging from politics, sports, finance, and the environment.
The Love Hate Inu platform would serve as a means whereby people can easily express their views freely and also provide a healthy community to share opinions and ideas.
Community members participate in polls, which can, in the long run, effect positive changes and enact new policies in that community.
This technology possesses an open-source protocol, with immutable structures making it impossible for vote tampering either externally or internally. This could be the next big thing as regards voting systems.
Impressively, Love Hate Inu is deployed on the foremost smart contract network, Ethereum, which is renowned for its enormous array of projects.
The Ethereum network is popularized with protocols operating in the non-fungible token (NFT), Metaverse, as well as decentralized finance (DeFi) sub-sectors.
Given that they will need feedback on product updates and user experience, Love Hate Inu users will be able to participate in sponsored meme pools. In return for their participation, users will earn project-native NFTs and metaverse-branded collectibles.
This twin combination of the LHINU token will see it upend the traditional online survey market currently worth $3.2 billion.
Stake to Vote, Vote to earn
The LHINU runs a stake to earn alongside a vote-to-earn platform where registered, or community project members have to stake LHINU tokens to qualify to participate in polls.
These initial tokens staked is to ensure that bots and scam artists do not spam the votes and keep the voting process anonymous. This also ensures no fear of judgment and freedom to adequately express ideas and opinions in a healthy space.
The digital asset also yields dividends for the voters as they vote and earn more of the ERC-20 tokens providing real-world utility for these viral tokens. The community voters get to receive more tokens as incentives for using the platform.
The project also has a special feature called the Vote Submission Platform, where individuals can submit new poll ideas for other community members to consider.
Presale Launch and Social Media Frenzy.
Owing to the diverse applicability of this particular crypto project, and since its inception, social media has gone agog with frenzy on the fascinating project.
The project mimics Elon-Musk style polls asking users and creating many impressions on social media, making it a major attraction for the teeming youth.
This has actually driven the coin to popularity and caused a massive boost for the presale.
Love Hate Inu meme token, since its presale launch in early March, has garnered over $3.2 million.
The LHINU is deflationary compared to meme coin leaders Dogecoin (DOGE) and Shiba Inu (SHIB). DOGE has an unlimited coin supply while SHIB has 1 quadrillion making them quite low due to excess supply.
LHINU is capped at 10 billion tokens which is basically deflationary when compared to these other two.
Disclaimer: The Industry Talk section features insights by crypto industry players and is not a part of the editorial content of Cryptonews.com
---