The Rise of Meme Coins: Will This New Coin's Success Trigger a New Era in Crypto?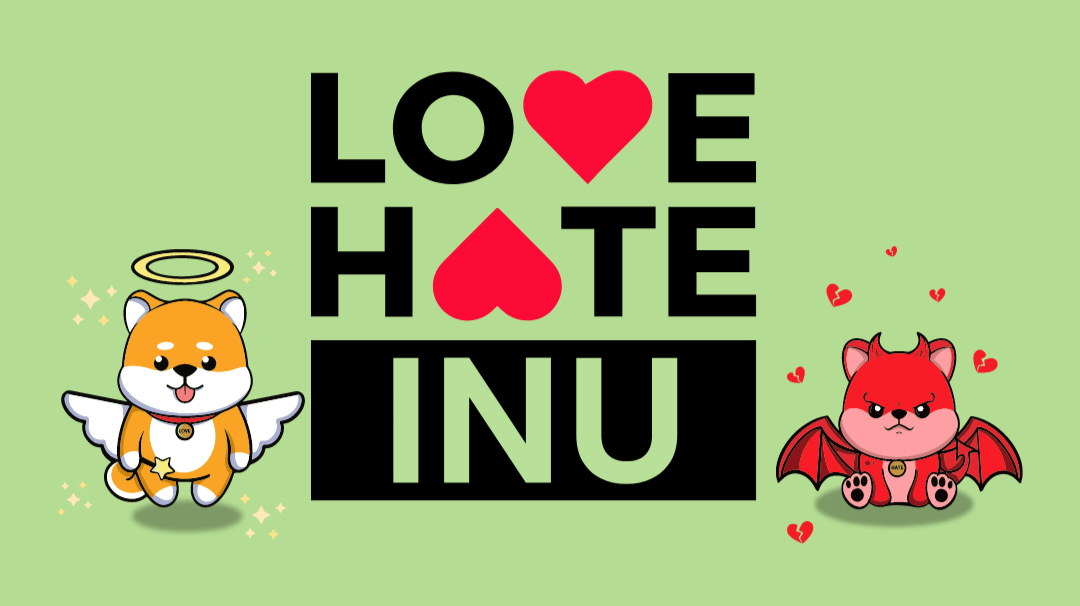 Meme coins have surged to become one of the most popular genres of cryptocurrency in the market in recent years after printing huge profits in 2021.
One of the latest and most versatile additions to the meme coin sector is Love Hate INU ($LHINU).
The project revolutionizes the $3.2 billion online survey industry by leveraging cutting-edge vote-to-earn (V2E) technology, offering users compelling incentives to express their views on polls and surveys.
Now on presale, Love Hate Inu has raised over $1.29 million in investment in just a few weeks, indicating huge interest from investors around the globe.
Love Hate Inu: Digitalizing the Survey Industry
The excitement surrounding meme coins, such as Dogecoin and Shiba Inu, remains vivid in our minds, thanks to their dynamic communities, celebrity endorsements, media attention, and volatile prices.
However, meme coins often need more real-life utilities to thrive and organically grow in the crypto market.
Love Hate Inu aims to be different as it embeds a versatile use case that will disrupt the billion-dollar survey sector.
As mentioned, the new meme sensation implements a unique technology, the Vote-to-Earn (V2E) model, in its ecosystem that enables members to engage in surveys and express their opinions on polls.
In exchange for participation, users get to earn crypto rewards.
The Love Hate Inu voting project is the first of its kind, and enthusiasts believe it could set a dominant trajectory in the crypto space.
The new meme coin project is deployed on the Ethereum blockchain, which enables complete autonomy while ensuring transparent, immutable, and tamper-proof voting on surveys and polls.
All voting results will be displayed publicly to avert manipulation.
Decentralized Vibrant Community
One unique feature accustomed to meme coins is how their communities have the power to make decisions capable of influencing the project's growth.
Love Hate Inu strives to implement this feature as it allows community members to suggest innovations and even create polls about societal issues and share opinions.
Moreover, the V2E platform enables users to acquire up to 90% of the 100 billion $LHINU tokens created, as detailed in its whitepaper.
By ensuring that the community holds 90% of the circulating supply, the project maintains fairness and safeguards against rug pulls.
The thriving decentralized community of Love Hate Inu empowers its exponential growth, disrupting the survey industry and drawing interest from leading brands and companies eager to conduct precise polls on their products or assess their audience's satisfaction.
In essence, the power to make a change, create polls, vote, and earn crypto rewards in the Love Hate Inu ecosystem is entirely in members' hands.
How Does Voting Work?
To vote, members of the V2E platform will have to stake the project governance token, $LHINU, for a minimum of 30 days.
This mechanism will help prevent spam bots from setting out to manipulate the results of the vote – another creative path to increasing transparency, legitimacy, and security of votes.
The more $LHINU members stake and for a longer period, the greater their voting power.
Consequently, the meme voting project provides significant utility for Web3 projects, brands, prominent companies, and industries seeking reliable feedback on a wide range of questions and subjects.
The project aims to establish additional partnerships featuring sponsored posts, potentially creating a diverse array of unique rewards for members, including merchandise, products, and more.
Love Hate Inu is committed to making the voting process engaging and shareable, allowing members to create viral topics for voting.
This approach offers the chance for the internet community to address various subjects and obtain transparent, authentic results from the votes.
$LHINU Presale Is On: Get Involved and Earn up to 60% Price Gains
The Love Hate Inu ($LHINU) presale has been exceeding expectations, having already raised over $1.29 million in investment thus far.
The crypto presale is currently in stage two of the presale, with six more stages to go until it ends.
As of press time, 1 LHINU trades at $0.00009 USDT and will gradually increase until the end of the presale, when it will be listed on exchanges for $0.000145 USDT.
Those looking to invest will need to move quickly as the presale is fast moving through its different stages.
Disclaimer: The Industry Talk section features insights by crypto industry players and is not a part of the editorial content of Cryptonews.com
---