TradeGPT 360 Evix Review 2023 – TradeGPT 360 AI App Version
Disclosure: Crypto is a high-risk asset class. This article is provided for informational purposes and does not constitute investment advice. By using this website, you agree to our terms and conditions. We may utilise affiliate links within our content, and receive commission.

Disclaimer: The text below is an advertorial article that is not part of Cryptonews.com editorial content
TradeGPT 360 Evix, also known as TradeGPT 360 AI, promises to help users 'buy, sell, and trade crypto like never before'. It claims to bestow upon its users a futuristic trading system where buying and selling assets is autonomous and precision and profitability is the norm.
However, does this trading software really give users the competitive edge as promised? This TradeGPT 360 Evix review takes a closer look at these claims to ascertain their legitimacy.
TradeGPT 360 AI Summary

The TradeGPT 360 Evix website is more detailed than some of its competitors when it comes to the information available. Before we dive into these features, here are the key elements of the platform to know:
| | |
| --- | --- |
| Supported Crypto | Bitcoin, Tether, XRP, Solana, USDC, Cardano, and more |
| Accuracy Rate | Not specified |
| Available on Mobile | Rumored to be coming soon |
| Fees | Not mentioned |
| Customer Support | Available 24/7 |
| Withdrawal Speed | Depends on the payment mode |
| Minimum Deposit | $50 |
Cryptocurrencies are unregulated. Trading with unregulated brokers will not qualify for investor protection
What is TradeGPT 360 Evix?

TradeGPT 360 Evix is an automated trading platform that offers autonomous trading facilities to traders. According to the website, the TradeGPT AI app is equipped with a bot that has cutting-edge features to set it apart from traditional methods.
Features like real-time market data analysis, customizable parameters, and AI-generated crypto signals are apparently part of the equation with this trading platform. However, the unique factor of this trading platform comes into play due to the presence of three unique modes.
Each mode has its own method of analysis. With lite mode, which TradeGPT 360 Evix claims to use to provide steady, low-risk returns, two moving averages are considered. With Standard mode, the onboarded AI crypto trading bot implements momentum indicators like relative strength index and stochastic oscillator. The final mode is apparently the Pro mode. Meant for risk takers and offering high yields, this mode uses a defined price range or pattern to conduct trades.
Another key factor to note here is that there are no mentions of a win rate. The website only specifies an APY. The Annualized Percentage Yield (APY) is associated with staking rewards. However, here, these returns are equivalent to the estimated profits users can generate once they start trading on the platform.
Users can learn about the estimated APY they can generate beforehand by checking out the "Estimated APY Calculator." Per this calculator, a "port value" – deposit – of $600 can help users earn up to $3048.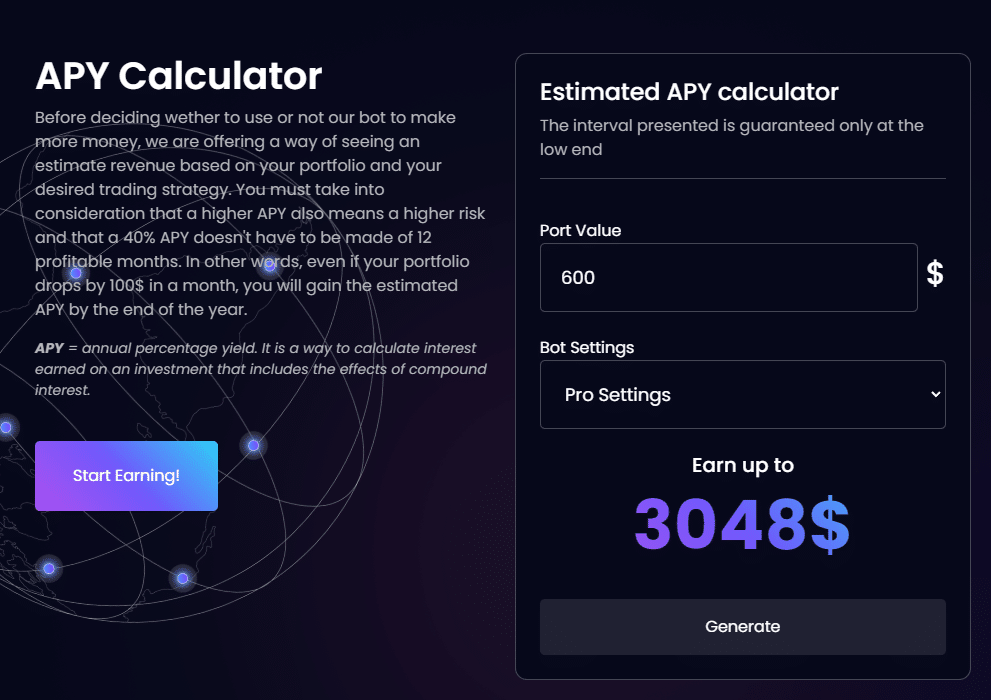 While no testimonials are online to attest to these claims, signing up on the website is easy. The simplified registration module only requires a little information. However, many of the details related to account creation aren't readily available. For instance, there are no fee-related details available on the website.
Another point to note is that there is no demo mode mentioned, which means investors are expected to jump right into trading from the very start. Even though Bitcoin's current performance has instilled enough confidence in people, the market is still volatile. Investors are, therefore, advised to be cautious when using this platform.
TradeGPT 360 Evix Pros and Cons

Listed below are the pros and cons we could learn from the marketing copy available on the website:
Pros
Claims to offer high APY using three modes of trading
Provides a fully autonomous trading experience
Parameters are apparently customizable
Tailored trading experience available
Real-time market assessment available
Available across multiple devices
Claims to offer complete customer support
Cons
Fee details not available
No details about the founders
How Does The TradeGPT App Work?

TradeGPT 360 Evix has been more comprehensive about how it works than some other platforms we've reviewed. The content points to it implementing a standard crypto trading bot that scans the market for the best times to enter and exit trades and then does so according to customized parameters.
It reported has three modes, offering APY ranging from +30% APY to +361% APY. Each mode implements a different indicator to execute trades and have different results. The official website explains the APY calculator as a way to help investors choose the type of trading method they want to choose. "You must take into consideration that a higher APY also means a higher risk", says TradeGPT.
Accessing these utilities requires a minimum deposit, which, in the case of TradeGPT 360 Evix, is $50.
Furthermore, sites like these often come with a demo trading account. We can't say the same about the TradeGPT 360 Evix AI app, however, as the details about the same are not available.
Trading is apparently accessible anywhere, thanks to the site being available on all devices. That said, the website also states that it is going to be launching its own mobile app very soon.
Due to these mixed factors, investors should take precautions when using this platform.
TradeGPT 360 Evix – Top Features

Listed below are the key features that TradeGPT 360 Evix claims that it has:
APY Based Returns
Veering from the standard mode of returns, TradeGPT 360 Evix apparently offers a range of APY rewards based on the modes that investors choose. Starting from Lite mode, investors can earn anywhere from 30% to 361% APY – per the claims.
Real-Time Market Data Analytics
According to the website, the TradeGPT 360 Evix app collects market data in real-time using advanced AI algorithms to offer users up-to-the-minute insights and analysis.
Customizable Parameters
TradeGPT 360 Evix claims that users can customize the parameters of the AI crypto trading bot. That said, the range of settings investors can play around with isn't mentioned. However, we guess Stop-Loss and Take-Profit are some of the key settings.
Tested Trading Strategies
According to the website, the trading system has been tested on more than 915 million transactions. Furthermore, the trading app takes 12 market indicators into account when placing an order.
TradeGPT 360 Evix – Fees

As we researched the website, we found nothing to be mentioned there about the fee structure. Information may be revealed as users start the sign-up process and talk to the customer support team. In the meantime, we can consider the following to be the fee structure of the platform.
| | |
| --- | --- |
| Trading Costs | None |
| Costs on Account | None |
| Commissions | None |
| Withdrawal Fee | None |
TradeGPT 360 Evix – Minimum Deposit Requirement

TradeGPT 360 Evix has a minimum deposit requirement like the rest. The official website states that it requires at least $50 from users. This is a competitive minimum deposit, which can also be considered suitable for beginners who are apprehensive about crypto trading.
Is TradeGPT 360 Evix a Scam?

TradeGPT 360 Evix doesn't make a lot of tall claims. It has a unique trading model based on APY and does not make any lofty claims about a high win rate. Furthermore, the site has been designed well. We didn't come across any issues when navigating this platform.
All the buttons work correctly, and the registration process is frictionless. Furthermore, the official website has been more upfront about how it works.
However, some instances can make some people question the site's legitimacy. First, there is the matter of the name. TradeGPT 360 Evix has also been mentioned as TradeGPT 360 AI. In some places, the site has been cited as simply TradeGPT. Not having consistent branding can be an issue, especially in the crypto space.
The second issue is the lack of information. There are no details available about who is running the website. An in-depth explanation of the tools is also not known. Not implementing a demo account is also something that doesn't put this site in the best light.
The third issue is the customer testimonial; there aren't any. Third-party reviews that we found online are all unbalanced as well. Due to these factors, we can't say whether it is a scam or a legit trading platform. Our recommendation would be to test the website thoroughly. Execute small trades to assess the results before increasing the investment.
Cryptocurrencies are unregulated. Trading with unregulated brokers will not qualify for investor protection
TradeGPT 360 Evix Customer Support

While customer support is available on TradeGPT 360 Evix, it is only meant for registered users. There is no way to reach out to them via the homepage, as there are no links to a Contact Us page.
Registered users, however, can apparently access the support team at any time they want.
How to Use TradeGPT 360 Evix

Here are the steps to start using TradeGPT 360 Evix:
Step 1 – Visit the Official Website
Go to the official TradeGPT 360 Evix website and enter the key details, such as name, email, and phone number, to get started. Once the account is created, investors must fund it with at least $50.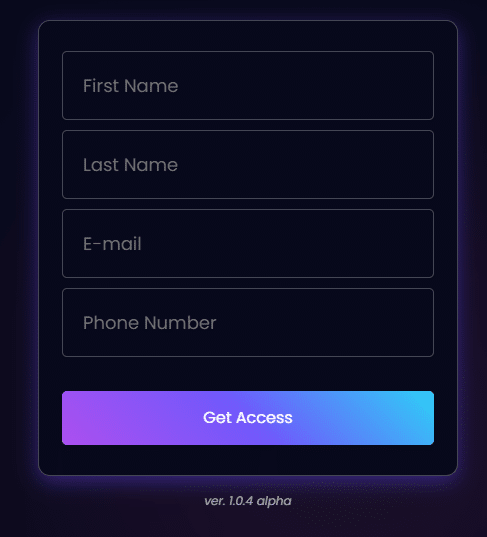 Step 2 – Configure the Trading System
Investors can then choose their portfolio amount depending on the risks they are willing to take. They can also – per the claims – pick the strategy and the preferred coin pairs to start trading.
Step 3 – Start Trading
TradeGPT 360 Evix states that there is no time limit when withdrawing money. We recommend our investors test these claims after depositing the initial amount. That said, TradeGPT 2360 Evix does state that those who withdraw their money will lose access to their "alpha" pass and will have to pay $9 per month to use the trading system.
How to Delete TradeGPT 360 Evix Account

TradeGPT 360 Evix has given no details about how to delete an account. We recommend talking to the customer support team to get the answer. Alternatively, investors can go to their dashboards and look for the "terminate account" button in their settings option.
Is TradeGPT 360 Evix Endorsed by Celebrities and Big Brands?

There is no proof available online to suggest that TradeGPT 360 Evix is being supported by celebrities and big brands. We recommend considering any such information as rumors until there is some evidence.
Who is the Founder of TradeGPT 360 Evix?

There are no details available online or on the website that could give us insight into who the makers of TradeGPT 360 Evix are. There isn't any About Us page to provide us with that information. Social media platforms also don't say anything about them. The team has likely chosen to remain anonymous.
Some reviews write the platform's name as 'TradeGPT Evex' rather than 'Evix', suggesting a potential connection to a similar tool we've reviewed, Immediate Evex AI.
Latest Bitcoin News

Bitcoin has once again reached its 2022 highs and is showing signs of moving up. Under these circumstances, a better understanding of the market is important. Here are key details to know about BTC this year:
Bitcoin's 27% surge in October 2023 is seen as a panic buy in anticipation of the US SEC clearing spot Bitcoin ETF applications.
BTC has gone above $34k in October 2023. Trends show consolidation with some back-and-forth between bears and bulls.
Due to the recent market volatility, crypto presales have become more appealing to investors.
The Verdict

TradeGPT 360 Evix portrays itself as a different type of trading system. It doesn't promise quick gains but a steady income stream. With its three modes, investors of all types can purportedly make hefty gains.
The issue, however, is that the information around these claims is not available. Customer testimonials are lacking, and third-party reviews are not as balanced as some investors may prefer. Only invest what you can afford to lose, and remember all trading involves risk.
Cryptocurrencies are unregulated. Trading with unregulated brokers will not qualify for investor protection
FAQs
What is TradeGPT 360 Evix?
TradeGPT 360 Evix is a crypto trading platform promising to streamline trading and make automated investing more profitable for investors. It apparently has three modes, with the higher-tier mode offering a high-risk-high-reward scenario for investors.
Has Elon Musk Endorsed TradeGPT 360 Evix?
Elon Musk has said nothing about TradeGPT 360 Evix. It is likely that considering the platform is new, it has still not gotten the attention of major names in the crypto space.
---