Tom Lee Blames Regulators for Bitcoin Decline, Cuts Forecast
A lack of regulatory clarity has put enormous pressure on the market this year, as the G20 countries, the EU, and financial regulators in the US have all sent mixed messages about future regulations to the market, according to Tom Lee, veteran bitcoin investor and head of research at Fundstrat Global Advisors.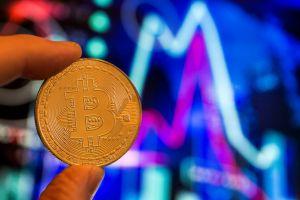 He was speaking at the 2018 Asia Blockchain Summit in Taiwan. The same sentiment has also been echoed by other industry experts, with Ryan Rabaglia of Octagon Strategy, a digital asset brokerage, recently telling CNBC that if regulations are sorted out, more and more professional and institutional players will enter the market and likely drive up prices as a result.
Bitcoin charts: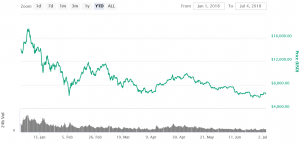 Secondly, Lee pointed to the futures market for bitcoin as possibly having a detrimental effect on the 'real' market. While Lee did not offer any reasons for why this could be the case, it is well-known that the futures market is largely controlled by banks and very large traders.
As Cryptonews.com has reported on previously, this is not the first time Lee blames the futures market for bitcoin's misery. However, as bitcoin futures contracts are settled in cash and no physical delivery of bitcoins takes place, no direct link exists between bitcoin futures contracts and real bitcoin.
In May, the San Francisco Federal Reserve also stressed that bitcoin's fall from almost USD 20,000 is directly tied to the launch of a futures market.
"The rapid run-up and subsequent fall in the price after the introduction of futures does not appear to be a coincidence. It is consistent with trading behavior that typically accompanies the introduction of futures markets for an asset," four researchers wrote in the bank's Economic Letter in May.
Bitcoin price forecast revised lower
While speaking at the summit, Lee also revised his year-end price prediction for bitcoin from USD 25,000 to USD 22,000. He further explained that he believes the price of bitcoin should be at least twice the cost of mining, under normal market conditions.
UPDATED: Later, Tom Lee explained this prediction in more detail, saying that Bitcoin still can hit USD 25,000 this year.
Today, mining bitcoin is not profitable for most people, and Lee estimates the current mining cost to be around USD 9,100 per bitcoin.
Also in May, Fundstrat estimated that by the end of 2019, average price of Bitcoin could reach USD 36,000, with a USD 20,000 - USD 64,000 range. This explosion in price could happen due to crypto mining, as Fundstrat predicts a growth of 350% in hash power (the processing power of the Bitcoin network) through 2019.
Lee previously predicted a bitcoin price surge following the Consensus 2018 conference in May, which failed to materialize.
---