Tom Lee "May Have Misspoke a Little Bit" in Bitcoin Predictions
Tom Lee, co-founder and head of Fundstrat Global Advisors, explained his previous prediction regarding Bitcoin price, noting that "we still think Bitcoin can reach USD 25,000 by the end of the year or something like that."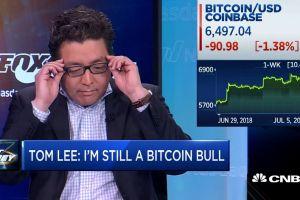 As reported, when speaking at the Asia Blockchain Summit in Taiwan in July, Lee revised his year-end price prediction for bitcoin from USD 25,000 to USD 22,000.
On Thursday, he told CNBC that "Bitcoin has historically traded at 2.5 times its mining costs. It's not out of the question that it could be over USD 20,000 by the end of the year at fair value." Later he clarified his position, saying he "may have misspoke a little bit":
"What I was trying to illustrate was that given where mining costs will be and applying the historical average of 2.5 times mining costs, that would imply fair value over USD 20,000, roughly USD 22,000." Afterwards, he stressed that bitcoin still can reach USD 25,000 by the end of the year.
Still, he maintains that worrying about a few thousand dollars in the current circumstances, as any return even approaching USD 20,000 would be around 200% percent higher than where Bitcoin is right now, which is USD 6,543.67 at the time of writing, according to data from coinmarketcap.com.
Lee has previously several times determined that the price of Bitcoin should be at least double the cost of mining.
He has earlier predicted that by the end of 2019, a single Bitcoin could be worth anywhere between USD 20,000 and USD 64,000, with an average of USD 36,000. However, his prediction of a bull run following the Consensus 2018 conference in May failed to materialize.
---