This New Blockchain-Based Recruitment Start-Up Is Making Waves Just Weeks After Launch – Here's How It Works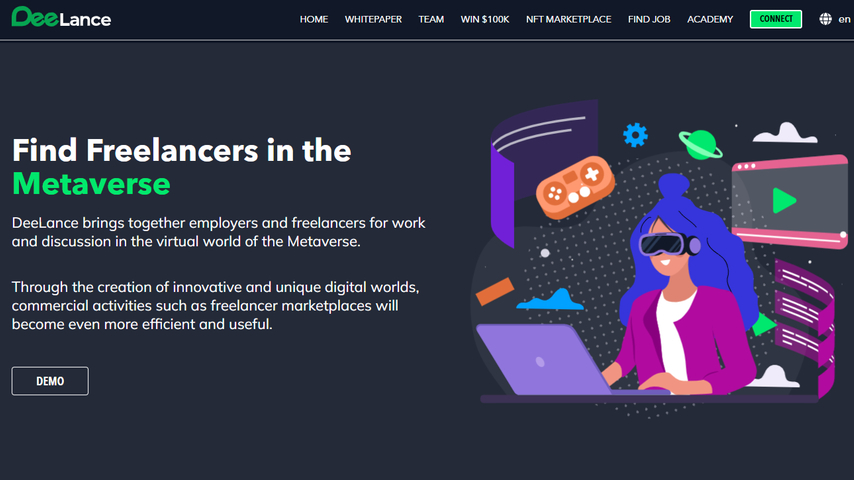 In recent years, the freelance sector has received lots of adoption as more people escape the traditional 9-to-5 work sphere.
While numerous freelance marketplaces are available, most of them are Web2-based and often feature inconsistent employment, a lack of skilled personnel, high fees, and slow withdrawals.
However, DeeLance, a new decentralized project, aims to solve these challenges.
The revolutionary platform provides a seamless hub where freelancers and recruiters can connect, share portfolios, and exchange secured financial rewards for completed tasks or services.
With its native token, $DLANCE, now on presale, a large buzz has been generated among investors as they seek to know what makes the project unique.
DeeLance: The New Age Recruitment Ecosystem
As detailed in the IBISWorld report, the recruitment industry is worth $761 billion in revenue and is set to grow over time.
The new recruitment project, DeeLance, asserts to leverage the space via its utility capabilities.
This cutting-edge project provides trusted, low fees, and more efficient ways of hiring qualified service providers.
This stellar utility is set to enjoy massive adoption from countries with qualified personnel but lower or complex employment structures, such as India.
Deployed on the Ethereum blockchain, the DeeLance ecosystem offers a Web3-based marketplace where freelancers and recruiters can connect virtually, find the most qualified candidate, exchange services for an agreed fee, and interact in the metaverse sphere.
Recruiters and freelancers are offered a secure and transparent payment structure, tokenized non-fungible token (NFT) for contract ownership, and an immersive metaverse world.
DeeLance Unique Spate of Offerings
Regarding transparent payments, the DeeLance platform incorporates unique smart contracts that act as an escrow for transactions, eliminating the need for third-party payment app integration and the time-wasting often associated with traditional freelance platforms.
Freelancer adopts the "seller" tag and can tokenize their task with a non-fungible token (NFT) until payment is released from escrow.
When this happens, contract ownership in the form of NFT is transferred to employers.
Employers and freelancers are charged a competitive platform fee of 2% and 10%, respectively.
Unlike traditional workspaces like Fiverr and Upwork, with withdrawal delays and incurred foreign exchange rate costs, DeeLance offers instant payouts in fiat and crypto to avert conversion fees.
Other perks include a scalable dispute system, transparent and secured escrow, limitless task sizes, and many more.
However, the recruitment platform's most sophisticated and eye-catching feature is its metaverse incorporation.
Users can interact, purchase lands, and transact within the DeeLance metaverse world using its native token, $DLANCE.
Additionally, members of its ecosystem create and lease virtual offices, pay for advertisements of their portfolios, and offer an array of stellar services that act as financial perk opportunities as the platform develops.
Deelance is the first project to integrate NFTs and the metaverse into its ecosystem to propel seamless recruitment and not as a gimmicky and cost-oriented afterthought.
$DLANCE Presale Is Fast-Selling – Buy Into the Future of Web3 Recruitment
The $DLANCE token is currently on presale to raise funds for its stellar marketplace set to leverage the NFT technology and metaverse sphere.
Already, the metaverse token has generated over $82,000 from investors in less than two weeks.
The token is currently priced at $0.025 in its first phase of the set three-stage presale.
Investors who lock into the discounted price of $DLANCE will earn 40% on the exchange list price of $0.037 USDT.
Powered by an advanced blockchain, NFT, and metaverse sphere, crypto enthusiasts tip the recruitment platform to go ballistic when it launches on exchanges.
Disclaimer: The Industry Talk section features insights by crypto industry players and is not a part of the editorial content of Cryptonews.com
---