The Up-and-Coming Recruitment Platform That's Set To Shake Up Web3- Here's How it Works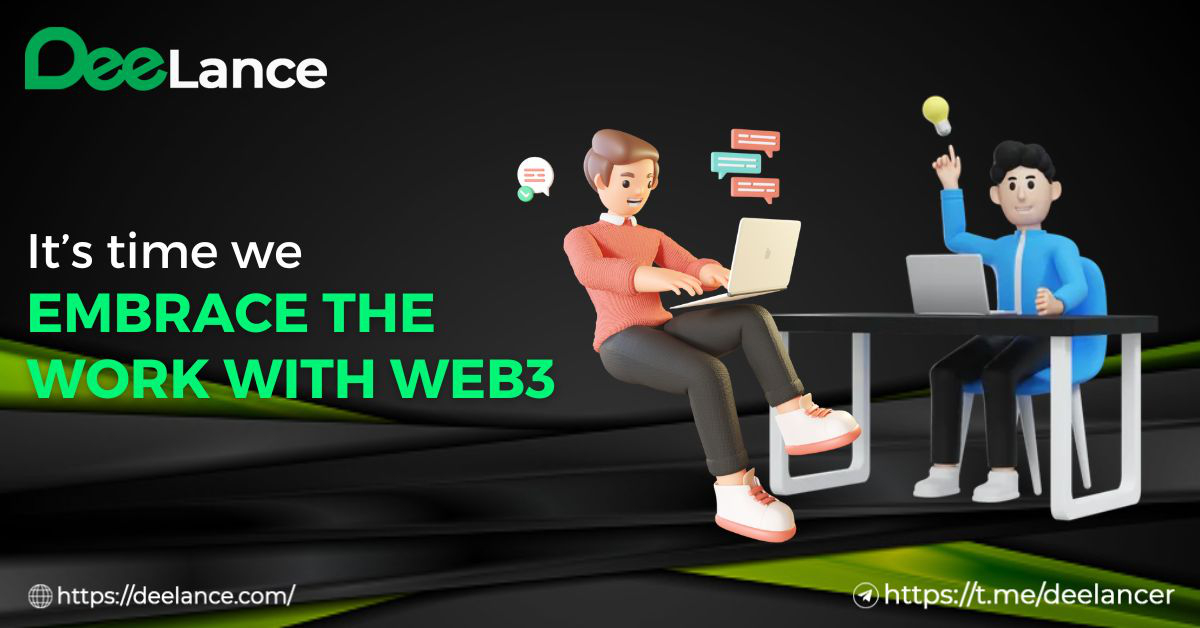 The blockchain ecosystem is disrupting a lot of industries.
The nascent technology has so far enabled more enhanced financial recording systems and how transactions are executed.
The blockchain space has also touched on healthcare, gaming, entertainment, and music.
Not to be left out, the freelance industry is experiencing a wave of decentralized collaborative solutions via DeeLance.
Currently, in its presale stage, DeeLance is a Web3 space for recruitment.
The innovative platform enables freelancers and employers to hire and create value for a fraction of the cost when using traditional freelancing platforms.
Given the growing interest in remote and independent job roles, DeeLance might become the front-runner for how the world will work.
Blockchain Technology takes a bite of Freelance Pie
Since the Covid-19 pandemic, the freelance industry has experienced exponential growth in the number of people willing to work remotely. Market trends show a 41% increased surge in freelancers.
The already thriving industry from as far back as 2018 now has a current statistics of about 1.57 billion freelancers in the world as of 2023.
With millions of workers preferring to work independently from home as freelancers, the market for freelancing is becoming an ever-growing structure.
Looking at the freelancing's changing figures, and trends, all indications push towards remote work being here to stay and expected massive growth in a couple of years.
The freelancer, however, is sometimes faced with certain challenges, such as difficulties in getting jobs, negotiating with clients, payment mishaps, and ownership issues.
With most industries getting a block on the blockchain pie, a new upcoming recruitment platform called DeeLance, is addressing these issues and changing the narrative.
DeeLance is a decentralized recruitment and freelancing project that helps the world work better smartly.
In essence, DeeLance is the Web3 version of some of the world's top freelancing platforms.
The project is like the Upwork or Fiverr Network but for the Web3 space. The project is a revolutionary decentralized platform aiming to change how freelancers connect with employers and recruiters.
The decentralized phenomenon boasts of a bevy of features that will change the game for freelancing and lure Web2 users onto its platform with its innovative setup and accommodating structure.
First, in the freelance blockchain model, one of the most inviting features is the ease that users enjoy. Freelancers can apply for jobs within a few clicks, and employers also post jobs within seconds.
The decentralized game-changer offers a trustworthy user-centered platform whereby freelancers have direct ownership of their work by turning it into a digital token, otherwise known as Non-Fungible Tokens (NFTs).
With this functionality, users get to protect their work from payment frauds with this new innovation, as NFTs would provide security and show true, untampered, digital ownership of tasks.
According to the DeeLance whitepapers, their mission is Integrating Freelance Industries with the latest advancements in Technology.
Crypto Payments, Lower Fees, And User Security Via Escrow
The DeeLance Project also aims for it's users to carry out transactions via crypto payments.
It protects its freelancers by making use of the Escrow finance payment systems to ensure freelancers are paid for the services rendered using smart contracts.
In addition, the decentralized recruitment platform charges only 2% in freelancer fees. This is the lowest in the freelancing industry. This is because it makes use of a peer-to-peer connection, thereby drastically reducing its fees.
DLANCE Token
The token used in the DeeLance ecosystem is the $DLANCE. It is built on the Ethereum blockchain with a cap of 1 billion (1,000,000,000) tokens which is shared into 7 pools
The coin has only about 30% of $dlance tokens going up for presale. 10% of the $dlance tokens will be put into the Liquidity pool, 2% will be earmarked for community rewards and airdrops, while another 16% will be for CEX Listings.
So far, DLANCE has raised over $75,000 in its early presale stage.
Recruitments In The Virtual Realm
Technology is shifting the world into a different phase.
So far, artificial intelligence and the virtual landscape are gaining major adoption across several industries. In line with this view, the DeeLance project is also incorporating the Metaverse concept into its operations.
Through the utility on tap via NFTs, freelancers can apply for jobs via customized avatars, which will serve as their digital copies.
Not done here, they will also be able to collaborate in a 3D immersive space on several projects with multiple teams. This is another huge potential DeeLance has over traditional competitors.
Disclaimer: The Industry Talk section features insights by crypto industry players and is not a part of the editorial content of Cryptonews.com
---