This Little-Known Cryptocurrency Could Disrupt the Meme Market – Here's What You Need to Know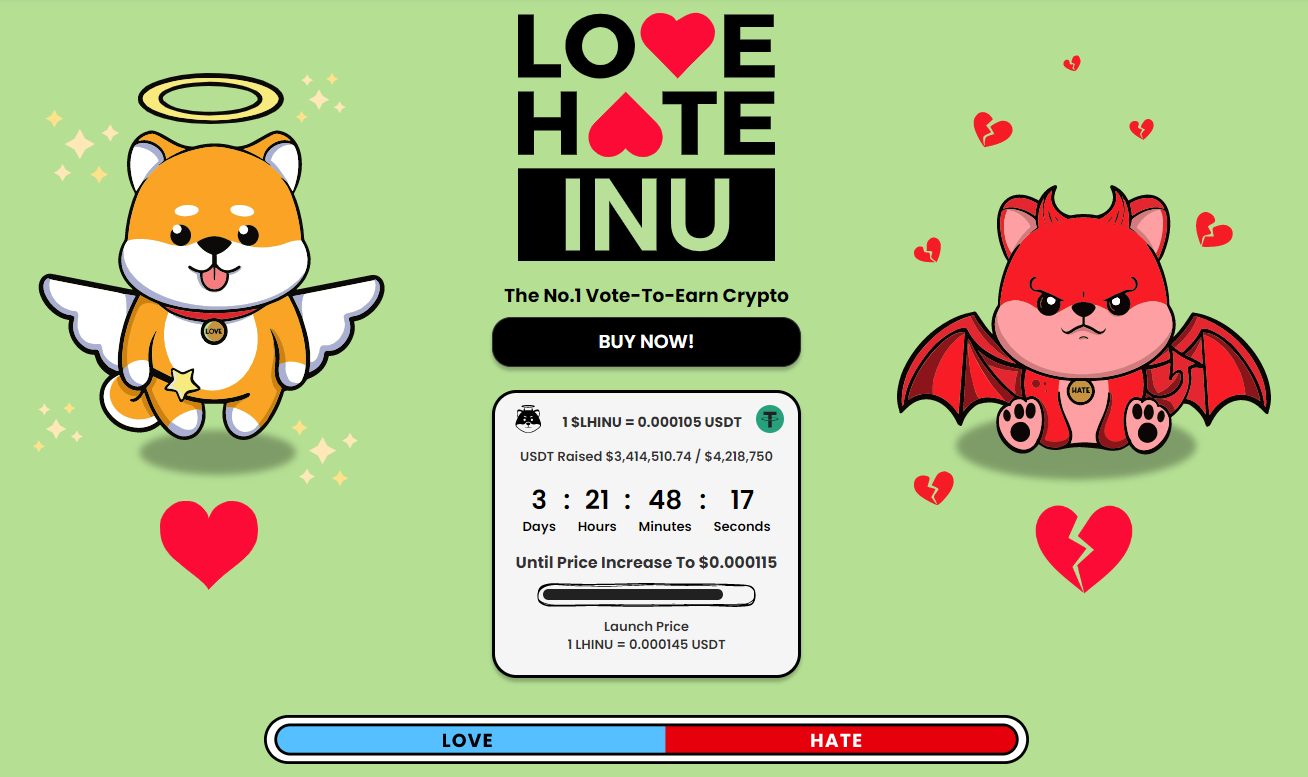 A brand-new meme coin with a unique, novel use case is creating waves in the cryptocurrency market. And some observers think this latest dog-inspired meme coin could become a household name.
Enter Love Hate Inu. The Web3 startup, which is currently conducting 2023's hottest crypto token presale, is building a revolutionary new vote-to-earn (V2E) social media polling platform that many think will catch fire in 2023.
Here's what you need to know.
What is Love Hate Inu?
Web3 start-up's crypto-powered vote-to-earn social polling platform will allow users to engage in discussions and vote on the world's most contentious, debated issues.
For example, the platform, which will be powered by Love Hate Inu's LHINU crypto token, will allow users to have a say on whether they love or hate divisive figures like Elon Musk, Cristiano Ronaldo and Donald Trump, as well as Andrew Tate.
LHINU owners will be able to stake their tokens to get a share of the vote on each poll. The best part? Every time an LHINU owner participates in a vote, they will be financially rewarded (hence why Love Hate Inu is being referred to as "vote-to-earn").
These rewards will be provided by the creator of each poll. The more tokens users stake, and the longer the vesting period, the more voting power they will be handed over each poll.
At first, Love Hate Inu will control what polls exist on the platform, though that responsibility with be handed off to the community shortly after the platform's launch later this year. This will be done via the launch of a Vote Submission platform, where users will be able to submit their poll ideas for the community to consider.
According to Love Hate Inu's development team, "the voting system is built on blockchain technology, ensuring the process is fair, transparent, and secure".
Investors can rest at ease that bots won't be a problem on the platform. In order to vote, LHINU will need to have been staked for a minimum of 30 days, making it prohibitively expensive/difficult for vote manipulation and spam bots to take over.
Love Hate Inu's - How to Get Involved in the Presale
To fund the development of its platform, the Love Hate Inu is currently selling its LHINU token in a presale that has already proven to be wildly successful.
The presale just entered its fourth stage and has now raised a whopping more than $3.4 million in just over three weeks.
The presale's success is unsurprising given how the start-up has also been going viral on social media. Since the launch of the presale, Love Hate Inu's Twitter following has exploded from virtually nothing to over 33,000.
The meme coin project's Telegram, meanwhile, now has nearly 14,500 members. These numbers are expected to continue to explode higher in the coming weeks.
Investors who move quickly can secure LHINU tokens for the highly discounted price of $0.000105. But in just over three days, that price is set to rise to $0.000115.
LHINU will end the presale in a few weeks at $0.000145. That means investors who get in now will be sat on paper gains of around 40% by the time the presale ends.
Love Hate Inu – Tokenomics Explained
LHINU has a total supply of 100 billion, with 90 billion of these (90%) to be sold in the presale. This is almost unheard of, with most presale projects keeping a much larger allocation in reserve for founders and early investors.
According to Love Hate Inu's whitepaper, this "ensures the majority of the supply is distributed to community members who believe in the project".
"Besides guaranteeing there will be no rug pull, this will create a strong foundation for the project where the community holds a real vested interest in its success".
Love Hate Inu says it will only hold 10% of the tokens in reserve to provide liquidity, fund exchange listings and provide community rewards.
The web3 start-up currently ranks as CoinSniper's top-voted cryptocurrency.
The project also just revealed its CEO – Carl Dawkins has worked on a number of successful crypto projects, including Tamadoge, which last year delivered 10x gains to early investors.
Read More:
---