TenX PAY Beats the Market, Surges on News
Second only to DEX, which has soared in price in recent days, the TenX PAY token stands out as a shining star in an otherwise red crypto market this week as the Singapore-based crypto payment company is estimated to finally deliver on their promises.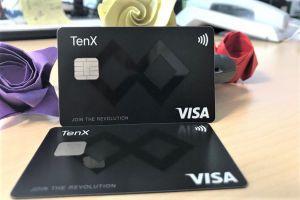 PAY was up by 18% on Wednesday morning before trimming its gains to 10% (UTC 07:10 AM) and is still up by more than 8% in a week. However, it is down by 95% from its all-time high a year ago.
PAY price chart: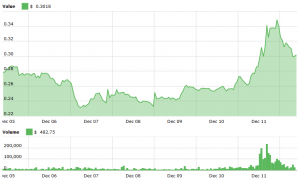 So, what exactly is it that has been driving the recent bullishness in this token? The answer may be found in the company's 2018 OKR (Objectives and Key Results) Update published on December 11. Judging from this, the company may be set to start rolling out their much-anticipated payment cards right around Christmas this year, with KYC (know your customer) checks for the first batch of customers starting today, December 12.
The news was reported by Cryptonews.com in November.
"The Singapore launch will be followed by releases in several countries across the Asia Pacific region. The card makes cryptocurrencies instantly spendable, allowing users to spend Bitcoin, Litecoin and Ethereum in the real world, at real time and is accepted at over 42 million points globally. The release of TenX Cards in Europe is scheduled to follow in 2019," a TenX spokesperson told Cryptonews.com back then.
In addition to the card roll-out, the company is also introducing a new "reward token" known as TenX Token, which is intended to "reward" loyal PAY holders.
Julian Hosp, co-founder of the company that was among top 10 initial coin offerings (ICOs) in 2017 by raised capital (USD 80 million), discussed the news during a livestream on Tuesday:
Despite the promises by the company, some members of the community are still not convinced, following a period of delays and set-backs regarding TenX's product launches:
However, judging from the PAY price jump, the market is more positive regarding the news.
---