Surprise! Get Ready For JPMorgan Coin (UPDATED 2)
On Valentine's day, major investment bank JPMorgan showed some love to cryptocurrencies. Well, sort of. (Updates throughout the entire text.)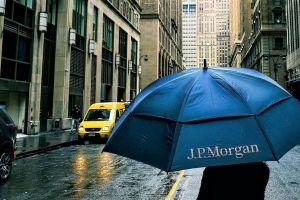 In a few months, the banking giant with a USD 2.6 trillion balance sheet, plans to start trials of JPM Coin, the centralized digital token created by the financial giant to instantly settle payments between institutional clients.
"We successfully tested the movement of money between a client account and a JPMorgan account using the new technology," Umar Farooq, head of Digital Treasury Services and Blockchain at the bank, explained in a presentation, shared by JPMorgan.
"The JPM Coin isn't money per se. It is a digital coin representing United States Dollars held in designated accounts at JPMorgan Chase N.A. In short, a JPM Coin always has a value equivalent to one US dollar. When one client sends money to another over the blockchain, JPM Coins are transferred and instantaneously redeemed for the equivalent amount of U.S. dollars, reducing the typical settlement time," Farooq added.
He also claims that over time, JPM Coin will be extended to other major currencies.
According to Farooq, JPM Coin is currently a prototype that will be tested with a small number of institutional clients, with plans to expand the pilot program later this year.
"JPM Coin is currently designed for business-to-business money movement flows, and because we are still in a testing phase, we don't have plans to make this available to individuals at this stage. That said, the cost-savings and efficiency benefits would extend to the end customers of our institutional clients," he said. Moreover, the bank "will actively engage our regulators to explain its design and solicit their feedback and any necessary approvals."
Earlier today, Farooq told CNBC that there are three early applications for the JPM Coin:
International payments for large corporate clients, which now typically happens using wire transfers between financial institutions on decades-old networks like Swift.
Securities transactions.
The final use for JPM Coin would be for huge corporations who use JPMorgan's treasury services business to replace the dollars they hold in subsidiaries across the world.
The head of Digital Treasury Services and Blockchain estimates that the coin could also be used for payments on internet-connected devices if that use for blockchain catches on.
The JPM Coin will be issued on Quorum blockchain and subsequently extended to other platforms.
How does JPM Coin work?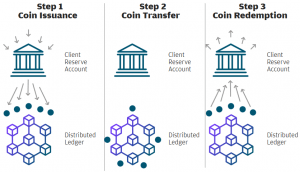 "JPMorgan is taking a significant step here," Adam Grimsley, a former BlackRock Inc. fixed-income investor who co-founded London-based crypto hedge fund Prime Factor Capital, told Bloomberg. "The first bullet in any war is always the most important, and it looks like this could be the first move in a broader adoption of blockchain and digital currencies by large institutions."
After JPMorgan announced their own digital token, the reactions have been varied, although the general consensus is: that's not a cryptocurrency. Meanwhile, the naysayers have grouped into two main currents: one is asking "What about Ripple?" while the other is scoffing, "Their competition already does that." Read about it here.
JPMorgan and crypto: it's complicated
According to Farooq, the bank has "always believed in the potential of blockchain technology and we are supportive of cryptocurrencies as long as they are properly controlled and regulated."
And now they also believe that "JPM Coin can yield significant benefits for blockchain applications by reducing clients' counterparty and settlement risk, decreasing capital requirements and enabling instant value transfer."
However, as it's well-known, Jamie Dimon, CEO of JPMorgan, has infamously called Bitcoin "a fraud" during an appearance at an event hosted by Barclays in September 2017. Dimon later added that the cryptocurrency "will blow up." It was also during that appearance that said that he would terminate any trader that he found to be trading Bitcoin for being "stupid." However, he has later said that he regretted what he said, but added that he is still not a fan.
JPMorgan has previously expressed interest in both cryptocurrencies and blockchain, the underlying technology. Perhaps most notable is Quorum, the enterprise-oriented blockchain platform based on Ethereum.
The bank is also running a blockchain payments trial, based on Quorum and launched in conjunction with Australia's ANZ and the Royal Bank of Canada. The project, called the Interbank Information Network (IIN), was set up in October 2017, aiming to slash both the time and costs required for interbank payments using traditional methods.
The company was initially said to look favorably upon cryptocurrencies according to a leaked internal report from February 2018, which was reported to say, "Cryptocurrencies are the face of blockchain," along with "cryptocurrencies are here to stay." However, it would seem that the giant had perhaps not meant the existing cryptocurrencies, as a note to investors from around the same time alleged that Bitcoin was unequipped to handle a liquidity crisis.
Then, in April last year, a credit card customer of JPMorgan said he was suing the bank for slapping what he labels "sky-high" interest rates and fees on the bills of cryptocurrency investors. Brady Tucker, of Idaho in the United States, said the credit card provider began charging him interest rates of as much as 30% per year – as well as additional fees – on cryptocurrency purchases made through cryptocurrency exchange Coinbase exchange in January last year.
Most recently, at the end of last month, the bank stated in a report on crypto and blockchain that, "Even in extreme scenarios such as a recession or financial crises, there are more liquid and less-complicated instruments for transacting, investing and hedging," as previously reported. The usage of cryptocurrencies for payments will remain "challenged," they said, adding that they couldn't find any major retailers accepting crypto in the past year.
All of this seems to indicate that, although the bank recognizes the merits of cryptocurrencies, they do not consider any coin but their own ready for widespread adoption.
However, the biggest question following the news of JPM Coin is whether the banking giant was considering working with Ripple, California-based blockchain start-up focusing on the banking sector, instead of creating own coin. Although the bank did not comment on that, they seem unbothered by the fact that Ripple exists in the same space. JPMorgan is betting that its first-mover status and large market share in corporate payments, as it banks a large number of companies, will give its technology a good chance of getting adopted, even if other banks create their own coins. "Pretty much every big corporation is our client, and most of the major banks in the world are, too," Farooq said. "Even if this was limited to JPM clients at the institutional level, it shouldn't hold us back."
____
Reactions:
---